Logistics secures success
Globally digitalized supply chains and permanent material availability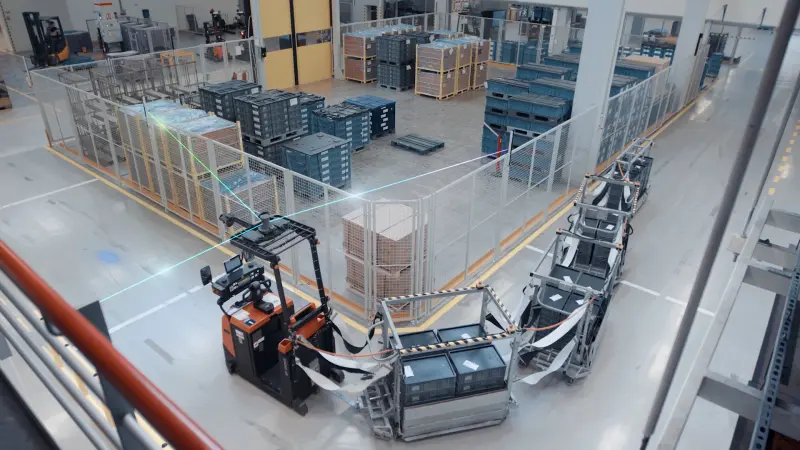 About 23,000 associates work within the Bosch logistics organization worldwide. They make sure that 250,000 customers receive on-time deliveries every single day from 220 plants. These figures alone show the kinds of challenges logistics tackles in order to keep complex supply chains running and ensure smooth cooperation with suppliers and customers. But what role does digitalization play in this, and how does it help make the handling of goods even more efficient through connectivity and automation?
Supply chain excellence: stable supply chains and customer satisfaction
These days, it has become a fixture of our working lives: the internet of things (IoT). Logistics at Bosch is no exception. And that's not all. The goal is to monitor flows of goods digitally, without any gaps, and to harness artificial intelligence (AI) to optimize processes – all in a global network that includes customers, logistics service providers (LSPs), and suppliers. Working with these partners, Bosch develops innovative logistics concepts to ensure that supply chains are competitive, reliable, and stable. The overarching aim is to respond optimally and rapidly to customers' individual wishes and requests.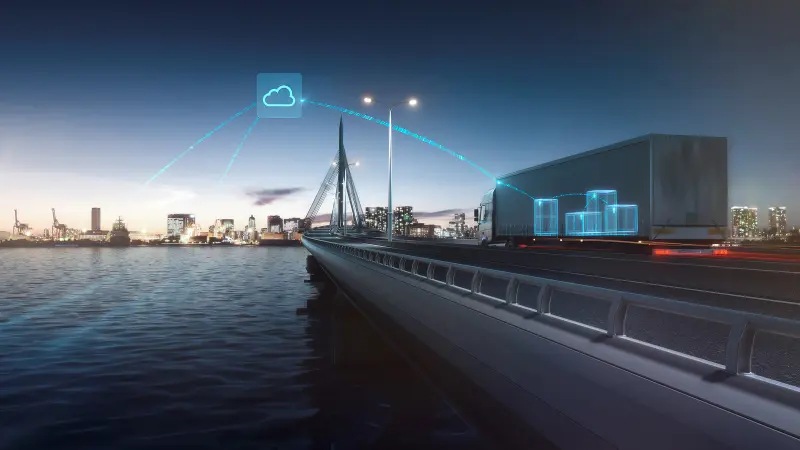 Digitalization is an essential part of this, and the logistics of tomorrow is unthinkable without data. As a leading IoT company, Bosch is thinking in visionary terms as it looks to the future – just as the company founder would have wanted. Bosch logistics associates already use innovative technologies like AI and sensors today, integrating them into their own systems in some cases. They then gradually further develop these systems. Through it all, the focus is on making sure the entire supply chain is digitalized, from the customer to the supplier. Bosch also takes the same approach to managing production and internal transportation at its plants.
ProCon is a good example. Logistics planners are constantly faced with the question of when which order should go into production. With ProCon, a software program developed specifically for this purpose, the Bosch teams have an automated tool that allows them to manage, visualize, and optimize processes. In this way, they can visualize the current production situation in real time on screens at the plant, for example.
InTrack is another example. The integrated supply chain event platform supports logistics processes and offers mobile data collection solutions. At the same time, it connects the associates working on the projects, allowing for transparency across the entire supply chain.
Availability of materials: resource conservation and global transportation strategy
Transparency and efficiency – two keywords that are highly important in logistics at Bosch. Bosch takes customer wishes and requests into account at an early stage of its logistics concepts and considers more than just cost, time, and transportation quality indicators when working with suppliers. The logistics teams pay just as much attention to keeping CO₂ emissions as low as possible, along with the subject of resource conservation. The Transport Management Center (TMC) is responsible for the global transportation strategy. It designs transparent, efficient, and environmentally friendly transportation solutions for land, sea, air, and rail transportation to the various regions.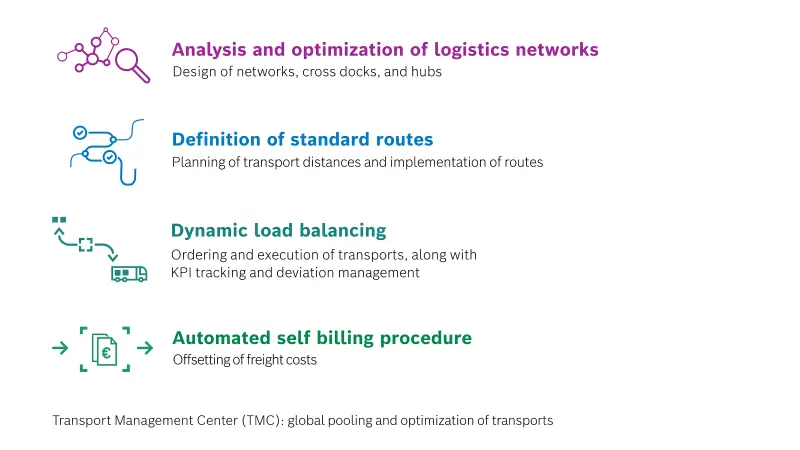 The Bosch logistics team incorporates this same approach to sustainability into packaging development and process standardization as well. Here too, Bosch emphasizes not just cutting costs, but also conserving raw materials and other materials. In this way, the Bosch logistics organization makes its contribution to the company's overarching goal of climate neutrality.
At the same time, every logistics concept always has to stand up to one key requirement: ongoing availability of materials. Ensuring that is a crucial part of logistics at Bosch. That is why innovative Industry 4.0 technologies including RFID solutions, driverless transportation systems, and image recognition are used to ensure optimum, interconnected warehousing at all warehouse sites around the world.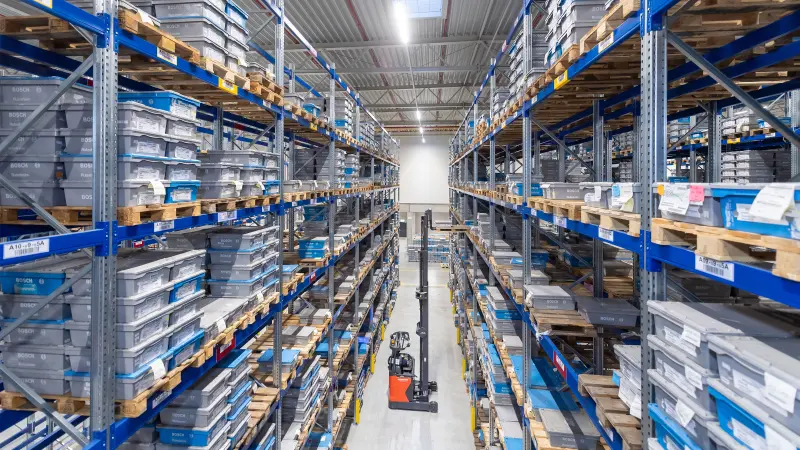 Logistics of tomorrow: innovation management and disruptive technologies
The world is growing more and more digital. Trends like new technologies, smart cities, autonomous driving, innovative transportation and mobility concepts, and the topic of sustainability are all essential parts of the logistics of tomorrow. As a leading IoT company, Bosch is in an excellent position, having recognized the potential of Industry 4.0 early on.
That is why the Bosch logistics organization continues to focus on the digital expansion and development of the supply chain and invest in new technologies to optimize processes and worldwide connectivity on an ongoing basis. This also includes a standardized crisis management process to allow us to respond reliably – and, above all, early on – to risks as they emerge.
Targeted innovation management and trend scouting practices allow the logistics teams to evaluate and implement forward-looking topics such as real-time location of objects and augmented reality.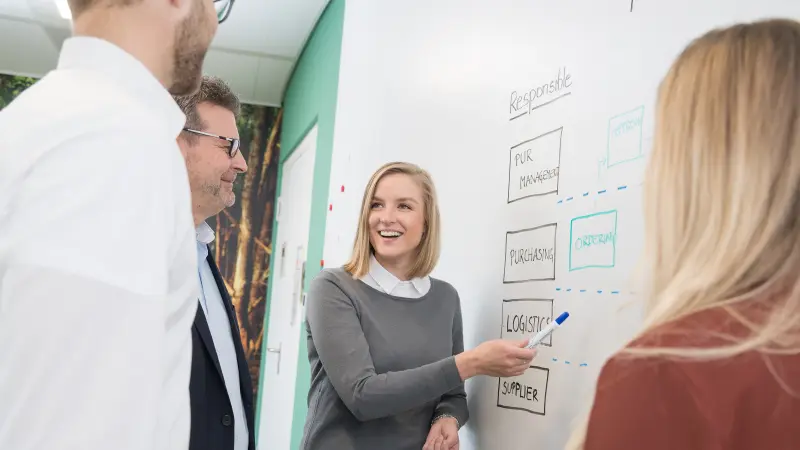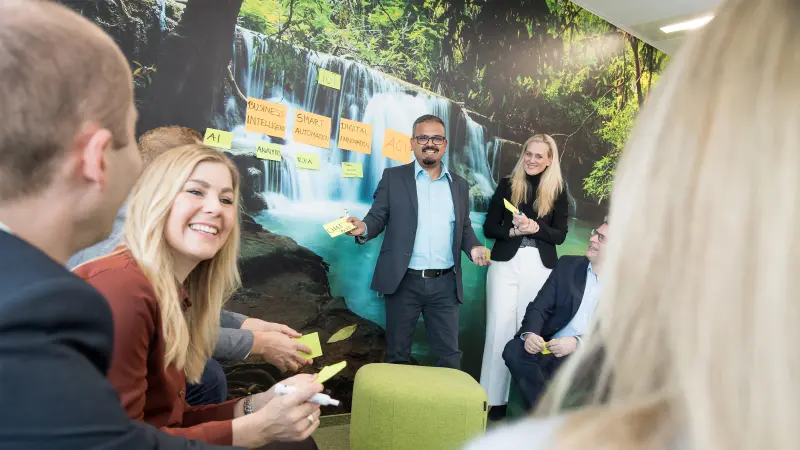 The requirements that apply to the logistics of the future are stringent, and continuous innovation is the driving force. That is because they are what drives the ongoing evolution and development of the supply chain. The Bosch logistics organization continues to count on associates who put their skills and expertise to work to advance further digitalization within logistics at Bosch. Their goal? Even more sustainability, efficiency, and connectivity within logistics processes – and the very same levels of quality and customer satisfaction that Bosch has always viewed as the benchmark for everything. Invented for life indeed.