Responsible corporate governance
Comprehensive sustainability strategy and consistent compliance
Clear strategy for more sustainability
Bosch's sustainability strategy is based on concrete objectives in all focus areas. We have for many years now been consistently working to realize those objectives – and we have reached a first key milestone with carbon neutrality (scope 1 & 2)*.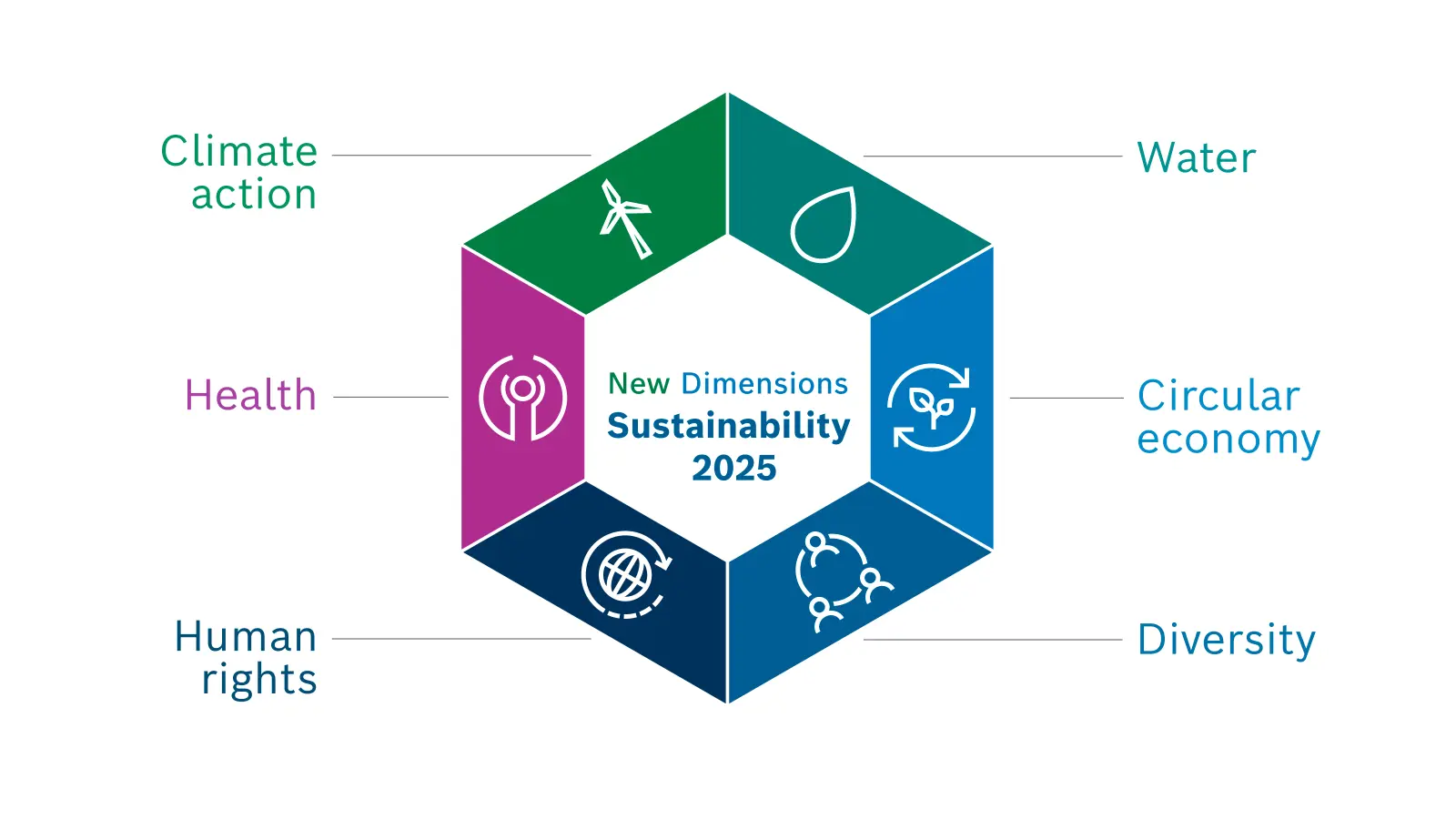 We see sustainability as the balance between the economic, ecological and social dimensions of our business activities as part of responsible corporate governance.
We have summarized the focal points of our sustainability management in the "New Dimensions — Sustainability 2025" target vision. It describes six topic areas that set the framework for our activities in the coming years.
Compliance – even beyond corporate boundaries
Compliance refers to the observance of legal requirements and internal corporate policies and rules. At Bosch, this is an integral part of our corporate values. To this end, we have unequivocally defined our position on legal requirements and ethical issues in a globally applicable Code of Business Conduct. Combined with the Bosch values, it provides the foundation for Bosch's success in business. We feel that responsible and lawful conduct is important beyond company boundaries and have formulated our expectations of our business partners in codes of conduct.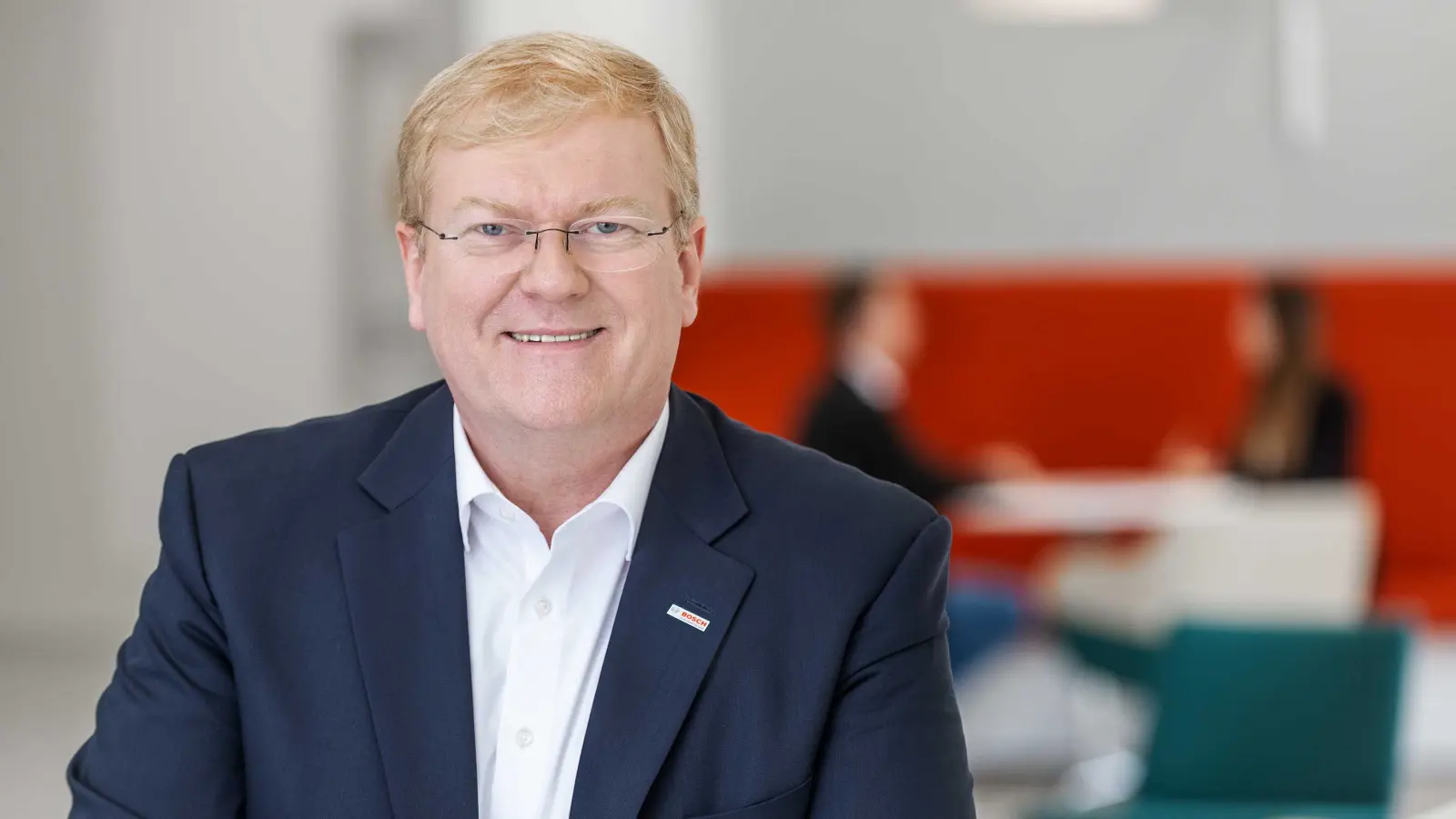 Comprehensive compliance management system
Bosch's compliance management system provides a binding framework worldwide for promoting compliant conduct and serves to reduce compliance risks. It provides the basis for effective implementation of external and internal requirements and defines minimum requirements for processes of relevance for compliance. These include various prevention and control measures as well as the internal Bosch reporting system. Associates, business partners, and third parties can use this system at any time to report non-compliance, anonymously if they wish.
Speak up! — group-wide awareness campaign started
By running a diverse range of campaigns every year, we increase the visibility of the topic of compliance and the pertinent contact persons within the company.
In this connection, a global awareness campaign on the Bosch reporting system and the protection of whistleblowers was launched in 2022. It is aimed at all Bosch associates worldwide and is intended to raise awareness of the issues of submitting reports and whistleblower protection. The campaign makes the work of the compliance organization transparent, thus helping to further strengthen the trust of associates in internal reporting and whistleblowing channels at Bosch. Under the motto "Speak up!" it also aims to encourage associates to report any suspicions of misconduct.
* With its more than 400 locations worldwide, the Bosch Group has been carbon neutral since 2020 (scope 1 & 2). For this, remaining emissions of 0.7 million metric tons of CO₂ were offset by carbon credits in 2022. Scopes 1, 2, and 3 are used in accordance with the Greenhouse Gas Protocol Corporate Accounting and Reporting Standard. To enable comparability between the climate impact of the various greenhouse gases and substances of relevance for the climate, emissions are presented in CO₂ equivalents. In this report, we have taken into account the effects of CO₂ and of other greenhouse gases, as well as climate-relevant substances, to the extent that these are of relevance for the analysis. For ease of reading, we use the terms CO₂ and CO₂ equivalents synonymously.