Motorcycle stability control (MSC) – added safety to the ride
Leaning a powerful motorcycle in critical road situations and on slippery surfaces just got safer: Bosch motorcycle stability control (MSC) supports riders when braking and accelerating while riding along straight sections or around bends. Riding is still dynamic and thrilling – the only thing that's new is the greater peace of mind that comes with additional safety.
Motorcycle ABS plus stability control
Braking and accelerating through a bend are critically important for motorcyclists. As standard ABS algorithms do not take the lean into account, they cannot adjust the antilock function while the bike is cornering.
In 2008, accident researchers at Bosch came to the conclusion that the motorcycle ABS should be extended to include a stability control mechanism. In less than five years, the Bosch MSC (motorcycle stability control) research project went from launch to volume production of MSC.
Motorcycle stability control (MSC) – from concept to reality
During the concept phase, our researchers studied the physical principles of braking in a bend, focusing on various research topics, and analyzing the feasibility of various solution approaches. They tested various concepts for lean-angle measurement that could recognize cornering situations. And a simulation environment and test vehicle were developed.
The next step was to create an algorithm that could accurately determine the lean angle for cornering. The research findings led the team to build prototypes of ABS with MSC function and traction control for motorcycles. All relevant data in the two-wheeler was recorded: wheel speeds, lean angle, pitch angle, acceleration, brake pressure and much more. This enabled it to detect critical situations and to intervene as required.
The result is a system that prevents the wheels from locking up during braking, the drive wheel from spinning, skidding when braking in curves, and lift in the front wheel during acceleration. On top of that, the system also ensures the optimum distribution of brake force between both wheels – even if only one brake is being applied.
Safe technology on the motorcycle market
As an active safety feature, motorcycle stability control (MSC) has meanwhile become standard equipment in new motorcycles.
The MSC system can mean the difference between life and death. The laws of physics remain the same, but the system supports riders in borderline situations and makes riding a motorcycle a more enjoyable experience.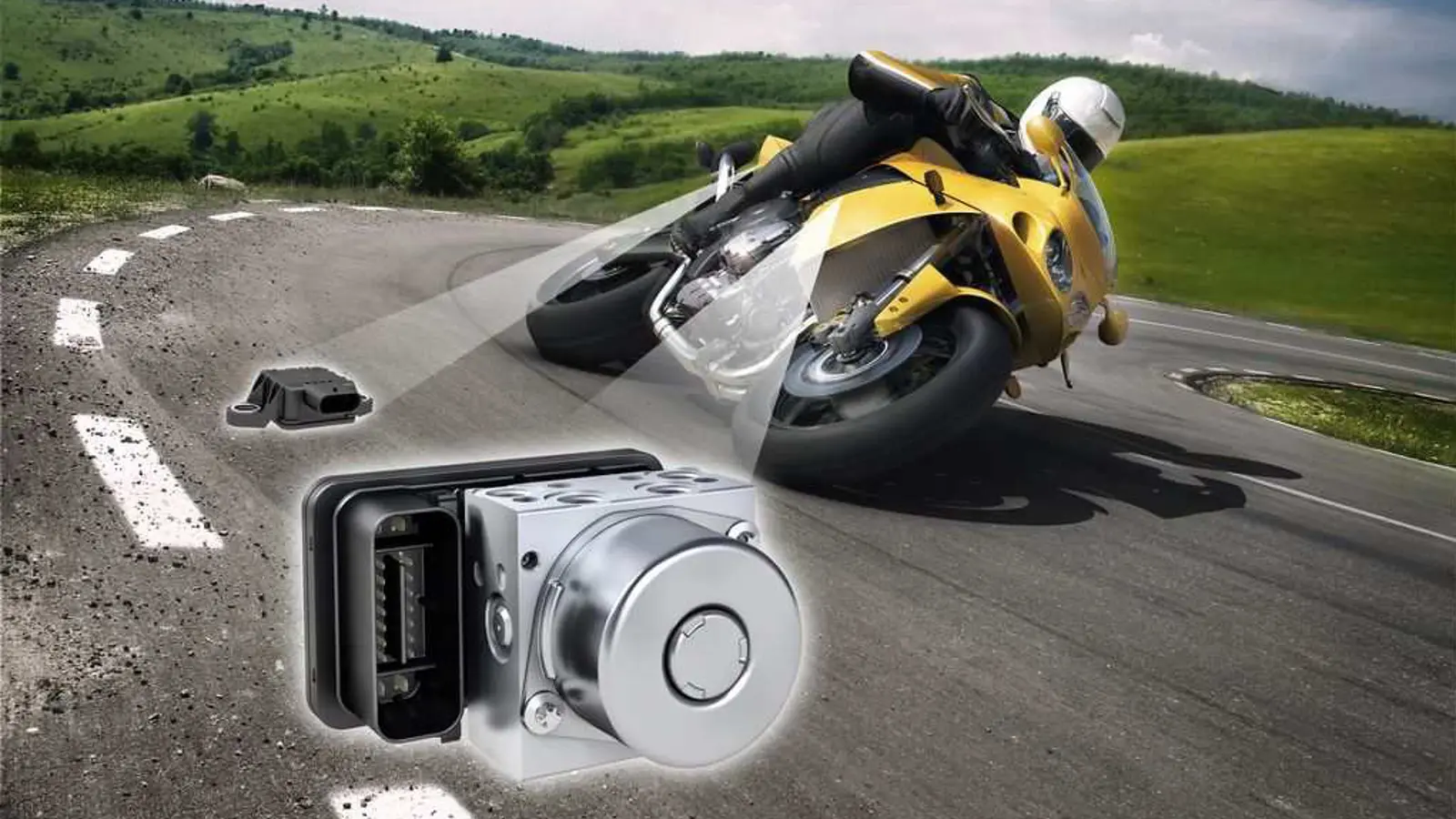 Rewards beyond recognition for the MSC project team
In recognition of their research, the MSC project team received the coveted internal "Robert Bosch Innovation Award" in 2013 and the international "CLEPA Safety Innovation Award" in 2014.
Current research topic: extending the physical limits of cornering
Bosch researchers are applying new approaches to making motorcycling even safer. When braking in bends, for example, MSC limits the cornering force in line with the friction value between wheels and the road. Furthermore, riding over oil slicks, wet leaves or similar can cause falls even without braking.
In an effort to make cornering safer in such situations, Bosch Research is working on a safety system which is unique worldwide for motorcycles where gas generators superimpose additional lateral force as required to keep the motorcycle safely on track in borderline situations such as those referred to above. The effectiveness of this functional principle has been confirmed in both simulations and in real riding tests.
Bosch put an indelible mark on motorcycling with the introduction of motorcycle stability control (MSC). It improves riding stability and braking performance while riding straight or cornering, making riding safer and more fun than ever before.