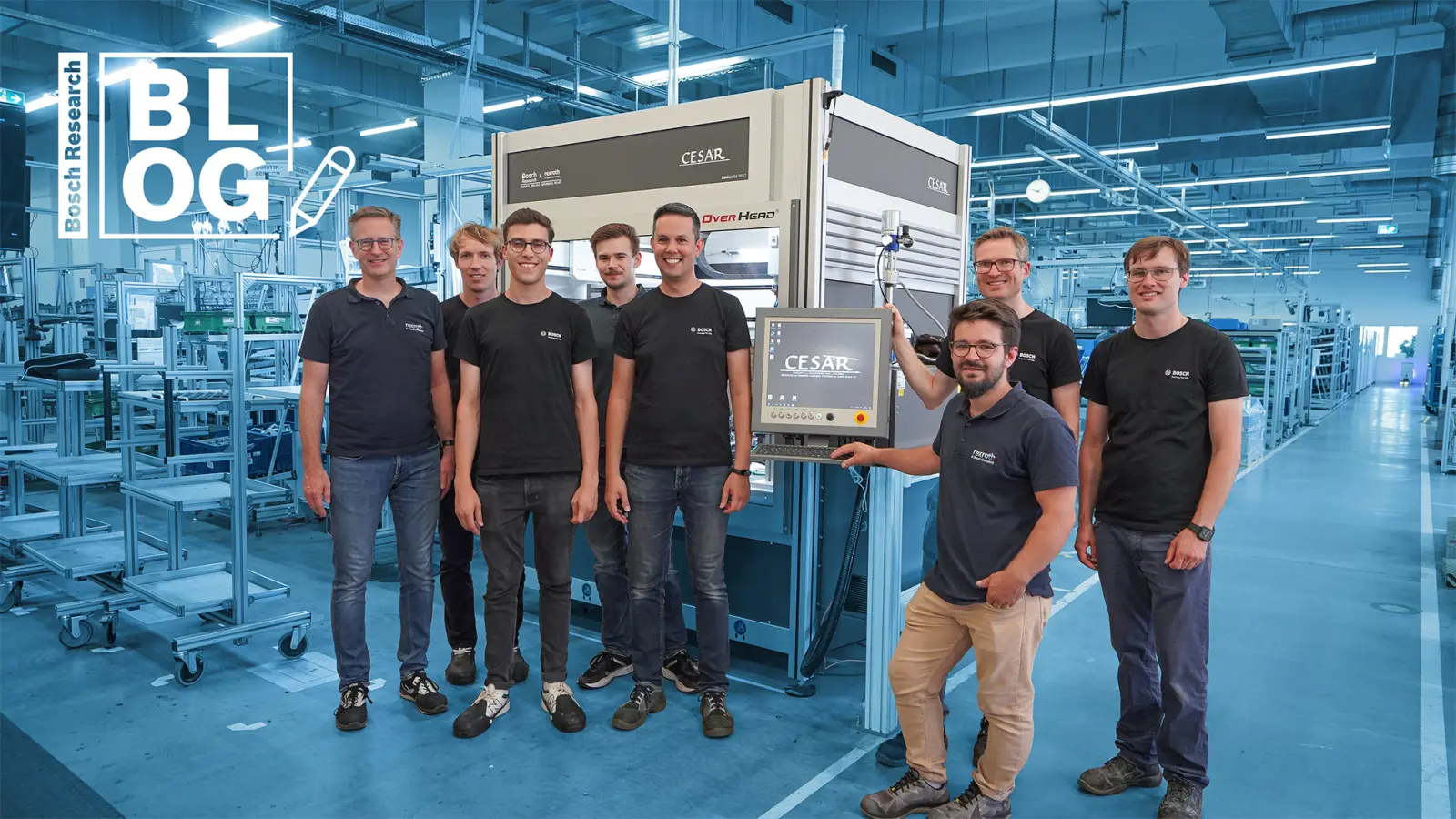 CESA³R stands for Concept for Engineering free, Scalable, Advanced Automated Assembly systems for Rapid ramp up. Behind this long list of good production attributes lies a revolutionary machine concept. We are currently in the midst of one of the biggest industrial transformation phases the economy has ever experienced.
How does this machine concept fit into this context?
Our two Bosch Research experts Marian Vorderer and Urs Leberle know the answers.
What distinguishes CESA³R as a machine concept?
Marian: The CESA³R concept makes it possible to scale automated assembly quickly and easily and adapt it to suit specific customer requirements. The basic machine and process modules are separate, meaning quantities are infinitely variable and entire processes can be changed over in next to no time by swapping the modules. This both increases a machine's utilization rate and minimizes the investment.
Urs: Another aspect is that product life cycles are getting shorter and shorter, and yet there is also a development toward increasingly customized products. To be successful in a world of VUCA (volatility, uncertainty, complexity, ambiguity), we need to develop adaptable production concepts that can be adjusted quickly and easily in line with changing requirements — especially since quantities also vary a lot at the same time, too. With CESA³R, we are well on our way to achieving this, particularly when it comes to small to medium-sized quantities.
What is the biggest benefit of CESA³R?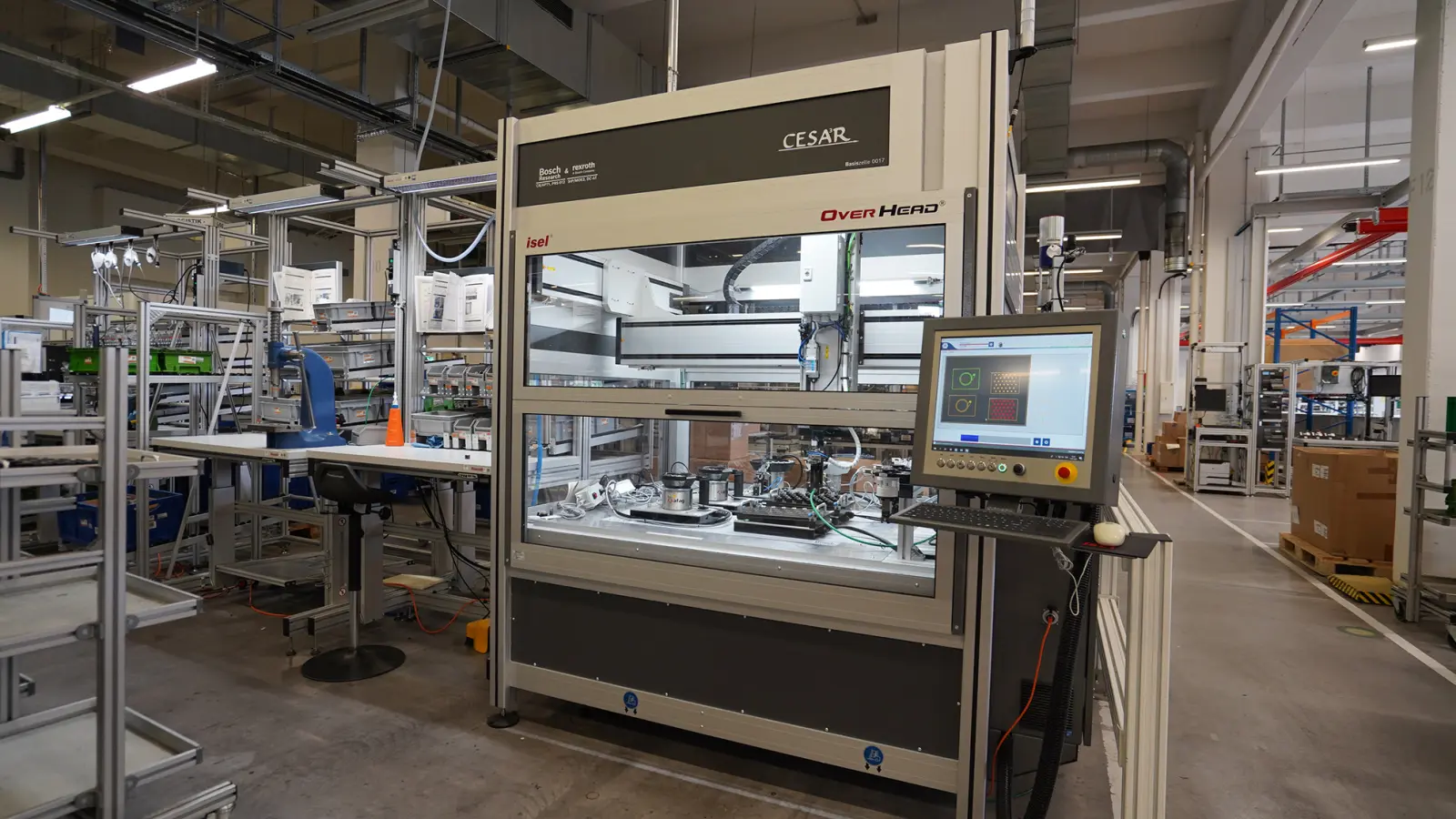 Urs: With CESA³R, it's not just the hardware that is modularized — the software is, too. The crucial point about this machine concept is that it is built out of standardized, preconfigured process modules, so the different functions of a machine no longer need to be individually programmed. Consequently, when you are applying the modules to a certain product and the corresponding assembly sequences, you only have to make minor adjustments — and you don't need any specific programming knowledge. This means that implementing an automation solution in the future will involve much less effort than it does at the moment.
Sustainable production is another challenge of our times. Does the machine concept offer benefits in this respect, too?
Marian: Absolutely! Modularity — in other words, the separation of the basic machine and process modules — is in the very DNA of CESA³R, which means there is no need to build a new machine for every application. The individual modules can be reused, which saves material resources and also reduces CO₂ emissions.
Are there applications to which CESA³R is particularly well suited?
Urs: The machine concept is suitable for use in any situation where small quantities need to be produced and where there are high levels of variation or short product life cycles. One example is prototype building. This usually involves an extremely small production quantity, so automating the process would generally be uneconomical. However, thanks to its adaptable modules, CESA³R allows for flexible automation and scaling of quantities over the various prototype stages.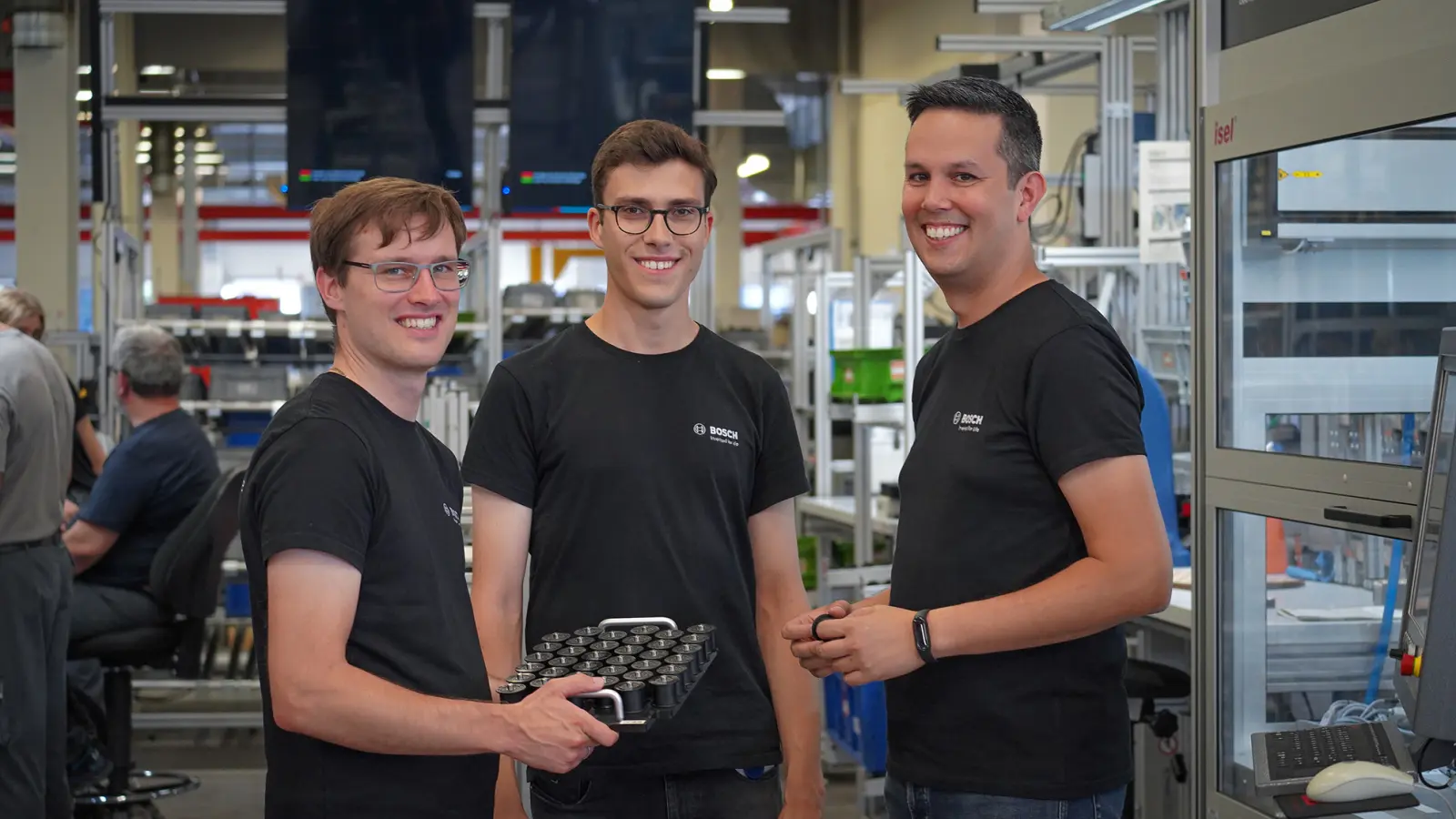 Marian: In a second application, the focus is on serial assembly with small batch sizes. In such cases, assembly processes are currently still often carried out by hand, because it would cost too much to automate these manual processes.
Where is CESA³R already being used at Bosch?
Marian: One good example is our collaboration with the Bosch Rexroth plant in Stuttgart. Our colleagues were set the task of automating the assembly of both deflection rollers and hammer-head bolts in a way that was cost-efficient and based on the usual two-shift operation. The initial idea was to procure two special-purpose machines — but even though this approach would have served the purpose, it would have involved too big an investment. This was where the modular concept of CESA³R really impressed — only one basic machine needed to be purchased for the application, but the investment could be used for two products. The process modules can simply be swapped over, depending on whether the machine is to produce hammer-head bolts or deflection rollers.
What are the requirements for a successful implementation of CESA³R?
Urs: A modular machine concept such as CESA³R can only realize its full potential when as many people as possible get involved — suppliers of components and process modules, system integrators, and, of course, plant operators. After all, to implement a concept like this, appropriately standardized machines, process modules, and software components need to be developed first. At the outset, this involves quite a high initial outlay for all the parties involved. However, this pays off by the time several players within the ecosystem share their process modules with others — this offers huge synergistic effects that certainly shouldn't be disregarded.
So everyone can profit from CESA³R?
Marian: The vision of creating an entire ecosystem with CESA³R should not be limited to Bosch Research, but rather extended globally to external partners, too. We are always on the lookout for new internal and external partners who can offer interesting applications for our concept.
YouTube
Video cannot be shown without your consent
In this video you can see how CESA³R functions and makes adaptable production possible.
What are your thoughts on this topic?
Please feel free to share them or to contact us directly.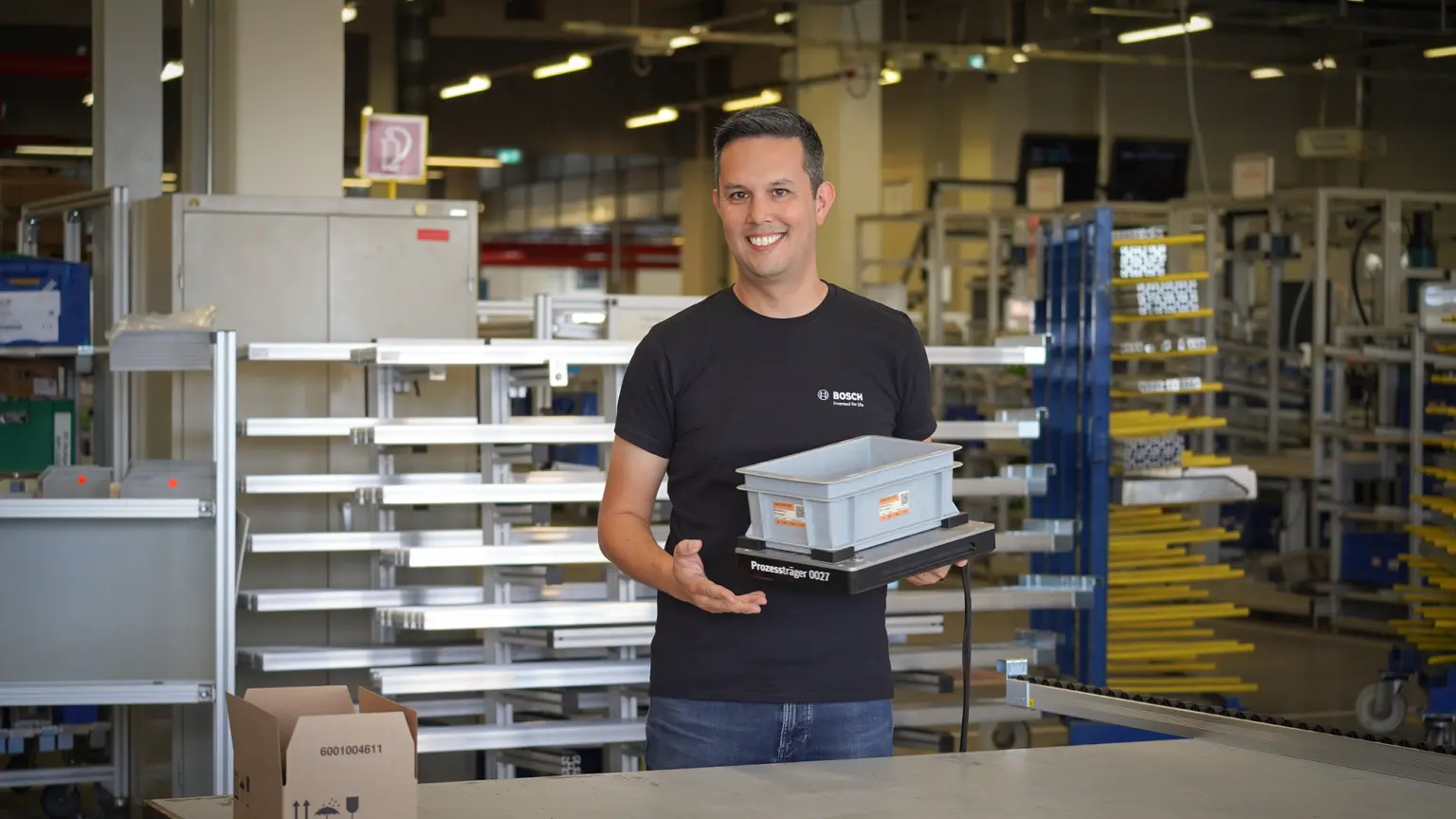 Author: Marian Vorderer
Marian joined Bosch in 2014 after gaining several years of experience in various development, sales, and management roles in the industrial automation business. With a background in electrical engineering, his passion for hands-on technology, and his drive for innovation, he developed the technical concept for CESA³R. He completed his Ph.D. (Dr.-Ing.) together with Bosch Research and the University of Stuttgart. He works within the research activity that focuses on bringing new ideas to the shop floors of Bosch plants and beyond.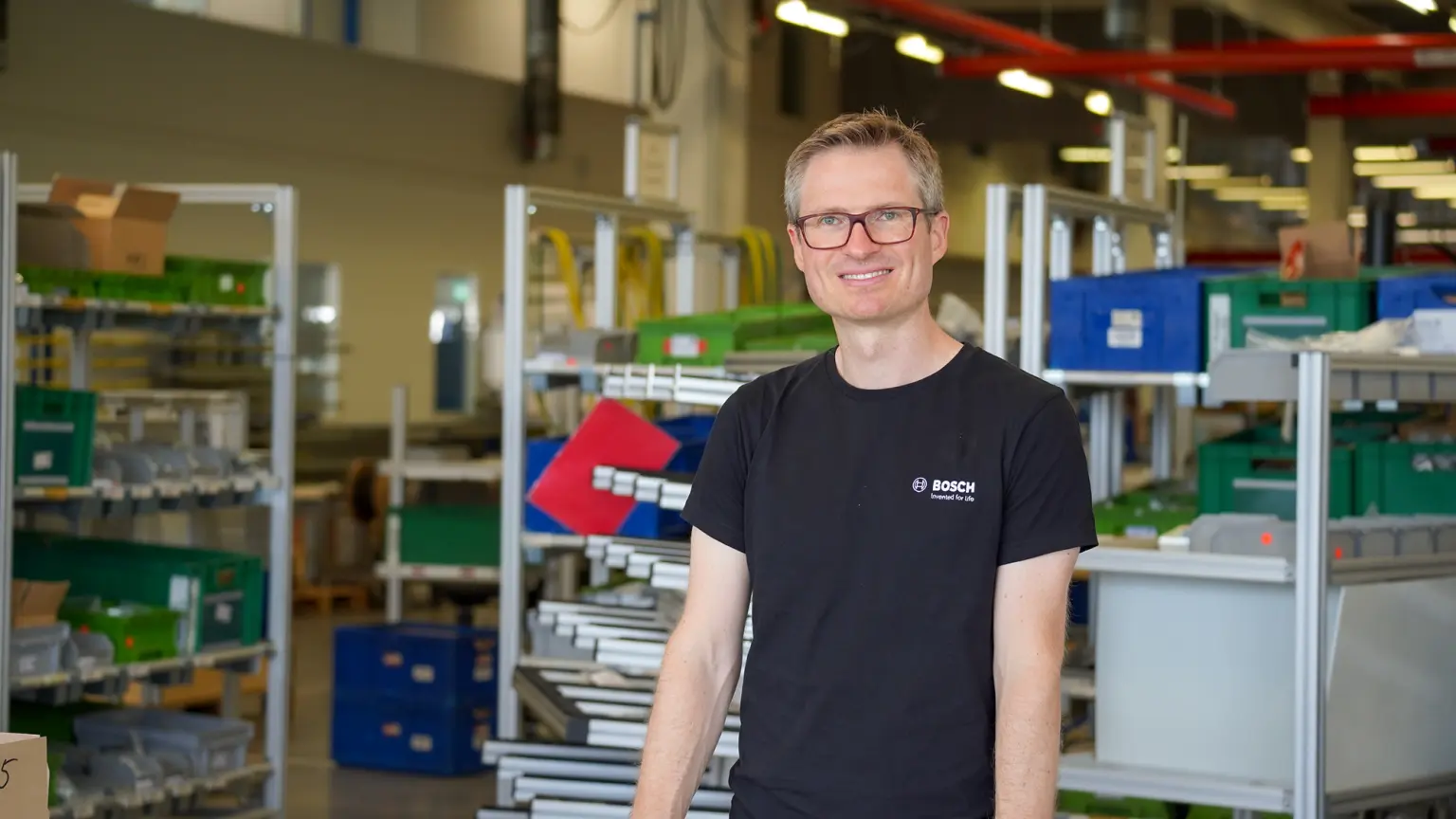 Author: Urs Leberle
Urs is heads of the convertible assembly technology research activity at Bosch Research. He studied mechanical engineering at the University of Karlsruhe (KIT). After graduating, he worked as a research associate at the wbk Institute of Production Technology at KIT and completed his Ph.D. on the topic of flexible part feeding in automated assembly systems. In 2015, he took up a project manager post at Bosch Manufacturing Solutions GmbH, a global supplier in the area of special-purpose machinery. About four years ago, Urs moved to the advanced production technologies department of Bosch Research to focus on the new demands placed on production technology in an increasingly dynamic world.