Cars that go to school? Just part of the daily routine at Bosch. Today's vehicles are real nerds. Thanks to artificial intelligence, they can perform calculations three times faster than humans. A visit to Dr. Oliver Pink's classroom shows how Bosch is making the mobility of the future safer and less stressful.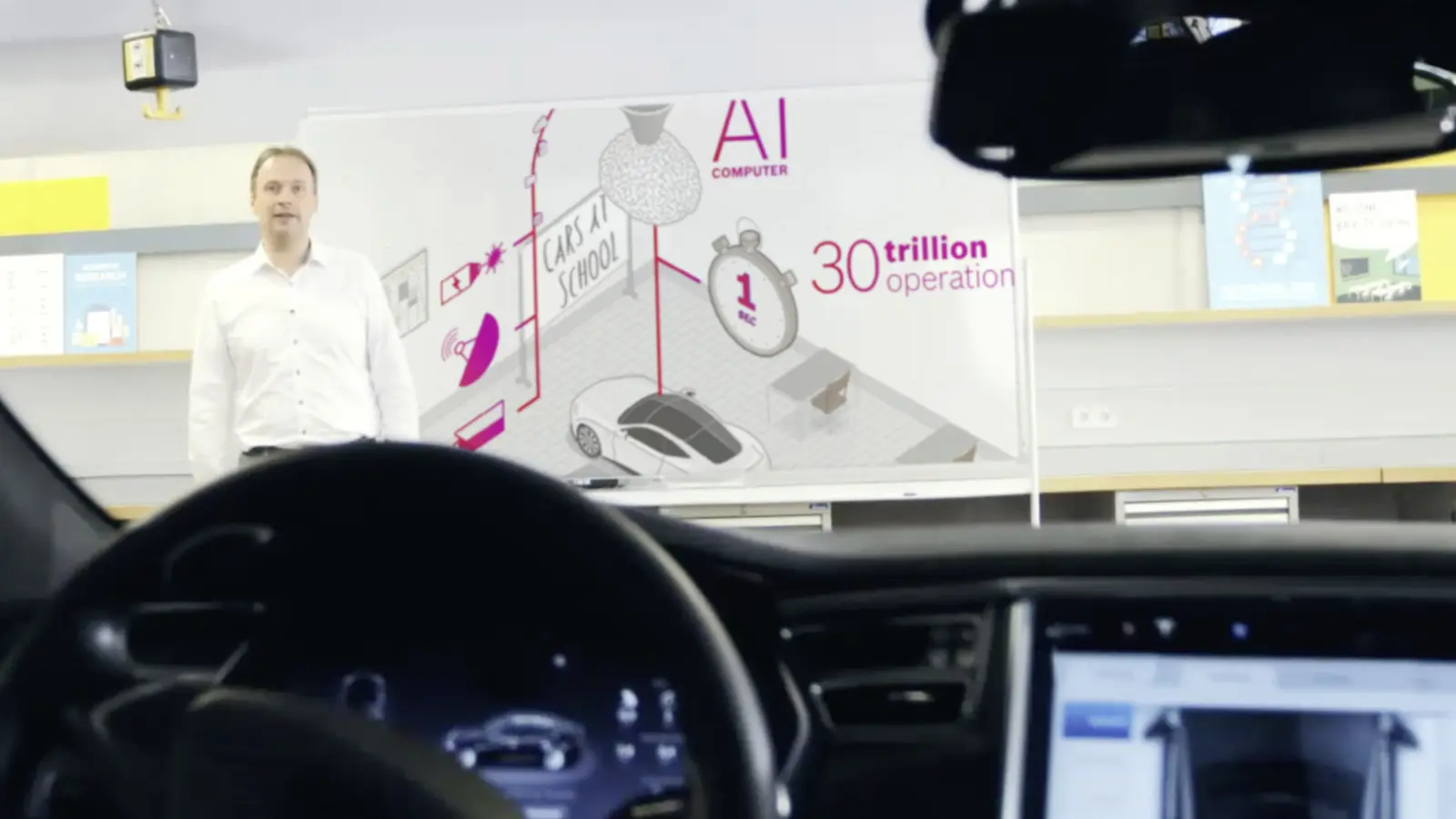 The first lesson of the day is math. The assignment is to calculate faster than a human. "With the Bosch onboard AI computer, a car will soon autonomously understand its surroundings and react appropriately," Oliver Pink says. The car will put all the information it has gathered into context and then make a decision. And drawing on stored data, it will learn to predict how a situation will develop: when a ball rolls onto the street from between two parked cars, a child might run after it. The car reduces its speed as a precaution. Each journey it makes, a car with an onboard AI computer will anonymously gather new data about factors such as surrounding traffic, road conditions, and congestion, and save the information in a huge database. We will use this data to develop situation models and store them in neural networks. And once we have thoroughly checked the algorithms generated from them, the knowledge will be available to all intelligent cars." In any driving situation, therefore, the onboard AI computer will be able to access the experience from millions of other situations, allowing it to make the right decision in a split second.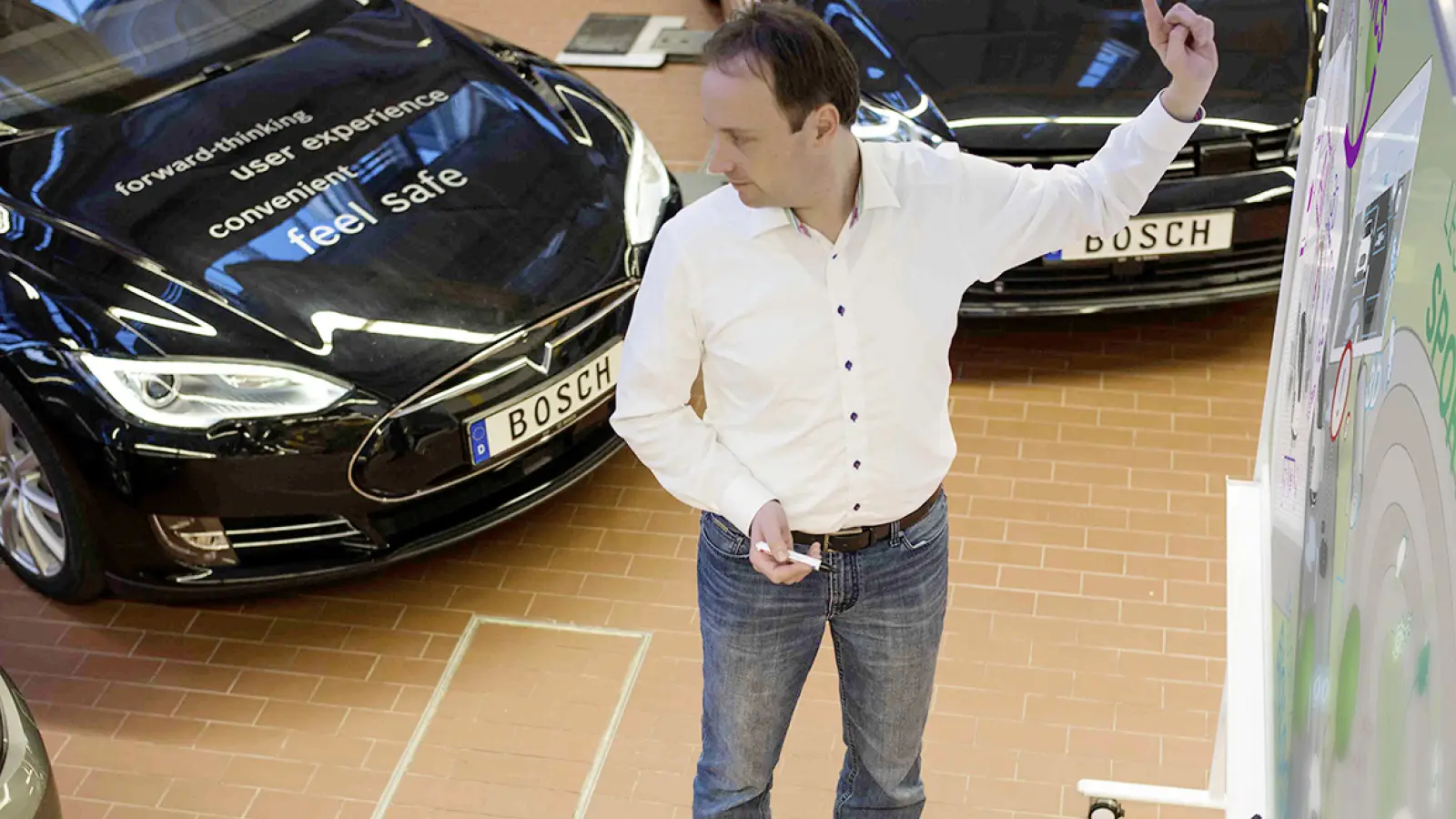 Next up is biology, and how the car sees. Oliver Pink: "Even if the car is driving slowly, the vehicle still has to be able to recognize objects up to 50 meters away, and especially the route it will be covering." Using its Bosch stereo video camera, the vehicle completes this assignment effortlessly. It captures its surroundings in high resolution with 1280 x 960 pixels — in 3D, with high contrast, and in color. But it's the next step that is the crucial one: the onboard AI computer processes this image information in an instant, then combines it with other data, including radar and ultrasonic signals, collected by other sensors, of which there are more than 40 at present. The end result is an overall image of the vehicle's surroundings. "Studies show that in Germany, for example, 90% of all accidents resulting in injury are the result of human error. Automation could be the answer to this," Pink says.
9:30 a.m.break — what every cool car needs to know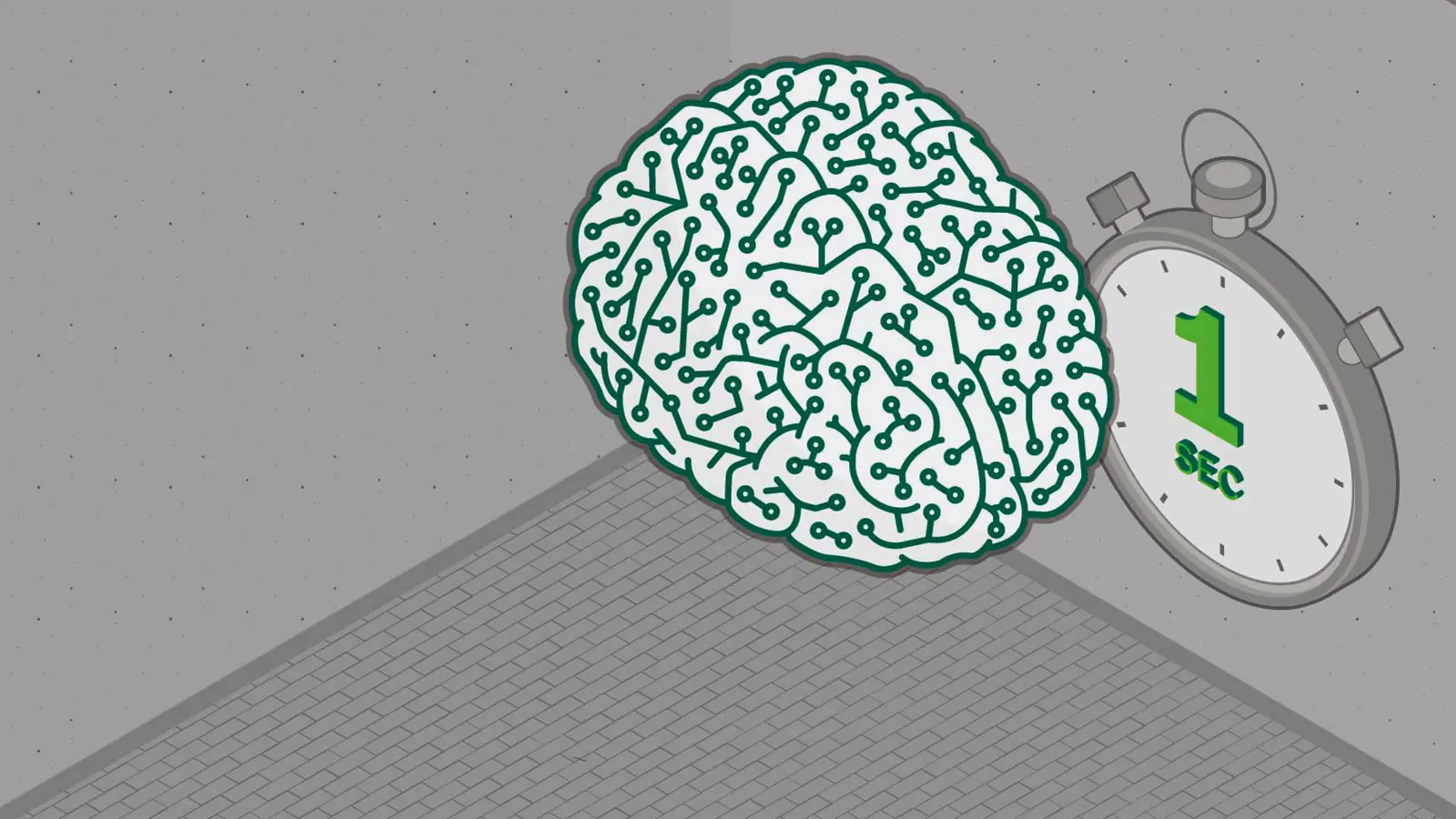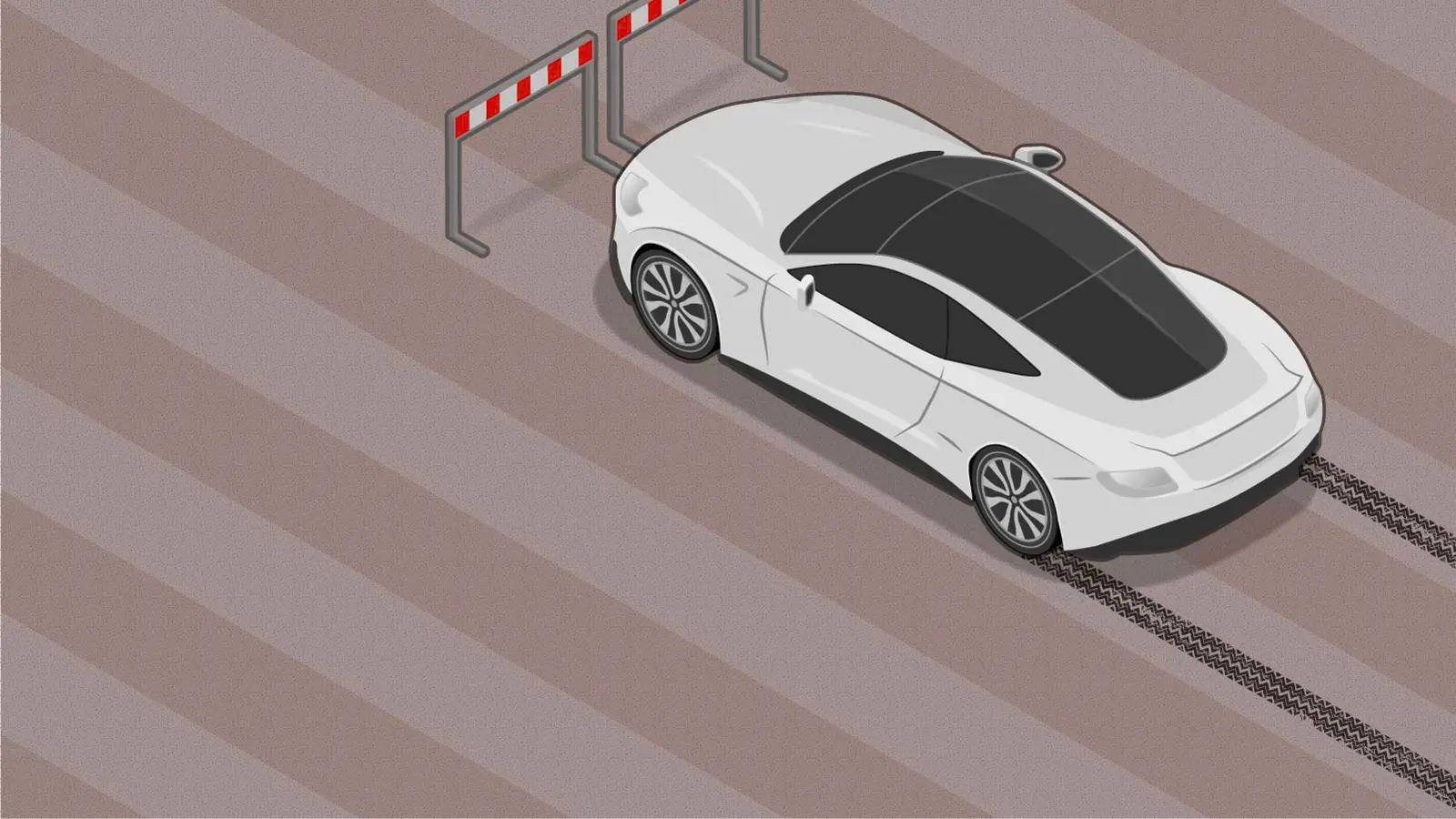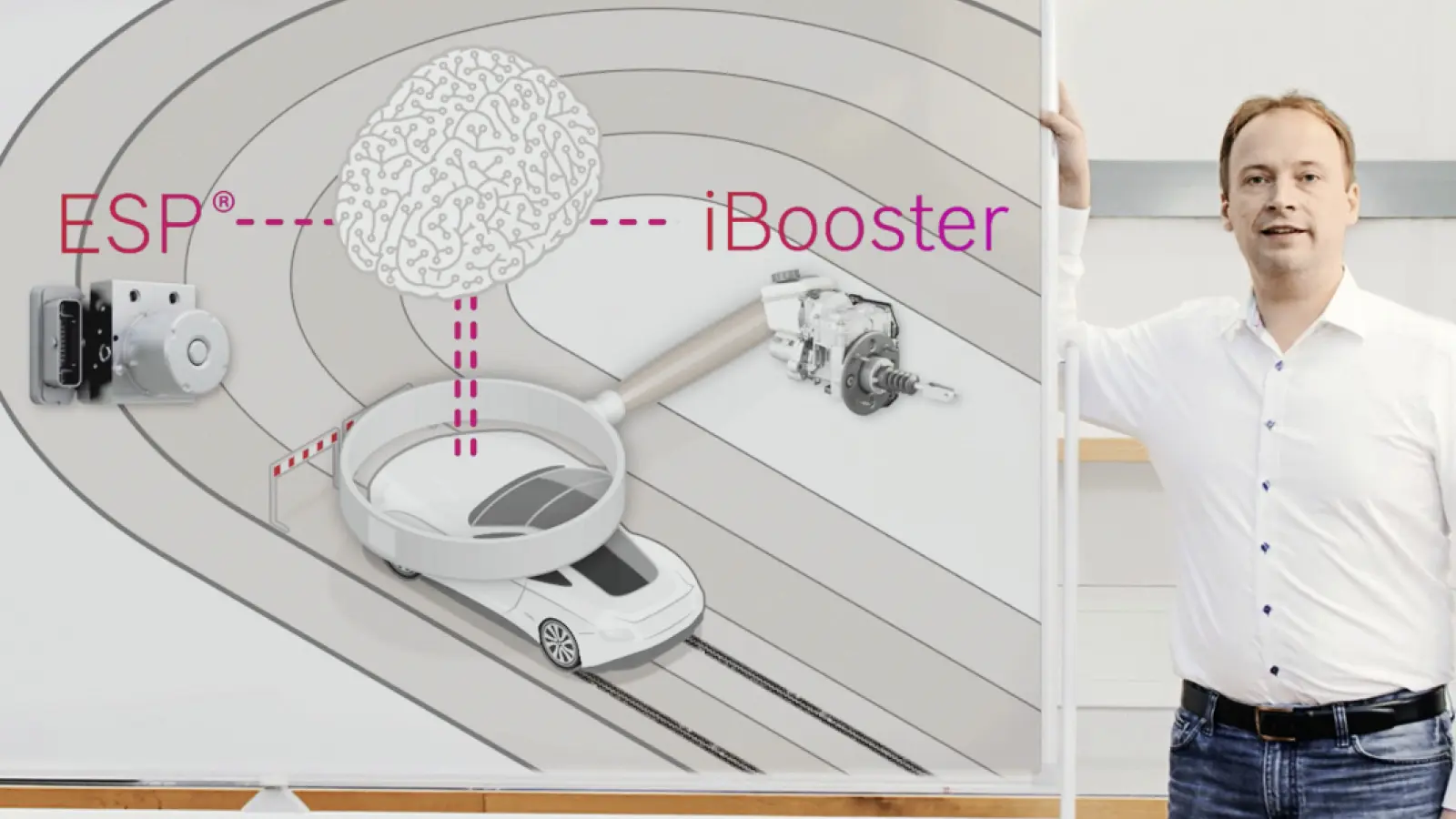 Today's lessons end with some physical exercise: braking safely – even in an emergency. Oliver Pink describes the ideal way of achieving this: "Once again, it all comes down to the onboard AI computer. It analyzes all the data it has received from cameras and radar sensors, makes a decision based on the patterns it has stored, and then sends a signal to the braking system. The car stops. We have equipped our self-driving cars with two independent — or redundant, as we say — braking systems: the ESP® electronic stability program and the iBooster electromechanical brake booster. In an emergency braking situation, the full braking force is activated in just 192 milliseconds — less time than it takes to blink twice."
A visit to the school for cars
YouTube
Video cannot be shown without your consent