Human against machine: The two go head-to-head in table soccer! In Bosch's table soccer game, the player competes with artificial intelligence to score goals — and the robot improves with every lesson.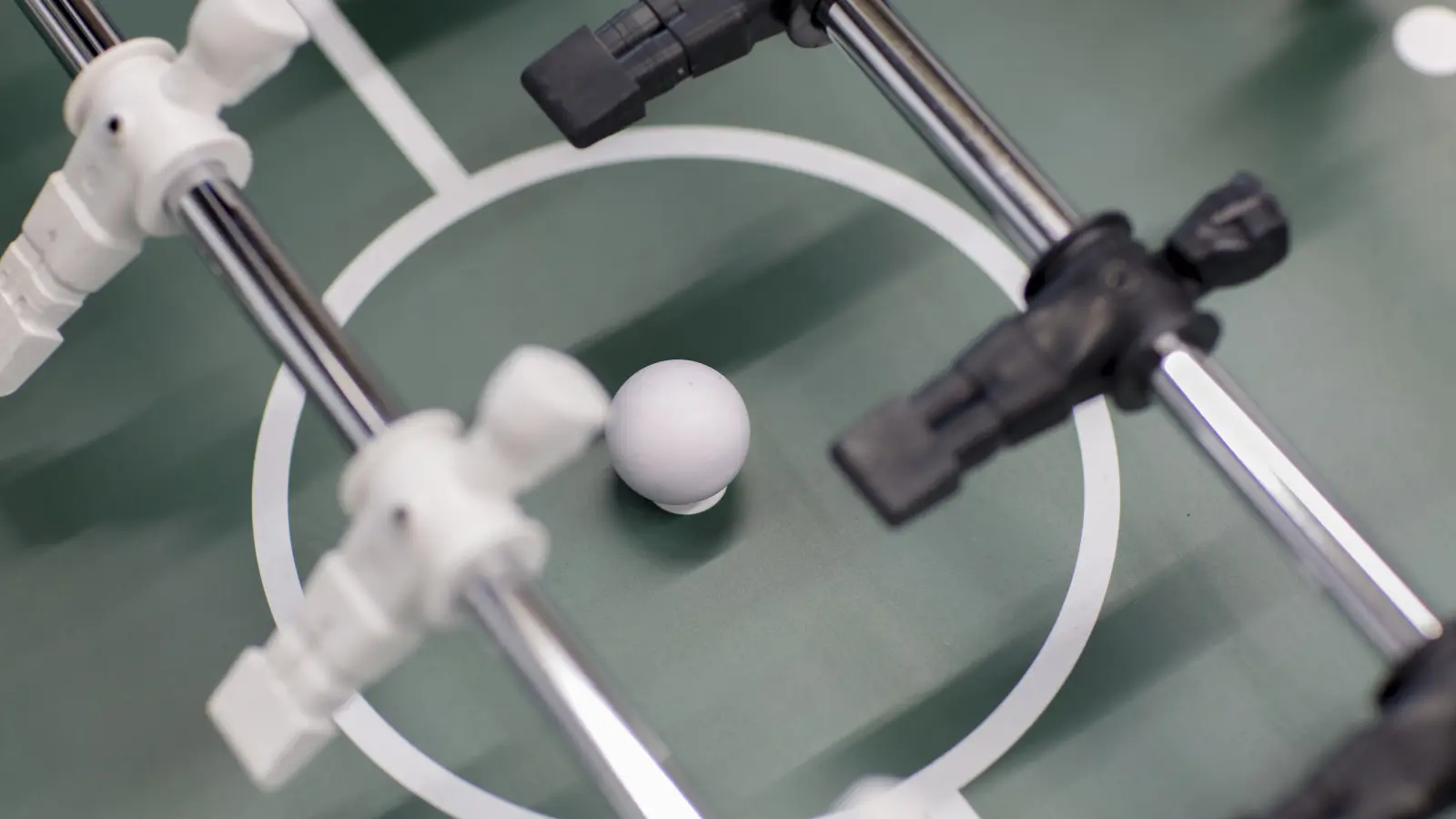 Is the game now in the hands of the soccer God? In the InnovationLab at Bosch Rexroth, there's a table soccer game where the little men rotate all on their own. Passes, shots, defensive strategies – it all happens without any human influence. At the other end of the table are two human players and they are playing a match against an invisible hand.
It's got nothing to do with magic! Behind the self-rotating plastic men are clever engineering skills. The eleven players are not guided by human hands but by four motors and a high-performance computer. They basically give the plastic figures legs to run on. At the side of the table is an excited Hans Michael Krause, the developer of the table soccer computer – or better put, its coach.
Non-stop: KI-cker in the training camp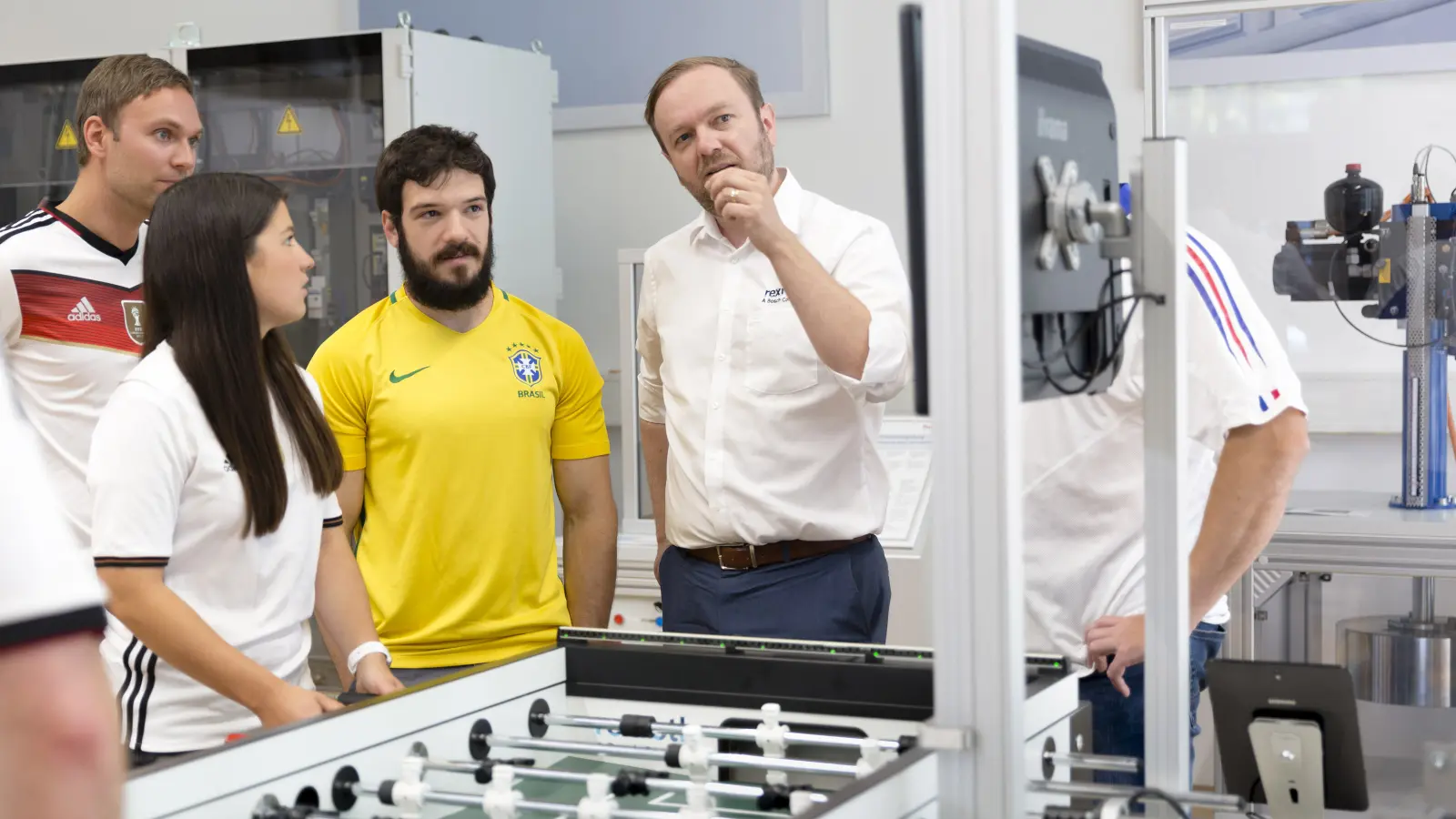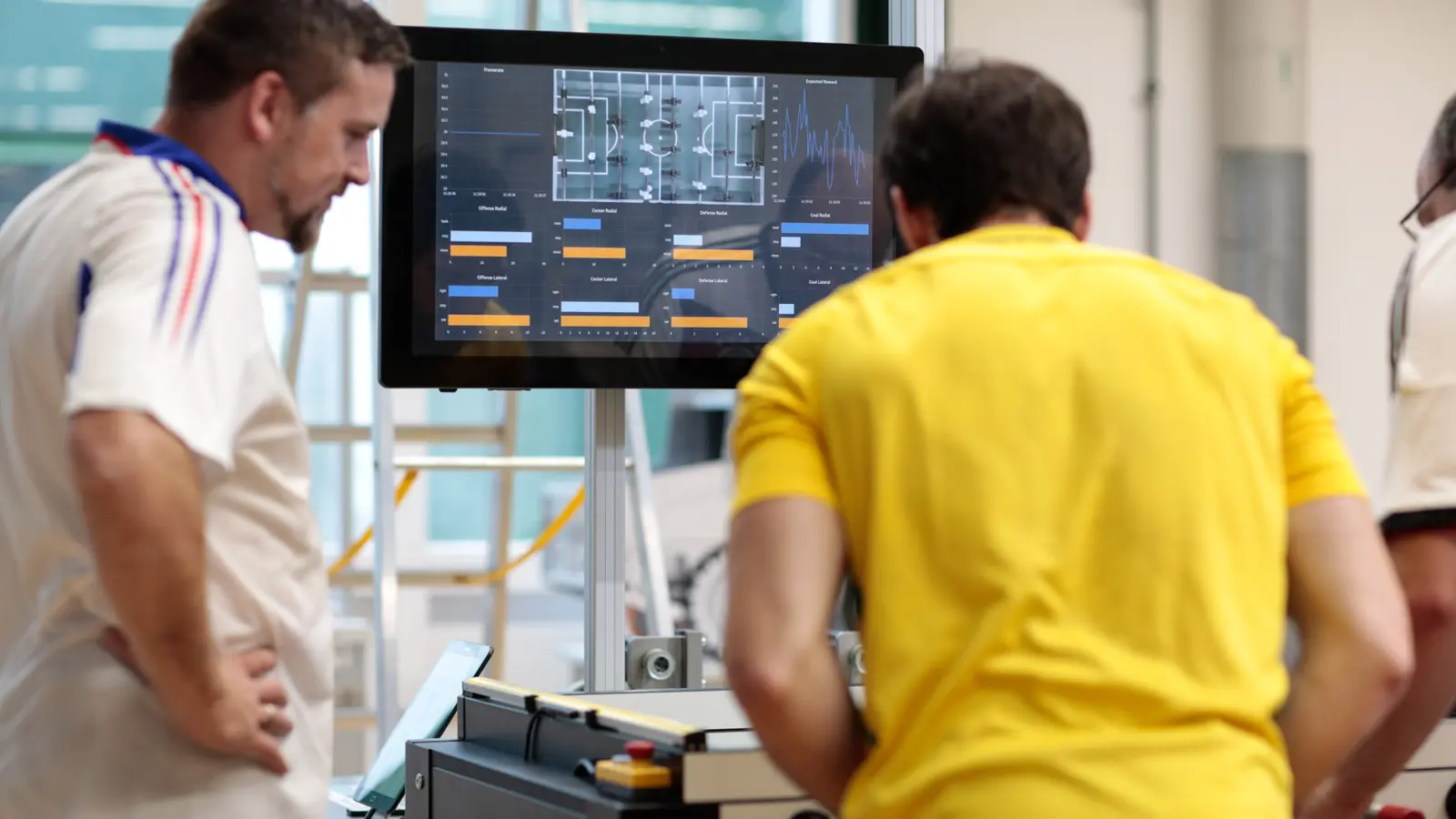 A continual learning process
"There's never been anything like it in table soccer," says Krause who leads market and product management at Bosch Rexroth in the PLC and Internet of Things sectors. "Some table soccer games are already automated, but they function by means of a classical program." The disadvantage of such equipment is that it doesn't learn anything new. However, Krause's squad of plastic men have great potential and improve with every game. The technology is based on artificial intelligence (AI) and machine learning. Bosch Rexroth has got support from TNG Technology Consulting in setting it up.
Bosch Rexroth's InnovationLab in Lohr am Main, Germany has been transformed into a training camp. Krause's machine is trained by algorithms. The process functions as follows: a camera films the playing area from above and transmits the images to a computer that saves them in a cloud. The data is analyzed via algorithms. Moves that lead to goals are evaluated as "right", and own goals are "wrong". It's just like real life where teams practice moves and players hone their shooting skills.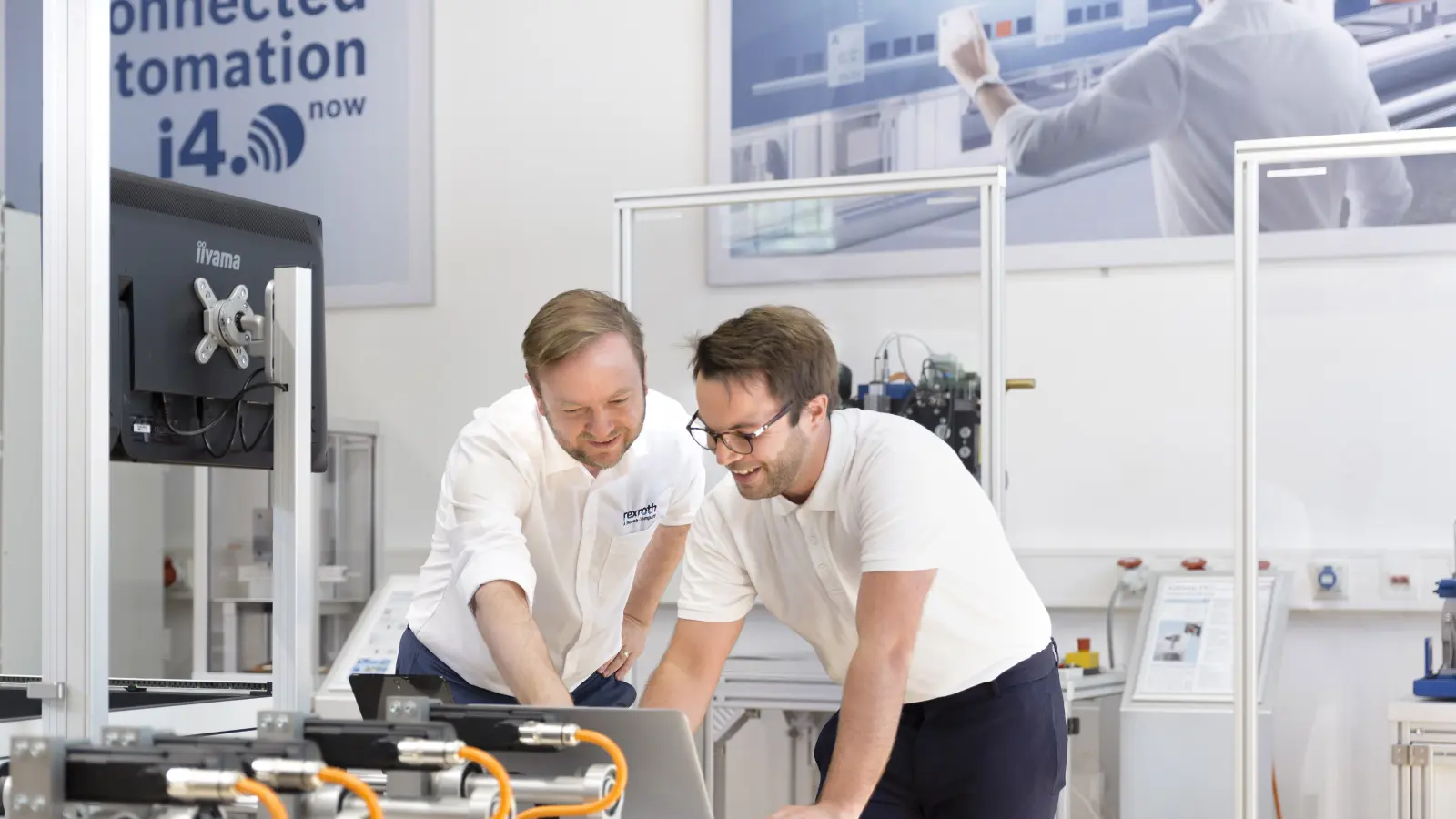 Therefore, a lot of table soccer is played in the InnovationLab because the machine needs practice. The more skillful the human opponent, the better it is for the AI as it is able to study the opponent's moves and optimize its algorithms by means of its observations. The big advantage of artificial intelligence will soon come into play. Whilst even top soccer players need a rest, the computer can keep putting in extra training sessions, and with the help of simulations it can also absolve virtual sessions. In this respect, Krause is a hugely demanding coach.
After the match is before the industrial use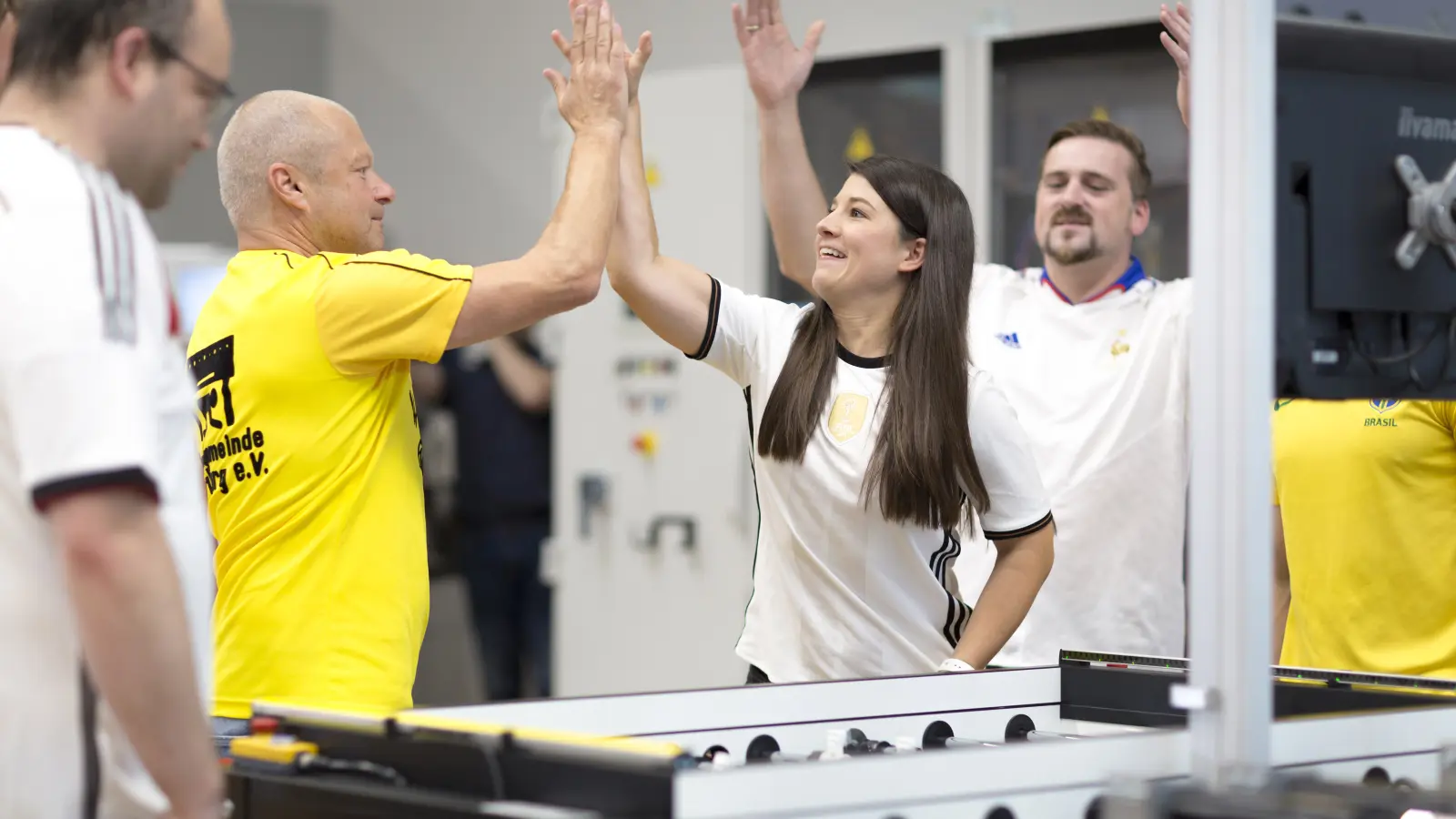 The more the AI develops, the more probable Krause and his team will close in on their goal: "The know-how we gain from this project is something we want to use in industry," he says. A machine could learn to control itself to avoid downtime. Or request maintenance whenever there are problems it cannot solve itself.
"It'll take a few years," says Krause. In the same breath, he starts delivering an euphoric locker room team talk: "It really does have everything it takes to beat the world's top players. It'll learn all about winning." The coach is optimistic: "All it needs to do is play lots of games." And Krause will let it play.
Sporty software: AI learns to play table soccer
YouTube
Video cannot be shown without your consent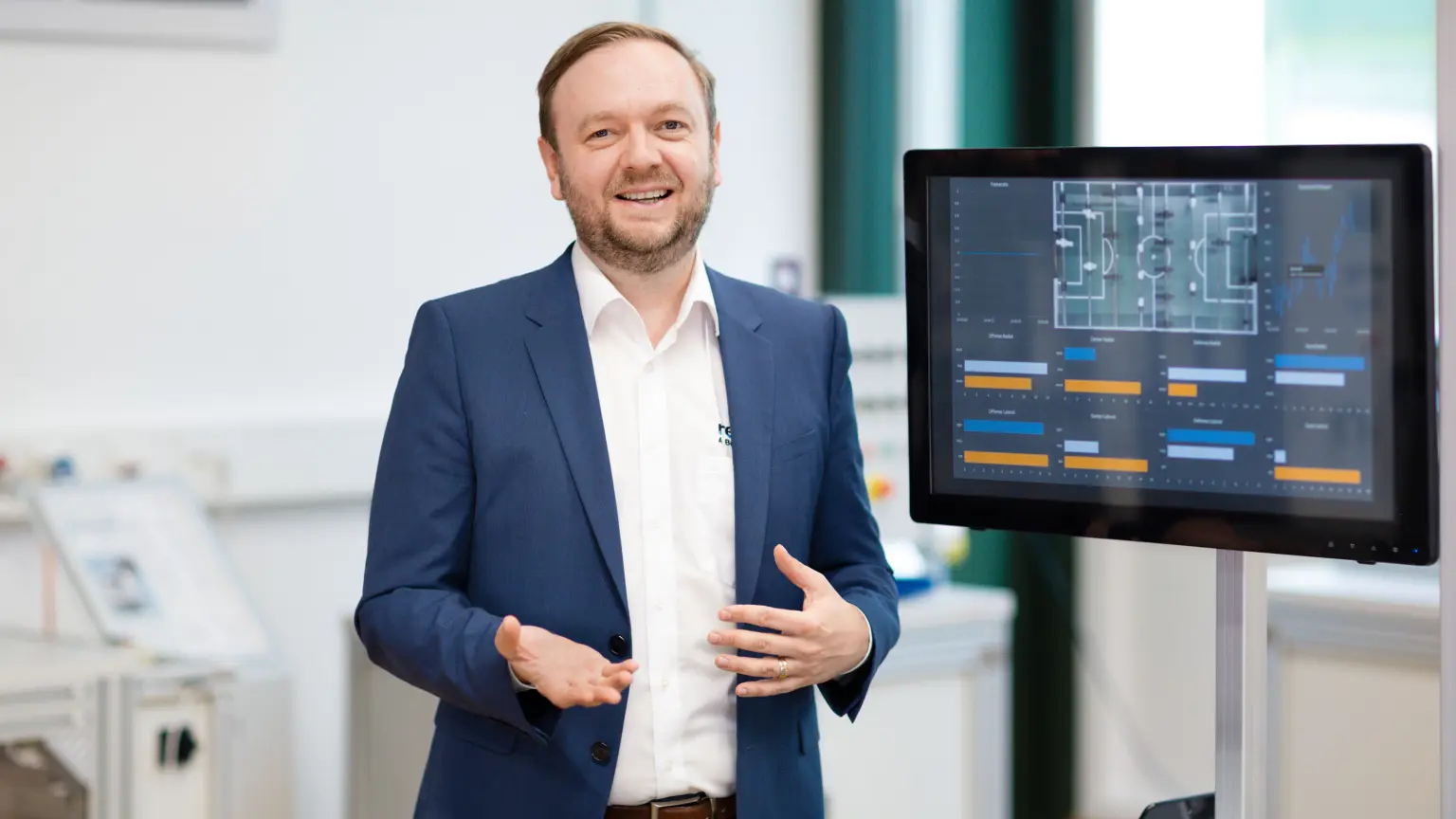 Hans Michael Krause
Director Market and Product Management PLC and IoT Systems, Bosch Rexroth AG
With artificial intelligence, it's like with children. They learn by observing and being rewarded. If the AI table soccer scores then it's rewarded by the algorithm.
Hans Michael Krause has been responsible for Bosch Rexroth's PLC automation and IoT Solution business in the Automation & Electrification Solutions division. After graduating with a diploma degree in Electrical Engineering and a master's degree in Industrial Management, he started his professional career in Argentina working as an automation engineer. He has been at Bosch Rexroth since 2007.