Bosch at the CES 2022
High-tech to make everyday life safe, convenient, and sustainable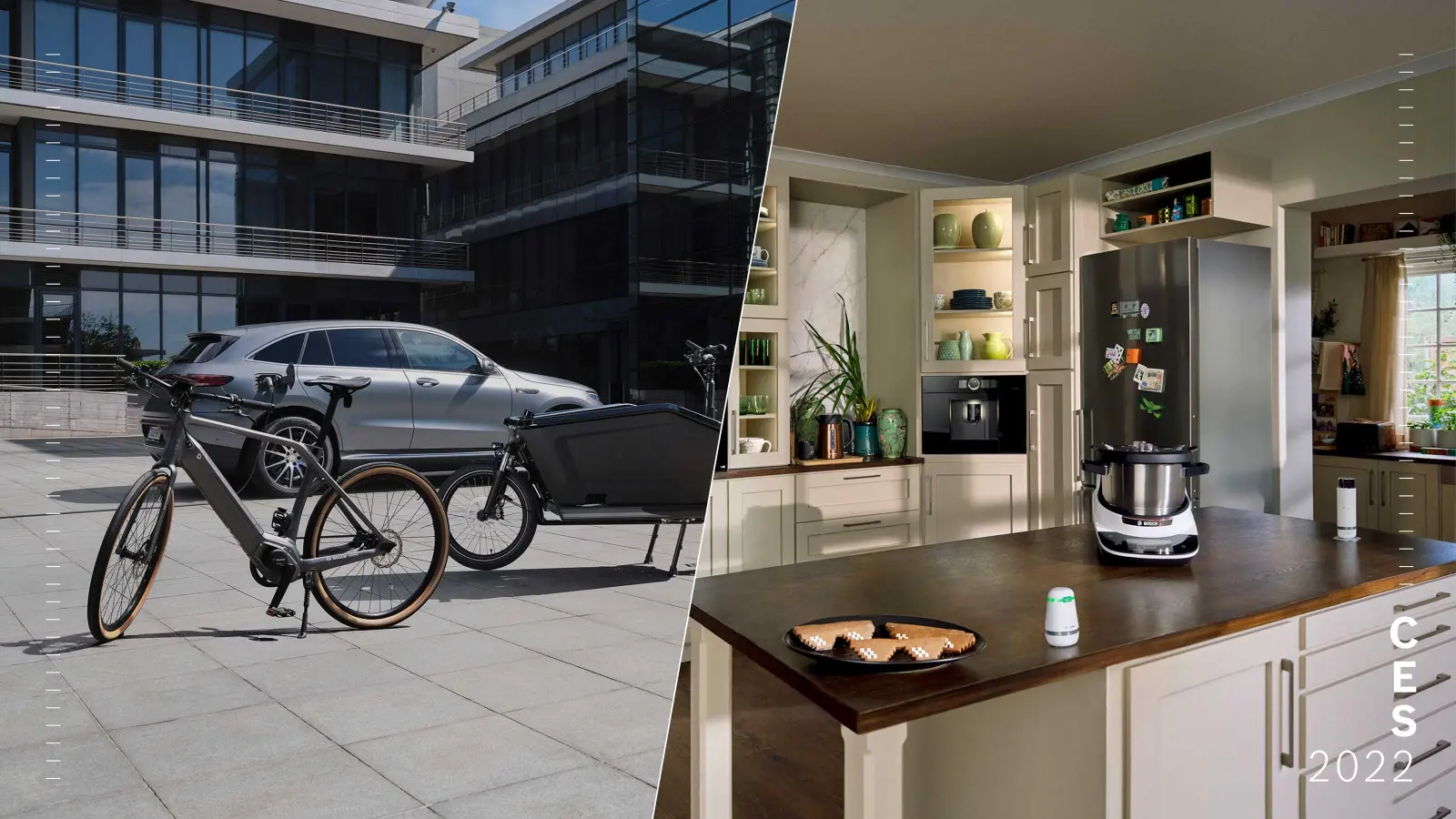 High-tech for all walks of life: at CES in Las Vegas, Bosch will be presenting connected, smart, and sustainable products and services for a better life — at home and on the road. From January 4 through 7, 2022, you will find us at CES in the Central Hall, Booth #16103.
Innovative
Smart connected biking solution named CES® 2022 Innovation Awards Honoree
For its smart connected biking solution, Bosch eBike Systems has been named a CES® 2022 Innovation Award Honoree in the "Vehicle Intelligence & Transportation" category. The CES® Innovation Awards are given by the Consumer Technology Association (CTA). The new smart connected biking solution from Bosch eBike Systems merges the physical experience of riding an e-bike with the digital experience provided by connectivity and an app. This smart system comprises the new eBike Flow app, an LED user interface, color display, rechargeable battery, and drive unit. Over-the-air updates mean it can be continuously enhanced. The eBike Flow app opens up a range of new digital features for e-bikes, such as automatic activity tracking and personalized riding modes. Whether on the daily commute or a leisurely ride, the result is more enjoyment over longer distances.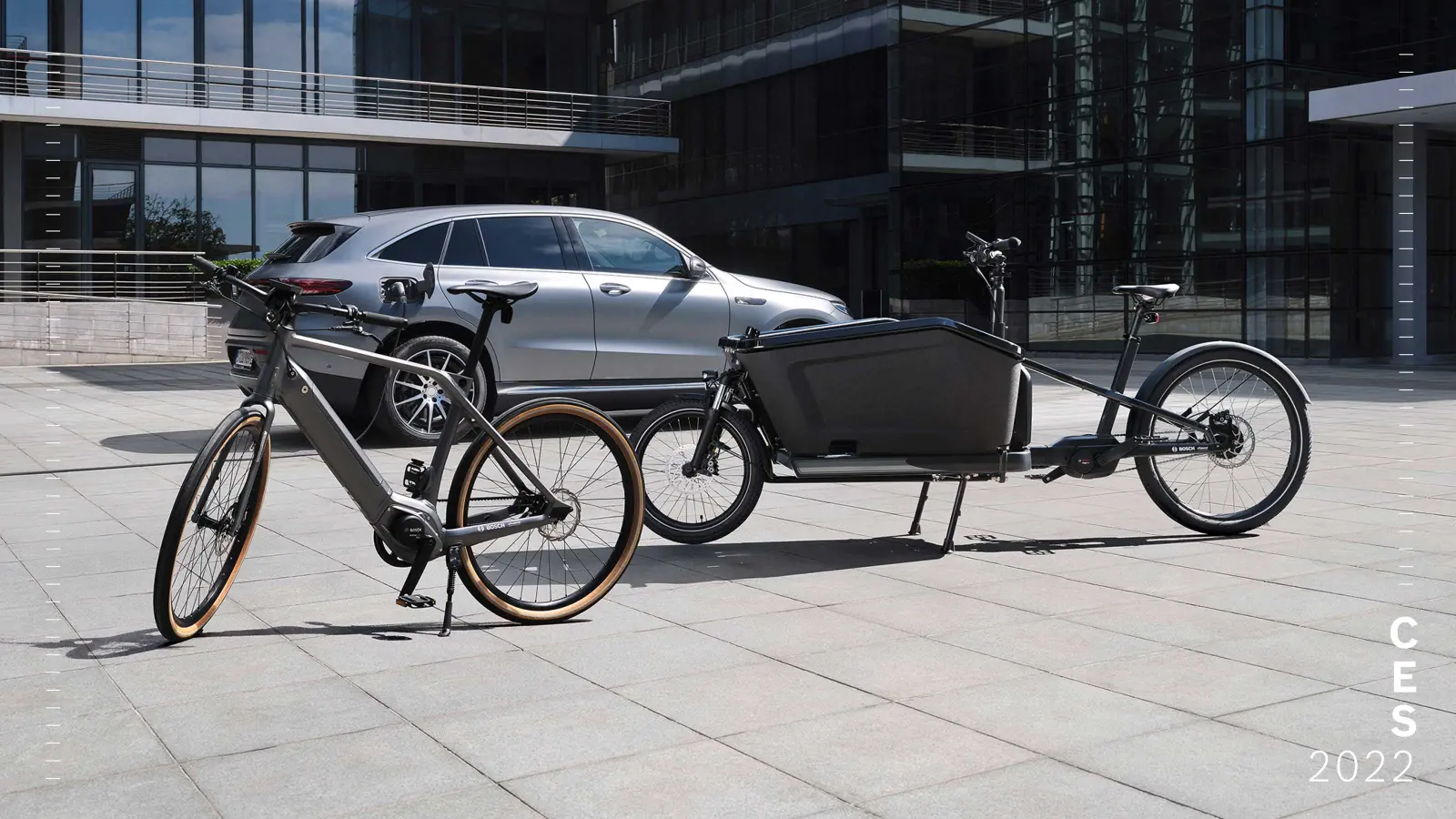 Software-based
Solutions for the mobility of today and tomorrow
Software is playing an increasingly central role in automotive engineering. After all, future connectivity, automation, and personalization functions will more than ever be brought about by software. Even now, Bosch annually puts more than 200 million control units running its proprietary software into vehicles worldwide. To achieve this, the company can draw on profound software, electronics, and systems expertise, and use this to develop application-specific vehicle software and the hardware to match for automotive applications of all kinds, from driver assistance and infotainment to the powertrain. Bosch plans to pool the development of application-independent basic software and middleware, as well as cloud-based software modules for over-the-air software updates, at its wholly owned subsidiary ETAS.
Extraterrestrial
Bosch technology on the ISS detects anomalies on the basis of audio analytics
Although barely bigger than a lunch box, Bosch's SoundSee is brimming with state-of-the-art artificial intelligence (AI). SoundSee can be found on the ISS (international space station). Installed on board Astrobee, NASA's autonomous free-flying robot, SoundSee's integrated microphones pick up ambient noise in space. Using AI, the Bosch technology then analyzes the audio data in order to detect potential anomalies and to flag areas requiring maintenance work. SoundSee was developed together with Astrobotic as part of a NASA research partnership.
Suitable for everyday use
Smart home appliances for more convenience, sustainability, and security
Bosch Cookit — all-around culinary talent
Cookit offers a whole new dimension of flexibility in the kitchen. Whether guided cooking, automatic programs, or manual cooking, the multifunctional food processor with cooking function has the right level of support for everyone. The new "My Recipe" function allows Cookit to save personal recipes. The recipe, with all ingredients, quantities, temperatures, and special tips, is entered in the Home Connect app, which then relays it to the Cookit. The food processor with cooking function will then guide the user through the preparation steps as often as required.
Spexor — protecting what you love
This mobile security assistant is an intelligent all-in-one appliance that provides constant, ubiquitous protection. It detects break-ins and hazardous gases, measures room-air quality, and sounds the alarm if it gets too hot or too cold. If spexor's integrated sensors detect anomalies in the monitored environment, it sends a notification straight to the user's smartphone. The multisensor appliance is wireless and can be used wherever there is at least a cellular connection.
PRESS CONFERENCE: Tuesday, January 4, 2022, from 8:00 to 8:45 a.m. local time (17:00–17:45 CET) with Dr. Tanja Rückert, Bosch CDO, and Mike Mansuetti, president of Bosch in North America, livestreamed on the

Bosch Media

Service

.
BOOTH: January 5–7, 2022, in the Central Hall, booth #16103
ELECTRIC BIKE TEST TRACK: January 5–7, 2022, at the eMobility Experience, LVCC, West Hall, West Plaza
FOLLOW the Bosch CES 2022 highlights on Twitter: #BoschCES