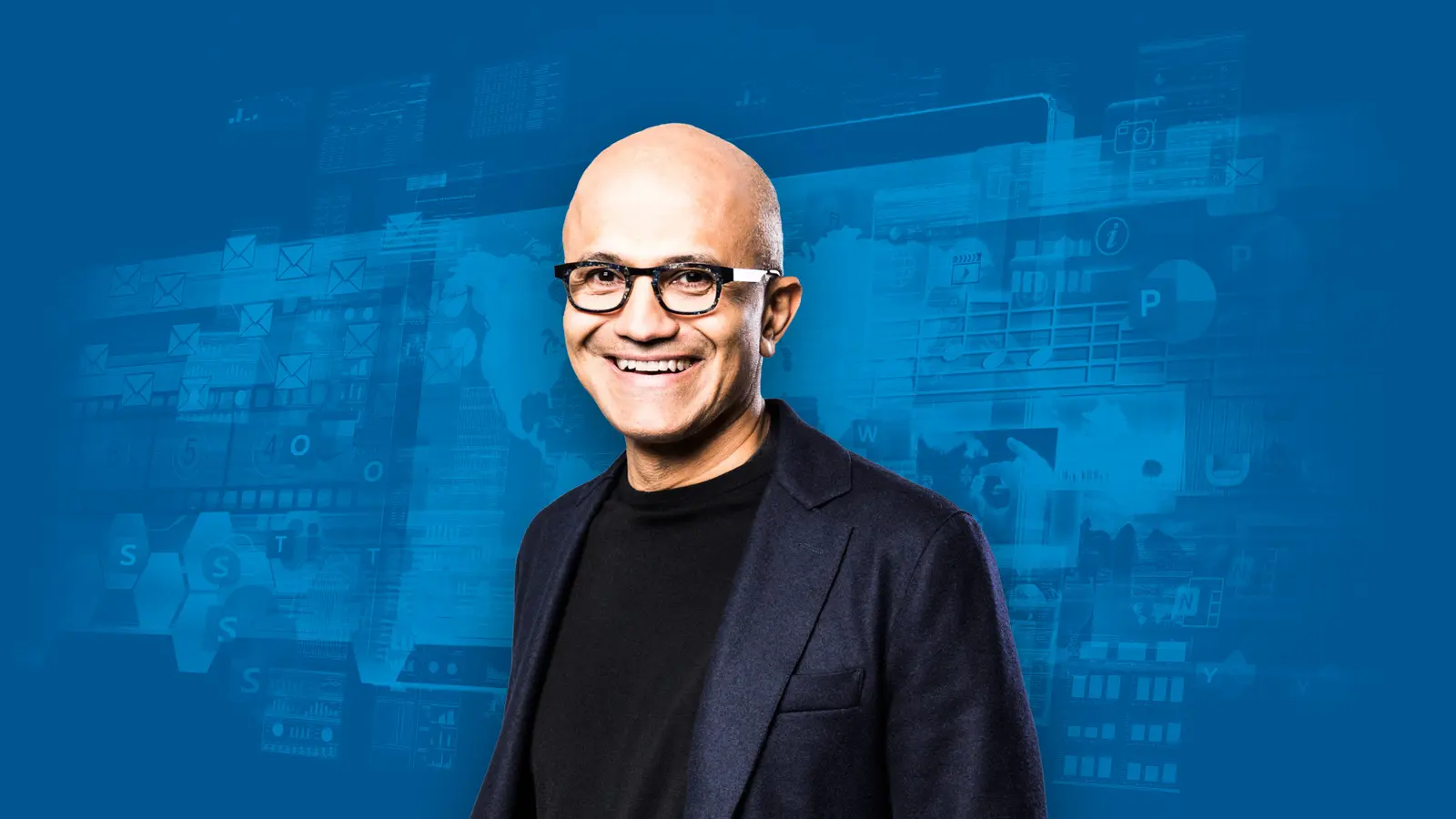 2021-08-11
Artificial intelligence and connected software platforms are reshaping entire industries. Satya Nadella, Chairman and CEO of Microsoft, shares his thoughts on the role of digital technology and the importance of collaboration.
Only few CEOs embrace transformation as strongly as Microsoft's Satya Nadella. Since his appointment in 2014, the now 53-year-old executive has not been content to simply follow in the footsteps of his predecessors Bill Gates and Steve Ballmer. Instead, he has set a new, innovative course for the company, through new technologies across cloud, mixed reality, artificial intelligence (AI), and Industry 4.0 to name a few. As Chief Culture Officer he established a new corporate culture of teamwork, openness, and courage.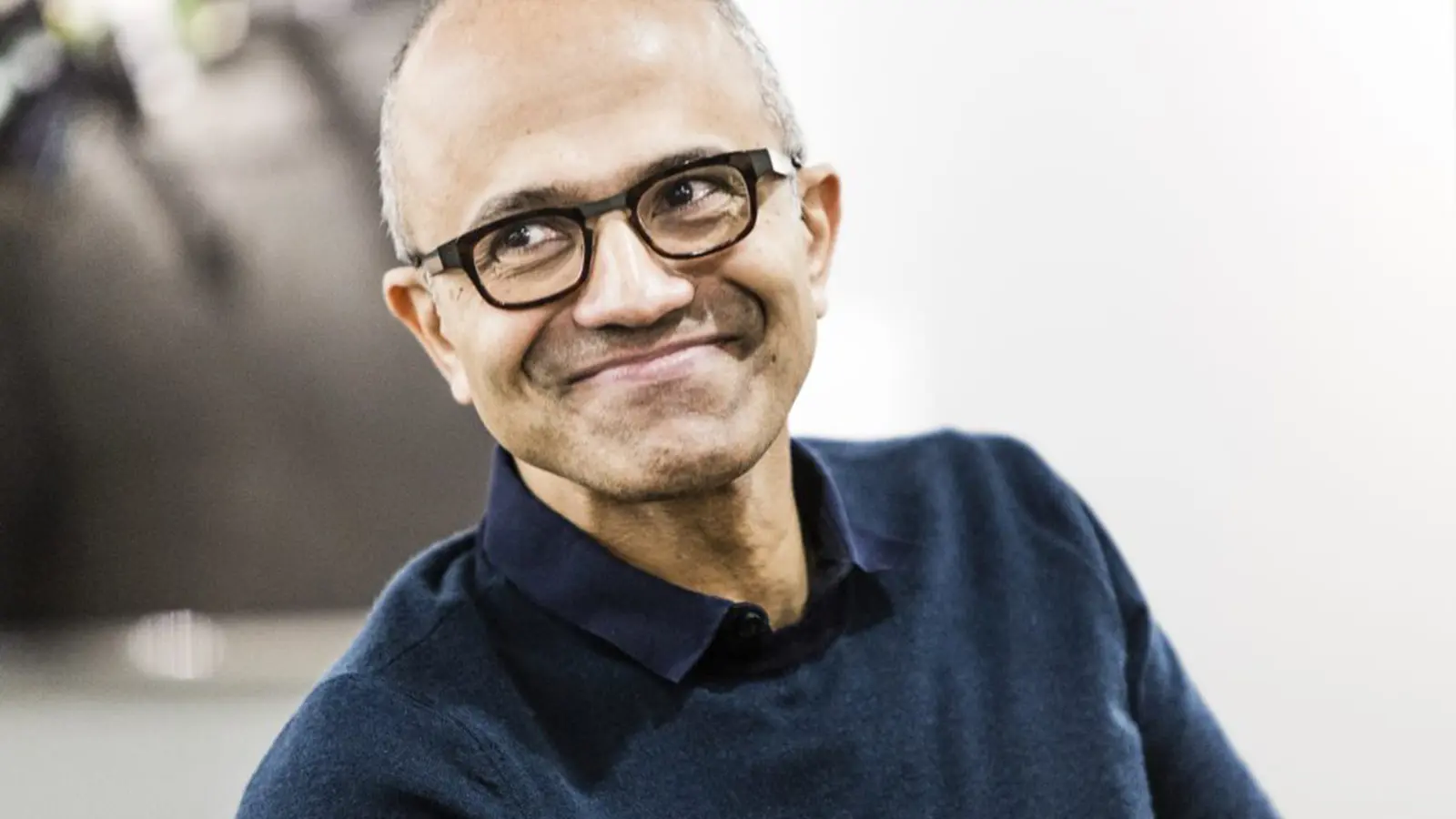 Nearly 250 million
people used Microsoft Teams on a monthly basis in July 2021. Only 44 million people were registered with the service at the beginning of the coronavirus pandemic in March 2020.
Digitalization helps overcome crises
Nadella sees Microsoft as a company that empowers people and organizations to extend their potential and overcome challenging situations — such as the coronavirus pandemic. "Digital tech is super important for resilience," he said. "We became digital first responders to all the first responders, whether it was in healthcare or in critical manufacturing, ensuring that digital technology was there to help them." For example, the Microsoft Teams business communication software plays a big role for many people working from home. The number of monthly active users across the globe grew to 250 million. According to Nadella, the pandemic has brought about real structural change including an acceleration of digital technology across many sectors such as retail, healthcare, and manufacturing "In manufacturing, everything that can be simulated, automated, or digital twinned is being done… Remote operations of everything is now possible, and we've proven that."
For example, Microsoft offers Azure Digital Twins for this purpose. This technology makes it possible to create digital twins in the cloud. These "twins" are data-based 3D models of objects or processes including cars, hospitals, value chains, or entire cities. Digital twins offer detailed insights into energy consumption or production processes, for example, allowing these to be optimized more quickly. The Microsoft portfolio also includes a solution for digital education and training: The HoloLens headset displays mixed reality applications in the wearer's field of vision and can transmit this data to the Internet via an integrated camera. Real-world applications include training sessions in which a skilled worker supports employees of a manufacturing plant from thousands of miles away in servicing a machine on site.
Vehicles are part of a growing digital ecosystem
According to Nadella, more and more everyday products will be connected in the coming years, thus becoming part of the Internet — including vehicles. He predicts that "the auto industry is going to become more digital, more software driven." Software is becoming an important tool for car manufacturers to stand out from the competition, but at the same time it is tying them more closely to existing ecosystems. The dynamics of the mobility market necessitate a common, open, and flexible software platform that connects suppliers, app developers, and third-party ecosystems: "Let's take the PC, or the phone, or the data center. There is an open software-defined platform where many suppliers can kind of participate. I think that that approach is what we're obviously partnered on, and we're very excited," Nadella continued. Open interfaces allow for apps from partner companies to be integrated into vehicles, creating new opportunities across an ecosystem of suppliers. These apps can enable users to control their smart homes by preheating individual rooms shortly before their arrival, for example.
AI helps software learn and makes devices smart
Software development is changing, too. "In the past, when you thought about software (development), you thought about people writing the code. In software 2.0, you train the software to learn from data," Nadella said. This results in an ability to create predictive and casual reasoning power. Artificial intelligence will also be used in more and more everyday devices in the future. The combination of AI with the Internet of Things delivers new possibilities. In this context Nadella said, "Significant work (is done) in using the power of AI, IoT and sensors with that data-driven approach to software engineering, which I think is going to be a pretty profound shift." This will help create a new generation of connected and intelligent devices and services that analyze data directly in products or in the cloud. For example, a connected car can send technical data on a car's driving behavior to the cloud, where it is analyzed and then combined with feedback from customers that car manufacturers obtain via other channels including social media. This helps provide a more comprehensive picture so car manufacturers can improve vehicle models and future design processes.
Cooperation creates innovation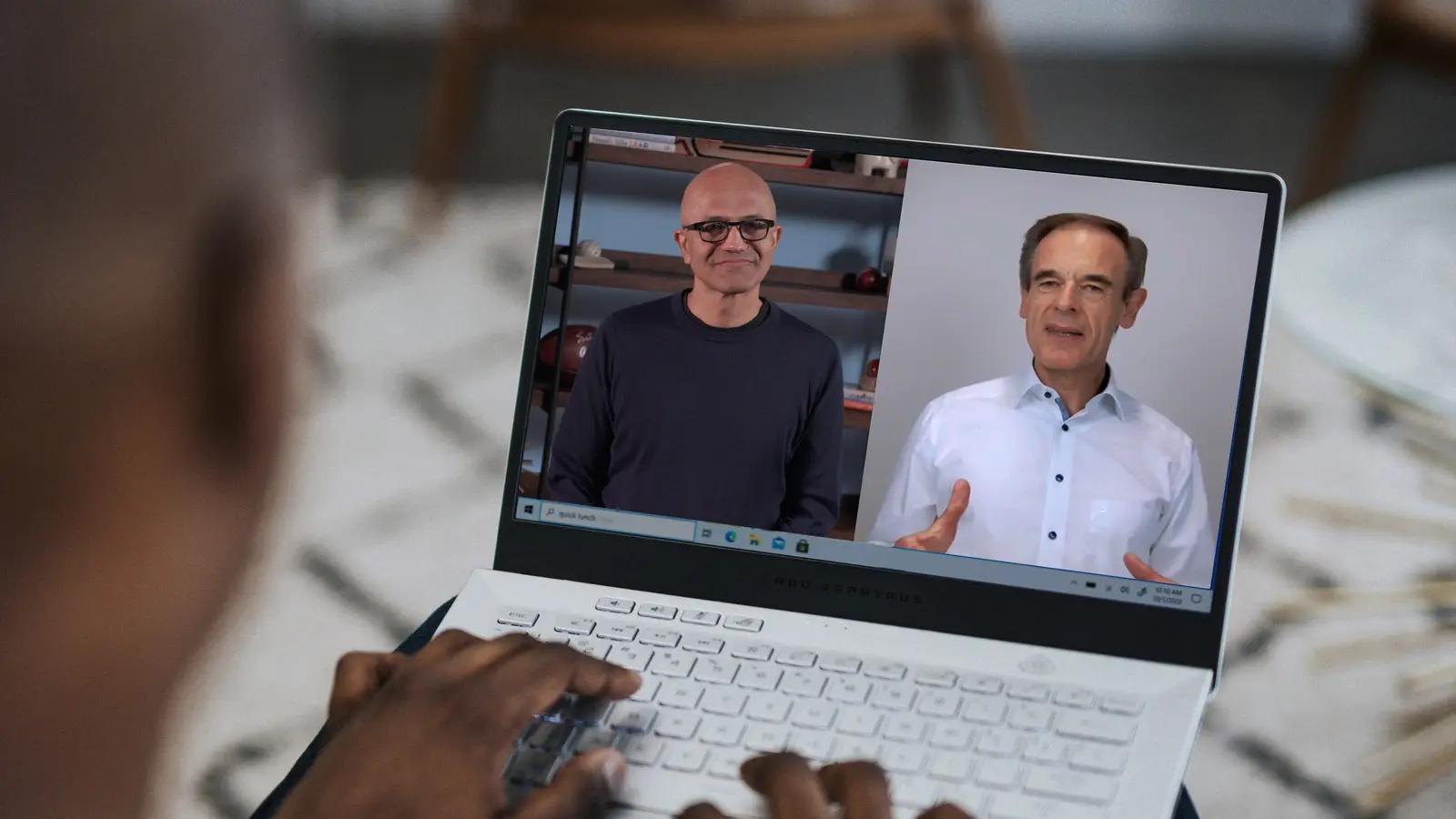 Cross-industry collaboration is an important element of Nadella's leadership. This is evidenced, for instance, by the company making its Office programs available on Apple and Google platforms. The company joined the Linux Foundation in 2016, and in 2018 it acquired GitHub, a popular code-repository service used by many developers and large companies, which hosts many open source projects. Bosch is collaborating with Microsoft on several projects. "It's such a privilege to be partnered with Bosch," said Nadella. "You have a strong tradition of what I'll call first principles-based engineering of great products and technologies." Both companies are jointly developing a software platform for the seamless integration between cars and cloud.
In the industrial sector, the two partners also work together with other companies in the Open Manufacturing Platform, an alliance whose members share their experiences, data models, and solutions to accelerate manufacturing innovation at scale. In view of growing software ecosystems, such collaborations will gain in importance in the future.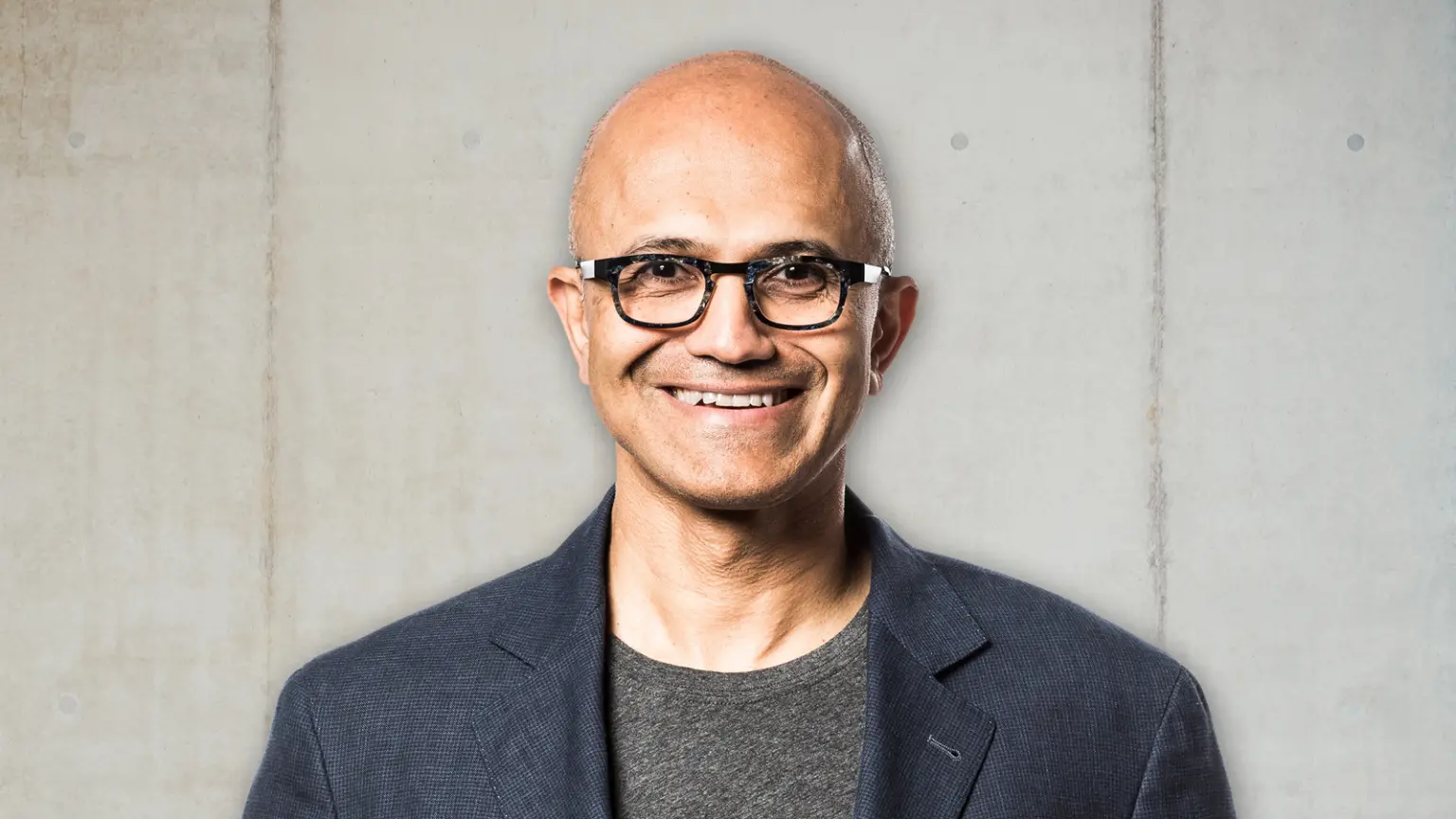 Satya Nadella (53)
Chairman and CEO of Microsoft
Satya Nadella is Chairman and Chief Executive Officer of Microsoft. Before being named CEO in February 2014, Nadella held leadership roles in both enterprise and consumer businesses across the company.
Joining Microsoft in 1992, he quickly became known as a leader who could span a breadth of technologies and businesses to transform some of Microsoft's biggest product offerings. Most recently, Nadella was executive vice president of Microsoft's Cloud and Enterprise group. In this role he led the transformation to the cloud infrastructure and services business, which outperformed the market and took share from competition. Previously, Nadella led R&D for the Online Services Division and was vice president of the Microsoft Business Division. Before joining Microsoft, Nadella was a member of the technology staff at Sun Microsystems.
Originally from Hyderabad, India, Nadella lives in Bellevue, Washington. He earned a bachelor's degree in electrical engineering from Mangalore University, a master's degree in computer science from the University of Wisconsin — Milwaukee and a master's degree in business administration from the University of Chicago. Nadella serves on the board of trustees to Fred Hutchinson Cancer Research Center and his alma mater the University of Chicago, as well as the Starbucks board of directors.