In the race to secure the best digital talent, Bosch is setting up the "Digital Talent Academy" in Brazil. It trains young people in areas such as software development and artificial intelligence. For many of them, this represents a decisive step toward a different life.
The red logotype is already recognizable from the freeway. Huge letters spelling out BOSCH adorn the main building of the Campinas location in Brazil. Nicolly Cristina Cruz Storoni had often driven past here with her mother. She had never imagined that she could ever work for the company with the red logo. But two years ago, her dream unexpectedly became reality. In July 2021, the then 17-year-old applied for a place at Bosch's newly established Digital Talent Academy (DTA) in Campinas and prevailed over more than 2,000 candidates. She was among the top 18 who were offered a place in that year's round of admissions.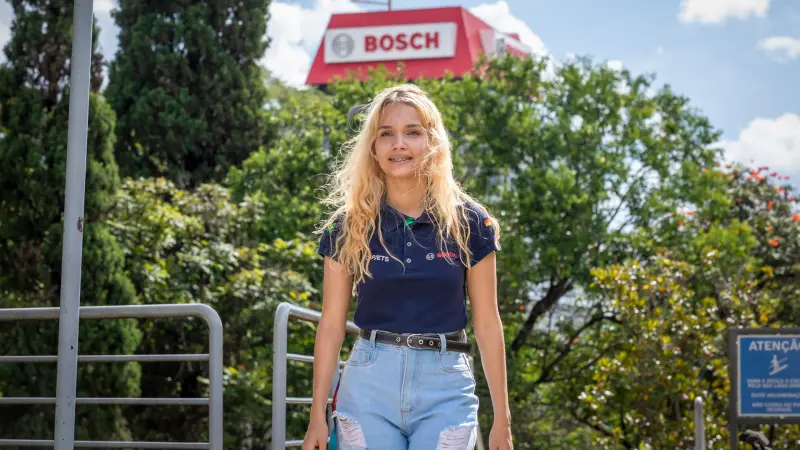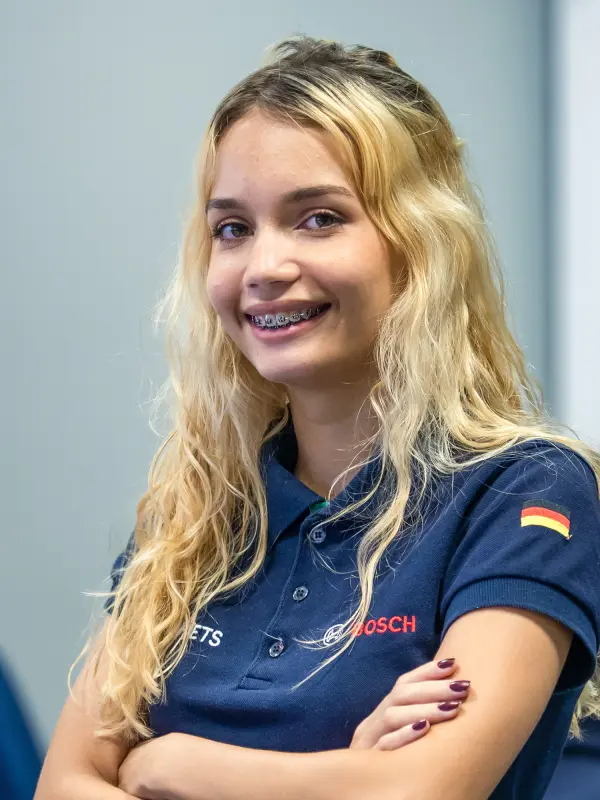 My biggest wish is to finish my apprenticeship, buy my own apartment and car, and develop professionally in my career.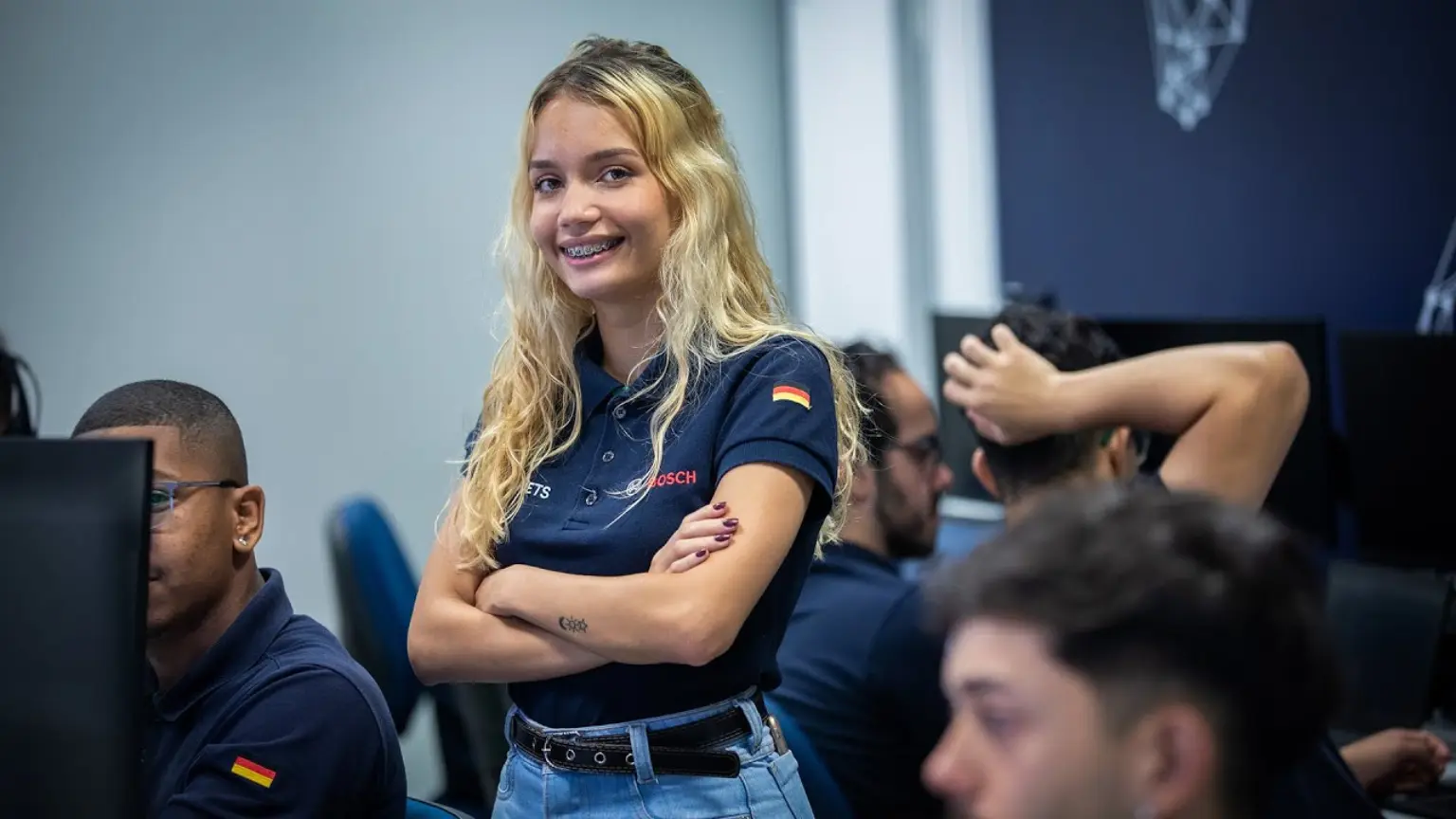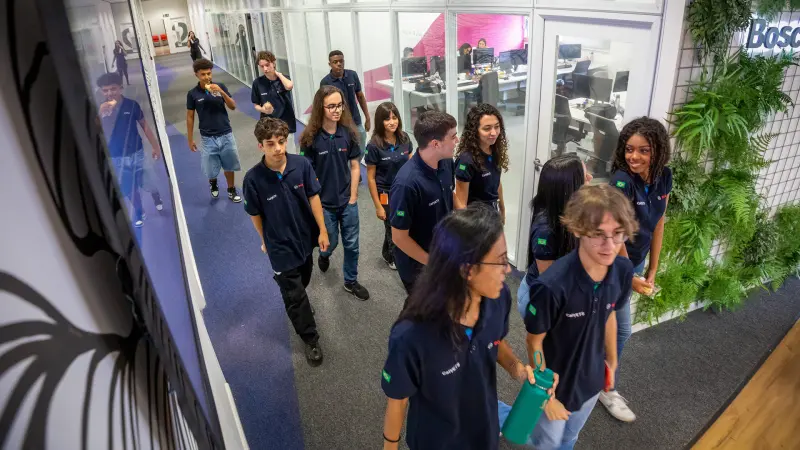 The DTA first opened in January 2021. The objective: to train talented young people in a variety of digital skills. These range from intelligent process automation and artificial intelligence to data analysis and software development. "We saw how great the demand is for digital skills at Bosch," explains Johnny Palma, who first came up with the idea for a digital talent factory. "So together with Henrique Dona, who is responsible for technical training in Campinas, I devised our own training program." The DTA collaborates with the technical school SENAI (National Industrial Apprenticeship Service) in Campinas. The large theoretical part takes place at SENAI, while the technical and practical side happens at Bosch.
This dual-education model, which has a strong tradition in countries like Germany, is unique in Brazil. Here, assuming one has the financial means to do so, the traditional options are to study or to take part in an apprenticeship program. In Brazil, however, the latter is structured more like school and offers little in the way of practical experience.
Springboard to a better life
For many young Brazilians, the DTA is a springboard to a better life. "We do not selectively filter people by education, experience, or language skills beforehand. Everybody gets the same chance — regardless of their background, gender, or financial means," says Gaston Diaz Perez, the head of Bosch in Latin America. "We want to make the program accessible for all talented, ambitious young people who share our values." In this way, Bosch not only gets the country's top talent, but is also living up to its social responsibility. "If you give them the opportunity to develop and have a better life, we can benefit on all levels — it's a win for our business and for society," says Diaz Perez.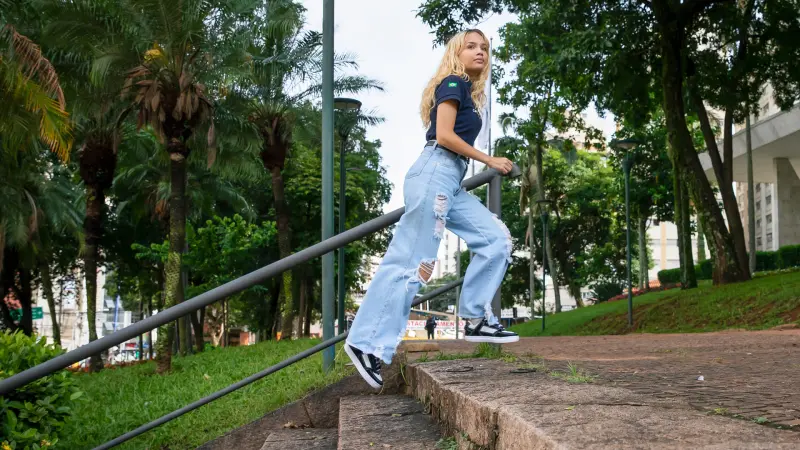 Approximately 2,400 young people
applied for admission to the program this year. Thirty-six of them started as apprentices in January 2023.
Nicolly is just one of many examples that prove that what matters most here is ability. "I was surprised they accepted me," she admits. "Who takes on a young single mother?" When she applied, her daughter was just six months old. Nicolly's mother was skeptical about whether she would be able to handle so many responsibilities, but she still encouraged her daughter to go for it. And Nicolly was a standout — in a three-stage selection procedure consisting of an IQ test, group work, and a face-to-face interview. "At the interview stage, we find out who has the potential and the determination to develop here," says Henrique Dona. "Most students start out not speaking a word of English or knowing how to program. Today they're presenting their project work to members of the Bosch board of management," he says.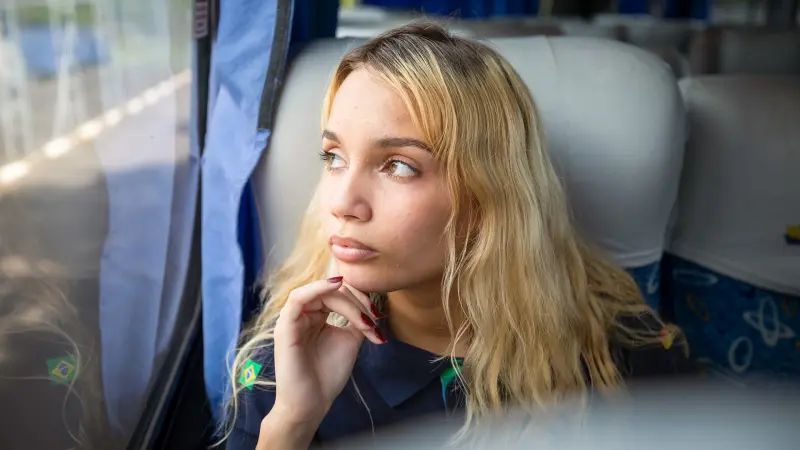 Between family life and programming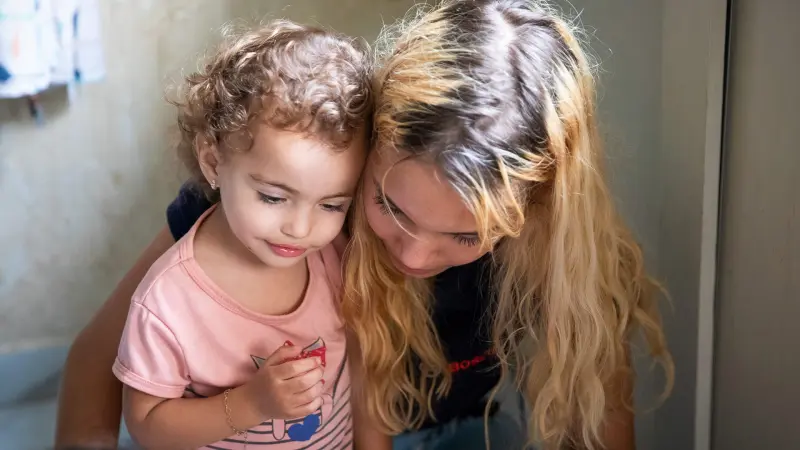 Nicolly lives with her parents, her three siblings, and her two-year-old daughter in Hortolândia, a small town near Campinas. In order to juggle both family and studies, her daily routine has to be well planned. Nicolly's day therefore starts very early. She and her daughter get up at five o'clock. Shortly after six, she catches the company shuttle that takes her to the Bosch site. The trip itself takes about an hour. When the young Brazilian steps onto the company grounds, she's no longer a single mother. Wearing her Bosch polo shirt as a school uniform, she's a digital talent — one of 103 in the country. Bent over her laptop, she spends her time working with different programming languages and getting to grips with robotics and her specialist area of smart automation.
Now in her last semester, the 19-year-old is already working on her own projects in the Electrical Drives division. "At the moment, I'm looking at things like how Excel tables can be automated so that manual input is no longer necessary," she explains. When she finishes her apprenticeship, there's a good chance that she'll be offered a permanent position in the division. All the graduates in the DTA's first cohort received a job offer from Bosch. "I want to be able to offer my daughter a good future. My biggest wish is to buy my own apartment and car," says Nicolly, when asked about her plans for the future. The battle for the best talent will then continue into the next round. The next group of 84 digital apprentices is already waiting in the wings for their start the following semester. "When looking to recruit the best software talent, Brazil should definitely be a port of call," says Johnny Palma. "Our apprentices will do and develop things that we haven't even dreamed of."