Taking a route that offers views most people see only on postcards, Ellen Dehnert cycles across Vienna to work. A pedelec riding instructor, she relies on an innovative technology to keep her safe — the first production-ready antilock braking system for e-bikes.
A more relaxed commute by e-bike
Despite having pedaled 30 kilometers, Ellen Dehnert looks remarkably relaxed when she arrives at the office in the morning. She has two good reasons to look so serene. For one, her ride is more sightseeing tour than commute. After crossing the verdant greenery of Prater park, it takes her past the Vienna State Opera House and Burgtheater. The last stretch takes her along narrow paths that wind through vineyards and woods. For another, the 46-year-old commutes on a pedelec. The journey takes some 90 minutes. "That distance can be covered comfortably on an e-bike," she says. Two-wheelers also figure prominently in her professional life. An e-bike instructor by profession, she teaches the fundamentals of riding safely.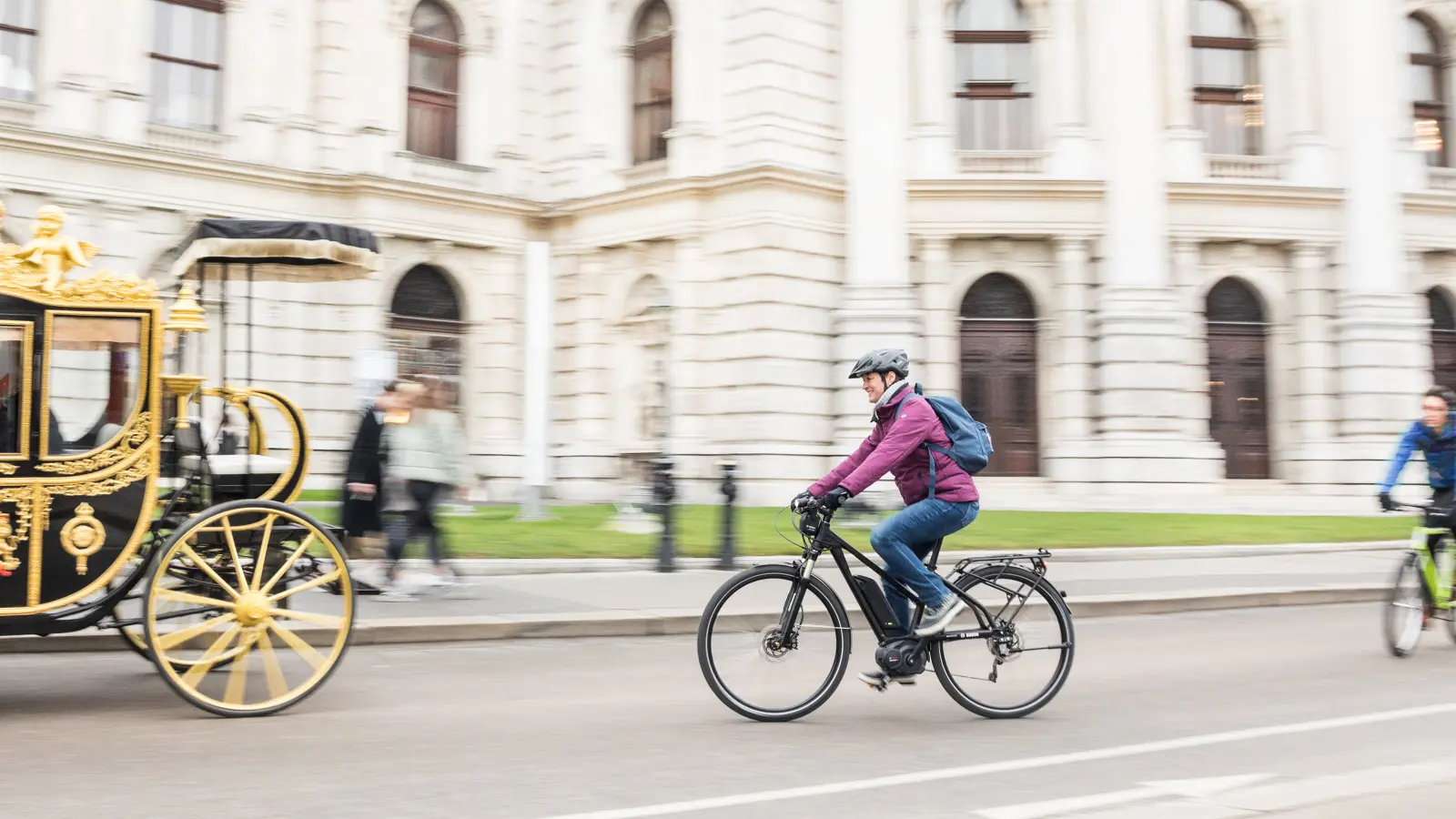 Too cautious for their own good when braking
More and more people are following Dehnert's example, opting for an e-bike as their means of daily transportation. But to be as safe as possible in traffic — whether cycling with or without electric support — it's important to brake correctly. Ill-advised braking maneuvers are among the main causes of cycling accidents. Inexperienced riders in particular find it difficult to judge how much force is needed for the hydraulic and disc brakes. "Many of the people who come to my courses brake too timidly, or they don't use the front brake because they're afraid of falling," Dehnert says.
34%
of bicycle accidents are caused by the front wheel locking up.
She has experienced those heart-stopping moments herself. When road conditions are poor — on wet asphalt or slippery surfaces, for example — braking can cause the front wheel to lose lateral traction. In addition, e-bikers may have to brake hard when a car door is suddenly flung open in their path, potentially prompting the rear wheel to lift off the ground and the rider to catapult over the handlebars.
Such accidents cannot always be avoided with skill alone. Instead, technical assistance is needed to prevent the front wheel from locking up and to keep the bike under control. This is exactly what the Bosch e-bike ABS does.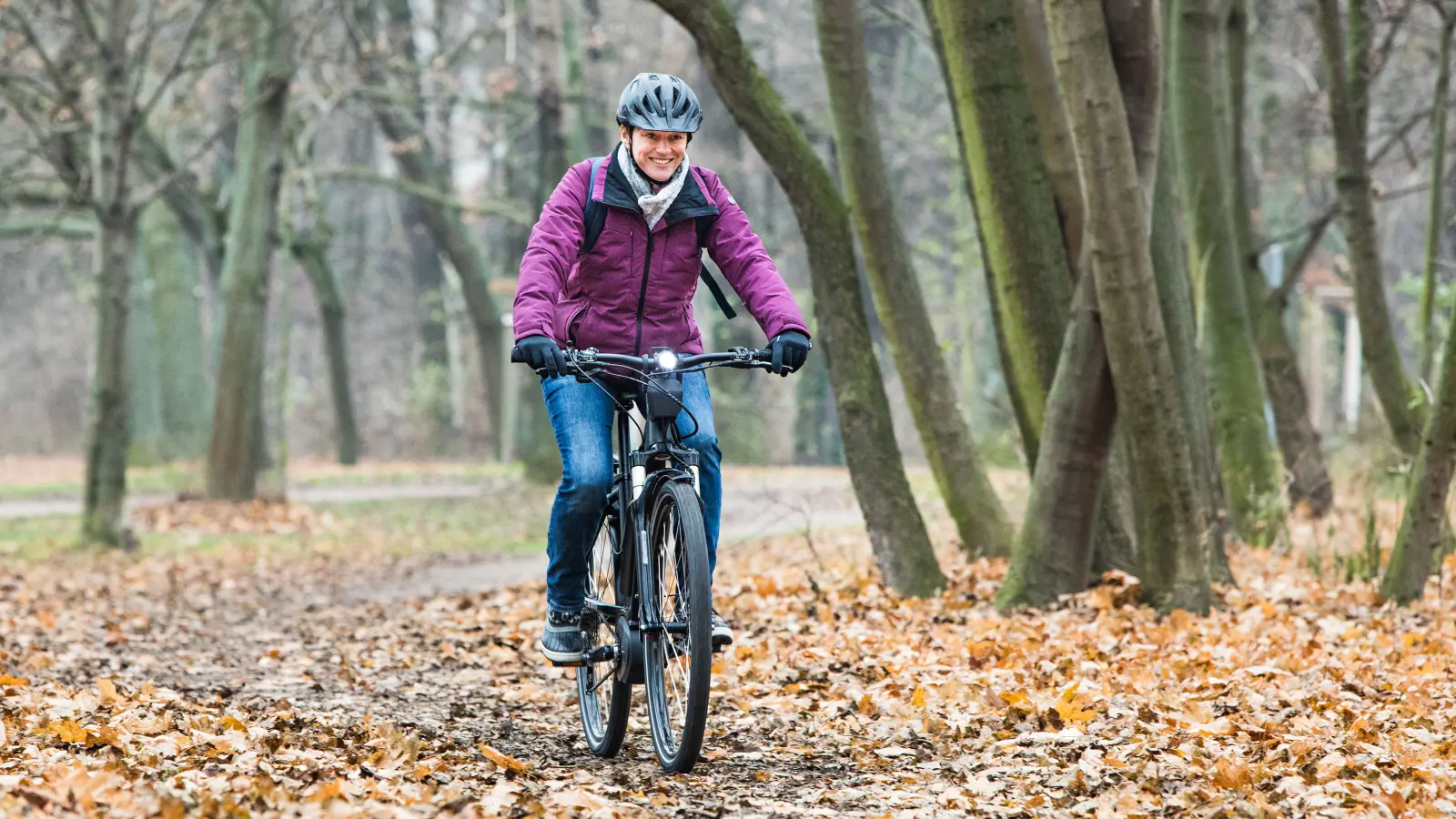 Perfect riding stability and maneuverability in milliseconds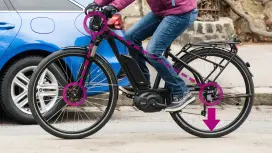 Sensors precisely monitor the speed of both wheels. When an e-bike rider brakes hard, the system analyzes the pedelec's stability in a flash. Is the rear wheel on the verge of lifting off the ground? If so, a control unit installed under the handlebars adjusts the brake pressure to the optimum level within milliseconds, briefly reducing braking force so that the rear wheel remains earthbound.
If the front wheel is on the brink of locking up on a gravel road or forest trail, the ABS automatically reduces brake pressure to keep it from skidding. Efforts to develop this technology benefited greatly from Bosch's expertise in ABS for other types of vehicles. For example, the wheel-speed sensors are based on Bosch automotive technology, and elements of the company's motorcycle ABS served as the basis for the e-bike ABS.
29%
of all pedelec accidents can be prevented by Bosch's e-bike ABS (Bosch accident research study).
A look at how the Bosch e-bike ABS works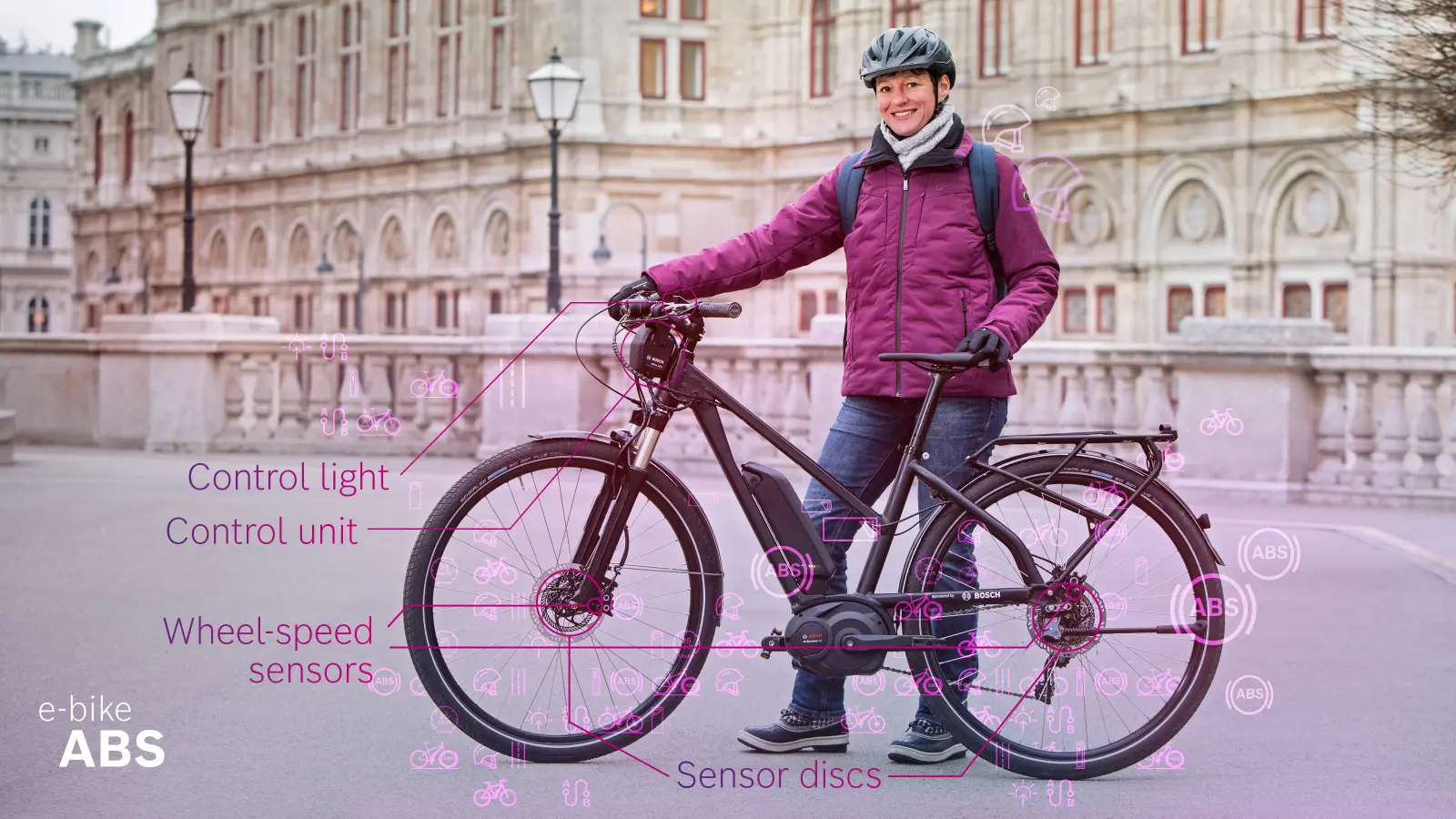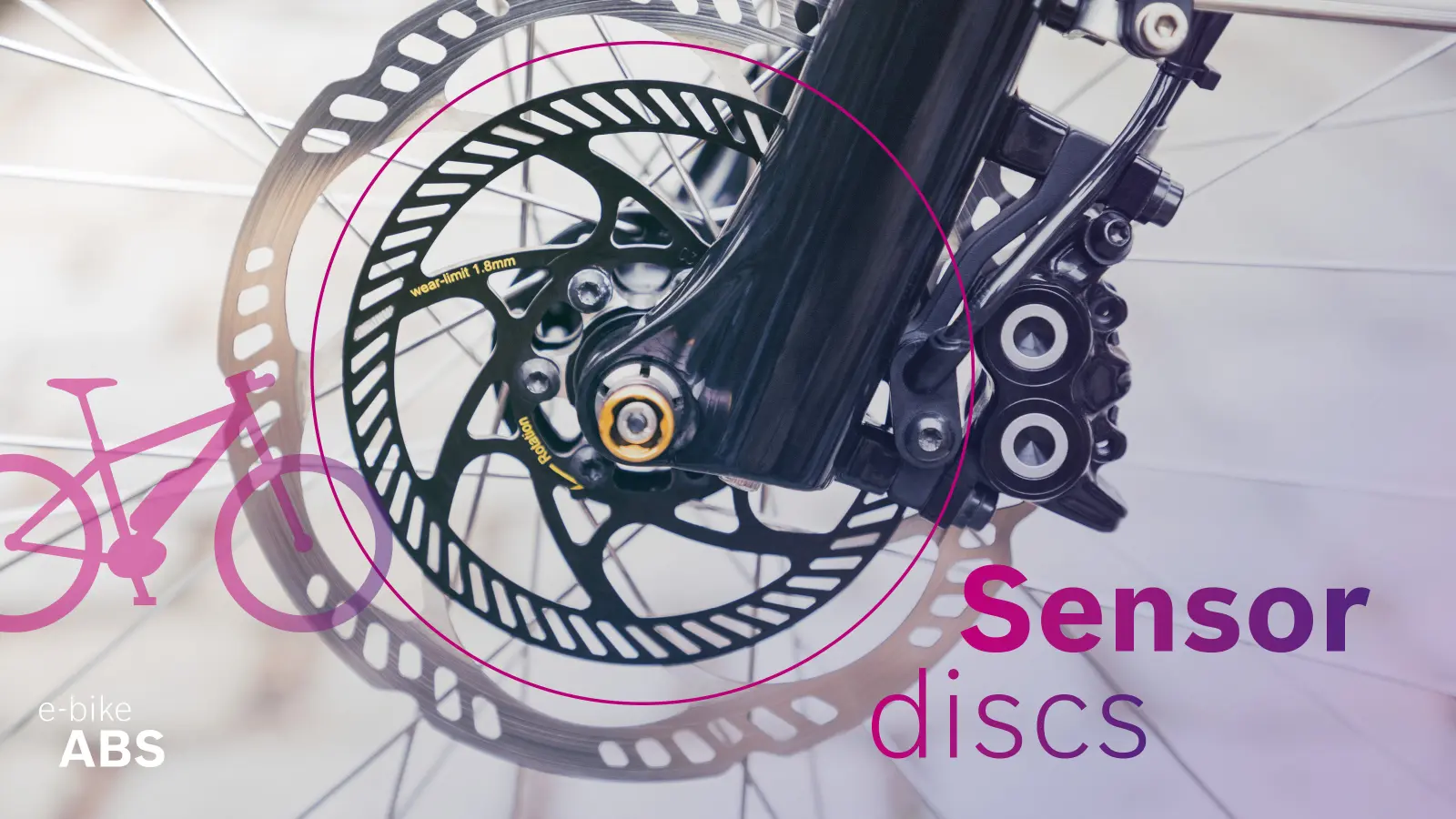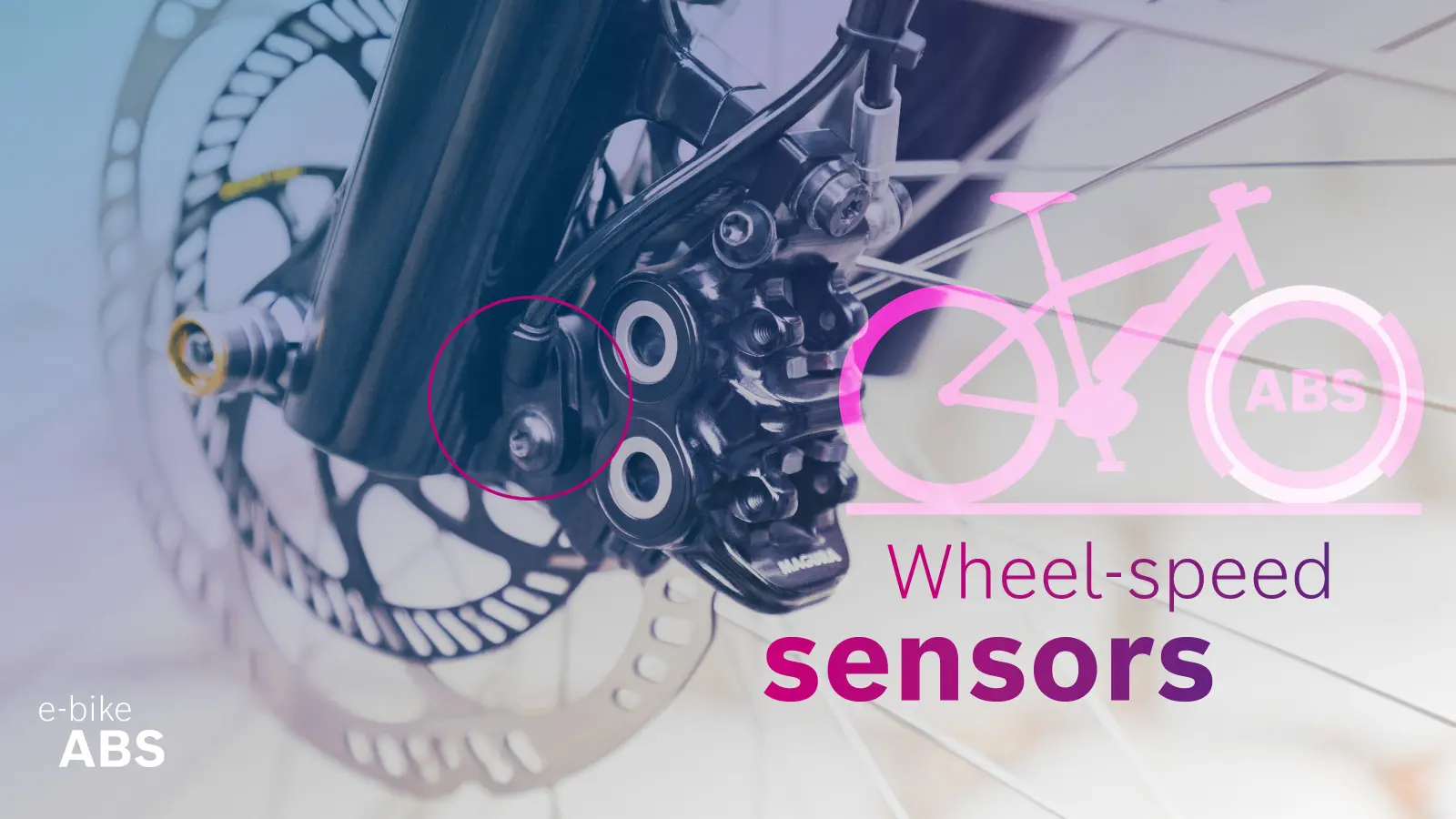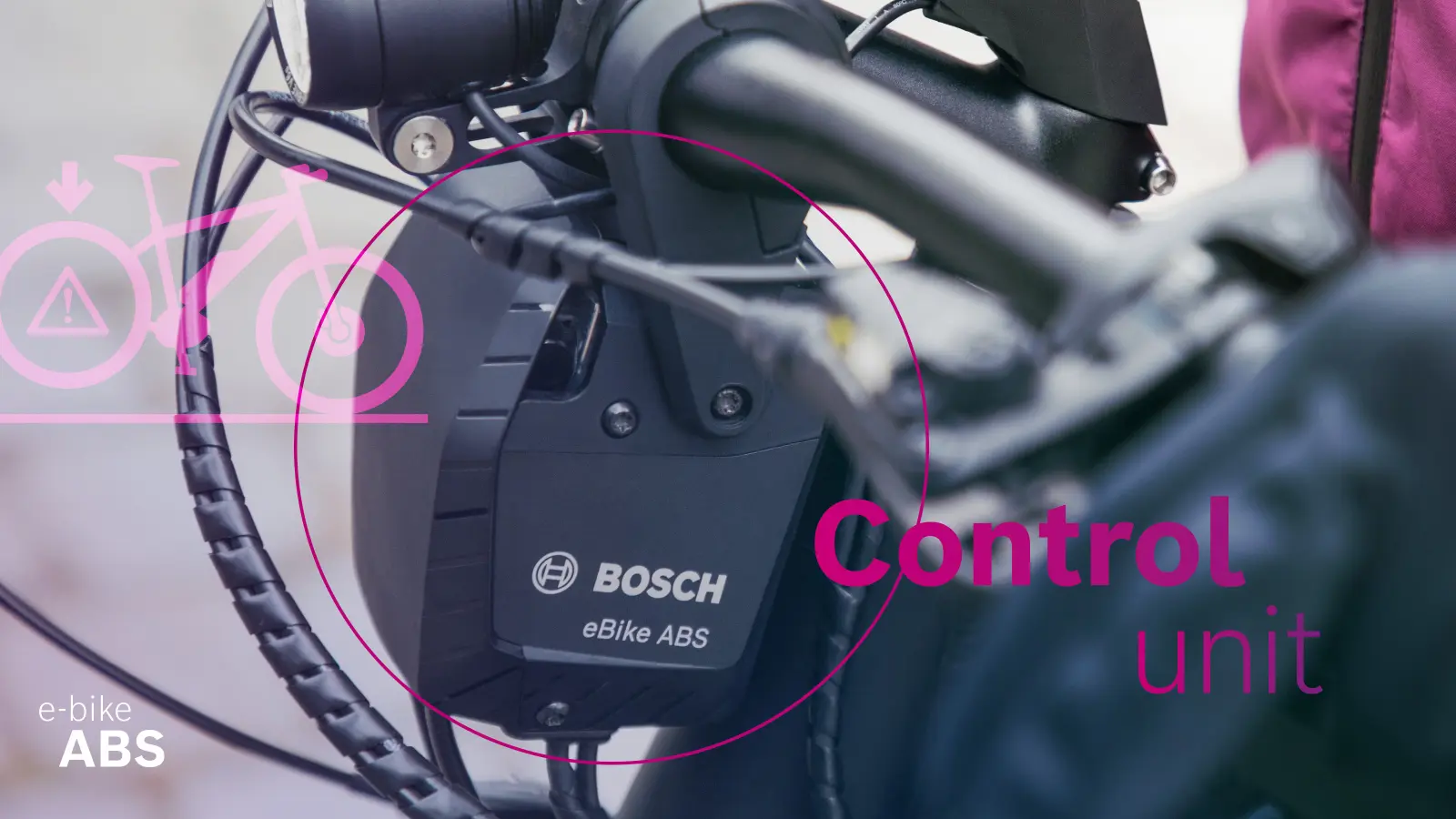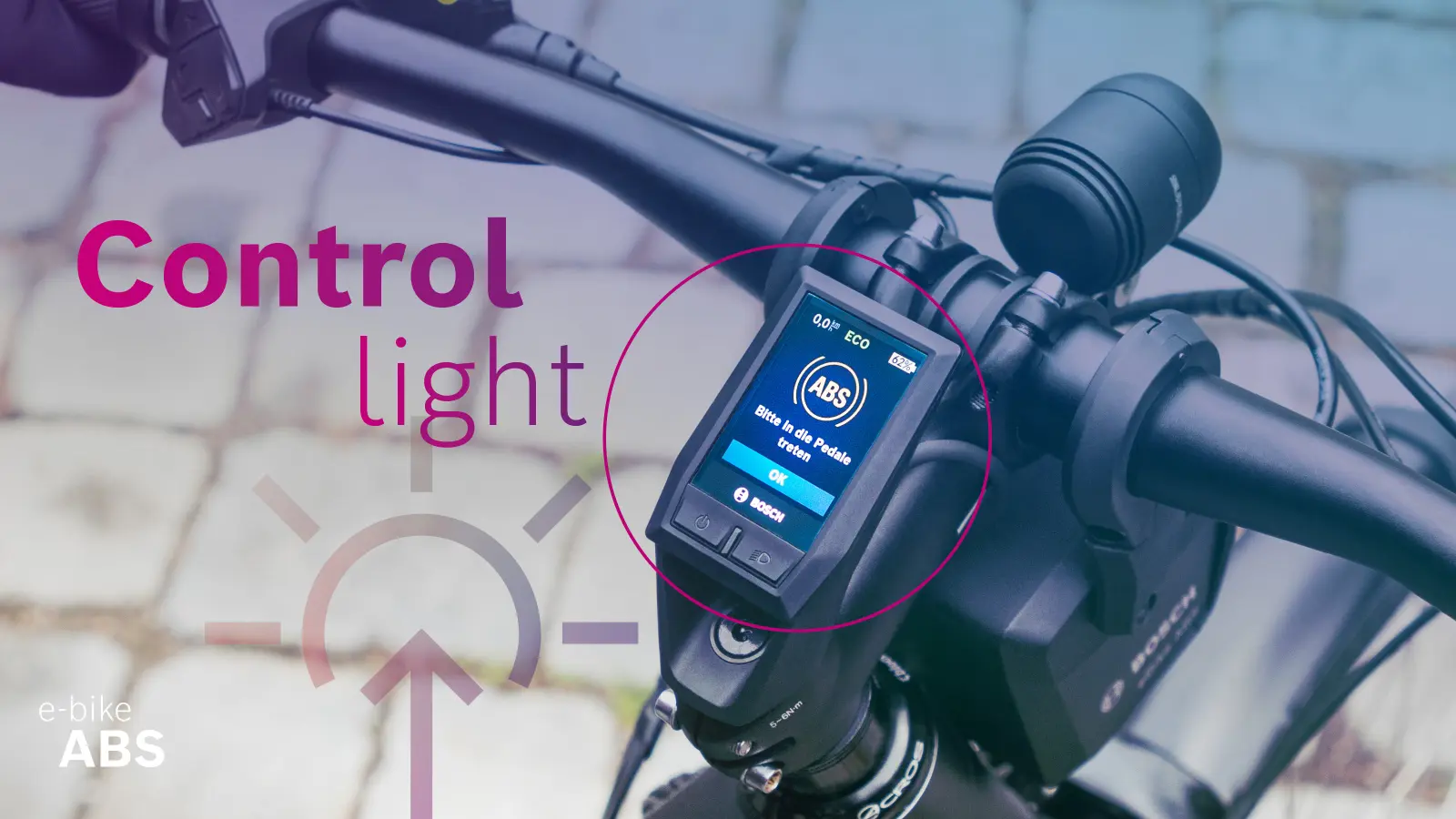 Safe braking for electric bicycles
Ellen Dehnert certainly rates this innovation highly: "In critical braking situations, the Bosch e-bike ABS is a guardian angel. Applied properly, it shortens your braking distance by a few meters. This can often be decisive for avoiding an accident," she says. But what does "properly" mean? "A hard stop means getting over inhibitions. That's why I keep practicing emergency braking in a safe environment." Dehnert is sure of one thing: "If you trust the technology and don't overestimate your abilities, the riding pleasure, feeling of freedom, and safety increase with every kilometer."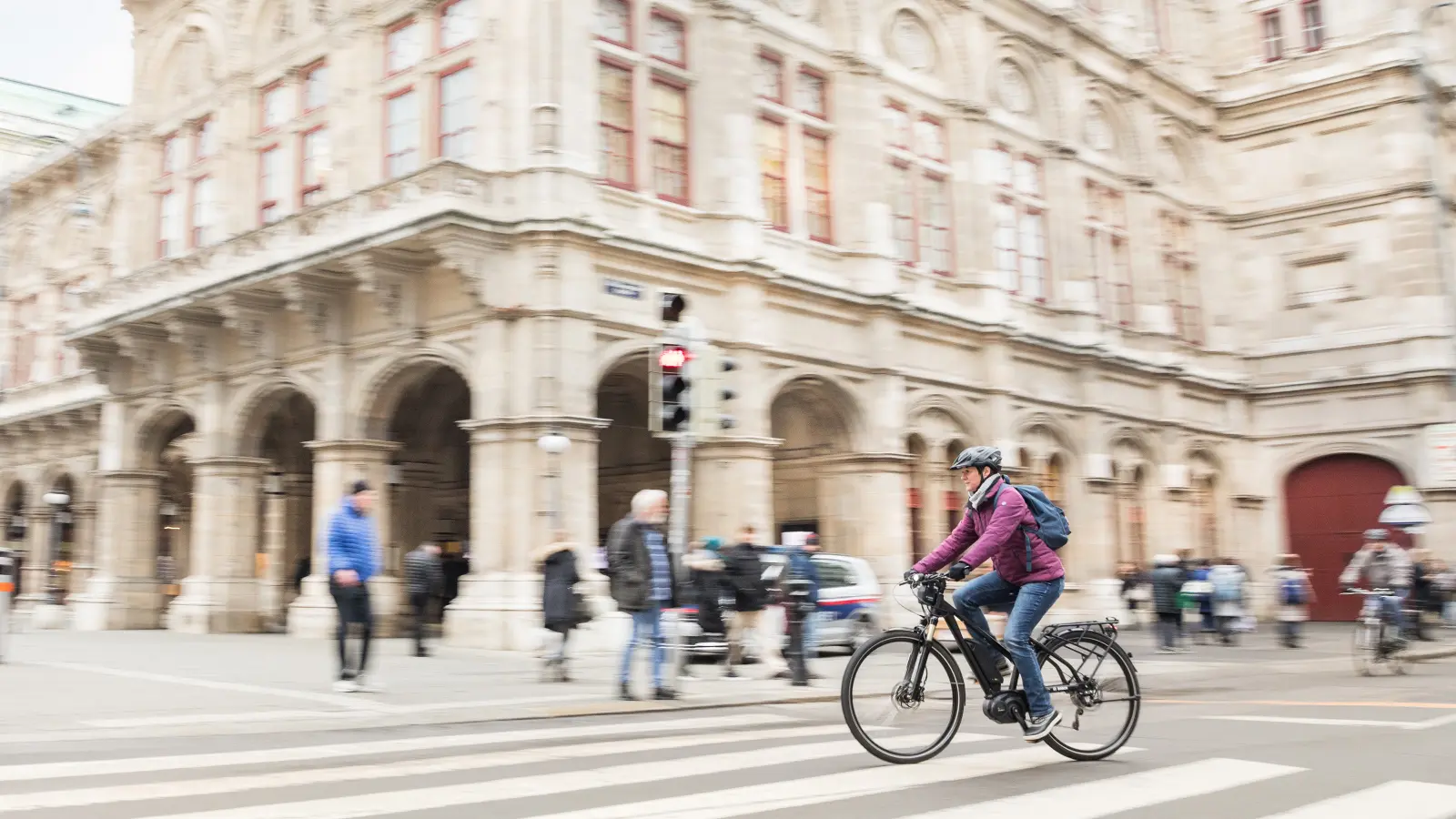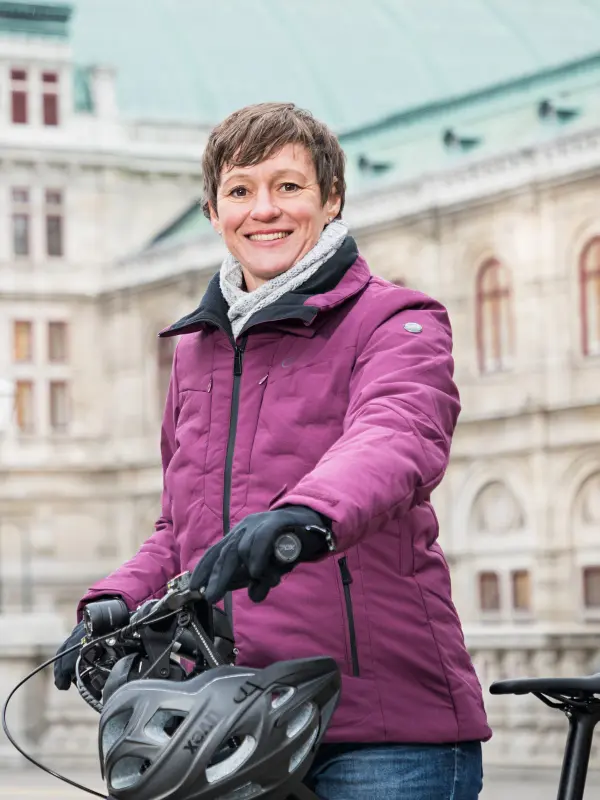 ABS reduces the risk of a fall — for beginners and for experienced pedelec riders alike.