In the fall of 1886, Robert Bosch founded his workshop together with two associates. The three rooms — a workshop, a forge, and a small office — were sparsely equipped.
However, the following year, the young entrepreneur invested heavily in equipment, spending over 1,100 German marks — more than his total annual sales for 1887. The most significant piece was a foot-driven lathe from Bohley mechanical engineering company in Esslingen, which cost more than 500 marks. The lathe was difficult to operate, as the mechanic had to constantly drive it with the foot pedal as he machined the workpiece. So in 1890, Robert Bosch fitted the lathe with a gasoline engine so as to speed up production and standardize and generally improve the quality of the products.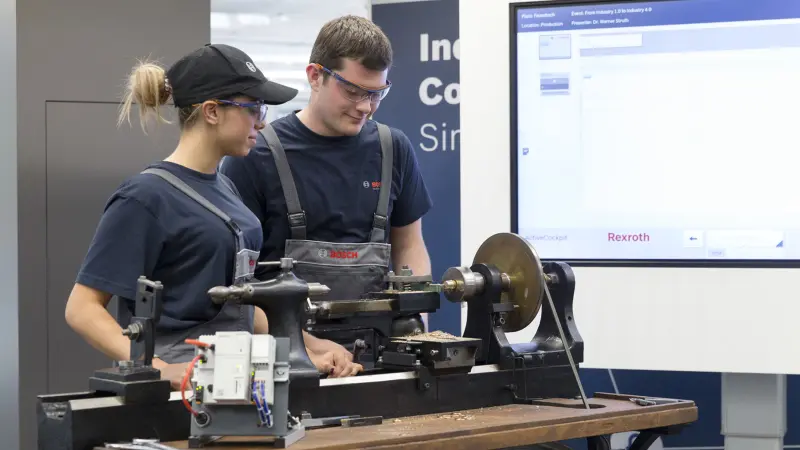 Shelved despite motorized drive
The lathe that Robert Bosch upgraded to keep pace with the first industrial revolution, the engine-driven era, and the advent of mass production still exists to this day. But he took it out of service after the turn of the century, as even its motorized drive did not equip it for large-scale series production. Fortunately, the lathe was not thrown on the scrap heap, as happens to most production equipment, but was kept and instead ended up in the newly formed Bosch company archive in 1933. In the spring of 2000, its corroded iron chassis and worm-eaten wooden table were carefully restored and preserved.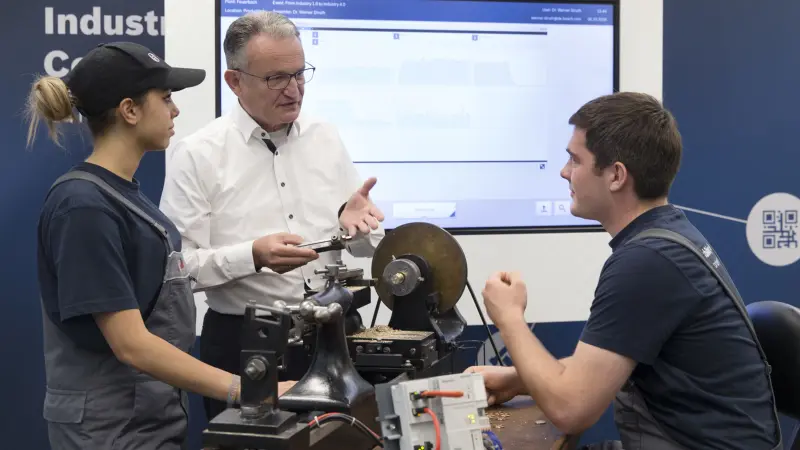 New use for a limited time
But what does this lathe have to do with the fourth industrial revolution, the "I 4.0 era", and its sensor-laden machines that communicate with one another and flag up repairs and maintenance? The answer is simple. It shows there is no production system that Bosch cannot equip to be Industry 4.0-compatible. That does not mean the almost 130-year-old lathe will be reintegrated into the production line. It will be used to demonstrate that retrofitted sensors and the electronic control can collect and process real-time data while workpieces are being machined, for example to ensure the correct rotation speed and thus achieve optimum and efficient manufacturing without undue wear. This data can then be read on the active cockpit, which has a large display to show real-time values in the same way as state-of-the-art machinery these days.
But this retrofit is for a limited time only! To ensure the lathe remains in tip-top condition for decades to come, it will then revert to its customary role as a valuable exhibit and 130-year-old relic from the early days of Bosch.
Author: Dietrich Kuhlgatz