Moving is a basic human need. Case in point: Dr. Felix Jägle, one of our cavitation experts. However, the researcher is particularly passionate about a project beyond his actual field of expertise.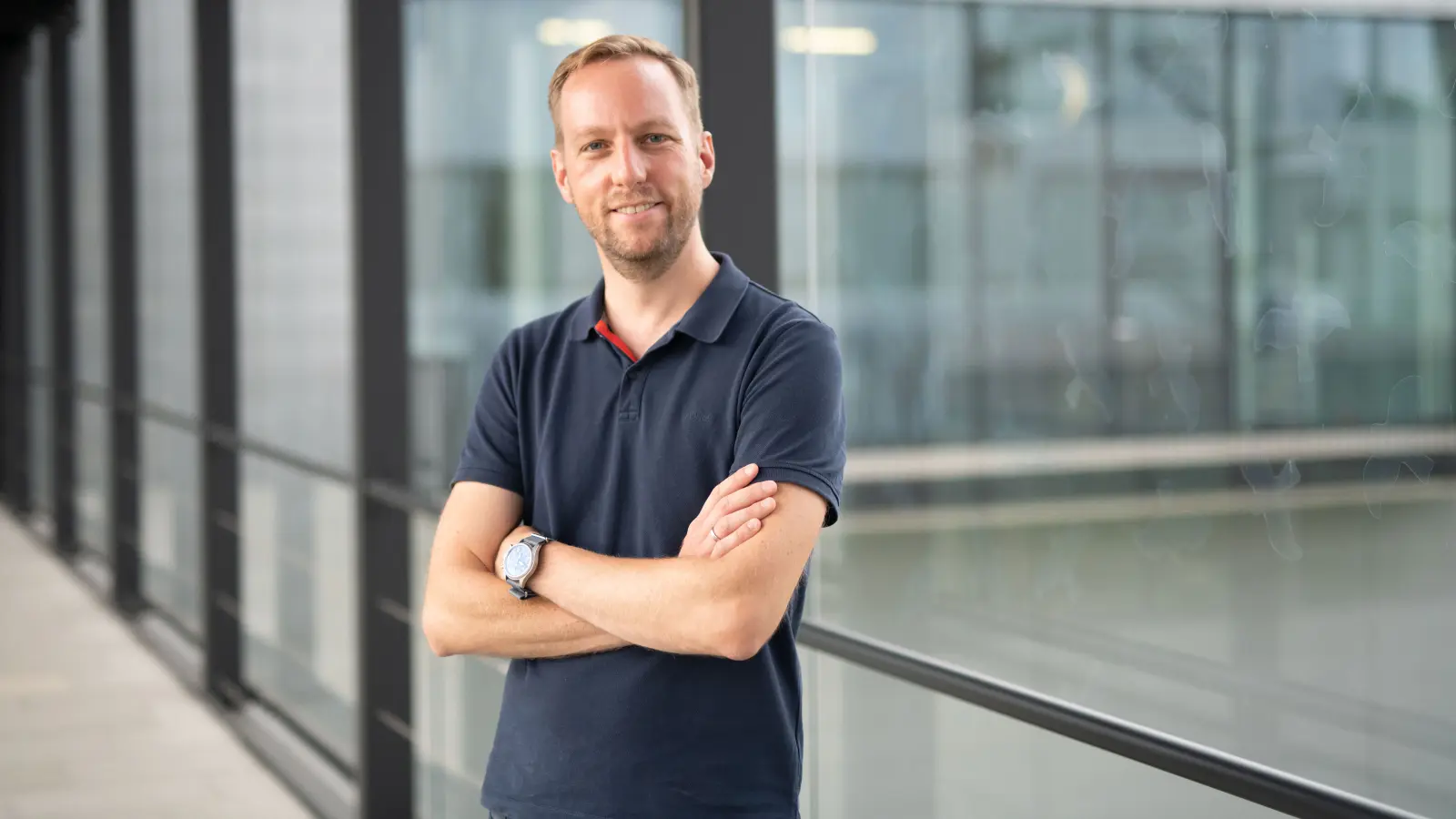 When Dr. Felix Jägle arrived at Bosch in 2012, he previously occupied several university positions: After studying aerospace engineering at the University of Stuttgart and spending a year abroad at the École Polytechnique in France, he earned his doctorate in numerical flow simulation at the Centre Européen pour la Recherche et la Formation Avancée en Calcul Scientifique in Toulouse. This was followed by a postdoctoral position at the Institute for Aerodynamics and Gas Dynamics in Stuttgart. At Bosch, his urge to also progress on a professional level has not changed: First as simulation engineer and later project manager for a research project on the prediction of cavitation erosion, throughout which he became an expert in the field of cavitation. In the meantime, he has taken to managing a study on a common-rail pressure regulating valve as well as to the subproject management in the area of advance development of natural gas direct injection components. He is currently working on topics dealing with the numerical simulation of fluid flows. The main topic is the prediction of cavitation, a phenomenon that occurs in liquids under extreme conditions and can lead to component wear.
Felix Jägle feels at home in this field. But there is one project that is particularly close to his heart.
"The subject is far from my actual field of study," he says. Of course, his enthusiasm cannot be curbed by a division of disciplines. For example, the family father works part-time – he and his wife share childcare responsibilities – and still pushed the project forward with a small group of colleagues in addition to his actual activities. The possibility of proposing and pursuing one's own project ideas is an essential part of Bosch Research. The team's additional commitment is rewarded: Twice in a row, they win internal funds for their project through crowd voting in an ideation competition. This proves how interested other colleagues are in their project topic.
Above the roads to the future
Crowded streets, crowded trains. Long traffic jams, train cancellations – and bad air quality everywhere. A situation that defines the everyday mobility of multiple people and causes discontent with the individual transport experience. Existing transport systems have begun to reach their limits and mobility is often no longer a solely positive experience, Jägle points out. For him it is time to walk new paths.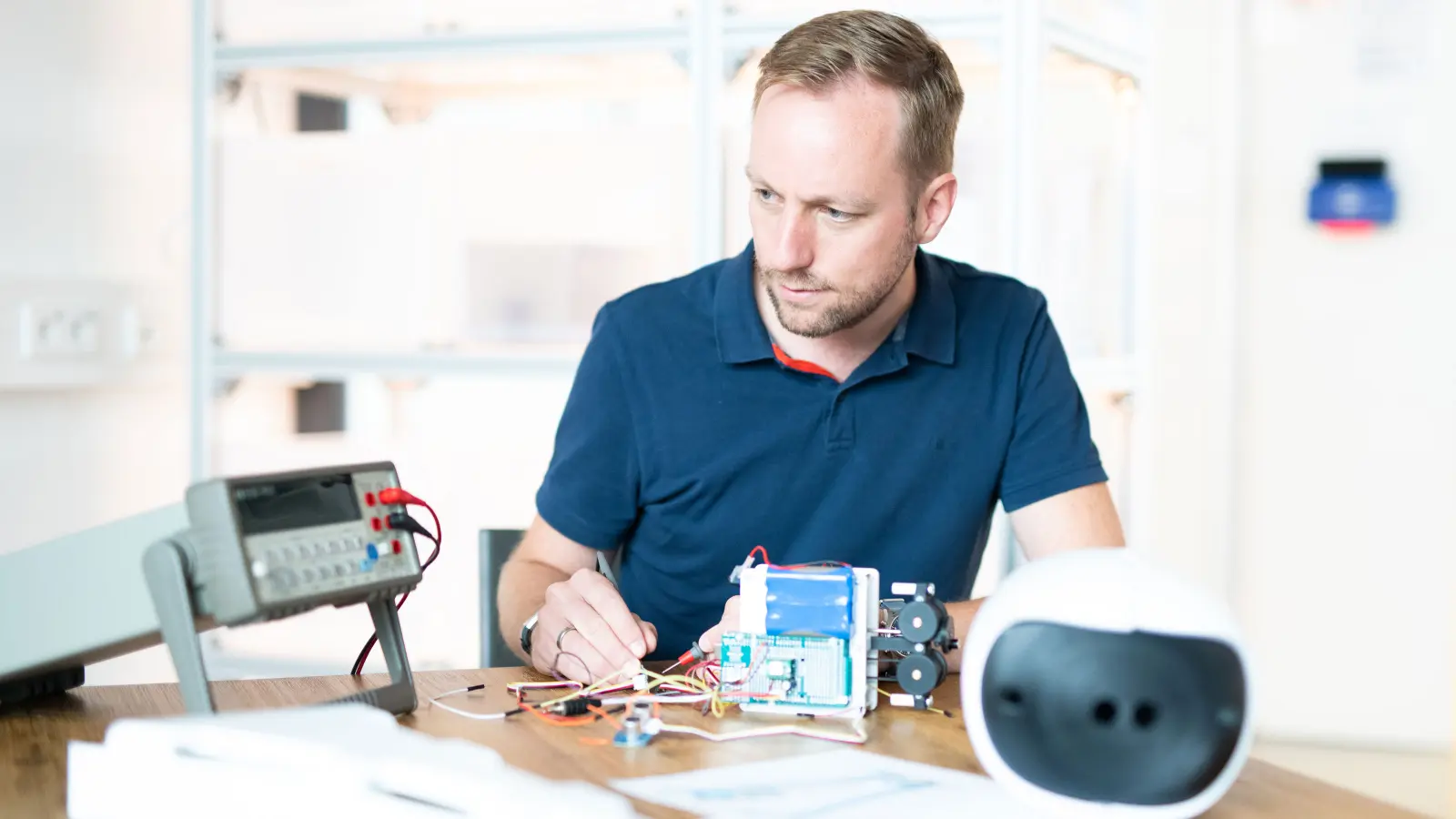 However, he is not interested in developing a system from scratch – after all, there are already alternatives for urban mobility. However, Jägle knows that in their current form these alternatives are not widely implemented, "One existing idea is public transport in small, automated units, also known as 'pod transportation'." Once boarded, a cabin travels directly to its individual destination without waiting, detours or switching trains. The other idea is an urban cable car, which means applying technology known from ski resorts in the city. Both approaches have advantages. But there are also disadvantages that prevent their wider spread. Pod transportation requires a massive and expensive concrete road unsuitable for the city.
Urban cable cars, on the other hand, are only used sporadically as they only connect points along a straight line across wide distances. The lack of flexibility and meagre station density are the core aspects that prevent widespread implementation despite a cost-effective infrastructure. But by taking the advantages of the two concepts – the favorable and flexible infrastructure of the cable car as well as the user-oriented on-demand operation of pod transportation – and combining them would result in something completely new.
This is where Felix Jägle's project idea comes in: What would it be like if you didn't move on the streets, but above them? What he imagines is, in the truest sense, a breath of fresh air to mobility in urban space: an autonomous cable car. "What if a cable car no longer had a central drive, but all gondolas equipped with electric drive and sensors, could move autonomously on a fixed, suspended track?" This combination of two transport concepts leads to a new approach in urban mobility and it works much better than previous concepts, the researcher explains.
More than the best of both worlds
Felix Jägle's approach bears the name "eRopeway". Each user rides on-demand and without a stopover to their individual destination. Far away from rigid lines and timetables – like pod transportation. The destination can be one of many small stations located anywhere along the eRopeway route. The route network consists of curves and branches. "In general, this system also benefits from the fact that it no longer has any central units and therefore is modular in every respect. Therefore, it can be flexibly expanded," the expert explains. Jägle is not only concerned with the transport advantage. "The major problems of mobility are CO2 emissions, local emissions and the consumption of resources, whether raw materials or land area," he says. "Of course, a quantitative analysis is still pending, but I am already convinced that eRopeway is doing very well in all these aspects. After all, it is a fully electric vehicle with a pantograph. In other words, without local emissions and without the raw material requirements of a large battery storage." The individual transport concept prevents empty runs, and braking and acceleration processes due to intermediate stops. In addition, it is a very safe means of transport that switches off in extreme weather conditions and can be easily evacuated in emergencies.
When Felix Jägle talks about the mobility of the future in urban space, he is not just talking about pure innovation. It's his passion project, which always includes a touch of romance. He is not only interested in the optimal operation of the transport system – he is also interested in people's personal experience. And he imagines that this experience will come to the fore again. Away from awkward mass transport, toward mobility tailored to the individual. He is convinced of eRopeway. Not only cheaper, resource conserving and better for our environment – but above all an enrichment for the people. In the coming months, Jägle intends to further refine the idea of eRopeway. Together with his team, concrete possibilities for implementation are to be examined.
Why is his idea, which he already had over ten years ago, still good? "Because eRopeway puts the user at the center and offers them a significantly better experience than any other system today. And the user's enthusiasm will be the deciding factor in the long run."
An enthusiasm you can also feel with Dr. Felix Jägle. Because, after all, eRopeway gives him the chance to realize his dream.