The Internet of Things (IoT) makes manufacturing more productive, faster, and easier. In one of Bosch's plants, Shawn discovers how software solutions and smart devices can be used to utilize the plant's full potential.
The Internet of Things presents — Manufacture #LikeABosch
Shawn, our IoT hero, knows that it all depends on the right connections — not only in your own home or on the go, but also in industry 4.0. Walking through the factory of the future, Shawn was able to see how solutions from Bosch and Rexroth connect the manufacturing process and make it IoT-capable.
Every part, getting smart
Right at the beginning of his tour, Shawn realized that in the factory of the future, humans are in full control. Because facilities and machines are connected via the IoT and their data read out in real time, the entire value added chain is transparent at all times. With a clear overview, it quickly becomes evident where resources can be spared and how processes can be made more efficient. One example of this is the CytroBox, a compact and low-noise hydraulic power unit. Sensors record their filter, oil, and drive status, and communicate this data to higher-level systems. This allows the user to always keep an eye on the plant's operations. It automatically adapts its output to what is needed, consuming up to 80 percent less energy than drive units that are constantly in operation. The design is also intelligent: the CytroBox is almost as compact as a vending machine.
Navigating the data jungle
The factory of the future makes use of complex technologies. This makes it all the more important that those responsible can easily ensure that everything runs as planned. This can be done with the NEXEED software solution, which collects, analyzes, and prepares an overview of production and logistics data. To gain a fully rounded perspective, Shawn receives all production data directly on his tablet or smartphone. That way, he always knows exactly what is happening in terms of production and where material and load carriers are located. The Nexeed Energy Platform in turn converts data records into tangible key performance indicators on energy and resource efficiency. This enables companies to compare their sites' data consumption, identify weak points, and implement improvements. This is good for both the carbon footprint and the balance sheet.
Fixing errors before they occur
A single fault can cripple entire production lines. This can be particularly tricky at night when there are no maintenance personnel at the plant. One look into the proverbial crystal ball would help to reduce disruptions. The NEXEED software enables predictive maintenance, which is like seeing into the future: it monitors important production data around the clock and identifies critical deviations. Is a machine at risk of overheating? Does it show signs of wear and tear? In such cases, the program notifies the maintenance personnel in the plant. They can then schedule downtime for the affected machine in order to carry out maintenance on it. This can help prevent unplanned production stoppages. Shawn would also like to have such clairvoyant abilities.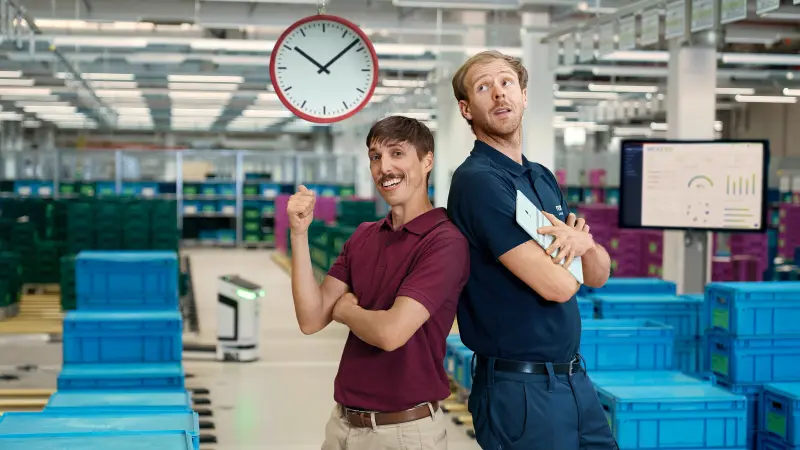 In reality, only the floor, ceiling, and walls are fixed in the factory of the future; everything else can be changed. The production lines consist of modules, which makes it possible to change, enlarge, or reduce them while in operation. However, this sort of production also requires an adaptable material flow. Shawn quickly discovered the solution for this: in the plant, there are active shuttles — self-driving transport systems with electronic motors that bring the materials to the production lines.
The shuttles can be connected with different communication standards and are even 5G-compatible. They have laser sensors and are equipped with software that ensure they navigate safely through the plant, avoid obstacles, and automatically brake in front of people or other machines. The shuttles can also communicate with each other. For example, if one of the shuttles wants to drive through an aisle that is blocked by a forklift, it identifies this as an obstacle and warns the rest of the fleet. Now that's teamwork.
Robot colleagues reduce the workload
In order for everything in the factory of the future to run smoothly, there needs to be a place where the data from the connected devices is processed: the Bosch IoT Cloud. This is the brain, so to speak, of the IoT world. The cloud enables machines to communicate with their environment and take on more and more tasks that are too monotonous or too stressful for humans. During his tour of the plant, Shawn saw many examples of this, his favorite being the automatic production assistant or APAS for short. The mobile robot can be used at various workplaces where it works together with its human colleagues. Because it has soft and pressure-sensitive skin made of synthetic foam, people do not need to wear protective gear around it. Shawn thinks highly of APAS: whether in terms of assembly, loading, or palletizing, you can rely on this office assistant.
Did this tour with Shawn leave you wanting more? Here you can find more information about how the Internet of Things meets special requirements. These solutions will turn the factory of the future into reality faster than our IoT hero can say #LikeABosch.