Martin Weiss loves his job. He and his team split their time between the lab and cozy couches to develop software that allows the owners of photovoltaic arrays to use as much of the solar energy they produce as possible within their own four walls.
Career goal? To make the world a better place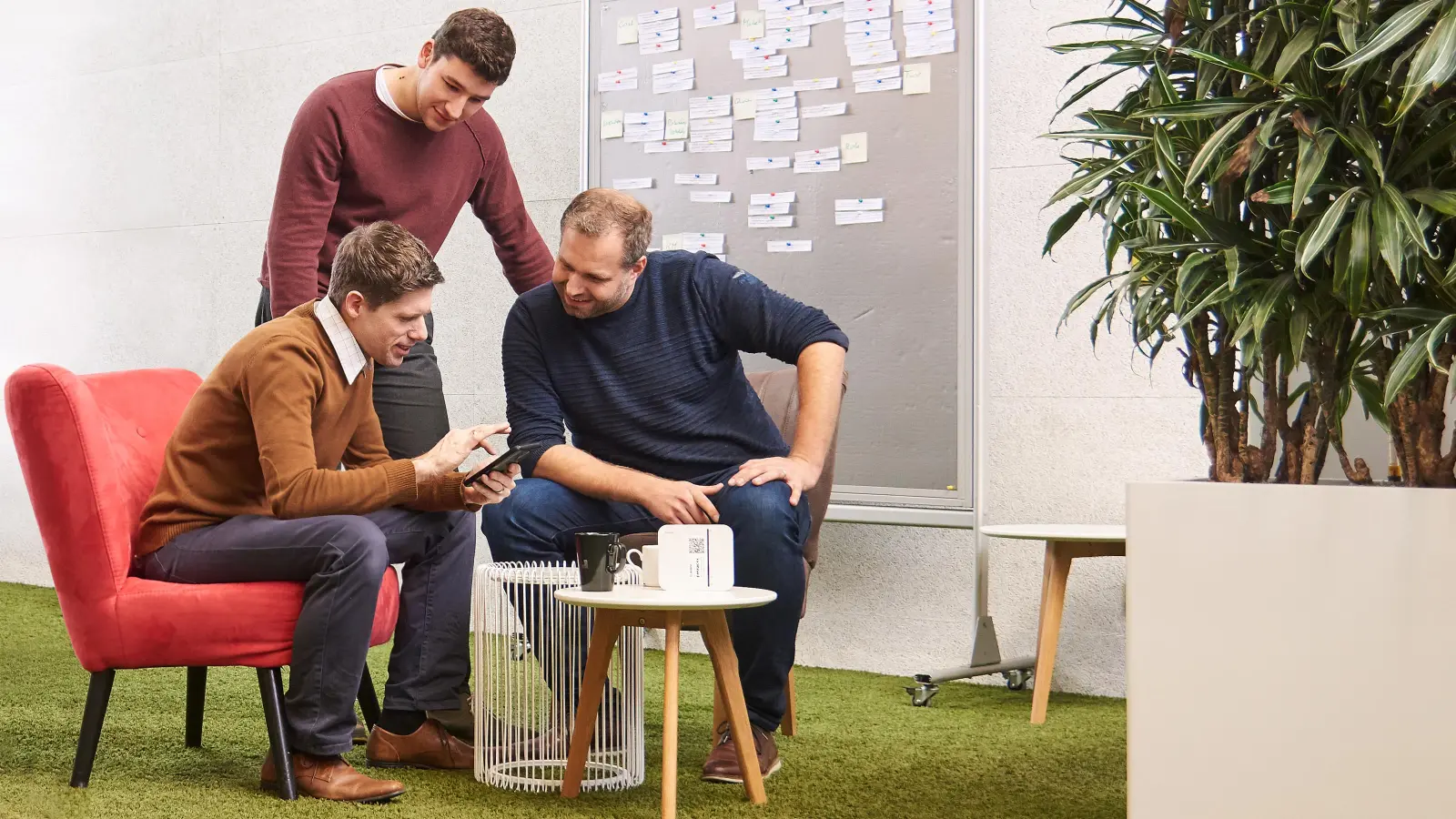 When Martin Weiss graduated with a degree in cybernetics, he knew he wouldn't be satisfied with any old job — he wanted a career that would make a difference. For Weiss, there was no question what kind of job that had to be — he wanted to help conserve our planet's resources. As a project manager at Bosch, the 38-year-old father of three has made a lot of progress toward achieving this goal. He and his colleagues developed Energy Manager. This software solves a problem that many private owners of photovoltaic arrays face: as soon as the sun comes out, solar cells start generating far more solar power than is actually needed. The conventional solution is for the surplus solar power to be fed into the public grid. Energy Manager keeps it in the family and local by automatically routing excess power on to other energy consumers in the building that have the capacity to take up or store this renewable energy.
Smart-home energy-management system: this is how the smart Energy Manager distributes solar power in the home.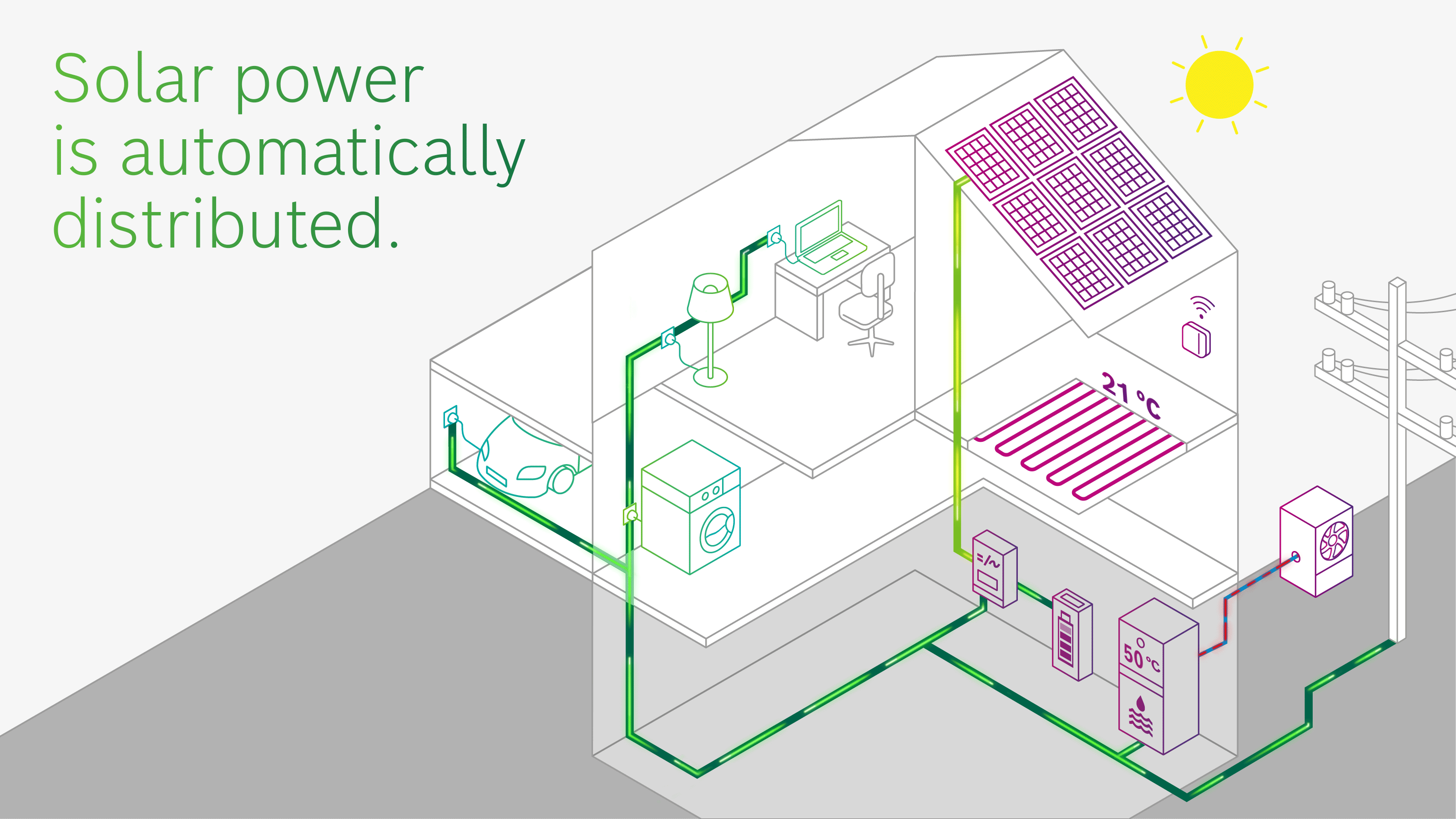 Create an energy hub for the connected home
Energy Manager was shoehorned into the palm-sized Bosch Smart Home Controller. It connects with the photovoltaic system to intelligently and automatically distribute solar power throughout the smart home. Household appliances take precedence. Once they have all the power they need, the energy flows to the heat pump, with any remaining surplus going to the battery for storage.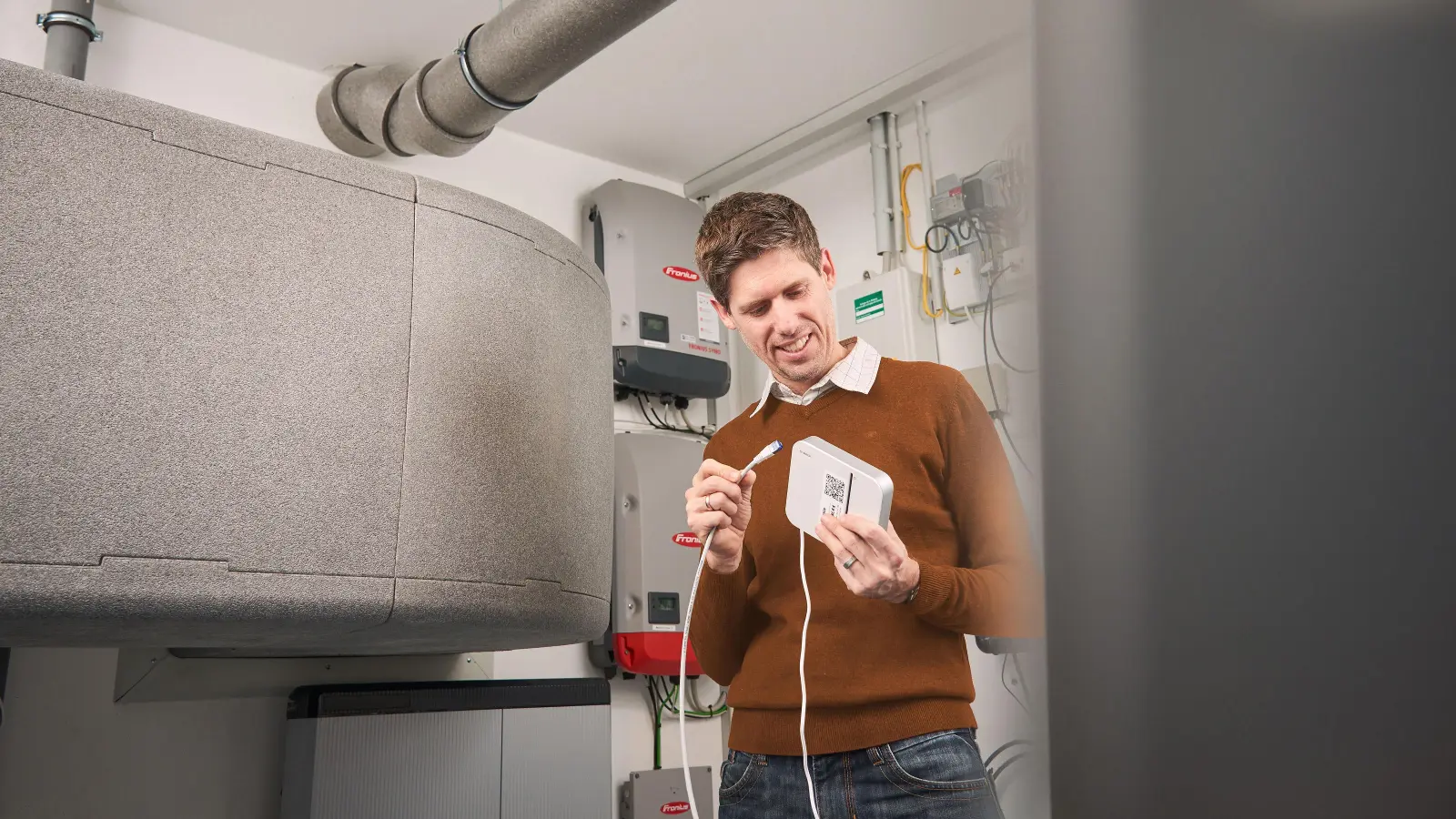 Energy Manager uses the house's Wi-Fi network to communicate with other smart appliances, such as the indoor unit of a heat pump shown here.

Smart-home energy management: Only after the smart home's own energy consumers are supplied with solar power is the surplus fed into the public grid.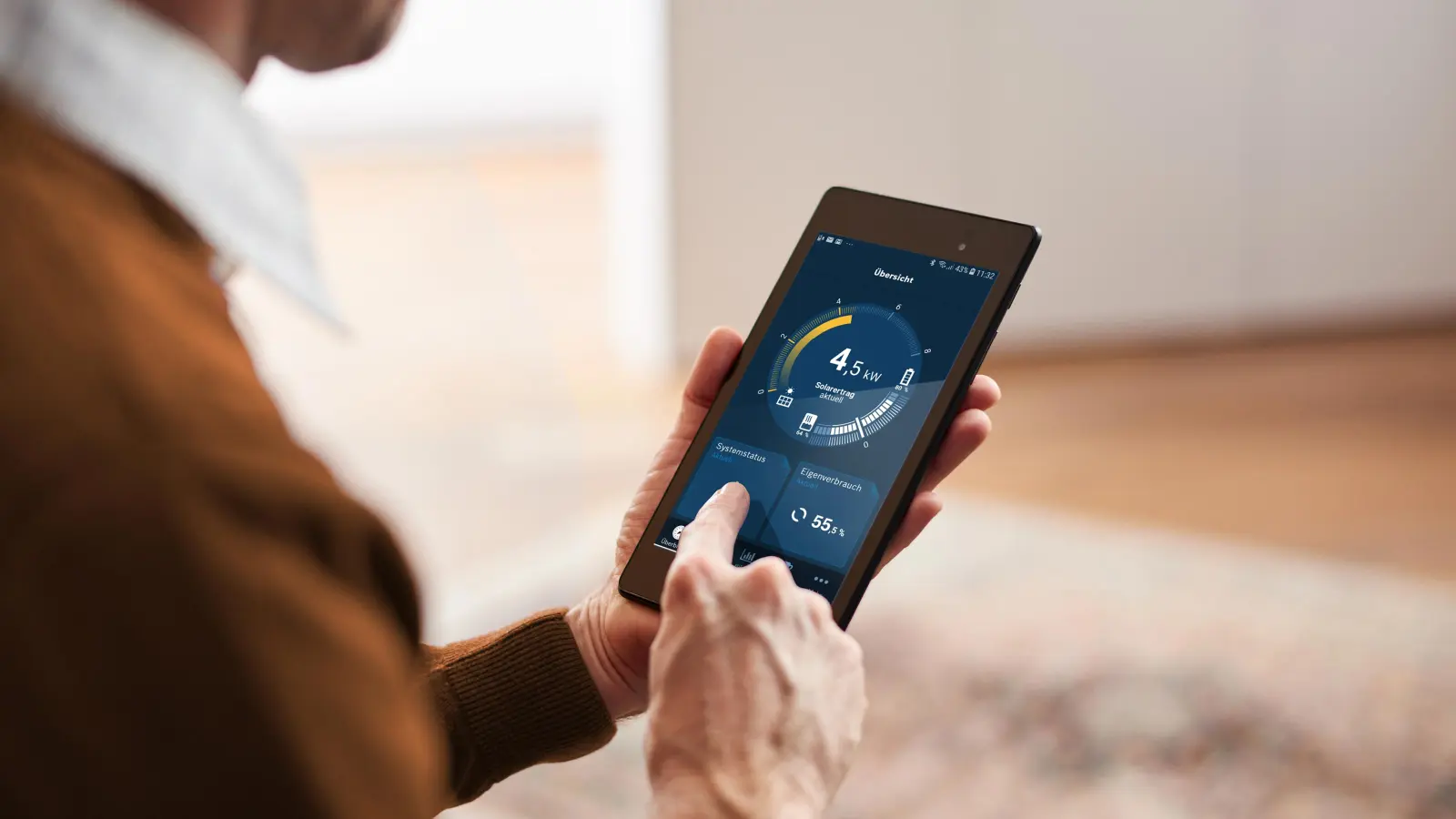 "With Energy Manager, smart-home owners can cover up to 50 percent of their annual energy needs using the electricity they have generated locally," Weiss says. And if the home has its own battery storage unit, this figure can be as high as 70 percent. Bosch aims to make Energy Manager the central power hub for smart homes. Martin Weiss and his team are now working on a way to use solar power to recharge electric cars in the home garage.
Up to 70 percent 
of a smart home's energy demand can be covered by solar power
(assuming a four-person household with a 6-kWp PV system and 8-kWh battery storage).
From basic research to finished product
Martin Weiss has been working on the smart Energy Manager for a long time now. His quest for meaningful work first took him to Schwieberdingen, Germany, where the 26-year-old PhD student joined Bosch to conduct energy research. Nine years later, he moved to the Bosch Power Tec startup to work on storage solutions for photovoltaic arrays. It was during this time that he and his colleagues developed an early version of the energy management system. He took the project with him when he moved to Bosch Thermotechnology in Wernau near Stuttgart, where his team has been honing Energy Manager since 2016.
Welcome to Silicon Wernau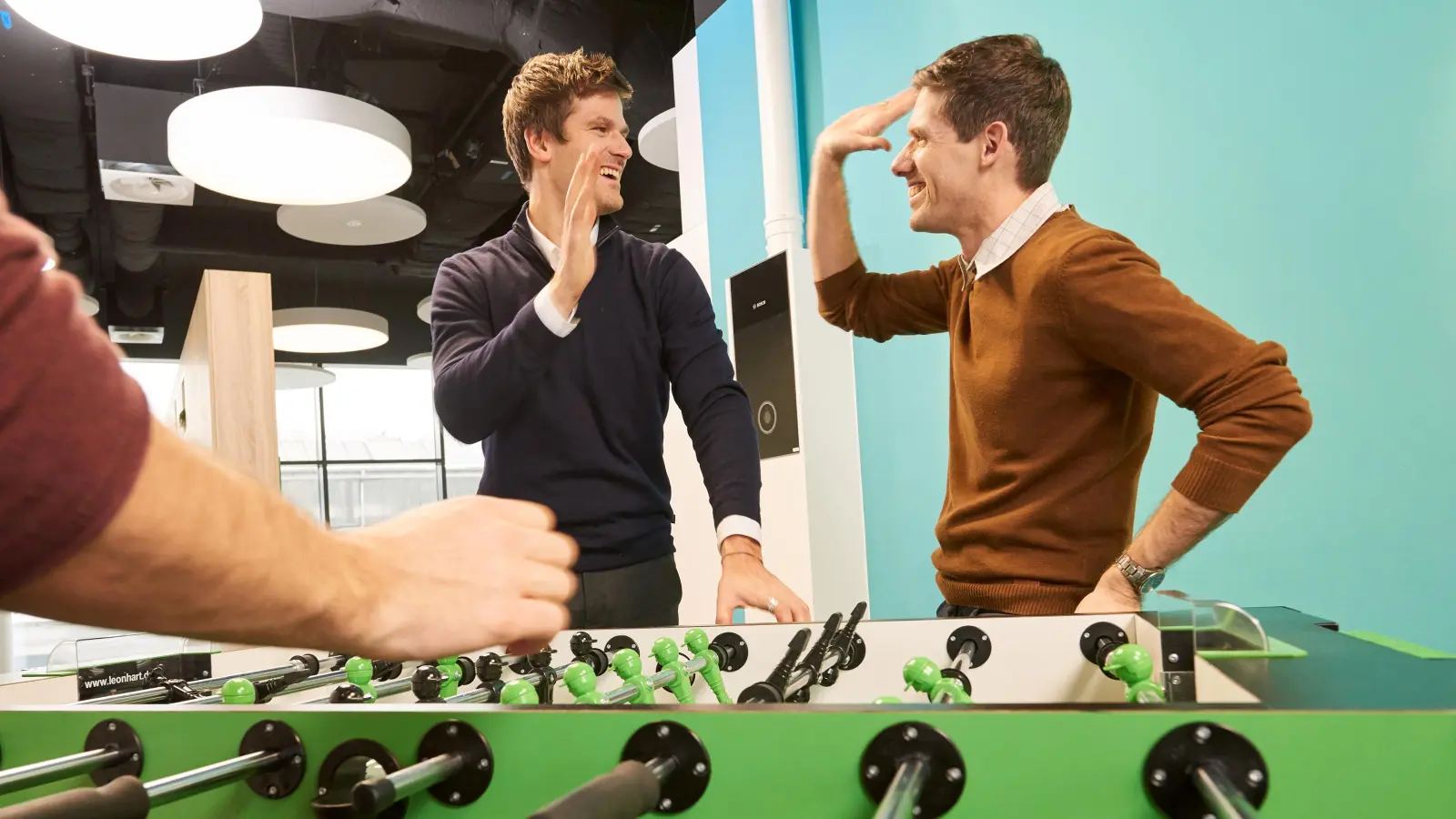 With a nod to California's high-tech hub in Silicon Valley, many associates call their workplace Silicon Wernau. In a work environment featuring cozy couches and a foosball table, Weiss has found his creative ecosystem. "I can go from an office chair to a couch and clear my mind for fresh inspiration," he says. That startup spirit is more than just unconventional workplace design. More importantly, it finds expression in the team's modern working methods. Each of the six members shoulders a lot of personal responsibility. "My main task is to clear obstacles from the project team's path," Weiss says. He also appreciates the creative leeway he has in his job as project manager: "I can influence the fundamental decisions and, together with the team, determine where we want to go with the product's further development."
This is not just a job, but a vocation that makes a difference. Martin Weiss has found what he was looking for. Not surprisingly, he jumped at the chance to try out Energy Manager in his own home, and installed a prototype of the home energy-management system used by the company for testing purposes in his family's utility room. There, he is happy to report, the smart technology has proved its worth and is conserving resources day in and day out.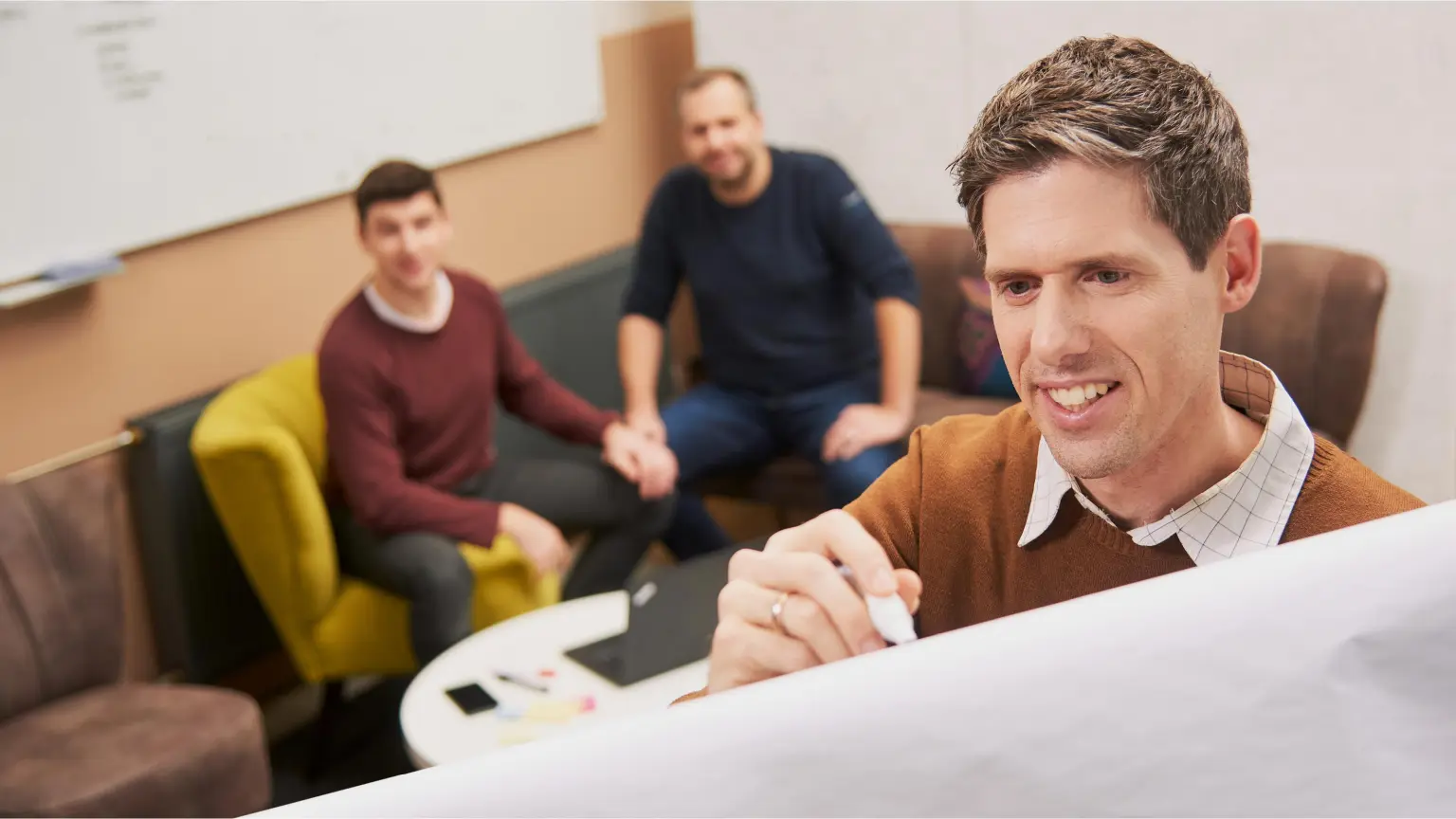 Dr. Martin Weiss
head of the Bosch Energy Manager project
My job is the best of all worlds. Many people benefit from my software — and so does the environment.
Martin Weiss has found work colleagues who share his passion: "Every member of the team wants to promote solar power and help society become more independent of fossil fuels." At every stage up the career ladder at Bosch, he was able to drive forward the development of a real innovation. Martin Weiss likes to spend his free time with his family, on his motorbike, and honing the home automation system he has developed himself.