Extreme athlete Till Schenk is busy preparing for his biggest adventure to date. Every week sees him racking up hundreds of kilometers in Girona, Spain, by bike and on foot. His trusty sidekick on the go is a pair of smartglasses featuring the latest Bosch technology. This smart eyewear keeps him in the picture about his vital signs, training plans, and key aspects of the route ahead.
"Impossible" is not in extreme athlete Till Schenk's dictionary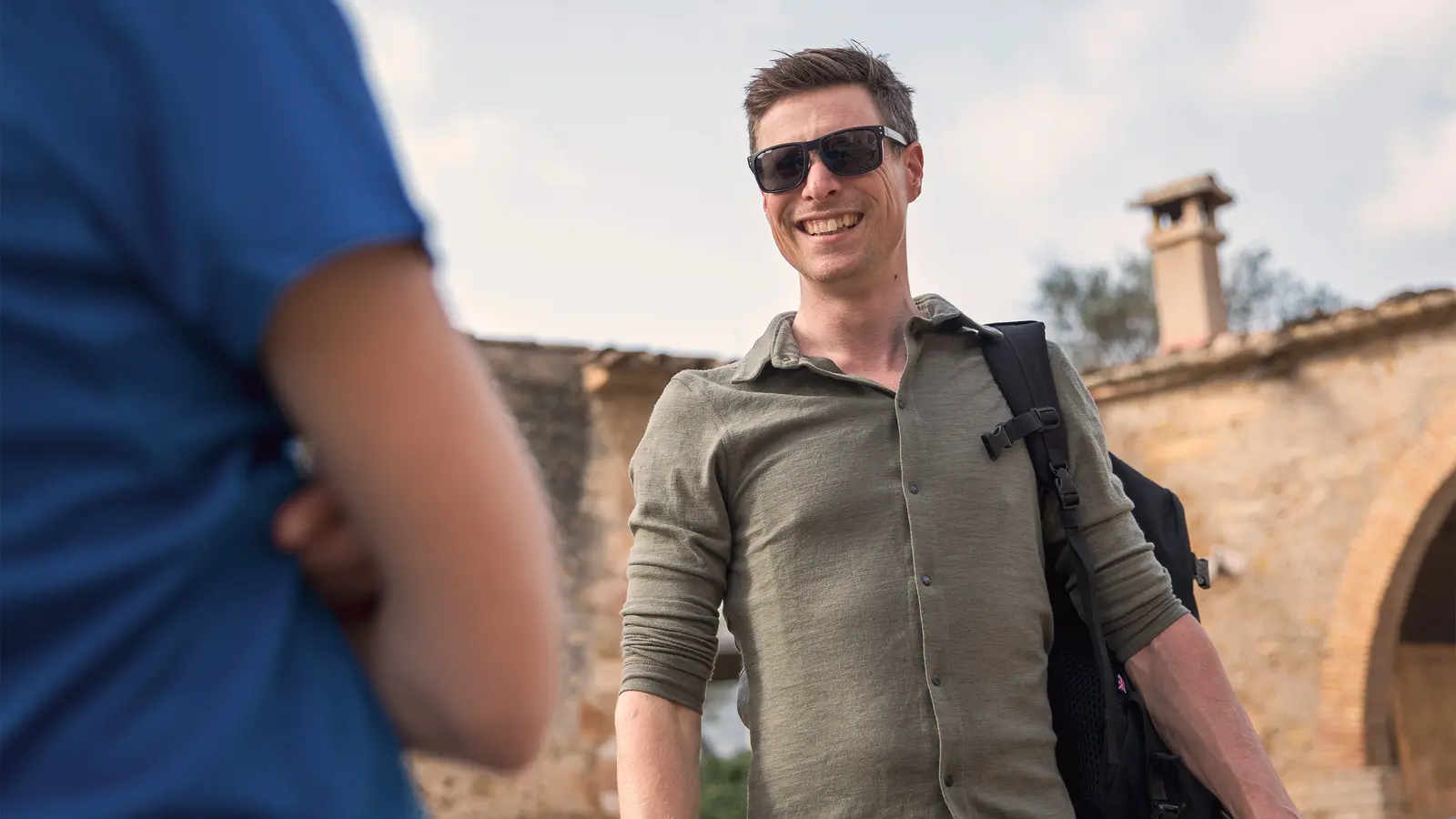 Till Schenk is one of those people for whom the word "impossible" just does not exist. The physician who diagnosed his glandular fever ten years ago told him his sporting days were over. Till ignored the doctor's advice and just kept at it. Today, 40-year-old Schenk is an internationally acclaimed extreme athlete. He still trains 30 hours every week. These days, he is based in the northeastern Catalonian town of Girona. The surrounding region provides the perfect venue for training. This ultra-cyclist insists on having all the data at hand during his sessions, particularly vital signs such as his pulse. "It's extremely important for me to keep an eye on my heart rate so I can properly adjust training intensity. That's why these smartglasses with Bosch's Light Drive tech are the perfect partner when I'm preparing for my adventures. They beam all key information straight to my eyes, including vital signs, route information, text messages, and other training readouts such as cycling wattage."
Training with Bosch Light Drive technology to keep an eye on all vital signs
YouTube
Video cannot be shown without your consent
Smart traffic reports, safer travels
"Bosch's new Light Drive technology is fascinating. Important training information appears in front of my eyes without obstructing my view of the road or terrain," says Till. With its compact design, the Bosch Sensortec solution is the smallest and lightest on the market. The approach is fundamentally different from comparable products. Rather than relying on the elaborate features of augmented reality glasses, mixed reality eyewear, and other AR devices to conjure virtual 3D worlds, the Light Drive technology executes a simple task with simple means, displaying push notifications from devices connected via Bluetooth. Thanks to its diminuitive size and weight, it installs easily in ordinary glasses with corrective lenses as well as in sports glasses. Despite this simplicity, it can be used in a variety of ways. For example, Till uses Bluetooth connectivity to pair his glasses with his smartphone, heart rate monitor, and the bike's taillight.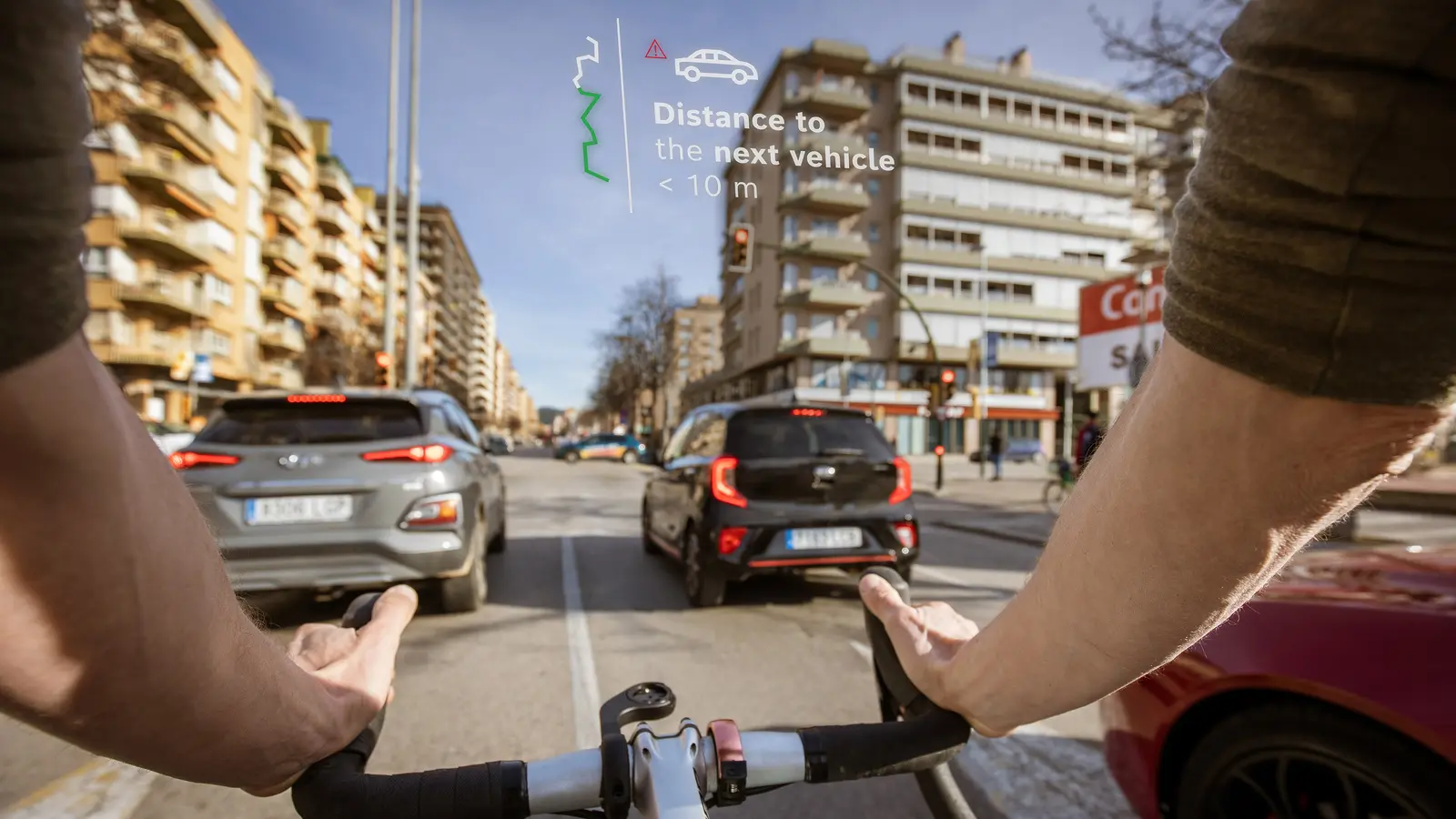 Compact Bosch tech, total privacy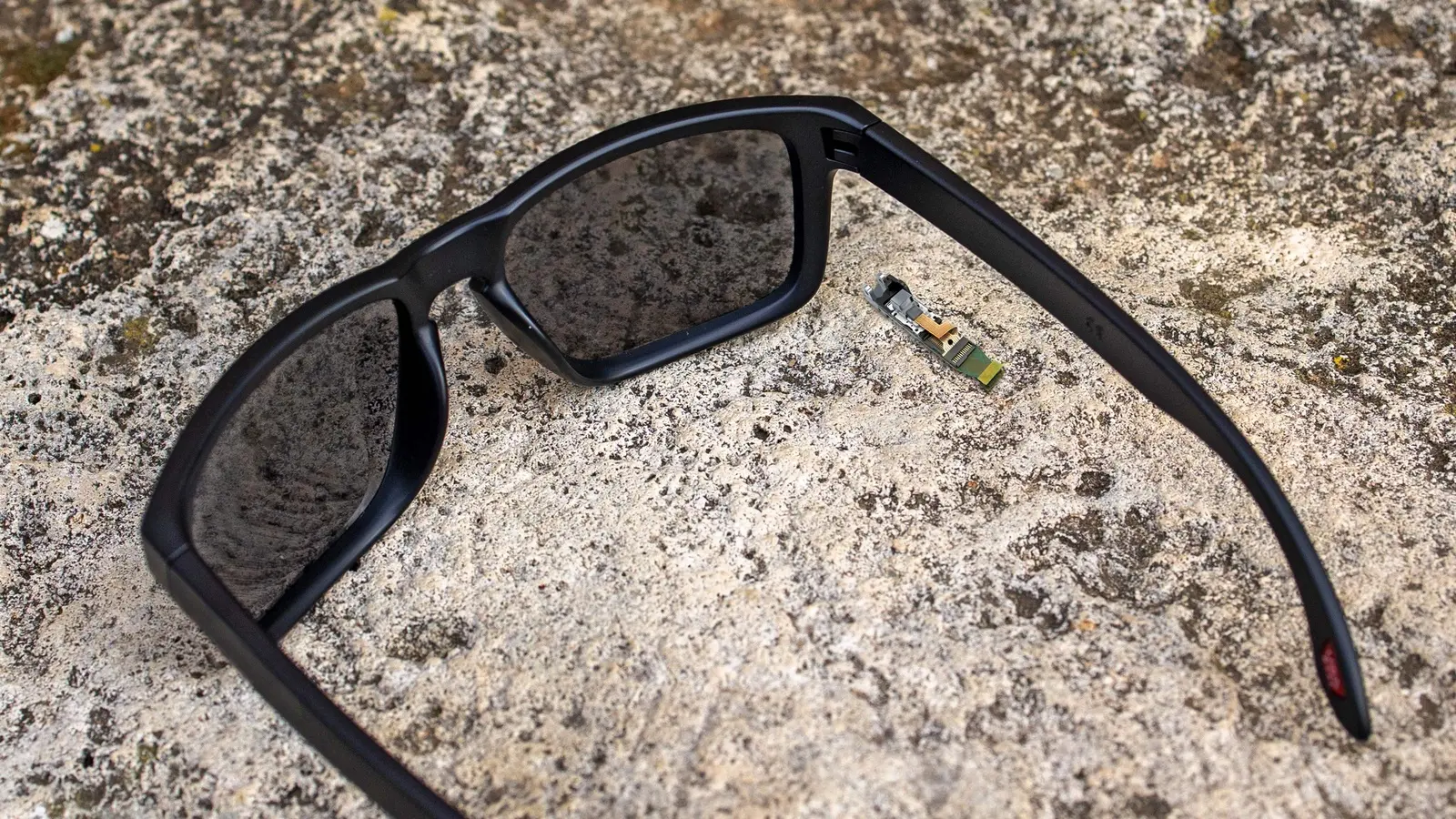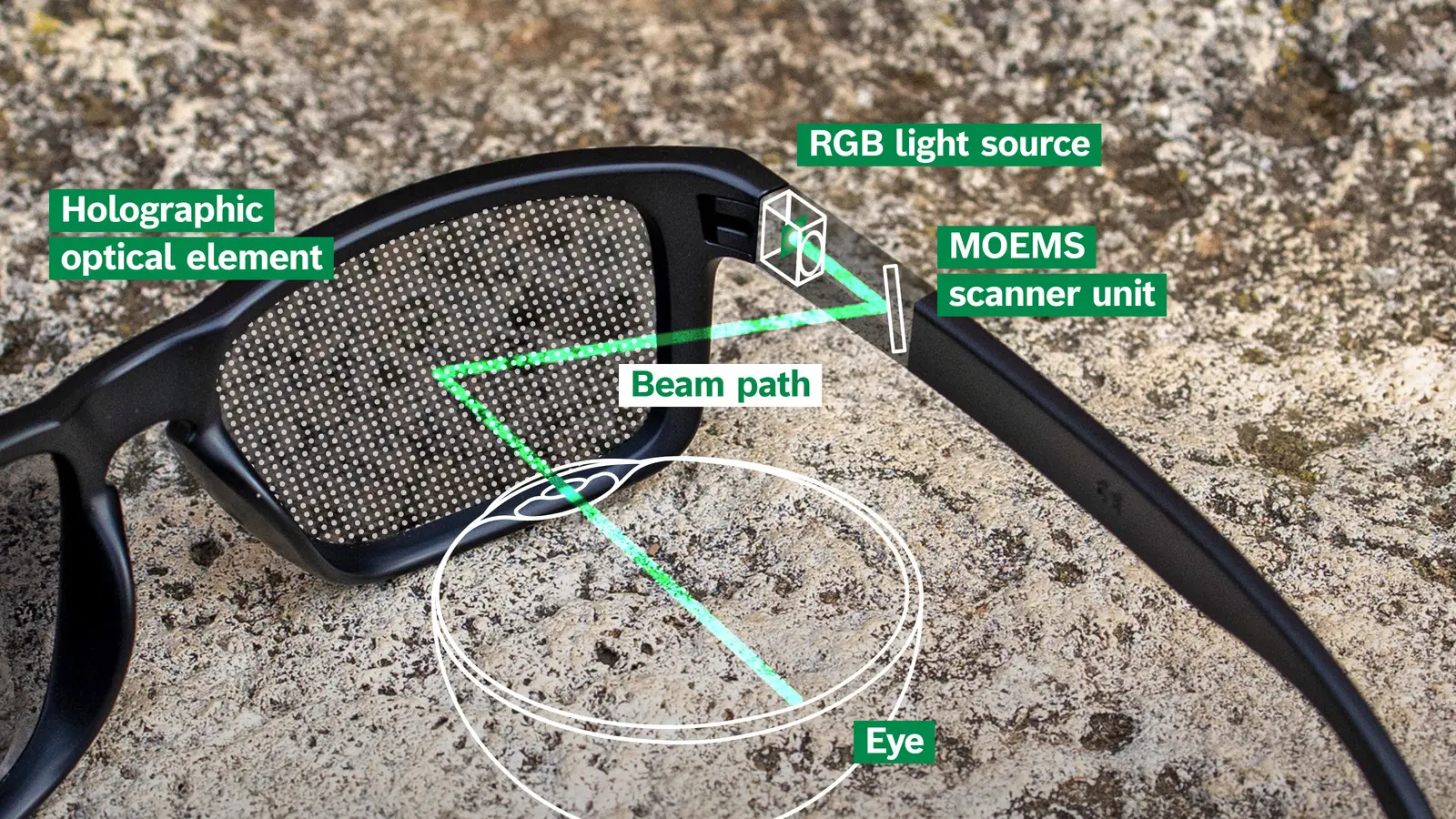 A smart solution beams this data onto the right lens of the wearer's glasses. The component is so tiny that it fits into almost any frame, so any eyewear can be converted into stylish smartglasses suitable for everyday use. This includes spectacles with curved and corrective lenses as well as regular sunglasses, a popular option among contact lens wearers. Beamed to the wearer's eyes only, the content is always sharp with great contrast and privacy is assured at all times. Handling is easy: the device is activated by simply tapping the frame's temple, or "arm" — another convenient feature that comes courtesy of Bosch sensors.
A mini transmitter inside the Light Drive system is a mirror based on micro-opto-electro-mechanical systems, or MOEMS for short, that detects incoming coherent light. A MOEMS scanner unit, also built into the temple, relays the image to the lens. The inside of the lens is lined with see-through holographic optical foil. It redirects images containing information such as heart rates to the user's retina. These images are centered on the retina and based on data sent from connected apps.
Less than 40 grams
is how much smartglasses with this built-in Bosch tech weigh. Light Drive technology works well with curved and corrective lenses, so people with prescription glasses can also enjoy its benefits.
The battery outlasts Till
Till is training hard at an intensity that is high even by his lofty standards. His next bold adventure is something no one has ever attempted before — seven "Everestings." Till Schenk aims to ascend and descend an incline as many times as it takes to climb the equivalent of Mount Everest's 8,848 meters elevation — on all seven continents. He needs a companion as indefatigable as he is to do that. The battery life of his smartglasses is remarkable: the entire optical system with the Bosch technology is so efficient that it can run for an average of 14 hours before it needs recharging. And the operation via touch control is so simple. "Two things are important to me as an athlete: I do things with passion and sense. It feels like this Bosch technology is built on the same principles," says Till.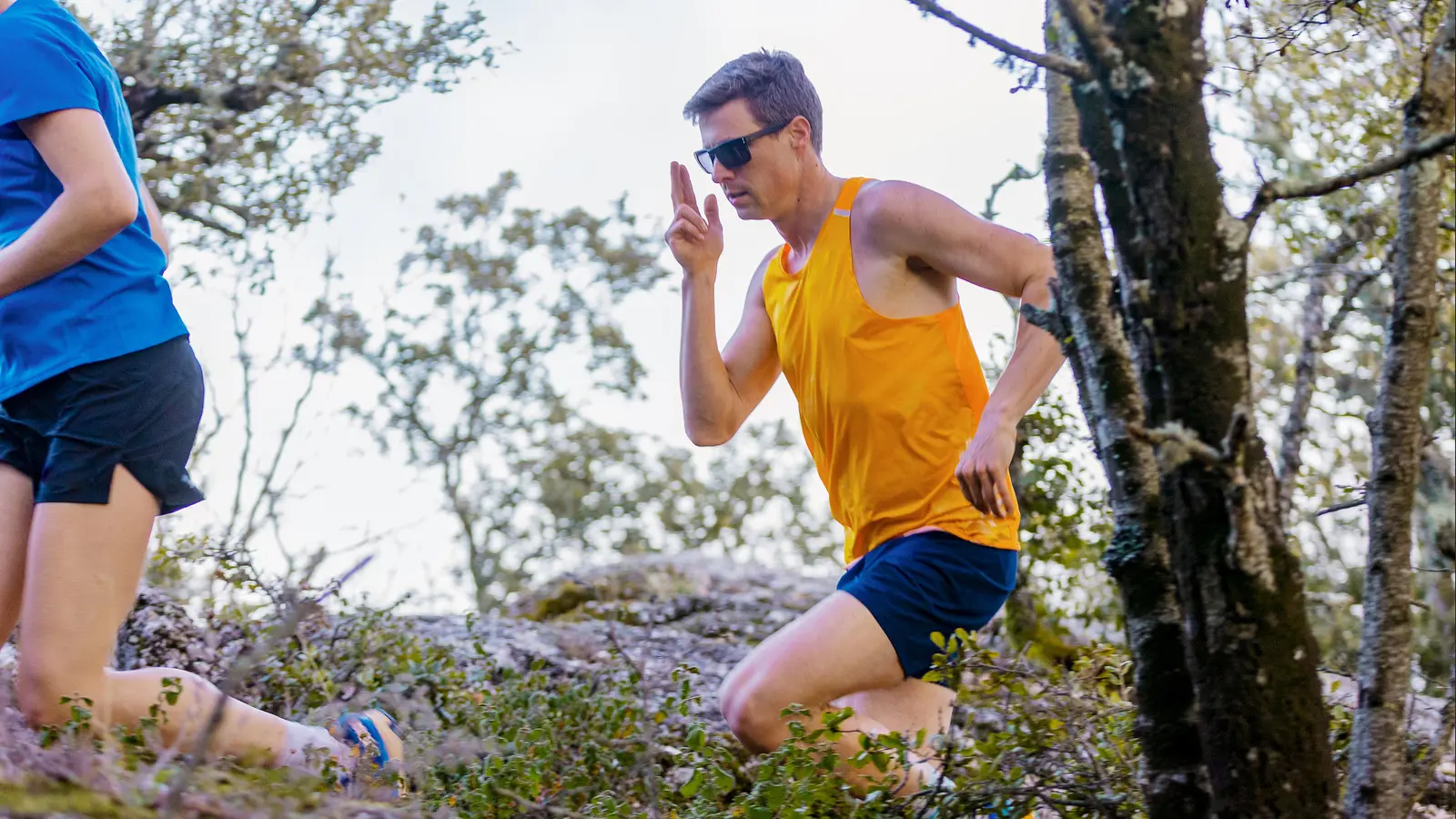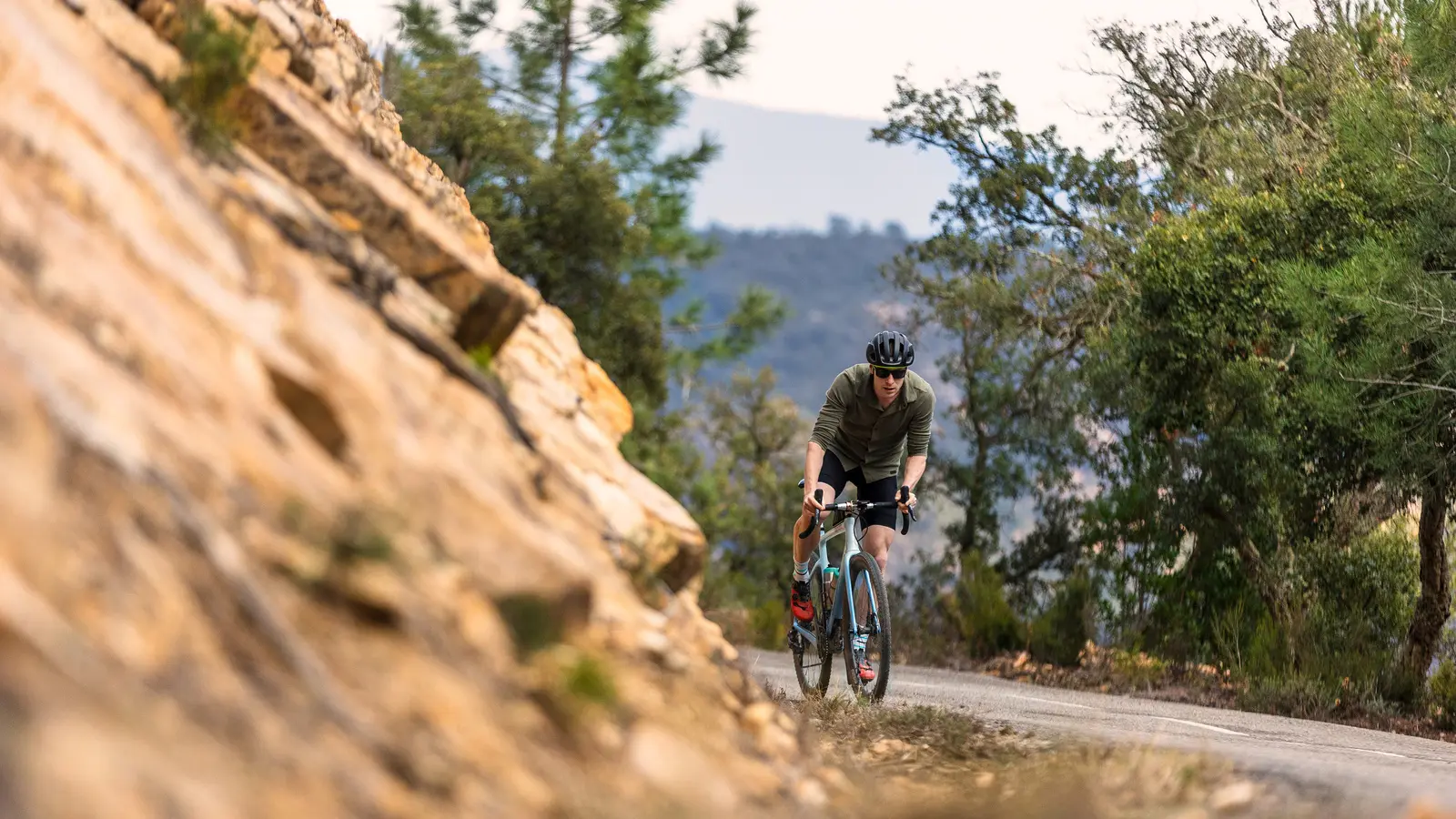 Till's training route takes him and his bike up the Rocacorba, the landmark mountain on the outskirts of Girona. The gradients of some stretches of this route are steeper than nine percent, pushing Till to max out his training load. His smartglasses show him razor-sharp readouts of his heartbeat, caution him that dangerous bends lie ahead, and provide information about his cadence. The brightness adjusts automatically for images to remain clearly visible even in direct sunlight. All this helps Till keep his concentration up. That laser-like focus is vital because overtraining at an excessive pulse rate, an accident on the bike, or a muscle injury could shatter his Everesting dream.
When Till reaches the summit he sets off on a 25-kilometer trail run through untamed wilderness. The smartglasses let Till and his running buddy Elly Woods keep an eye on their speed, elevation gain, and calories burned. The Light Drive technology is a great training aid — and a handy assistant in everyday life. The athlete can read messages, reminders, and directions in his field of vision while driving a car, but without having to take his eyes off the road. Till and Elly do without these beamed images just once — to soak up a spectacular sunset when the training day is done.