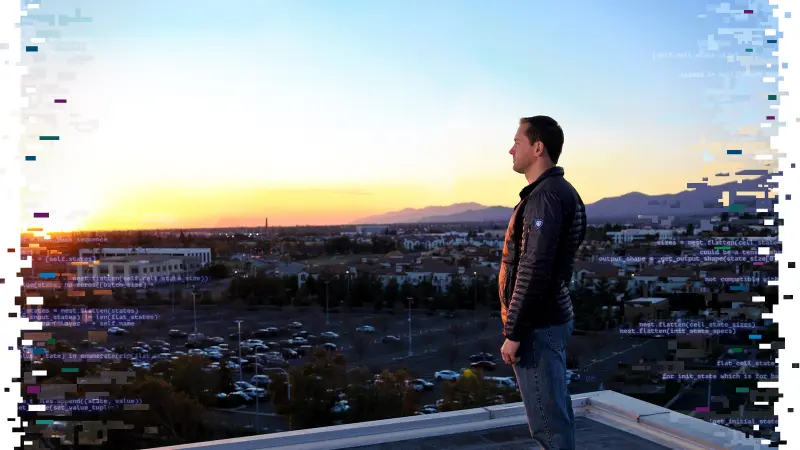 Faced with record heat waves, water shortages, and wildfires, California is starting to feel the strain. In response, some of the state's major energy consumers — cities with a heavy carbon footprint — are joining the battle to fight climate change. One municipality has emerged as a new pioneer: Ontario, a community of 185,000 inhabitants located east of Los Angeles. Thanks to smart technology and a little help from Bosch, Ontario has slashed greenhouse-gas emissions by 10,000 tons a year. Michael Johnson, Ontario's director of municipal services, takes us on a tour of the smart city's hot spots.
First things first: a fully charged battery
It's early in the morning, the start of another scorching day in the Greater Los Angeles metropolitan region. We meet Michael Johnson outside one of Ontario's new charging stations for electric vehicles. First things first — make sure the battery is fully charged. "After all, we have a lot to do today," he says. As municipal services director, Michael is responsible for planning and maintaining Ontario's infrastructure. We're joined by Jeff Bartel, business development manager at Climatec. The Bosch subsidiary advises businesses and municipalities on how building automation systems, improved energy efficiency, and sustainability services can help them become more eco-friendly. And this is what happened in Ontario. "We looked at every city building, every park, and every streetlight here," Jeff explains. The aim was to help Ontario realize its vision. "We want our city to be the premier and most sustainable community in the entire Inland Empire," Michael says as he smoothly plugs the cable back into its socket at the charging station — one of many things that Climatec has installed on this major project.
The Ontario Convention Center — cool and efficient
Aboard Michael's fully charged electric car, we drive to the Ontario Convention Center, the first of the city's new hot spots in urban sustainability. The 225,000-square-foot event center has already featured in a number of movies. Now, thanks to Climatec, directors from nearby Hollywood could also shoot a documentary here on the benefits of smart urban development. "Jeff and the Climatec team designed and installed brand-new heating and cooling equipment along with a building automation system for us," Michael explains. "We can now regulate the temperature in each part of the building at the push of a button and adjust the operating hours to match the building occupancy. Maintenance of the system also works from anywhere by computer."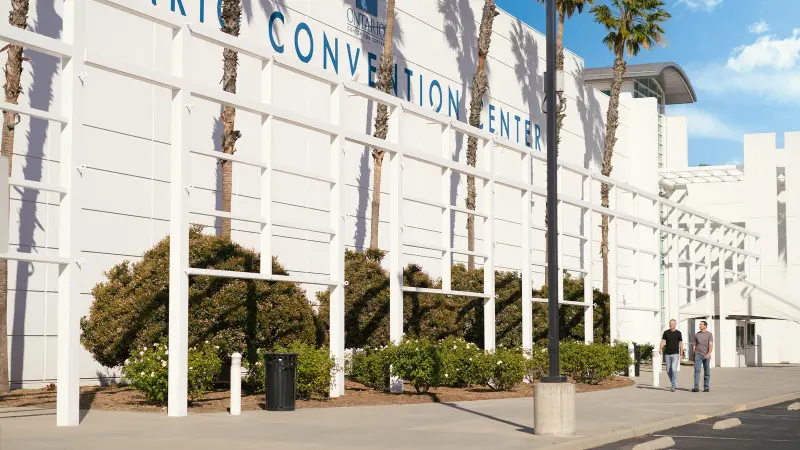 New solar panels
A further highlight in the city's program of sustainable urban development is a new photovoltaic system installed at the Ontario Convention Center. Where cars once parked beneath the blazing California sun, there now stands a new covered parking lot with a rooftop installation of ultramodern solar panels. The event center is able to meet up to 69 percent of its own electricity needs through solar power.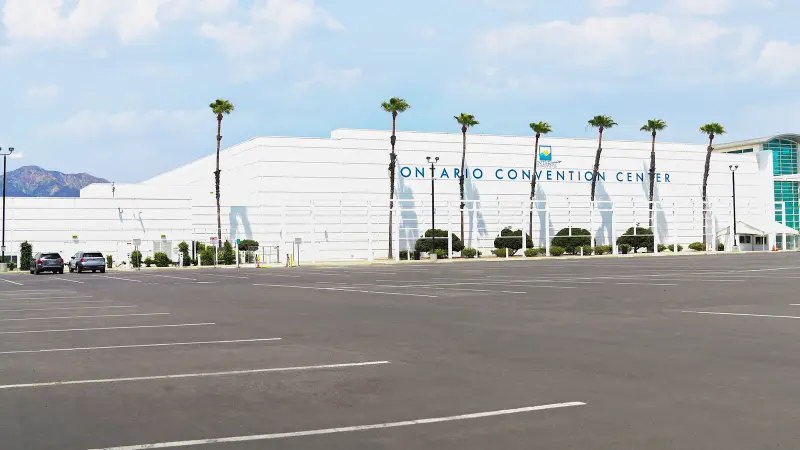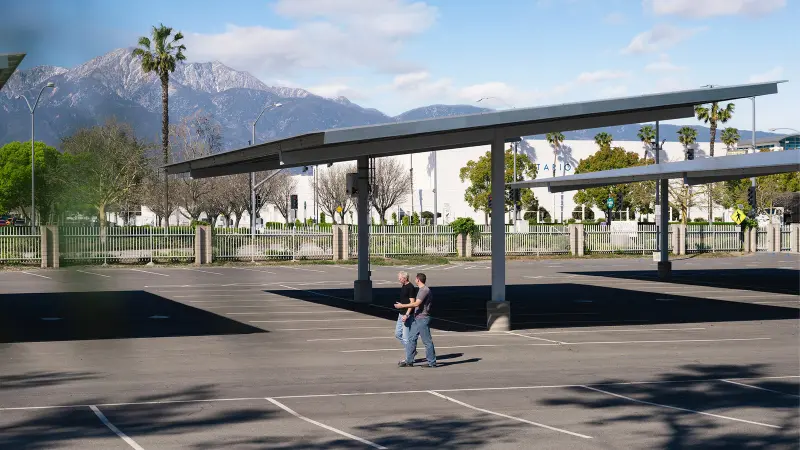 Westwind Community Center pool — solar-heated water
It's now midday: 35 degrees Celsius in the shade, and high time to cool off. We're headed for the Westwind Community Center pool, where we meet lifeguard Sophia Lara. She points proudly to the building's roof: "See those dark-colored mats up there? Our pool water is heated by a solar-thermal heating system." This brings annual savings in natural gas of up to 50 percent.
"The first step in our work is analysis," Jeff explains. "We look at the existing infrastructure and calculate what the equipment consumes and how costly it is to maintain. This was also the case here at the Westwind Community Center pool. Then we show customers how they can become more efficient with smart, regenerative technologies." The team installed new equipment in a total of 26 public facilities and also helped the City of Ontario find funding for the project.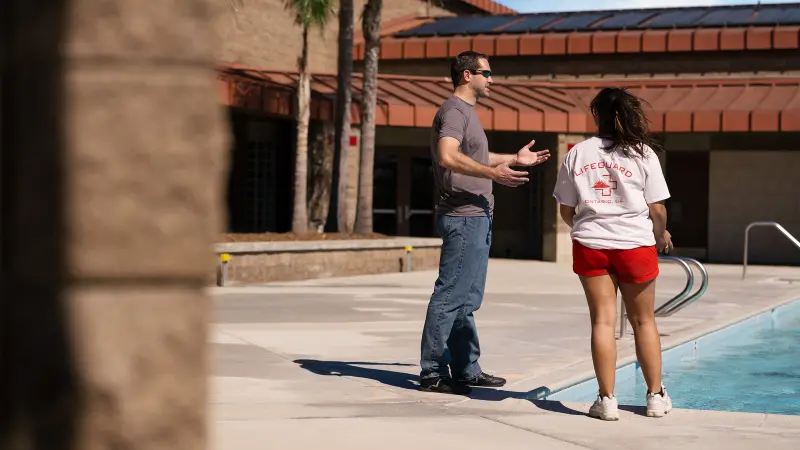 Climatec-powered technologies that make Ontario smart and efficient
Modernization of interior and exterior LED lighting throughout the city
Central chilled-water plants at the Ovitt Family Library and Ontario Convention Center
Hot-water boiler plants at the Ovitt Family Library, Ontario Convention Center, and Toyota Arena
Refurbishment of the air handlers and VAV boxes at the Ontario Convention Center
Upgrade of building automation control systems at 27 sites
Upgrade of air-conditioning systems at 11 sites
Installation of PV solar systems at the City Hall annex, police department, and Ontario Convention Center
Installation of solar-thermal heating systems at the Westwind Community Center swimming pool and the Dorothy A. Quesada Community Center swimming pool
Installation of EV charging stations at the Ontario municipal utilities company and at three community centers
Installation of new electric transformers at the City Hall annex, Ontario police department, and Ontario senior center
Installation of battery storage systems at Toyota Arena and police department
10,000 tons
in greenhouse gas emissions a year have been eliminated by Ontario through the installation of sustainable technology.
Euclid Avenue — smart lighting for a sustainable city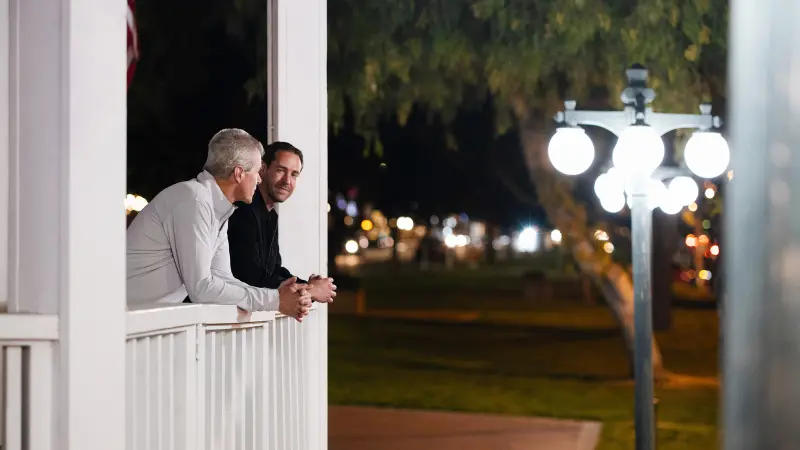 At the end of a long day, Michael drives down Euclid Avenue. We are now in downtown Ontario. The sun has set, and the city is bathed in the warm light of nearly 13,000 LED streetlights. "Climatec has upgraded our streetlights for all city facilities and streets," he explains. This new lighting reduces energy usage by up to 80 percent and is connected to a smart system that monitors and controls each light individually. "These lights — they're my personal highlight," says Michael, lost for a moment in reverie. He and Jeff are at the R. Jack Mercer Ontario Community Bandstand, where Ontarians can take in open-air jazz, swing, and blues concerts on balmy summer nights.
Savings of 75 million dollars — a good deal for Ontario and for the climate
Ontario has put 35 million dollars into the renewal of its energy infrastructure by Climatec. It's an investment that is expected to save the city more than 75 million dollars over the lifetime of the new equipment. "Climatec came up with a creative financing plan for us that uses funds from the California Energy Commission, rebates from local utilities, and below-market private-sector financing. The whole project is funded from savings out of current operating costs," Michael says with a smile.
In other words, it's a great deal for Ontario, for Climatec, and for the climate. "We only have one planet. All we can do is take care of it. And that's what we're doing. We want future generations to benefit from what we build here," says Michael as he prepares to head home beneath the city's smart streetlights.