Not only has the digital age changed our communication channels, but also customer expectations. They now expect individualized products, whether these are sneakers, kitchens or electric drills. SAP and Bosch are pooling their expertise to speed up the production processes.
Customized products from the assembly line?
Information technology and production technology have long been considered separate domains. The industrial facilities of the future, however, will form intelligent networks. Information technology is the new tool for the digital age. Not only does the equipment used for production receive information about the product it is meant to manufacture in real time — it also monitors the product and performs maintenance once the customer has the product. This makes proactive identification of faults, cost reductions and increasing customer satisfaction possible. However, a partner from the IT industry is needed to realize this and this is why SAP and Bosch have formed a strategic partnership in order to tap knowledge from different areas of expertise and ensure it is used optimally.
How will products be made in the future?
While machines used to have the greatest influence on the manufacturing processes, things are the other way around today. The semi-finished product is now the medium used to convey the customer information, prompting the machine to adapt to it. A networked cordless drill, for example, reports its position in a factory hall to the production system, which then selects the torque for the drill that is suitable for the respective task. In future, information will largely be incorporated into the production process using data, algorithms and software. An IT specialist can, for example, work together with a manufacturer like Bosch to develop an electric drill that specifies the exact parallel interval to another drill hole when several holes are being drilled — and helps develop plugs suitable for the holes at the same time.
An interview with the IoT expert Bernd Leukert
YouTube
Video cannot be shown without your consent
When will this reap benefits?
This will definitely be the case when more can be achieved with less effort. This means leaner production processes in tandem with more safety and a better quality of products and services. This could be useful in the construction industry, where plans and machines are digitally linked up, or in logistics, where intelligently managed vehicle fleets are needed to plan and implement the best possible transport and servicing.
What will make such complex processes possible?
New solutions with obvious benefits can only emerge when companies combine their resources. SAP has the databases and platform competence; Bosch has the experience with sensor systems in the areas of mobility, production, consumer goods and in networking these devices. When both companies contribute their knowledge, then this will make manufacturing processes so flexible that the products can be adapted to cater to customer expectations.
Bernd Leukert, SAP Board Member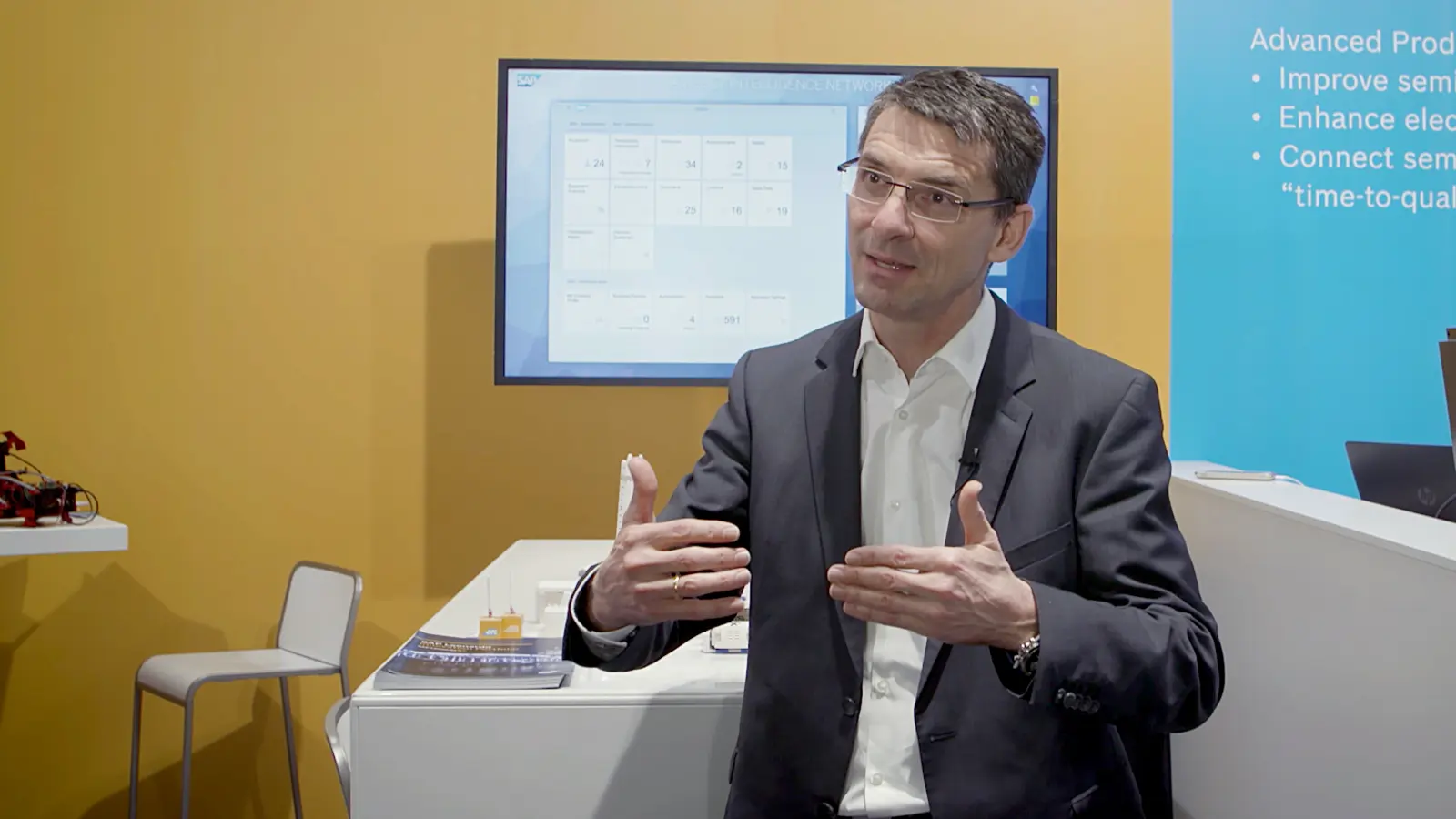 Bernd Leukert began his career at SAP in 2004 as a software developer. After holding several different positions, he was appointed to the Management Board in 2013, with responsibility for all SAP SE products and technologies. He holds a degree in industrial engineering and is a member of the supervisory board of the German Research Center for Artificial Intelligence, and heads the federal government's "Industry 4.0 Platform" steering committee.
How do things look when it comes to data protection?
Large volumes of data are generated in networked production. The Bosch and SAP systems guarantee maximum security: Both companies protect customer data with the latest technology. Along with multi-level security concepts, the customers can also decide for themselves whether they wish to share sensitive data and when this data should be deleted.
Summary
In times of Industry 4.0, thinking outside the box is becoming ever more important. For SAP Board Member Bernd Leukert, partnership with Bosch will yield new, intelligent services and after-sales products that wouldn't otherwise have been possible.