Research on distributed systems
Bosch Research makes distributed systems reliable
Reliable Distributed Systems (RDS) become the intelligent backbone of modern products.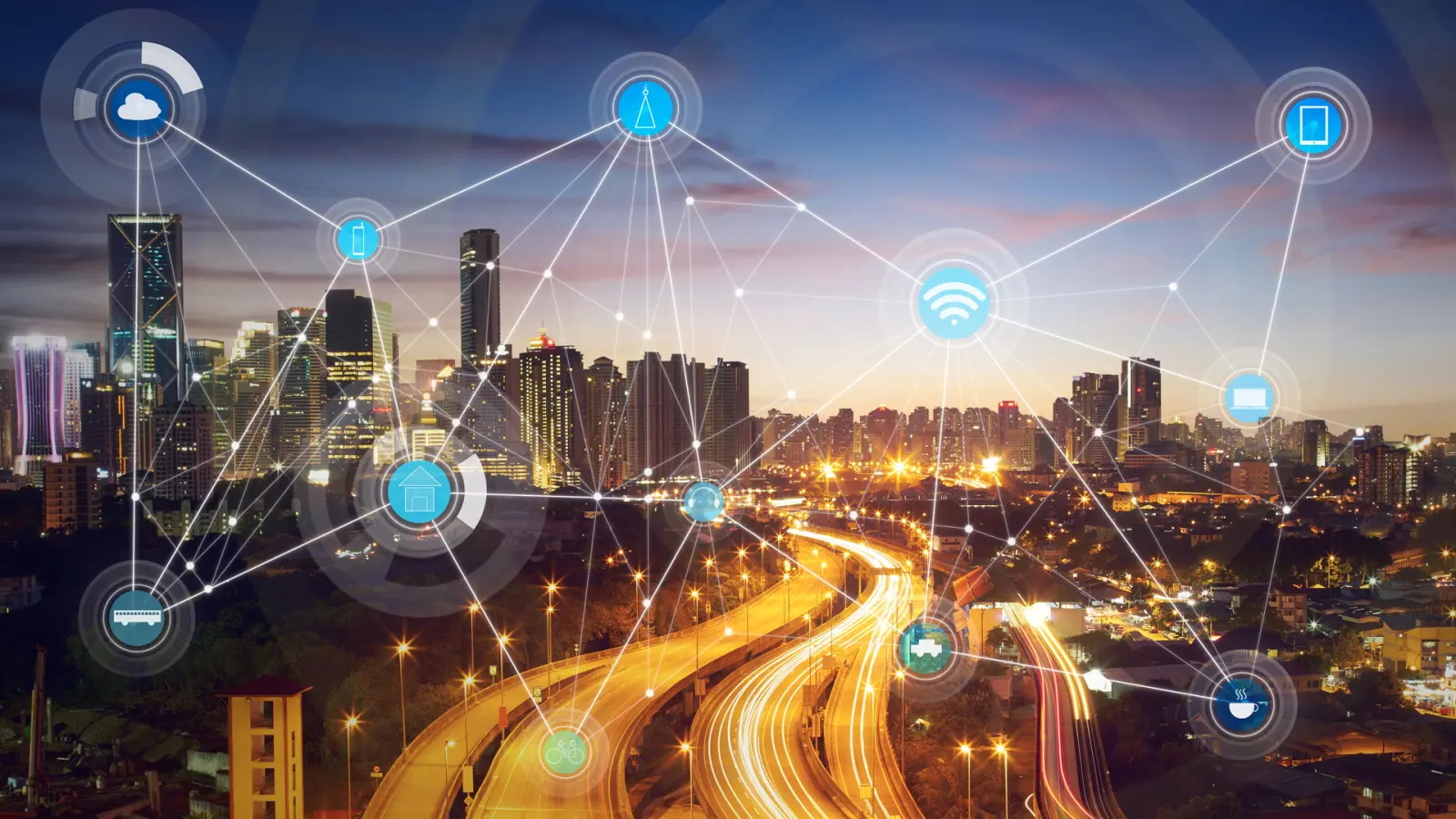 As a result of the progressive networking of computer systems, embedded systems in addition to consumer electronics devices are being connected to the cloud. This trend towards Reliable Distributed Systems (RDS) is leading to profound changes in both our everyday habits and the technical devices that we use. We stream the music and films that we want to listen to or watch straight from the cloud — without buying CDs, DVDs or the relevant players. And we play computer games on simple mobile devices, while the elaborate calculations take place on the provider's server. Generally speaking, Reliable Distributed Systems are the basis for the digital transformation and are the backbone for modern products and services from Bosch.
Technical basis for automated driving — and beyond
Among other things, Bosch is developing components for the vehicle of the future which is autonomous, connected and intelligent. In this automated mobility, cyber-physical systems (CPS) which combine mechanical and information technology (IT) systems take on elementary control and regulation tasks. They are the technical basis for the vehicle to understand its environment, interact with it and act intelligently — and for technology to react faster than humans in crucial situations, thus preventing accidents.
These CPS are already supported by data such as high-resolution maps or functional updates from the cloud. To ensure that in the future not only data can come from the cloud but also that control and regulation tasks can be calculated there, cloud systems and networks must be extended to meet the security and real-time requirements of cyber-physical systems. Distributed systems are thus becoming Reliable Distributed Systems with an even broader range of applications — from the automotive industry or industrial and building automation to robotics.
Distributed, but reliable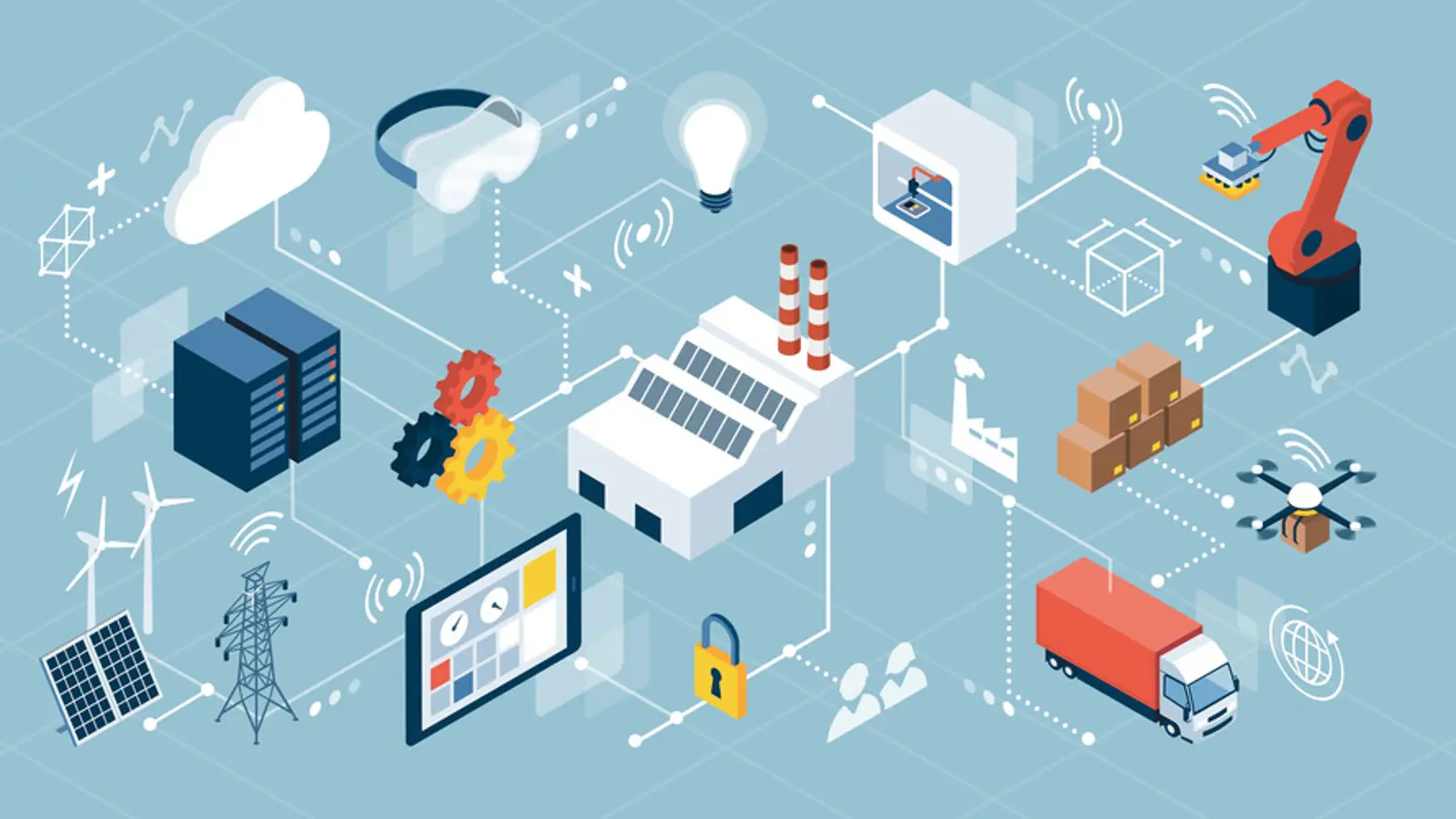 Reliable Distributed Systems are a key area of research at Bosch Research. Our aim is to research and realize technologies and methods that can improve distributed IT systems designed for average performance, allowing them to be used for safety-critical functions that require hard real-time guarantees.
With Reliable Distributed Systems, sensors and computing power are no longer bound to an individual technical system such as a vehicle or a production machine. Instead, they can be shared efficiently by different systems. Areas of application for Reliable Distributed Systems include industrial automation in the Factory of the Future or the connected infrastructure-based mobility of tomorrow.
Reliable Distributed Systems in the industrial environment
In our factories, a large number of automation processes are implemented on so-called "programmable logic controllers" (PLCs) which are directly coupled to the production machines on a dedicated basis. This approach brings with it two challenges. On the one hand, the software must be adapted to machine-specific interfaces and, on the other hand, specific hardware platforms with high computing power must be maintained at each production machine. Reliable Distributed Systems allow us to bundle together the required computing power in the Factory of the Future in a central "on-premises cloud". An on-premises cloud refers to computing capacities made available centrally in a factory.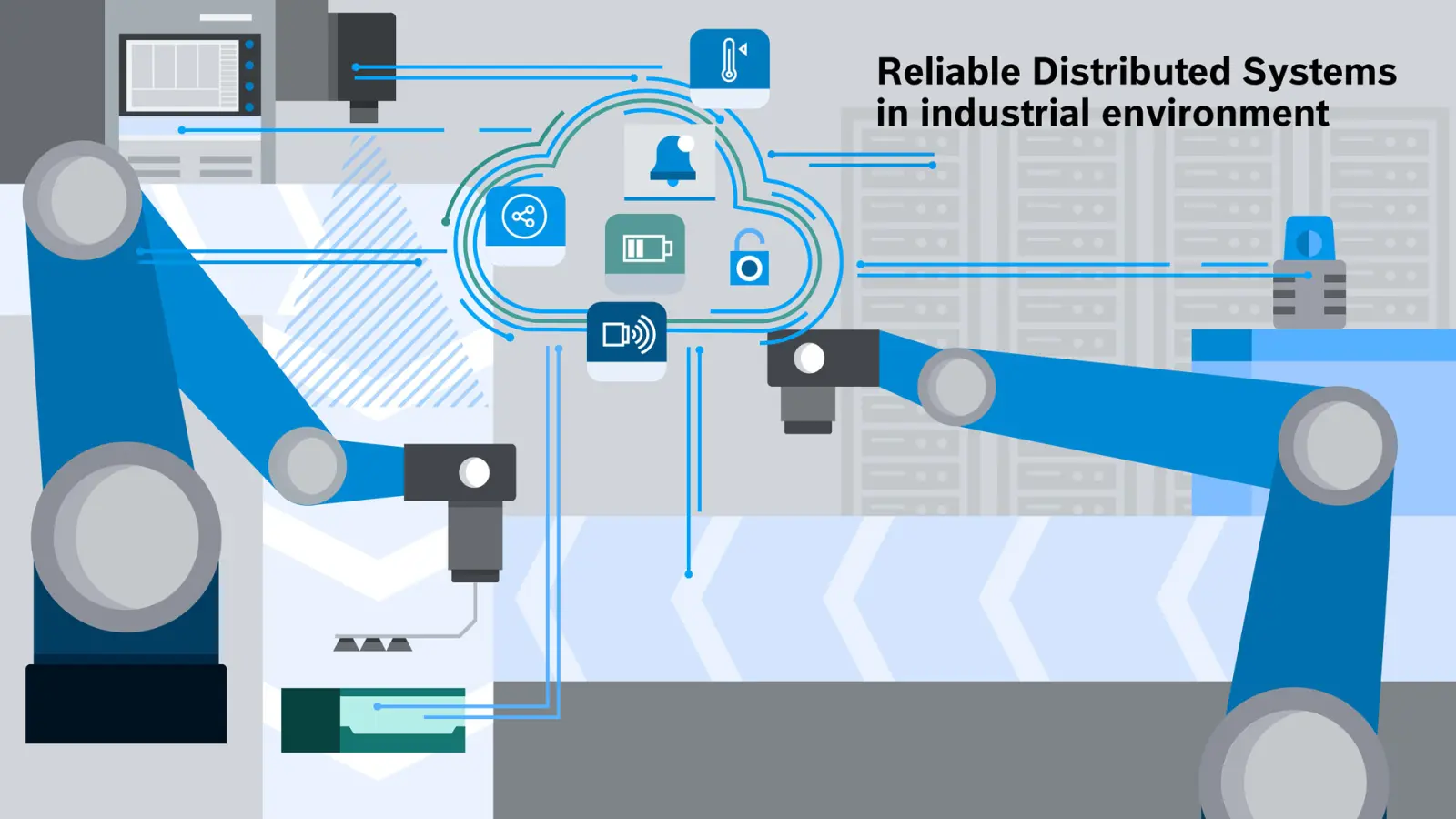 Opportunities, risks and requirements for RDS
Ensuring software infrastructure flexibility is a basic prerequisite for cost-effective, versatile production. RDS technology allows data from many individual sources to be collected and fused in real time in order to implement both time-critical automation solutions and data-based methods for process optimization on that basis. The technical challenges in an industrial setting are much greater than in consumer electronics. For example, production line failures cannot be tolerated and are very costly. In distributed and connected systems, stringent monitoring of the quality of service along the entire chain from sensors to actuators therefore plays a central role. Examples include operating system mechanisms for the strict monitoring of computing times, networks with latency guarantees and a sophisticated concept for safety on the system level.
RDS for tomorrow's mobility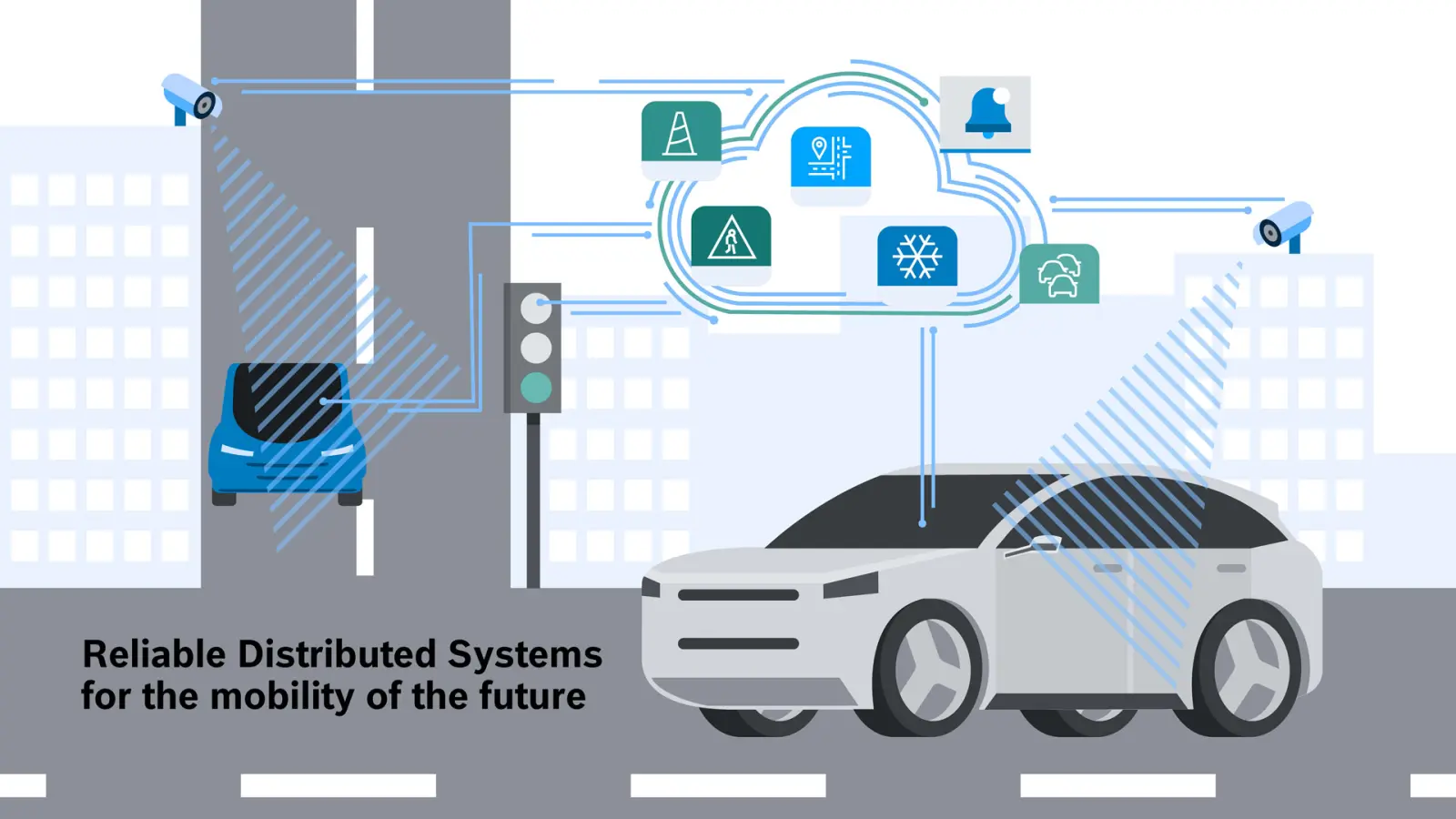 The connected, automated mobility of the future is another area of application for Reliable Distributed Systems. Bosch has years of expertise when it comes to building driver assistance systems that act with foresight and make an important contribution to road safety. These systems with their hardware and software are typically bound to the vehicle architecture.
The hardware components required for highly automated driving in the future are very expensive and have a high energy consumption. As a result, Reliable Distributed Systems will play a crucial role in the mobility of the future. For driving functions that are reliably covered by RDS technologies, hardware no longer needs to be kept in the vehicle. This bundling of driving functions in the cloud could potentially reduce the overall costs of automated vehicles and will allow manufacturers to offer these advanced assistance systems for small and medium-sized vehicles too. This will increase market penetration and at the same time significantly improve road safety.
Reliable Distributed Systems will also improve the quality of driving functions and will thus lead to a paradigm shift in mobility. Up until now, each vehicle has perceived and interpreted its environment individually, regardless of other road users. With Reliable Distributed Systems, the collaborative perspective — an overhead view of the situation, so to speak – succeeds, as a result of which information from all road users is fused centrally in the cloud. On the basis of this shared information, better decisions can be made. For example, an RDS-assisted emergency braking assistant can react to information from an infrastructure camera, such as one on a building, that detects a rapidly approaching vehicle that cannot be seen from the individual's perspective.
When moving functions to the cloud, it is particularly important to ensure the quality of service properties such as real-time behavior and functional safety. Bosch Research is developing innovative solutions for this on all levels of the technology stack. The central question here is how the advantages of modern, flexible and cost-effective IT technologies be combined with the strengths of embedded systems.
Reliable overall system from several worlds
In principle, all of the key technologies needed for Reliable Distributed Systems are already available. Bosch Research merges the different worlds to create a functioning, reliable and fail-safe overall system. However, there will be major challenges along the way. The dynamic interaction of numerous connected control systems, real-time operation and high data density result in a high level of complexity. Researchers therefore need to rethink things when it comes to the design, simulation and validation of modern functions in an RDS. With our research into Reliable Distributed Systems, we are redefining the state of the art, allowing a new product portfolio in the area of software-controlled systems.