The modern automobile is a veritable computer on wheels, its capabilities largely determined and controlled by software and electronics. At its new Cross-Domain Computing Solutions division, Bosch is set to play an active part in shaping this paradigm shift. Associate Johanna Michelfelder explains what excites her about working in this new field and what goals she is pursuing.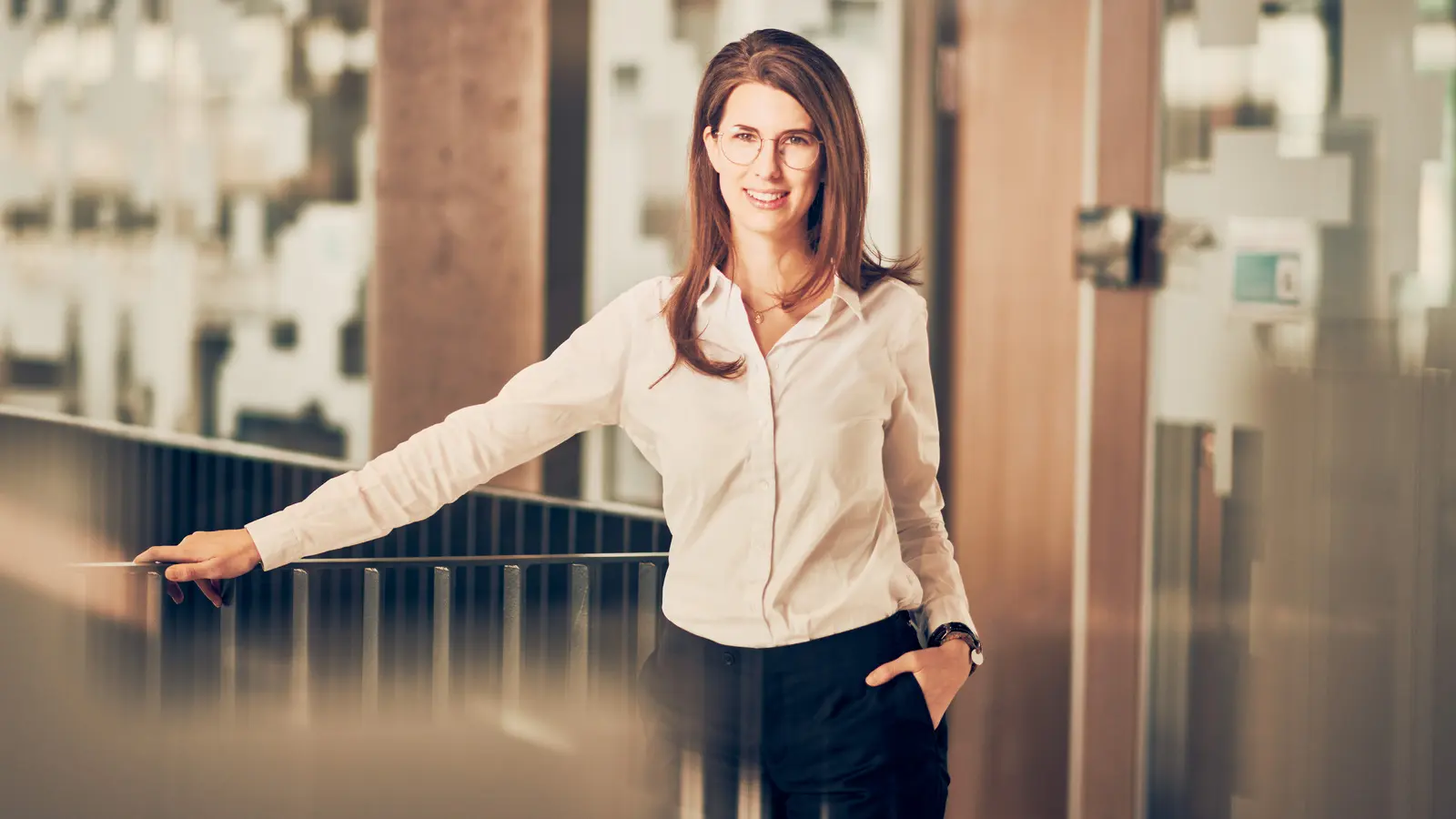 The automotive industry is undergoing change like few other industries — and nowhere as much as in the field of software and electronics. In the future, software will increasingly determine what a vehicle is capable of. At the same time, the shift toward more and more software and increasingly sophisticated electronics has also made the business of vehicle development substantially more complex. This creates a number of challenges. Key among these for Cross-Domain Computing Solutions will be to tame the complexity of these electronic systems and make them as reliable as possible. This new division, which has been in place since the start of 2021, employs around 17,000 associates at over 40 locations in more than 20 countries around the world. One of these people is Johanna Michelfelder. As the section head for computer vision, she is helping shape the future of mobility.
Three billion euros
is the amount that Bosch invests annually in the field of automotive software.
Having pooled its extensive software and electronics expertise in a new division, Bosch is now looking to take the digitalization of vehicle technology to the next level. What excites you most about the opportunities this will bring?
I knew early on that I wanted to work on the mobility of the future — and that I wanted to do this at Bosch. Here at Bosch I'm very close to the product and can take a deep dive into the technology, because it's developed right here. At the same time, Bosch's technological expertise is both deep and extremely broad.
This is also true of the new division, which brings together development expertise from a whole variety of areas. It means we can offer our customers a complete system that combines not only hardware development for all the various sensors such as radar, ultrasound, and video, but also the central ECU, and the software. The latter comprises a whole range of modules, including computer vision, which is currently my field.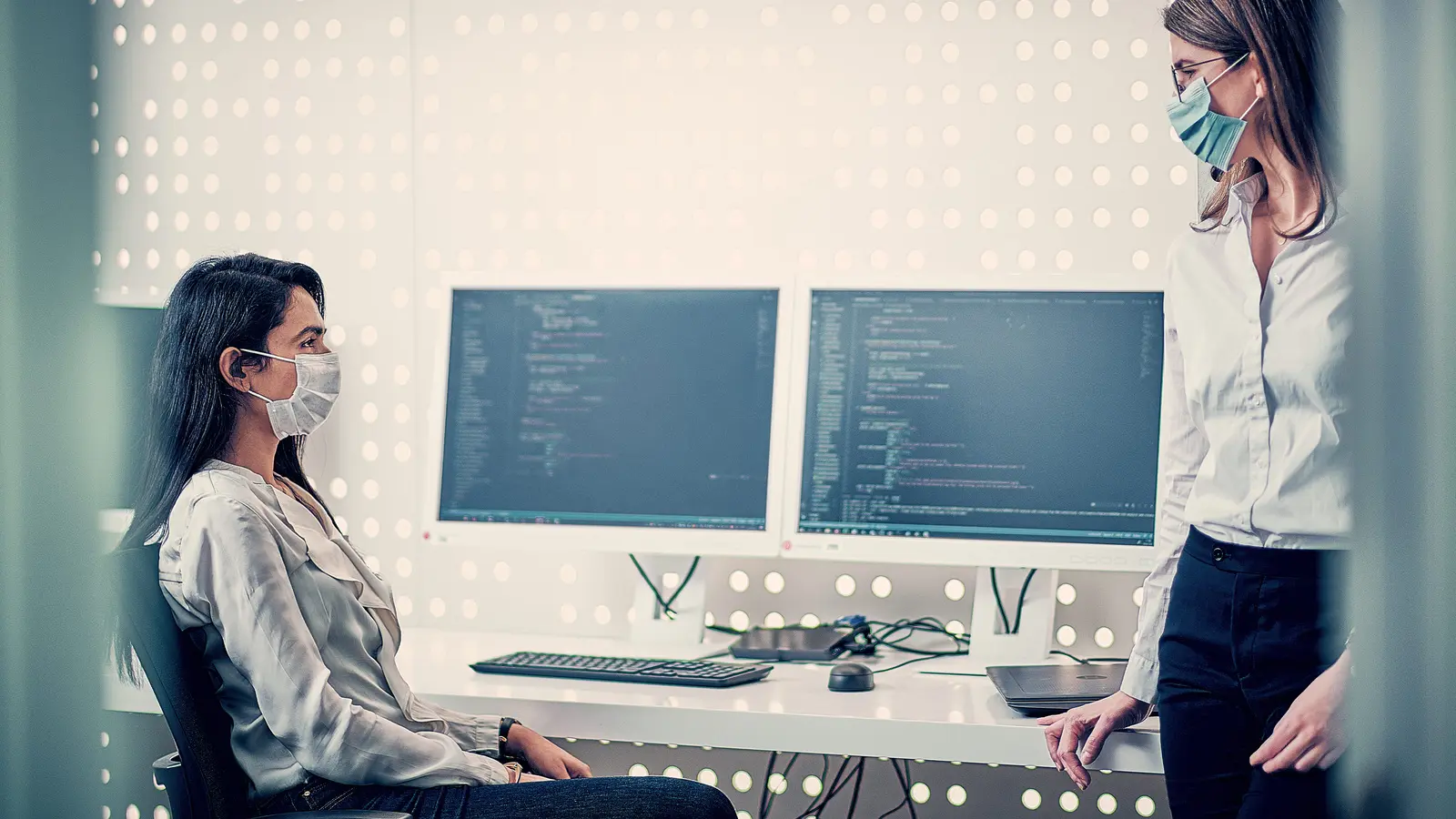 Tell us about your work in this field and any current projects.
Together with my teams, I'm responsible for software development. We're currently writing code that can detect objects based on two-dimensional images from a video camera and then reconstruct these in 3D. This input is then used by other teams to develop new vehicle functions — for example, partially automated parking. This includes systems that rely on an array of video cameras, sometimes more than ten per vehicle. It's what we call the "camera belt," which provides 360-degree surveillance of the vehicle environment and is therefore another step toward even greater automation of our systems.
But because of the increasing complexity of these systems, it's now necessary to route all the various camera and sensor signals via centralized ECUs for processing. Based on the signals, the ECUs are able to make decisions as to whether, for example, the vehicle should change lanes. In other words, these ECUs are becoming more and more the brains of our systems, and this is impacting the development of the electrical/electronic (E/E) architecture of vehicles.
Overview of E/E architecture — today and tomorrow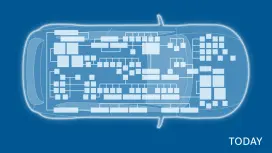 Aside from specific projects, you're also involved on other levels. Can you tell us about this?
I'm also part of organizational development at the new division and manage a project in the area of computer vision. The purpose of this is to create an organizational structure that is in tune with our field of business. In a new division, that's vital because here you're bringing together different ideas and skills from previously independent units. The goal we all share is to identify where centralized structures make sense and can be used to create synergies, and where decentralized structures will bring benefits. It's a great feeling to be able to help create a new organizational structure within a large company like Bosch.
What drives you when you think about future mobility?
It's incredible just how intuitively and almost subconsciously people are able to handle the complex task of driving a vehicle. The challenge of being able to automate this process really sparks my imagination. I think it's pretty amazing what we at Bosch have already achieved in the area of driver assistance and vehicle automation. But we still have a lot of work ahead of us. There's huge potential in data-driven development with deep-learning algorithms, and the same applies to the expansion of driver assistance systems and to fully automated driving in restricted areas such as inner cities.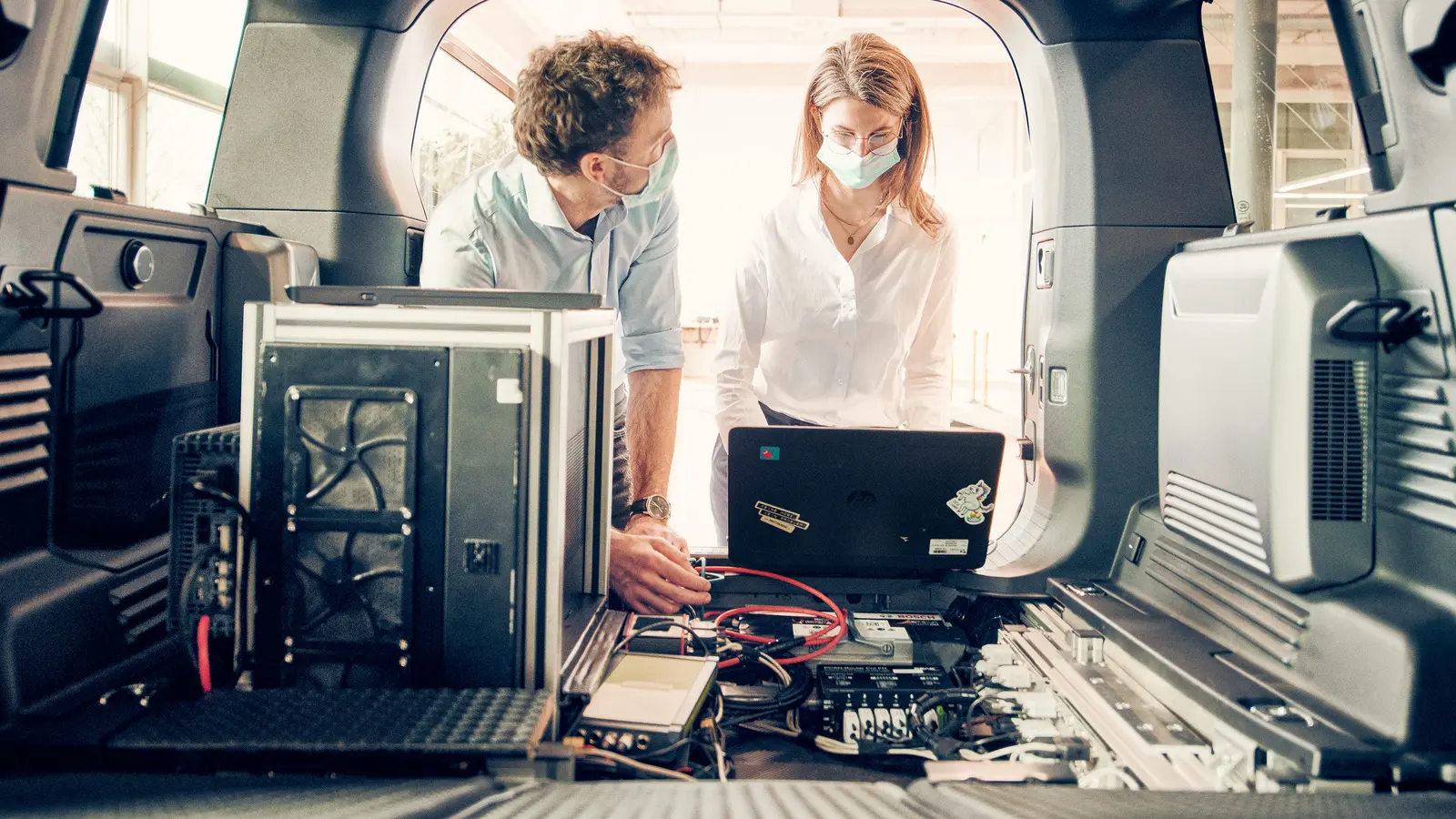 You've gained insights into many different areas at Bosch. How have you benefited from this experience?
My stints in various countries for Bosch have taught me just how important it is to look at a product from all possible angles. That means getting not only the interface between hardware and software right but also all the links between the different areas along the product's value chain. My ambition is therefore one day to have overall responsibility for a product or product group right along the entire value chain – from the initial identification of a market need, through development, procurement, and the manufacturing and marketing of that product, and then on to the commercial targets that need to be met.
You say you've worked at many Bosch locations abroad. What kind of impact has this had on you?
It's taught me the value of diversity. In the field of software development, women are still in the minority. That's not a problem for me, personally, as I'm part of a very liberal, open-minded corporate culture here at Bosch. For me, diversity is important. Having colleagues from different countries, with different cultural backgrounds and a wide variety of cultural experiences, means that we as a company can incorporate diverse aspects and viewpoints into product development and thereby create a product that's even more successful.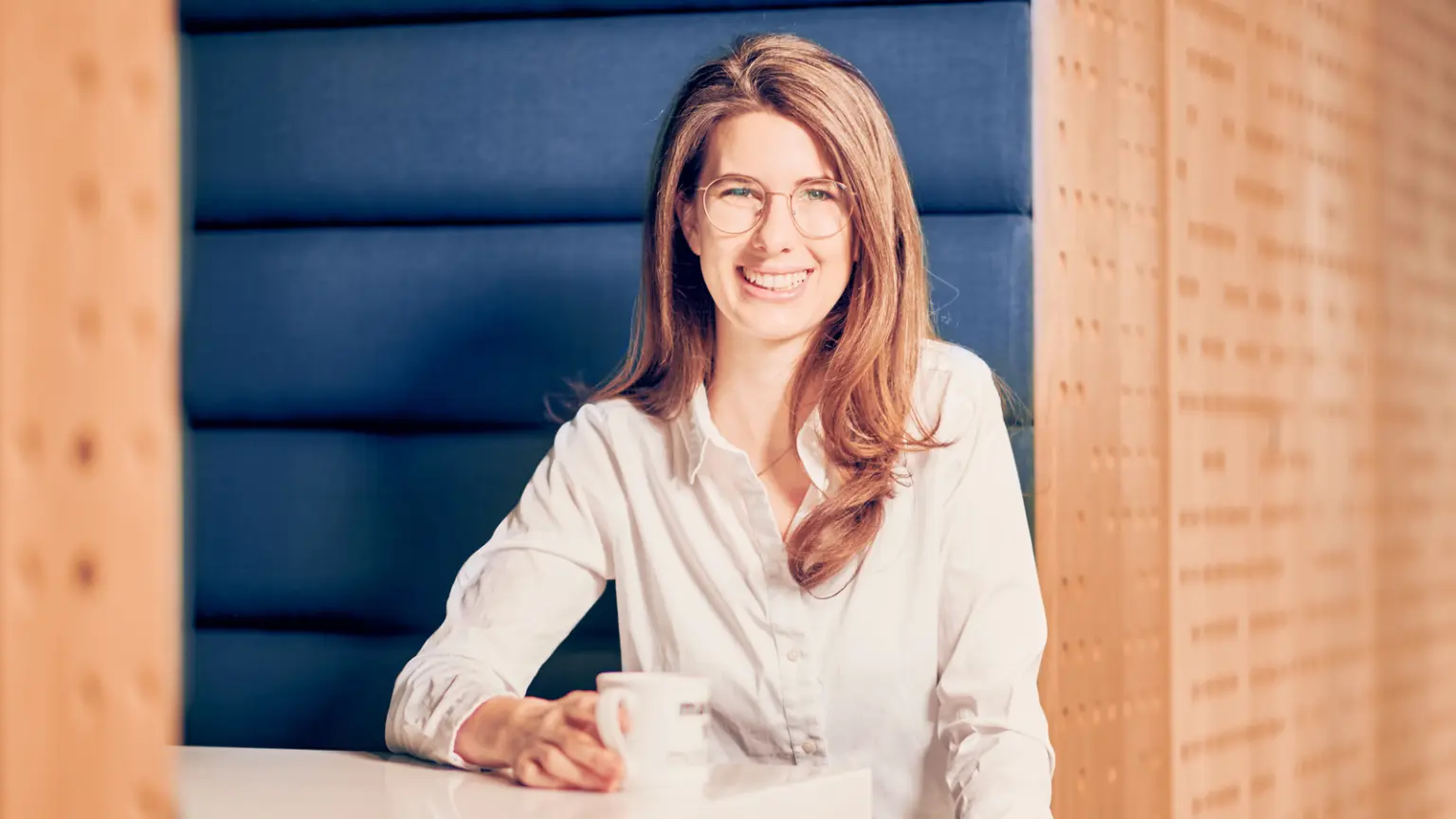 Johanna Michelfelder
Section head for computer vision
"The future of mobility lies in automation — and I intend to play my part in making it a success."
Johanna Michelfelder studied engineering management at KIT (Karlsruhe Institute of Technology) in Germany. During her studies, she completed internships at Bosch and was part of the Bosch-funded Design Thinking project at Stanford University. IIn 2016, she joined the junior management program in technical sales for Bosch Mobility, following which she was appointed project manager with responsibility for customer projects in the area of driver assistance and brake control systems. She currently works in the field of driver assistance systems, where she is a section head in software development with responsibility for computer vision.