Automated driving
Self-driving cars are ushering in a new era on the roads. Bosch is developing the various technologies necessary to make this happen.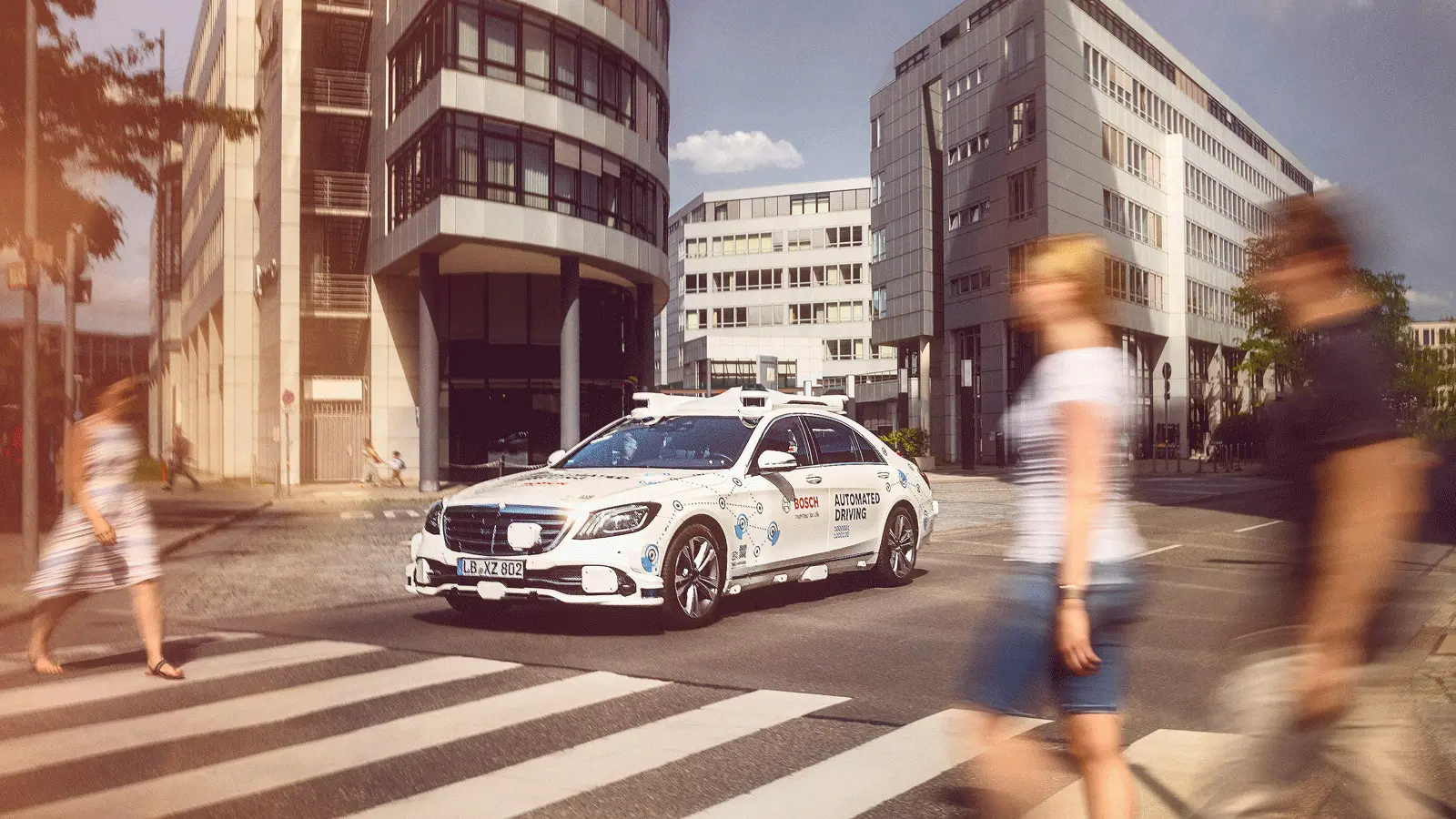 Editorial
The invention of the automobile revolutionized people's lives. Now we are on the threshold of the next big technological leap: automated and autonomous driving. Thanks to intelligent software and powerful hardware, vehicles of the future will be able to take passengers safely and comfortably to their destinations without any driver intervention. The car of tomorrow will become a mobile living and working space. For this to become reality, three key requirements must be met: The car must capture all of its surroundings ("sense"), process this information and plan a driving strategy ("think"), and then implement it reliably and safely ("act"). Because safety is what Bosch is all about. As an innovation leader, we laid the foundation for all automation levels early on by developing driver assistance systems and the associated environment sensor technology. Explore the technologies that enable automated driving and that are already in widespread use today on our topic page. These include a multi-purpose camera that can detect objects in road traffic even more reliably thanks to artificial intelligence (AI). Or do away with the frustrating hunt for a parking space with a little help from us. We designed the world's first driverless parking function, Automated Valet Parking, which meets SAE level 4 and guides the car through narrow parking garages without driver intervention.
#1 Sense
— how cars learn to see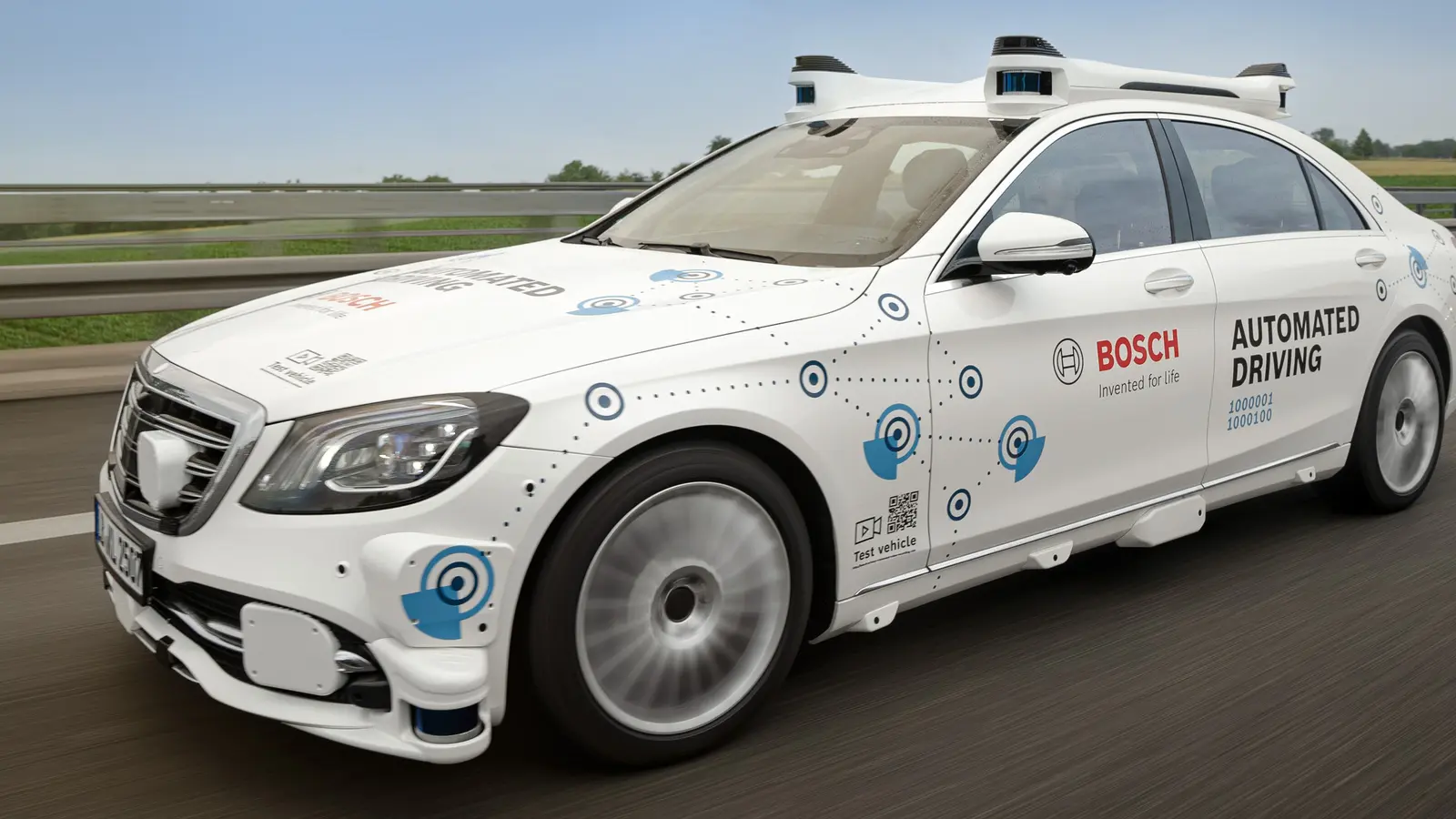 Smart sensors bridge the gap between the physical and virtual world. Thanks to a wide range of different sensors and networked services, Bosch enables automated vehicles to perceive their surroundings as fully as if they had eyes and other sensory organs. These sensors build on Bosch's know-how cultivated over decades of development and manufacturing. Many intelligent sensors that are already at a mass production level of maturity are paving the way for the new era of mobility. After all, safe automated driving depends on reliable, sufficient information.
#2 Think
— how smart software and hardware create the brain of the vehicle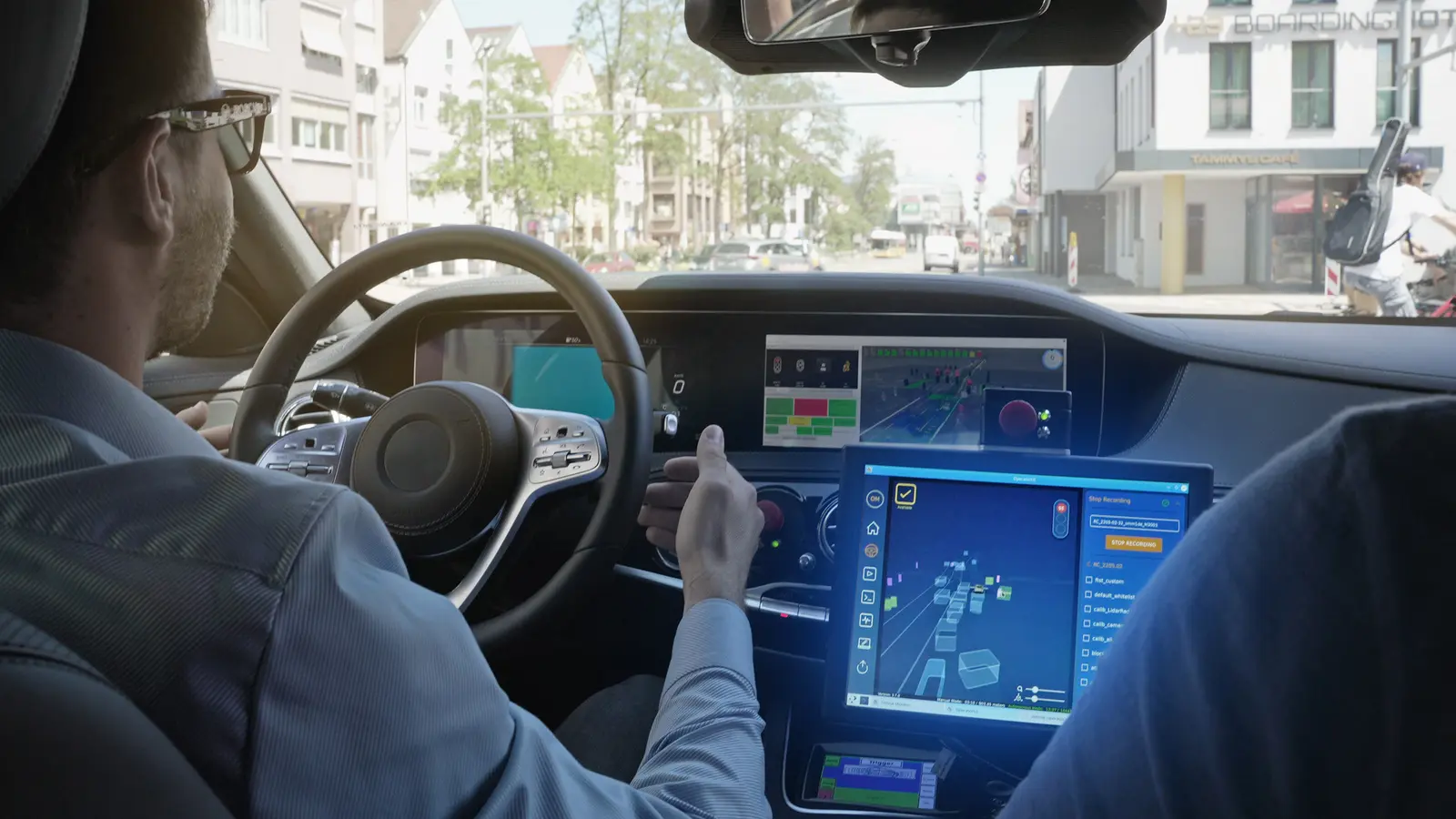 The brain of the vehicle relies on high-performance vehicle computers that run intelligent software on powerful hardware. The vehicle must calculate the best driving strategy in real time from a vast host of data captured by the environment sensors and networked services such as digital high-resolution maps, while at the same time making reliable predictions for anticipatory driving. To meet this challenge, Bosch is bringing together its combined software and electronics expertise and is cooperating with strong partners. Together with Volkswagen subsidiary CARIAD, Bosch is working on hands-free systems that allow drivers to explicitly take their hands off the steering wheel in certain situations. In the future, they will be used in all privately used vehicle classes of the Volkswagen Group brands — that's a substantial share of the world's vehicles.
Bosch is further expanding its competencies by adding fresh know-how. This results, among other things, from the acquisition of Five, Europe's leading start-up for automated driving. Using the Five platform, Bosch can analyze real-world data from a fleet of test vehicles, create a wide variety of test scenarios, and build a simulation environment that enables lightning-fast evaluation and validation of system behavior.
Given that high-resolution digital maps have become an absolute must in terms of having an additional sensor to ensure that automated driving is safe and easy, Bosch is positioning itself even more broadly for its customers with the acquisition of Atlatec — one of the world's most innovative manufacturers of high-resolution 3D maps for automated driving functions at SAE levels 3 and 4.
3 billion euros
is the amount Bosch invests annually in automotive software expertise
#3 Act
— how precision hardware reliably implements the calculated course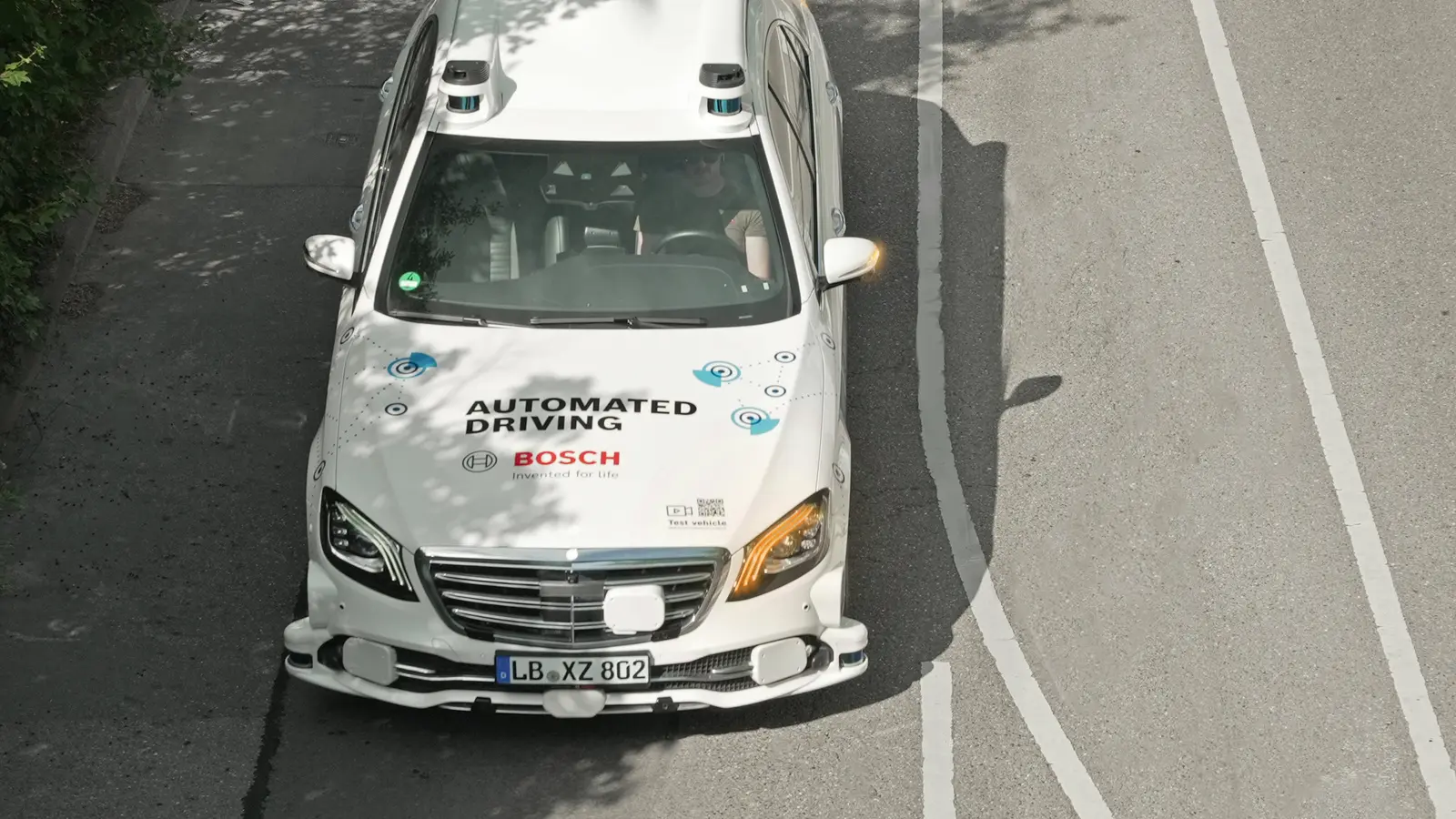 The drive, brakes, and steering system are the muscles of the self-driving vehicle. In much the same way as the brain controls muscles via the nervous system, the vehicle computer sends signals to the various parts of the vehicle via cables to have them execute the driving strategy with precision. The vehicle knows where it is at any moment and is fully aware of its surroundings. This allows it, for example, to initiate lane changes on its own. Redundant systems are one of the keys to guaranteeing the highest degree of safety and are also of tremendous importance in implementing the "sense" and "think" capabilities. In the event of a fault in the electronics, for instance, a second, independent circuit immediately takes over. The development and manufacture of such hardware is one of Bosch's core competencies, and it is already being mass produced for use on the road today.
State-of-the-art steering
YouTube
Video cannot be shown without your consent
Whether in comfort or sports mode, Steer-by-Wire enables highly precise driving maneuvers with maximum control.
The steering technology of the future no longer relies on a mechanical connection between the steering wheel and the wheels. In Steer-by-Wire, this is replaced with a cable connection. The steering wheel actuator uses precise sensor technology to determine the driver's intention and transmits it digitally to the rack and pinion actuator — for maximum ease and safety. The system is made possible by sophisticated steering system technology and a redundant on-board data and voltage supply.
With Steer-by-Wire, the front end and chassis can be standardized, thus making a significant contribution to reducing complexity and costs. The system also enables a wide range of technical features that were not possible with previous, conventional steering systems — in particular when it comes to automated steering.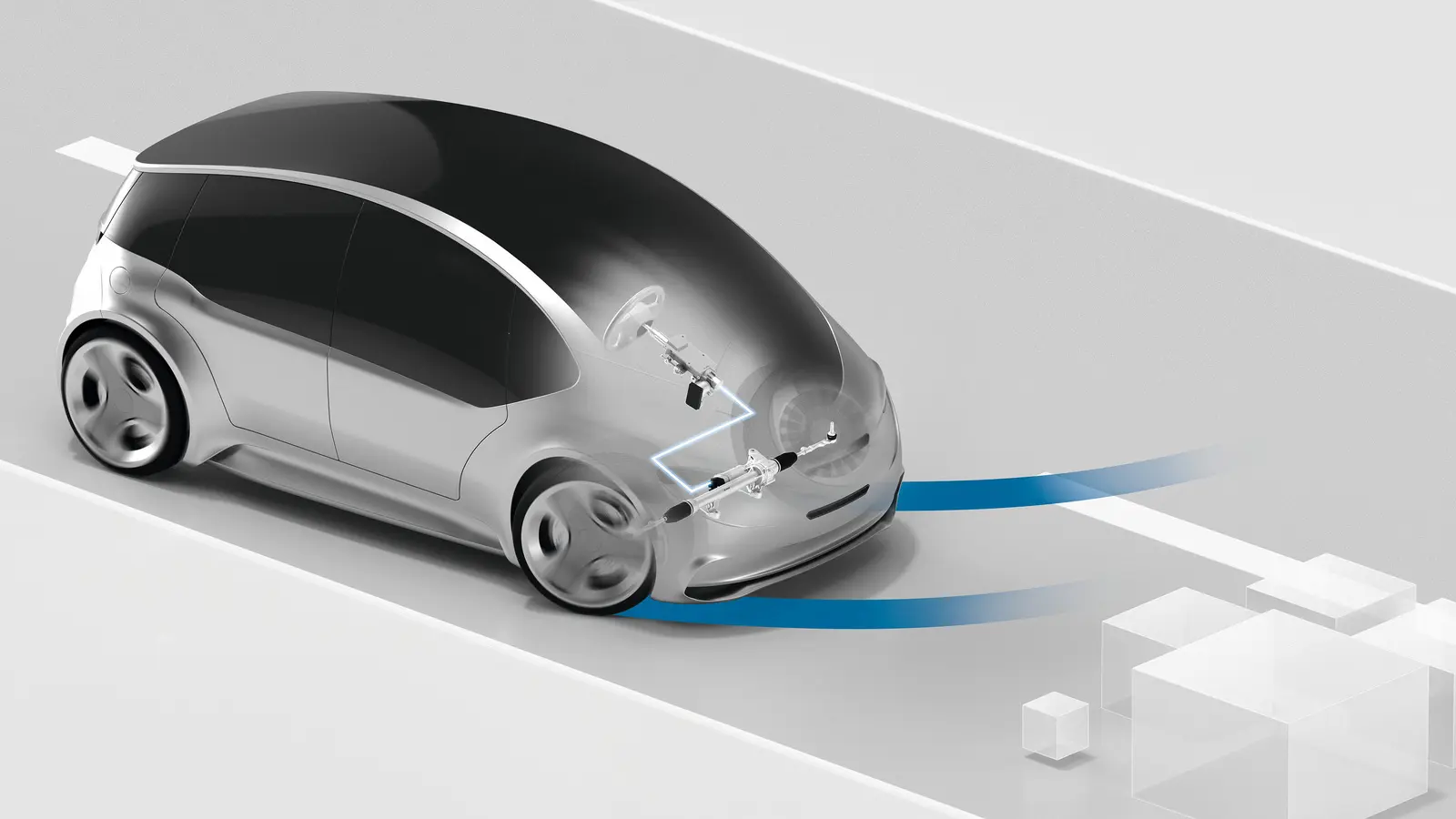 Automated Valet Parking: Turning your car into an autonomous parking aid
YouTube
Video cannot be shown without your consent
The Bosch Automated Valet Parking function impressively demonstrates the perfect interplay of "sense, think, and act." To implement this function, Bosch's intelligent camera-based infrastructure in the parking garage communicates with the vehicle's technology, enabling the vehicle to navigate the parking garage with ease and park itself safely. All the driver has to do is confirm the procedure in an app. If objects or people in the vehicle's vicinity are detected as obstacles by the infrastructure, the vehicle is stopped immediately.
Jobs: join our team
Change the world of tomorrow — with a career in automated driving!
We are on the constant lookout for software developers, software engineers, project managers, and many other talents.
Check out our global job opportunities or visit your local career website for insights into our application process and to get helpful advice. Become part of the Bosch family and discover what the future holds for you.