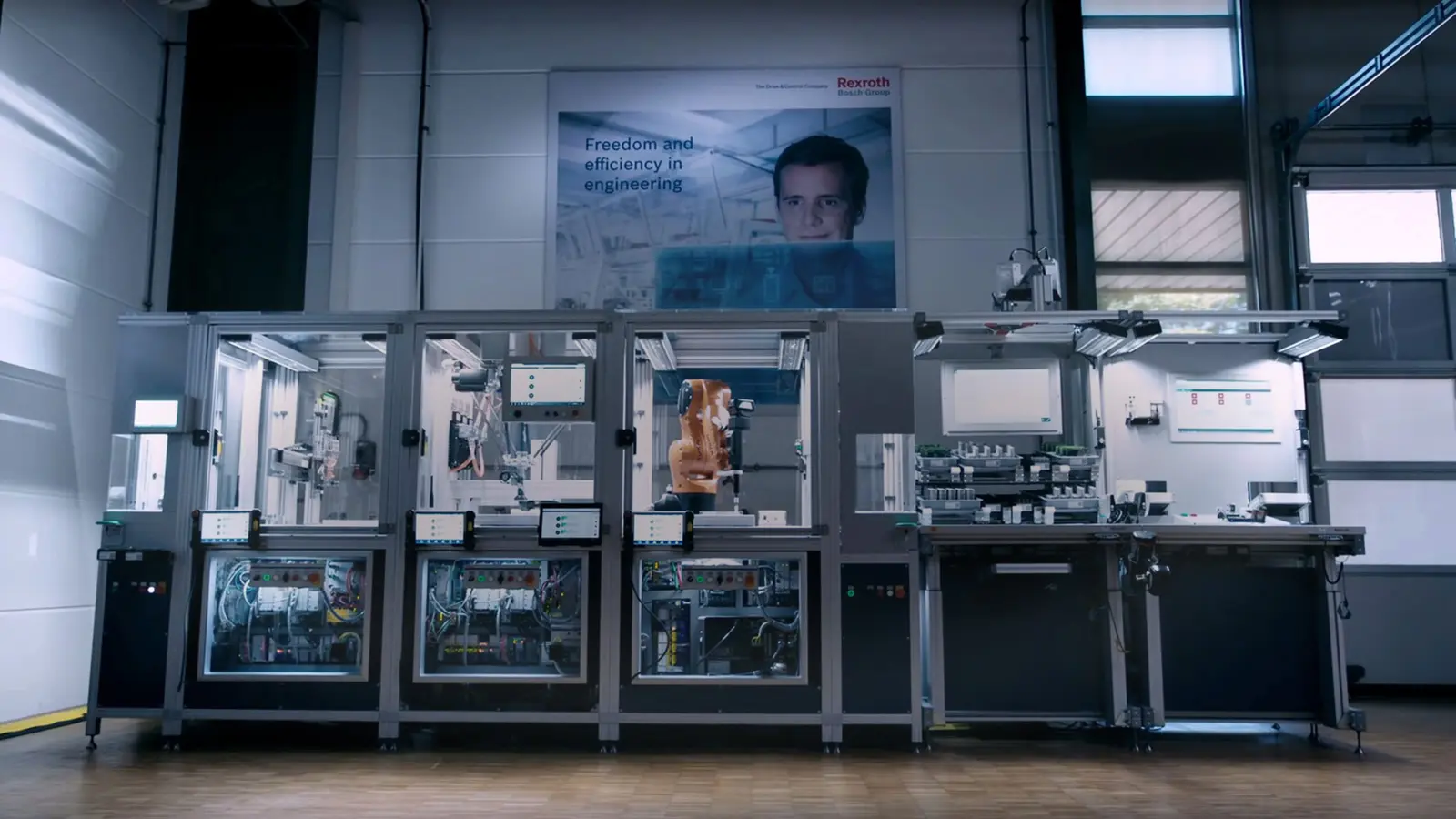 Humans and machines working hand in hand: With the fully-connected Industry 4.0 production line, Bosch takes the digital factory to the next level. The connected production line assembles a variety of machine controls from Bosch Rexroth.
A network with lots of benefits
Production becomes transparent, versatile, and flexible thanks to the smooth interaction of the physical and virtual production world. To some extent, the production line modules manufacture parts automatically. Others are produced by humans, but with the support of machines.
YouTube
Video cannot be shown without your consent
The production line is an example of connected industry.
How the i4.0 production line works
The production line is made up of three automatic and two manual modules by which Bosch Rexroth's machine controls are assembled. By means of Radio Frequency Identification Chips (RFID Chips), the scanner in the automatic modules always knows which control has to be produced. RFID is the term used for the technology to automatically identify and locate objects using radio waves. A heat conducting paste is applied at the first station via a handling system. The next production step is again read by a RFID scan so that the robot assembles a circuit board fitted with a heat sink and then passes it on to a second robot to be screwed into place.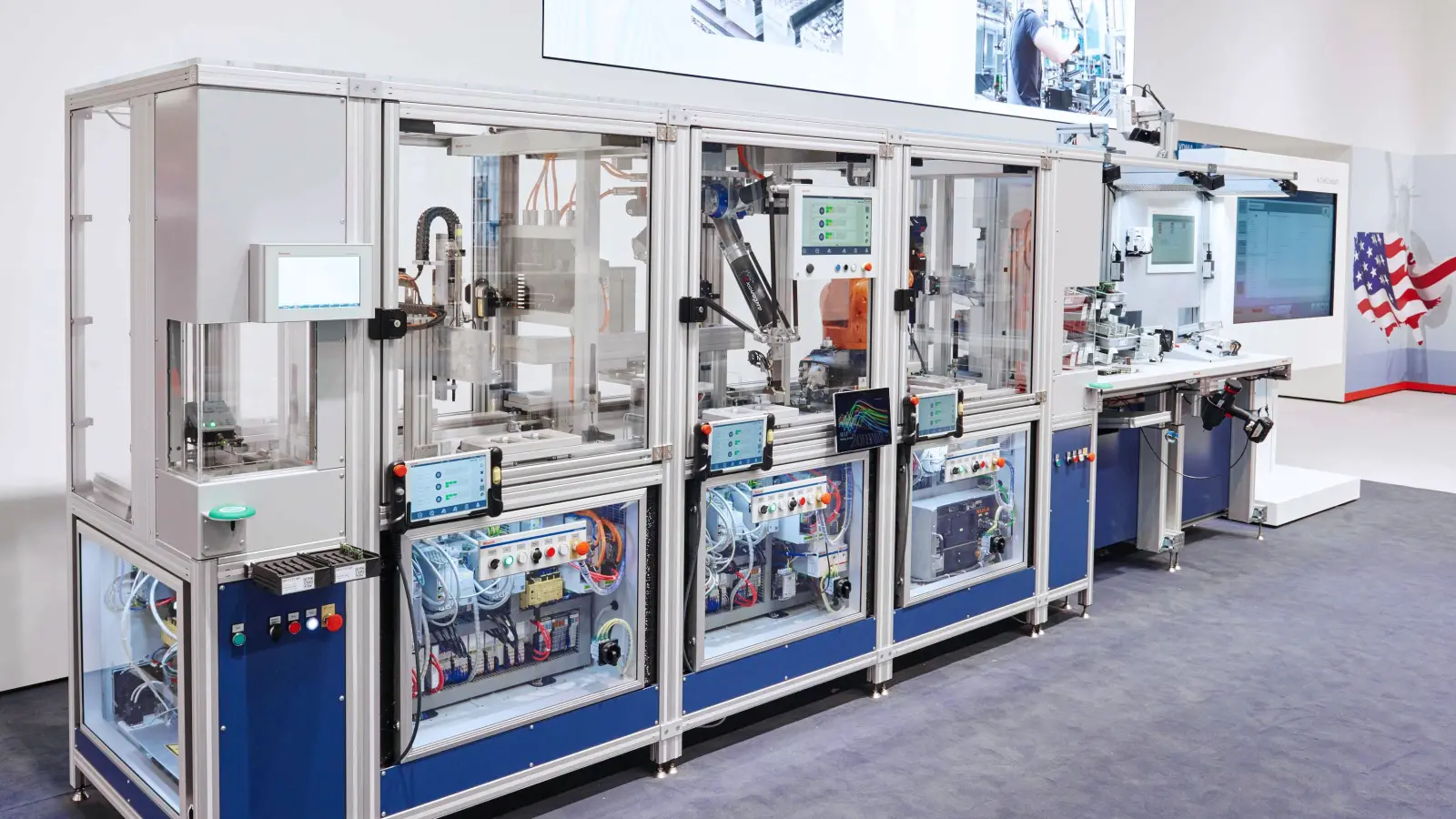 Support for the associates
In Industry 4.0, humans remain indispensable within the production process. When facing particularly complex tasks, workers can be supported by the smart ActiveAssist workstation. The control electronics are tested and the functionality of the electronic components are checked at the last station of the production line. To diagnose faults, data from previous stations are compared with the test results
Smart software monitors production
The thing that turns the i4.0 production line into a fully connected facility is the transfer and use of data: The line operates under the control of our Manufacturing Execution System (MES — IT Shopfloor Solutions). MES supplies the information about the work pieces and production steps for transparent analysis, planning and monitoring of assembly in real time.
The Bosch IoT Gateway converts the data into the Production Performance Management Protocol (PPMP) machine language and transfers it to the Production Performance Manager. It captures the data from production, machines and sensors and presents them almost in real time. The system additionally identifies abnormal incidents and informs the responsible staff member. It improves product quality and reduces sub-standard products and downtimes of the individual components along the production line.
All the data is sent to higher-level systems so that staff members can access it at all times — on a tablet, mobile, shop floor dashboard or on the machine. Staff members can also perform maintenance using the terminals.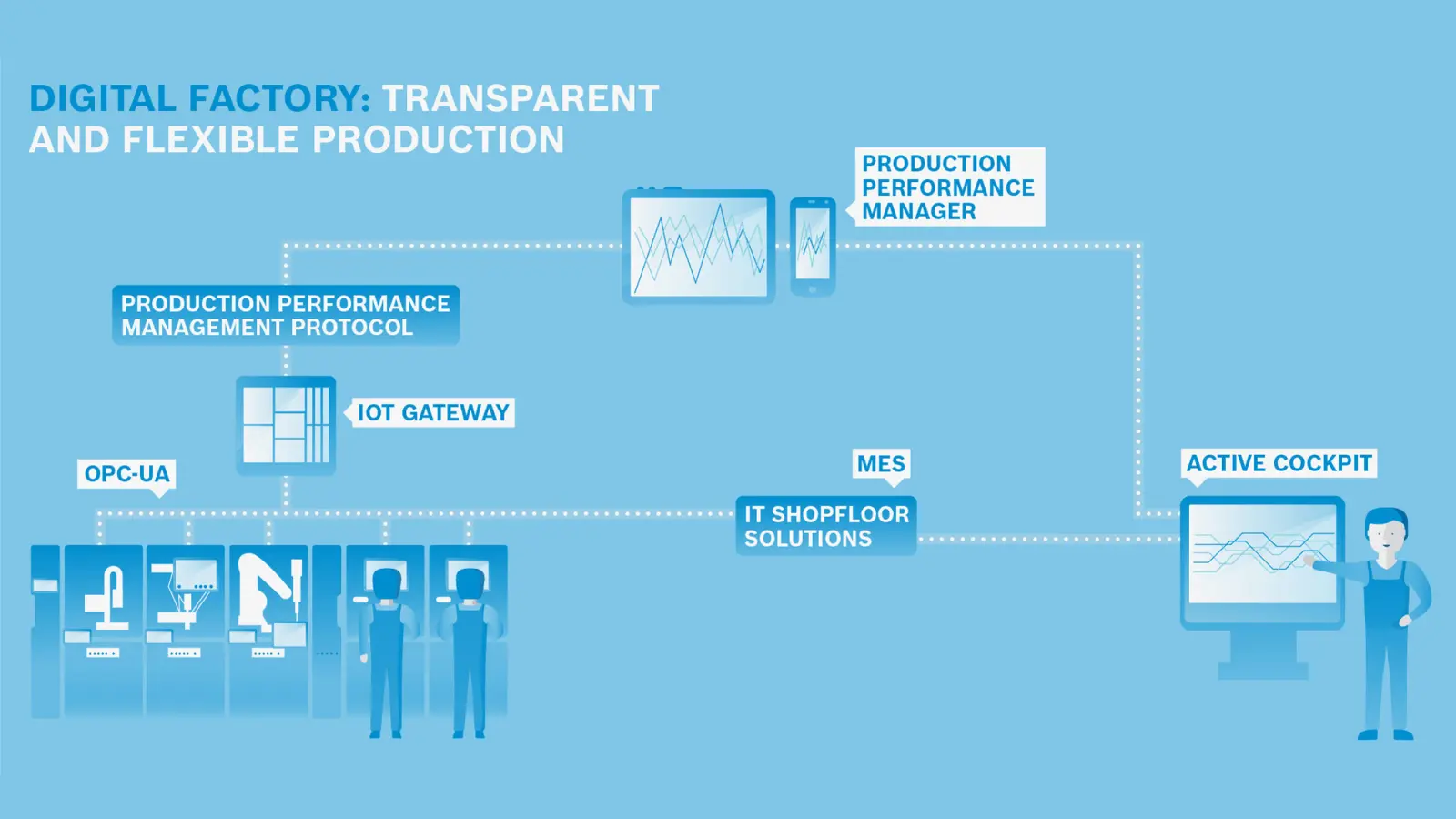 Summary
Humans remain indispensable in Industry 4.0. They can be systematically supported by robots when conducting complex tasks, evaluating data, and controlling processes.