Joachim Frangen
Industry 4.0 – connected industry: enabling smart and agile manufacturing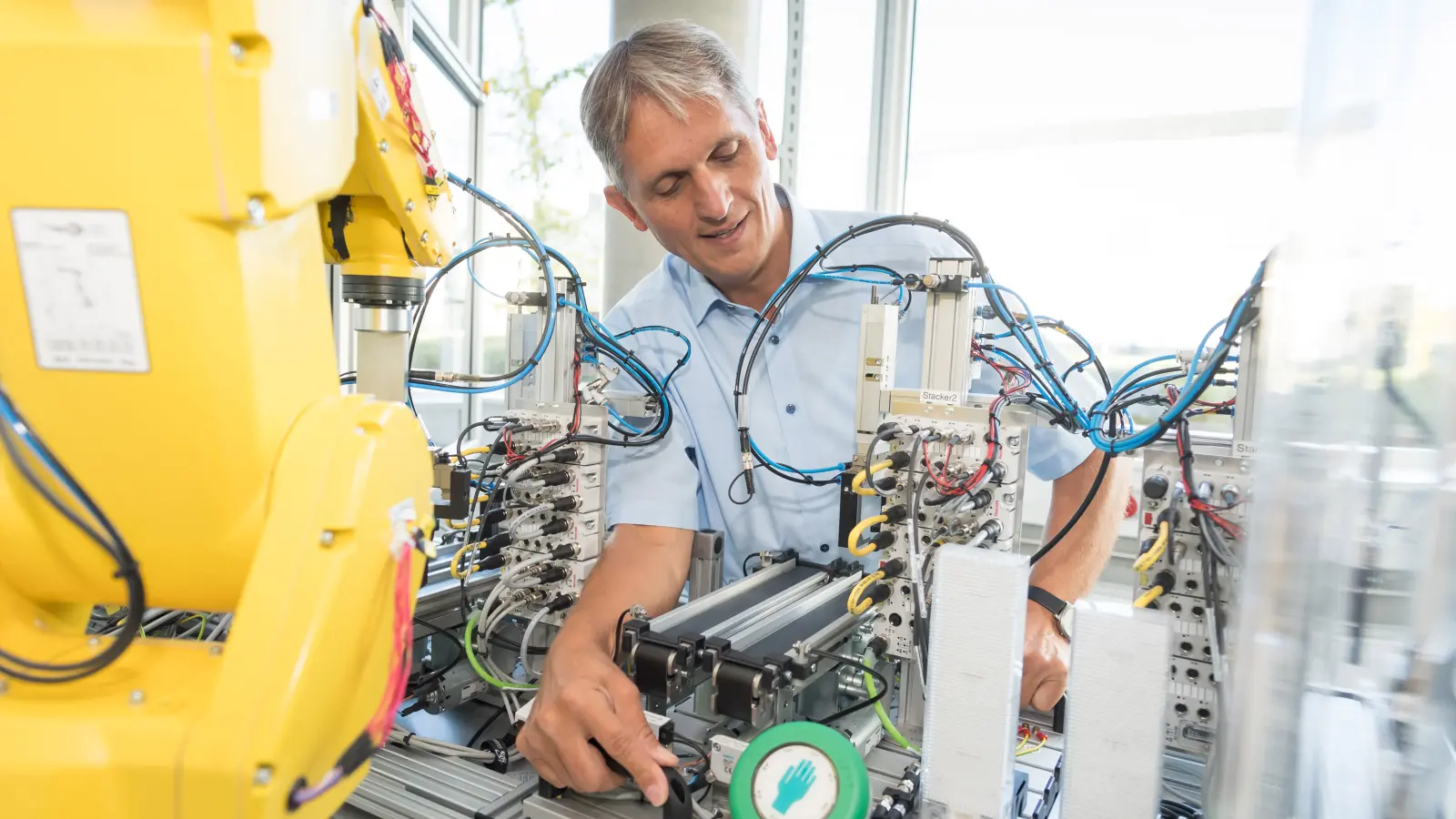 I am Joachim Frangen, Chief Expert for Manufacturing Automation and "Industry 4.0 - Connected Industry" in Corporate Research and Advance Engineering. I technically coordinate research and development activities aiming at connected, agile, and smart manufacturing. We create visions for future production and convert innovative ideas into real-world I 4.0 solutions, in close co-operation with our plants and our business sector Industrial Technology.
2014
A holistic vision of an Industry 4.0 plant is presented
APAS – Automated Production Assistant with Sensor Skin
2011
A highly flexible collaborative robot system is rolled out
DTF – Bosch Desktop Factory
2007
A versatile assembly machine concept starts operation Robert Bosch GmbH (2018)
Transporting device with a stator for the controlled transport of a transport element relative to a stator
J. Frangen
WO2018108408 A1 Robert Bosch GmbH (2018)
Fertigungsanlage (Production equipment)
J. Frangen
DE 102016216206 A1 Robert Bosch GmbH (2018)
Roboterfahrzeug, insbesondere für eine Automatisierungsanlage sowie eine Automatisierungsanlage mit dem Roboterfahrzeug (Robotic vehicle, especially for an automation system and automation system with robot vehicle)
J. Frangen
DE 102016216210 A1 Robert Bosch GmbH (2017)
Method for operating a sensor system, sensor element and sensor system
J. Frangen, D. Seiz
WO 2017108235 A1
Interview with Joachim Frangen
Chief Expert for Manufacturing Automation and "Industry 4.0 - Connected Industry"
Please tell us what fascinates you most about research.
I enjoy inspiring people with new and unexpected solutions that help them in their private or work lives by solving real problems. It gives me pleasure to find new ways in unknown terrain. Even as a child I wanted to become an inventor, inspired by Gyro Gearloose (Daniel Duesentrieb) and by construction kits that allowed me to realize ideas.
What makes research done at Bosch so special?
The breadth of technical topics and expertise is impressive, both in the corporate sector Research and Advance Engineering and in the business units. The strong practical relevance creates a high personal identification with scientific challenges. The spatial and intellectual proximity to like-minded people who are enthusiastic about their subject accelerates the development of innovative solutions.
What research topics are you currently working on at Bosch?
To advance Industry 4.0, we are working on new industrial information technologies that support secure connectivity of heterogeneous systems, virtual representation in real-time, and digital planning scenarios. We invent solutions that amplify human abilities, for example by ubiquitous availability of information, individual support, ease of use, and flexibility. Furthermore, we want to increase the versatility and learning abilities of our production equipment and make 3D printing accessible for series production.
What are the biggest scientific challenges in your field of research?
We are dealing with scientific challenges in many fields. For example, applying machine learning methods to achieve advantages in production processes opens several scientific subjects. Also, building a holistic semantic model of our diverse world of production is a challenging topic. Or think of using 3D printing as a manufacturing process, requiring new ways of process and product design and proving the reliability of materials and components.
How do the results of your research become part of solutions "Invented for life"?
The mission statement "Invented for life" is implemented early in a research activity. In the foundation phase, we describe the desired result in a concise picture of the future, like a painter who sketches the outlines of the future with just a few strokes. There, the reference to "Invented for life" can already be seen, for example in simplified workflows or increased resource efficiency. Subsequently, our research projects will transfer the future pictures into widely applicable solutions.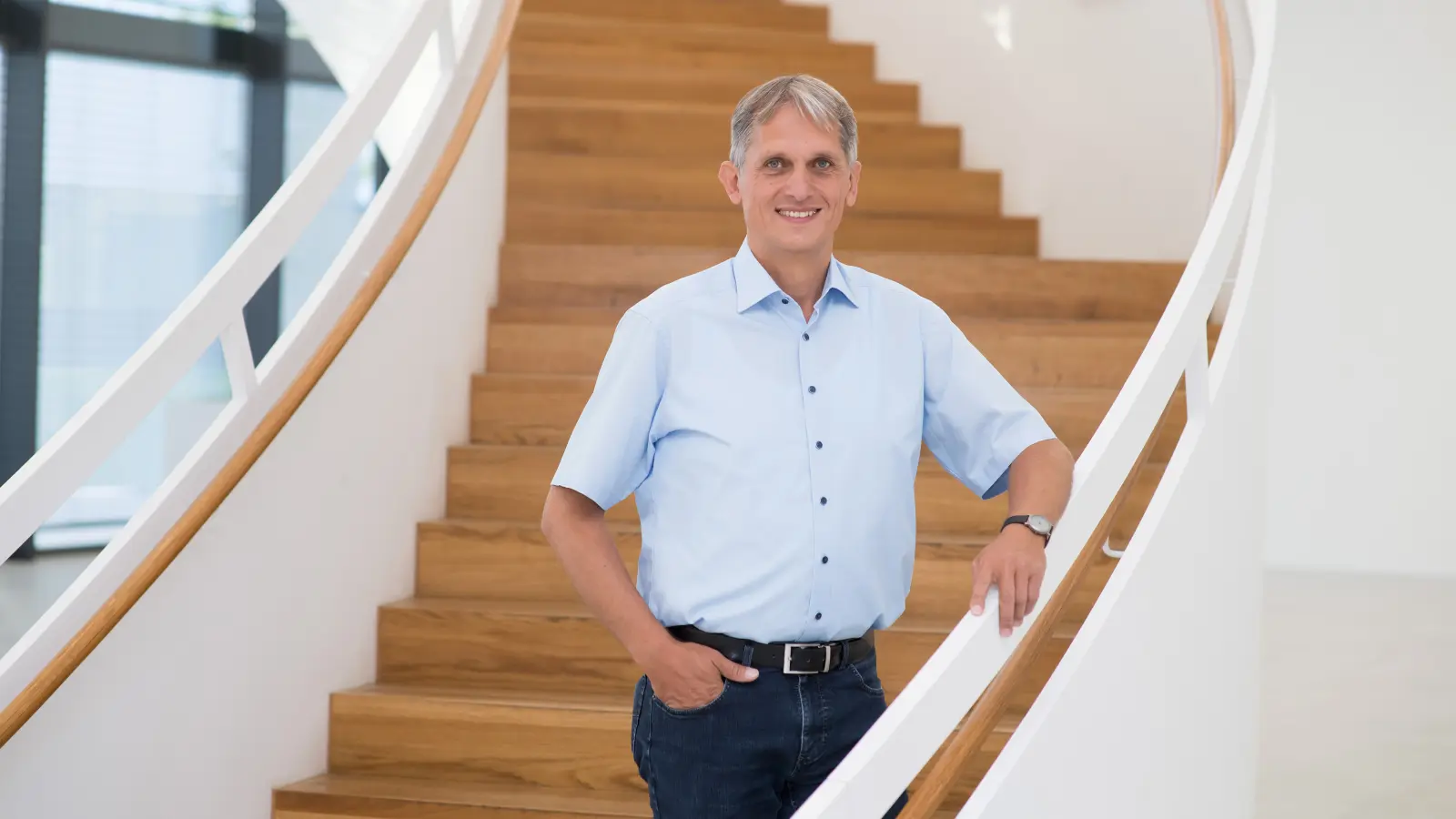 Get in touch with me
Joachim Frangen
Chief Expert for Manufacturing Automation and "Industry 4.0 - Connected Industry"