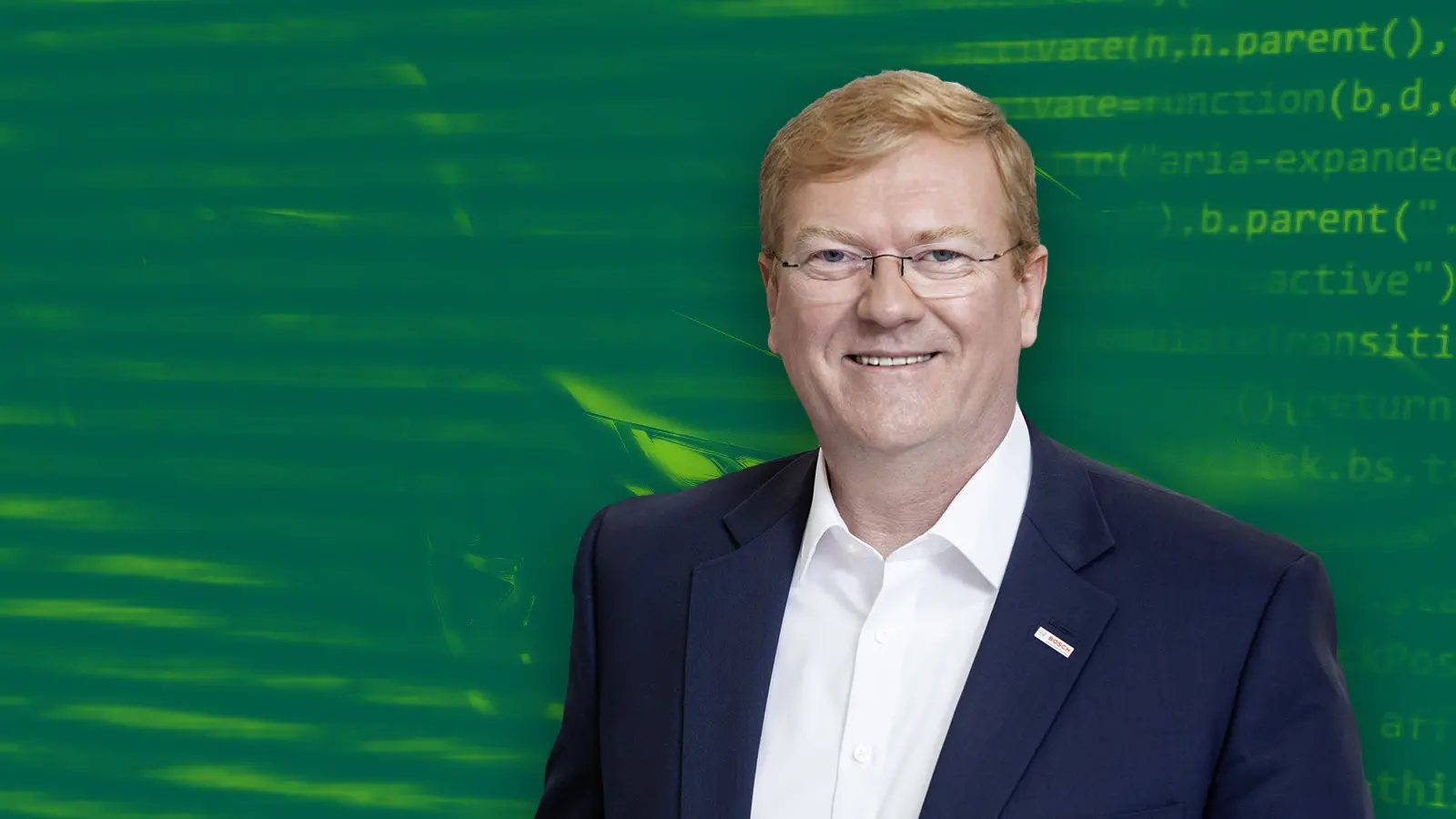 2021-09-14
Vehicles have become mobile computers, so needless to say, automotive software plays a key role. Stefan Hartung, chairman of the Mobility Solutions business sector at Bosch and future Bosch CEO, believes that the fusion of automotive and IT expertise will present major new opportunities for the sector.
Our image of the car is being rapidly transformed. Horsepower and spacious interiors are no longer the deciding factors. Now, more than ever before, when customers shop around for a car, they're interested in integrated intelligence. "Software enhances the driving experience, and above all, it makes drivers' lives easier," says Stefan Hartung, chairman of the Mobility Solutions business sector and future CEO of Bosch. For example, they can hand over the irksome task of stop-and-go driving to a traffic jam pilot and in the very near future, electric cars will be able to automatically book the cheapest vacant charging station along the route. Automatic parking makes it possible for vehicles to automatically navigate the parking garage and park themselves. "Turning these solutions into reality requires well written code, connectivity, and artificial intelligence," explains Hartung. So automotive suppliers such as Bosch are becoming software companies for mobility.
100 million
lines of code are needed to program the software in a normal car — that's ten times as many as it was ten years ago.
The automotive software market grows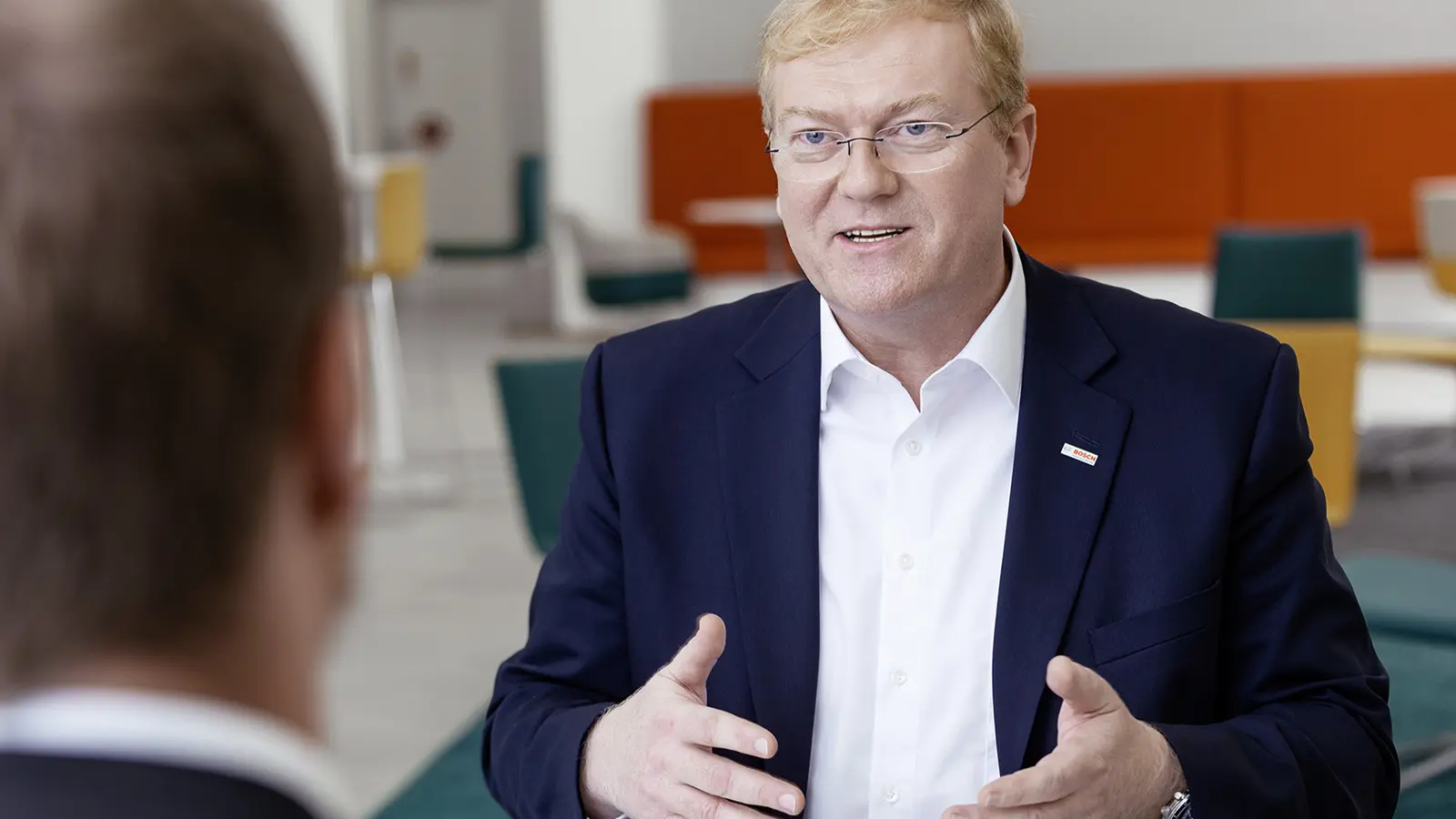 Ten years ago, the software code needed to operate a normal car was made up of around 10 million lines. That number is now 100 million. The software operating automated vehicles, on the other hand, requires between 300 and 500 million lines of code. And the number of software-intensive electronic systems in cars is on the rise. "The market for systems such as these will grow by an annual 15 percent between now and 2030," says Hartung. But even if there is a fusion of information and automotive technology, one crucial difference will remain: If a smartphone "crashes," nobody will get hurt. But a car crash is a different matter altogether. Cars have to negotiate both road and data traffic. "This is why 'safety first' is also the golden rule of connected driving," remarks Hartung.
Connectivity experts in high demand
Automotive IT has to interact reliably and infallibly with the powertrain and brake systems at all times. "Once again, this is where high-tech suppliers come in — suppliers that are equally at home in the world of on-board electronics and the Internet of things, with which the cars of the future will be connected," explains Hartung. Such suppliers have an especially good chance of tapping into the rapidly growing market for automotive IT. This is why Bosch has set up a division specifically for automotive electronics and software. All in all, the company already employs some 34,000 software engineers, more than 26,000 of whom work in its Mobility Solutions business sector.
Automobile updates "over the air"
The growing significance of software is bringing about a change in the development cycles in the automotive industry. "Gone are the days when work on a car was done and dusted as soon as it left the factory," says Hartung. "Now, even its hardware has to be upgradeable, even if only to replace a vehicle computer after five years, like a hard drive." Typically, however, these original equipment computers are capable of more than may initially be necessary. This means they remain receptive for software updates, enabling them to download functions such as automated parking over the air. In this way, cars can be updated with new functions far more quickly than in the past. "Without changing its appearance, a vehicle that has been on the road for some years can be updated to version 2.0 or 3.0. In this way, software development is becoming divorced from hardware,"" asserts Hartung. For the IT industry, this is nothing new, but the safety standards automotive electronics architecture has to fulfill are incomparably stricter.
Automakers have long since realized that this challenge is also an opportunity. They are developing software specifically for their vehicles, all the way to proprietary operating systems. They are also enlisting specialist suppliers of software and chips. "This is changing the relationship between automakers and suppliers such as Bosch," says Hartung. Two trends are emerging. First, operating systems have to be capable of handling the many variants in a range of models. Owing to their domain and process expertise, suppliers can help here. Second, in the increasingly complex electronic architecture, there has to be compatibility among the software modules from diverse sources. "Here as well, help can come from suppliers that understand the vehicle as a whole, and not just its individual domains," adds Hartung. Such integrative expertise will be more and more in demand.
Automotive and IT complement each other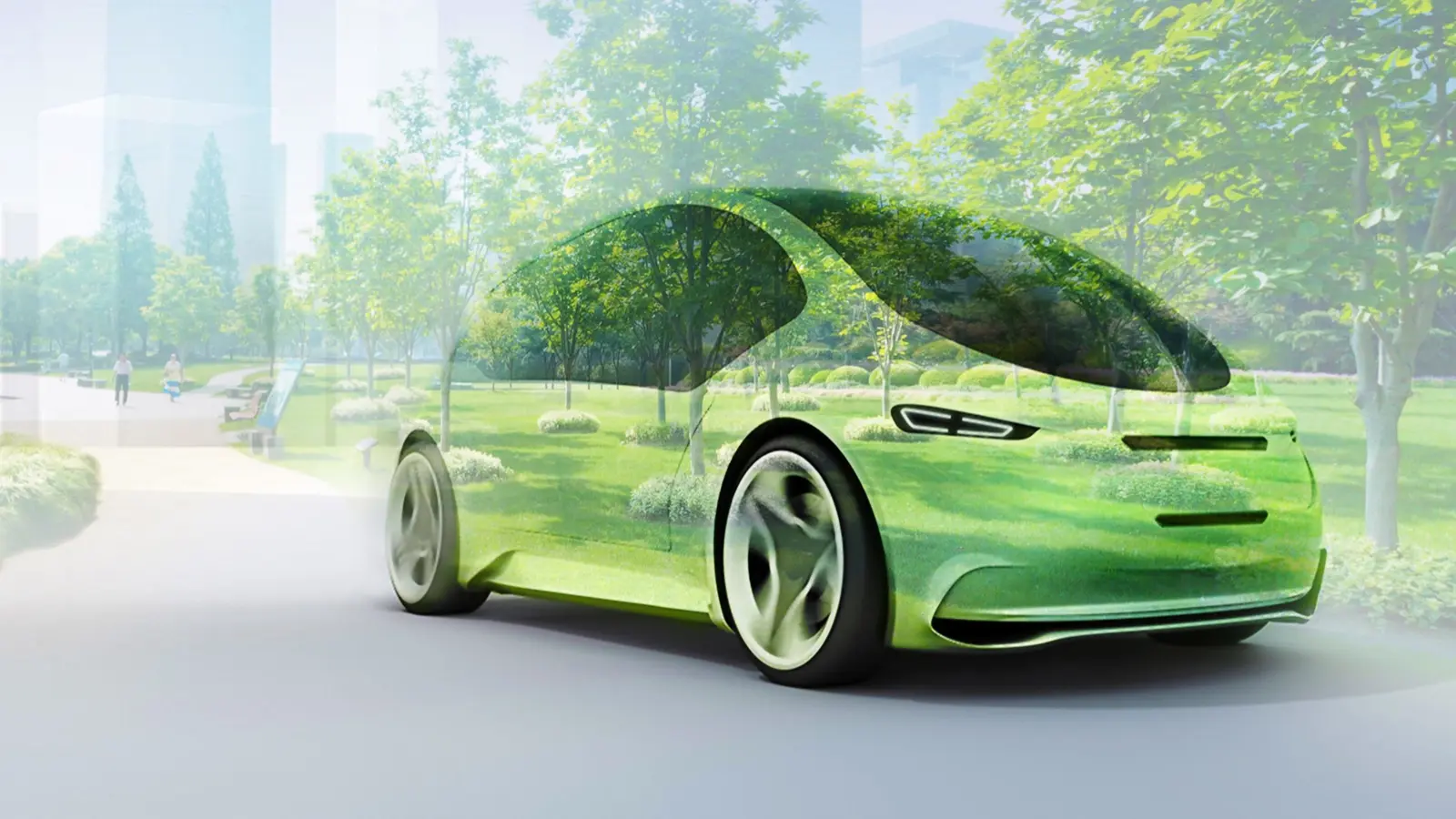 While cars are turning into mobile Internet nodes, suppliers are becoming more like automakers' software partners. "This will require IT expertise, but such expertise is not solely the preserve of the IT industry. The automotive industry also has it," says Hartung. Of course, the two parties can join forces. Bosch and Microsoft, for example, are working together to connect cars to the cloud. Their joint aim is to create a software platform that makes new digital services and functions available to drivers less expensively and, above all, faster. The first prototypes will already be able to use this new platform at the end of 2021. "The automotive and IT industries do not have to be competitors. More than ever, they will complement each other."
Preserving the overall business model
One thing, however, will not change: In the future, suppliers such as Bosch will remain key partners of the automotive industry. "Not least, we will contribute the basic software that is needed across the boundaries dividing individual automakers and vehicle generations," reports Hartung. And regardless of the automaker, there will be a need for tools to develop and maintain the software. Even in a software-dominated automotive world, there will be plenty of business for suppliers and automakers alike. Stefan Hartung elucidates with an analogy from the 'old world' of the automotive industry: "All the automakers make engines, but Bosch makes injection systems for many customers. This saves costs for all involved, and the automotive software business will not be any different."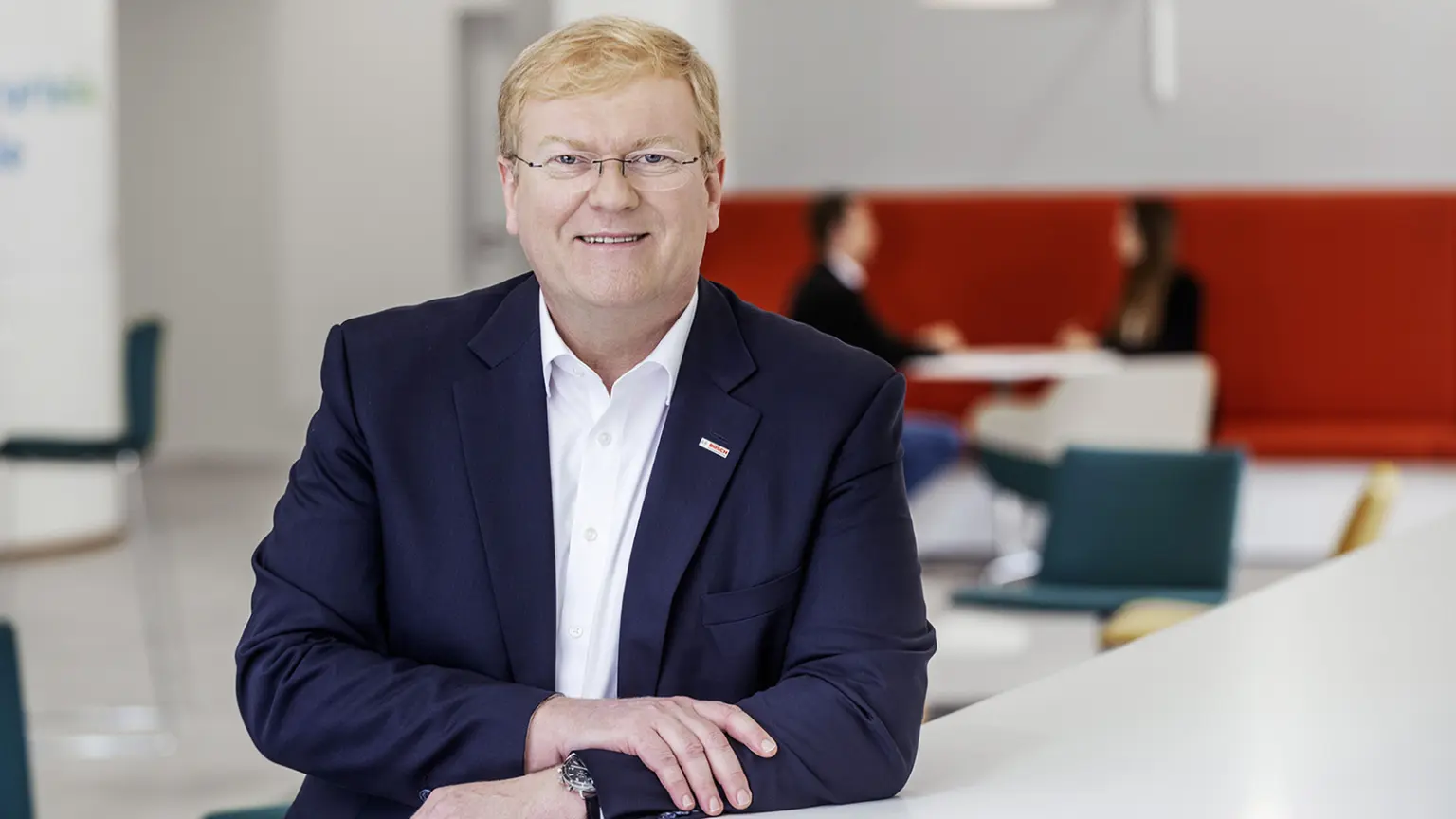 Stefan Hartung, 55
Chairman of the Mobility Solutions business sector at Bosch
Stefan Hartung was born in Dortmund, Germany in 1966. He studied engineering with a focus on manufacturing technology at the RWTH Aachen University, where he obtained his doctorate in 1993 in the field of quality management methods. Following his studies, he worked at the Fraunhofer Society and the management consultancy firm McKinsey & Company in Düsseldorf. In 2004, he accepted a position at BSH Bosch und Siemens Hausgeräte GmbH in Munich. He later directed the business sectors Energy and Building Technology and Industrial Technology as well as the Bosch Connected Industry business unit. In 2013, Stefan Hartung joined the board of management at Robert Bosch GmbH and in 2019 he was named chairman of the Mobility Solutions business sector. At the end of this year, he will succeed Volkmar Denner as chairman of the board of management at Bosch.
Summary
Vehicle software is becoming ever more important for automotive manufacturers. So, according to Stefan Hartung, that is why automotive suppliers such as Bosch are becoming software companies for mobility. Automotive development cycles are changing, too. Using over-the-air updates, for example, it is possible to decouple software and hardware development. Partnerships between automotive companies and the IT sector will become more common going forward.