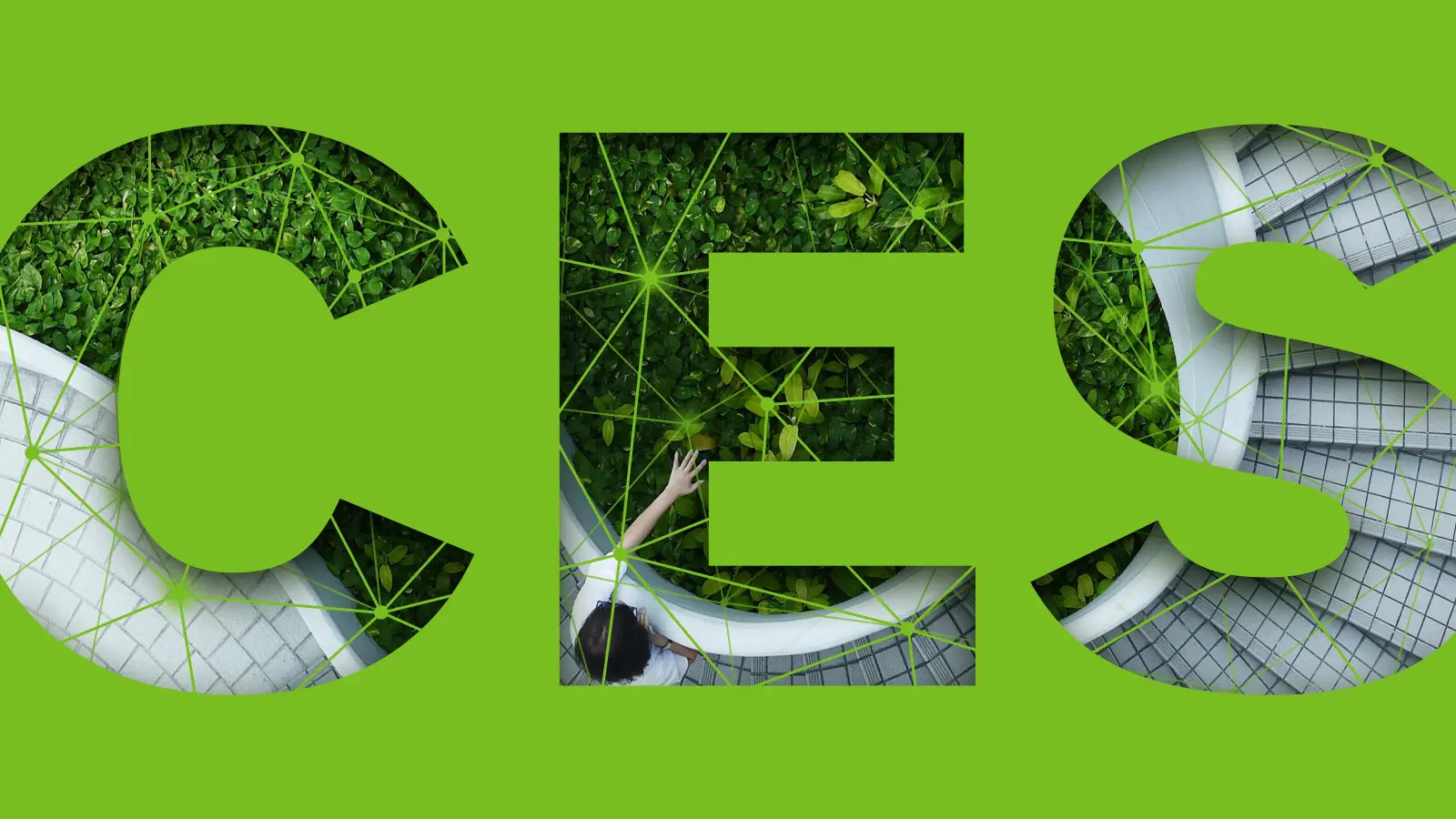 New technological trends will be set at the start of the new year at the upcoming all-digital Consumer Electronics Show 2021. Bosch will once again take part and showcase its latest innovations at the all-digital event, taking place from January 11 to 14, 2021.
Smart and climate-friendly solutions
While the coronavirus pandemic continues to hold the world's focus, we must not allow it to eclipse an even greater challenge: climate change. By joining forces, we will hopefully defeat the virus in the foreseeable future. The fight against global warming will most likely be with us for longer. Here too, we will only be successful if we work together.
Bosch is taking action and playing its part.
For one, Bosch has made its 400 locations worldwide climate-neutral and is using its expertise to help others along the path to CO₂ neutrality. For another, Bosch is harnessing AI and connectivity to develop innovative solutions – for the health of people and for the health of our planet. Under the tagline "Sustainable #LikeABosch: Smart, climate-friendly solutions for health, home, industry, and mobility," we will be exploring the importance of digitalization in the areas of innovation, sustainability, and health.
Watch our sessions at the digital CES
YouTube
Video cannot be shown without your consent
Our experts talk about CO₂ neutrality, technology for sustainable mobility, Perfectly Keyless, and our AI sensors in action at the CES. Watch the playlist on Youtube!
Our CES 2021 Innovations Award Honorees
Bosch Smartglasses Light Drive for Waveguide – Connected, day and night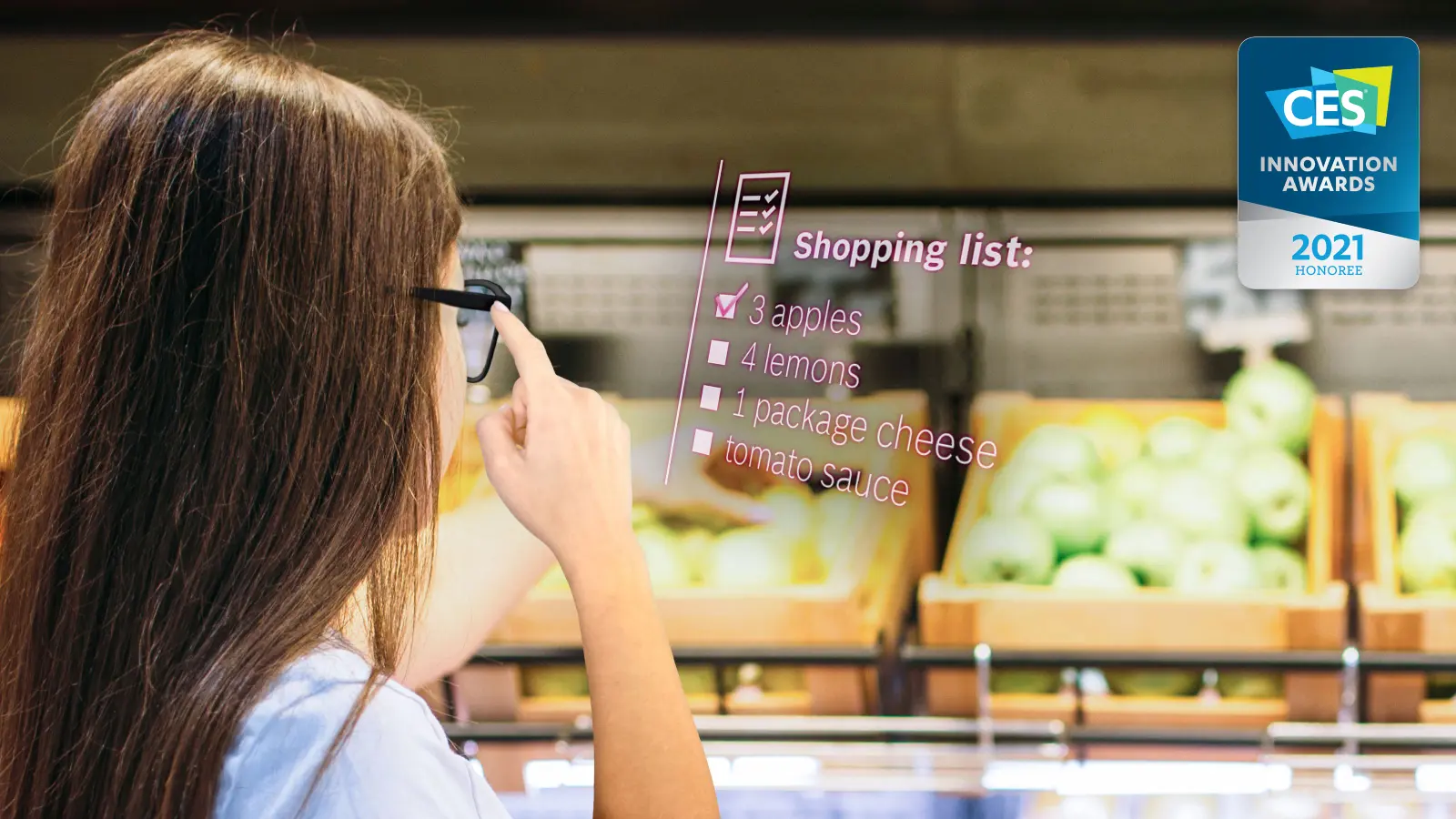 The Bosch Smartglasses Light Drive for Waveguide (BML500PW) is smaller, lighter, brighter, and less power hungry than any currently advertised solution. The Light Drive is a sole source, all-in-one system for smartglasses consisting of MEMS mirrors, optical elements, power management, and image processing. Just add signal! The Bosch technology delivers incomparable infinite contrast "Laser-Black" images for safer, distraction-free night use. One-size-fits-all provides easy fitting for everyone. Bosch's disruptive Light Drive technology is compatible with several Waveguides, including the thinnest, lightest, most transparent lens solution on the market. The Bosch Light Drive for Waveguide enables a perfect balance of just-in-time hands-free information in a minimalist format, making it ideal for applications including navigation, calls, notifications such as alarms, calendar reminders, and messaging platforms like WhatsApp and WeChat. Everyday note-based information including to-do, how-to, and shopping checklists are exceptionally convenient.
Bosch's on-board computer Nyon for eBikes – smart, intuitive, connected
The new Nyon is the perfect companion for embarking on your fully connected electric bike experience. Nyon for Bosch eBike Systems is the latest of Bosch's display computers for pedal-assist eBikes, offering on-board navigation, fitness tracking, digital locking, topography-based range estimates, and other rich connectivity features via Bluetooth and WiFi. Nyon connects to your smartphone with the eBike Connect app and exchanges data about routes and activities. The touch-enabled color screen is intuitive to use and is operated using the companion remote control during your ride. Whether you're using your eBike for long rides or short everyday trips, this robust, easy-to-read display ensures that you are ready for all requirements and weather conditions.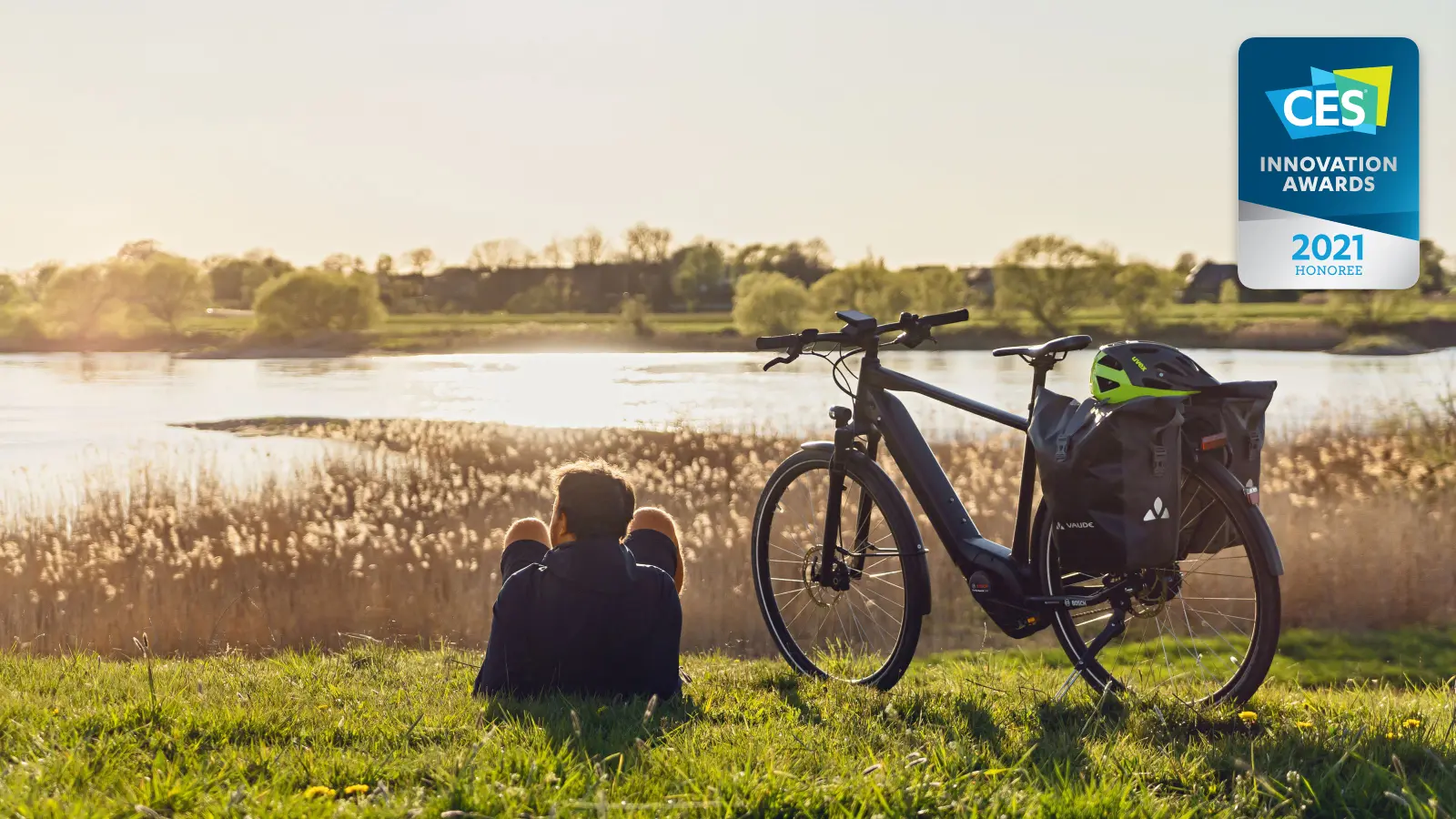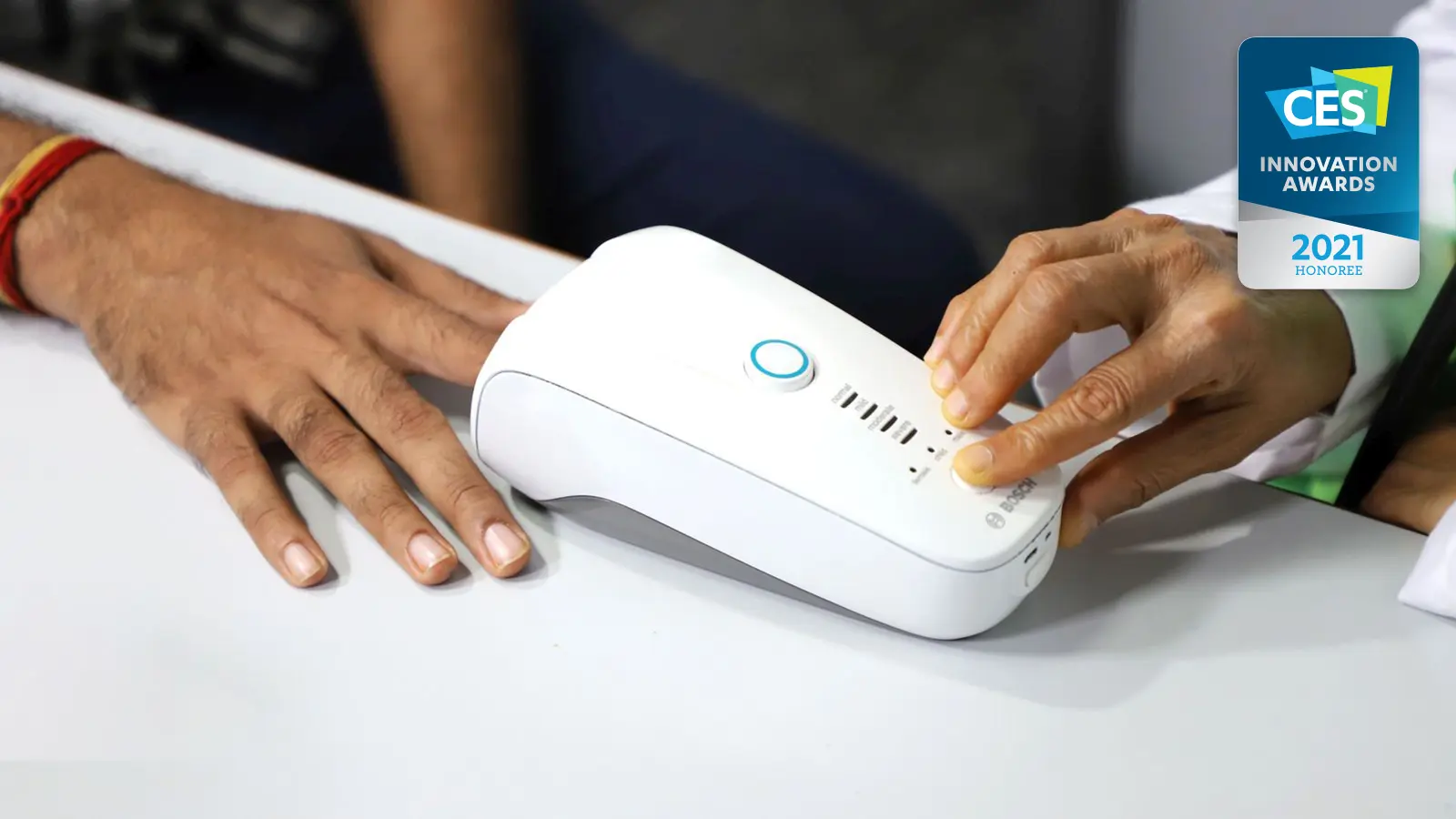 The Bosch Hemoglobin Monitor is a patented, non-invasive, point-of-care solution powered with machine learning algorithms, and is designed to revolutionize the combat against the global burden of anemia. Our solution enables rapid point-of-care Hemoglobin testing, where a consumer places the finger in the device and gets the result within 30 seconds. It facilitates Anemia classification and hemoglobin value prediction and the non-invasive approach eliminates the need for blood-draw and any delayed wait for test results.
Bosch's future-proof camera solutions – We turn security cameras into smart IoT sensors
Increasingly congested streets and sidewalks and the proliferation of autonomously driving vehicles are just two of the safety challenges city planners and senior traffic engineers are facing today. With Security & Safety Things you can flexibly adapt your traffic and parking cameras to any current or future challenge by equipping them with AI enabled apps from our Application Store. Whether your objective is road and pedestrian safety, vehicle identification, traffic analysis, or parking management, there are smart traffic apps ready to install, which provide valuable insights for data-driven decision-making.
Meanwhile, traffic is just one of many verticals for which our Application Store features specialized video analytics solutions. With over 80 apps available it also covers a wide range of use cases in retail, public transport, healthcare and stadium operations, to name just a few. Best of all, cameras can be flexibly repurposed and equipped with new apps throughout their lifecycle.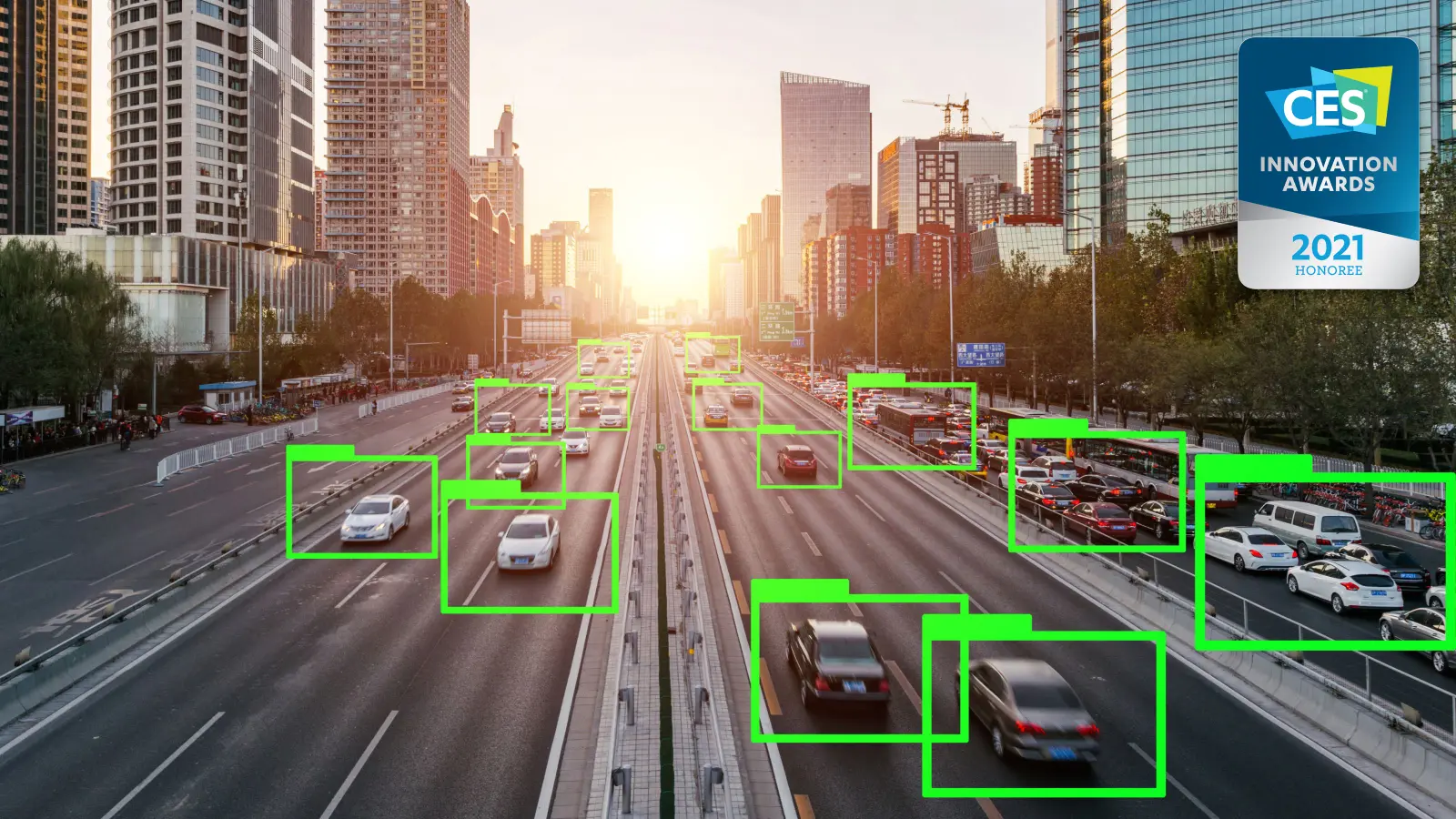 During CES, you can explore our product highlights at our virtual booth. Learn more about our vehicle computer, sensors for wearables, the hemoglobin monitor that is a CES 2021 Innovation Award Honoree, and other smart solutions for connected living and connected mobility!