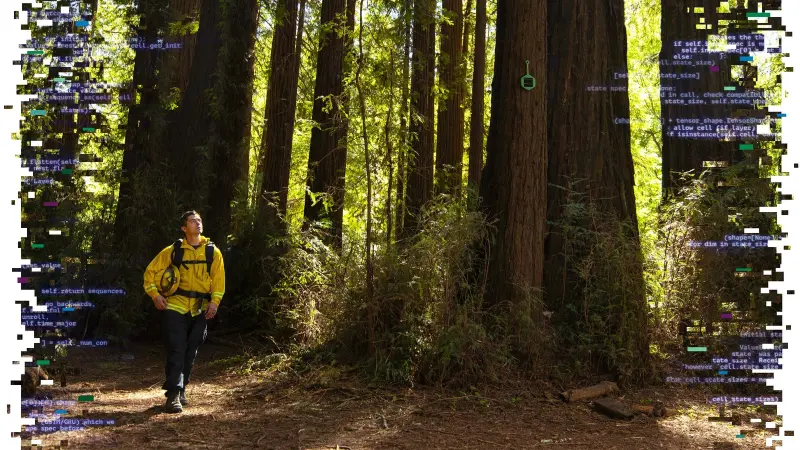 Time is of the essence in a forest fire. Experience has taught firefighter Ricky Staley that particular lesson. In just a few days, a tiny spark can turn into an out-of-control blaze that consumes centuries-old trees, destroys precious habitats, and takes human lives. A small sensor from Bosch is now here to help keep those flames in check. It sniffs out even trace amounts of fire gases and sounds the alarm before the fire can spread. This buys firefighters like Ricky valuable time so they can respond that much sooner to put out the blaze.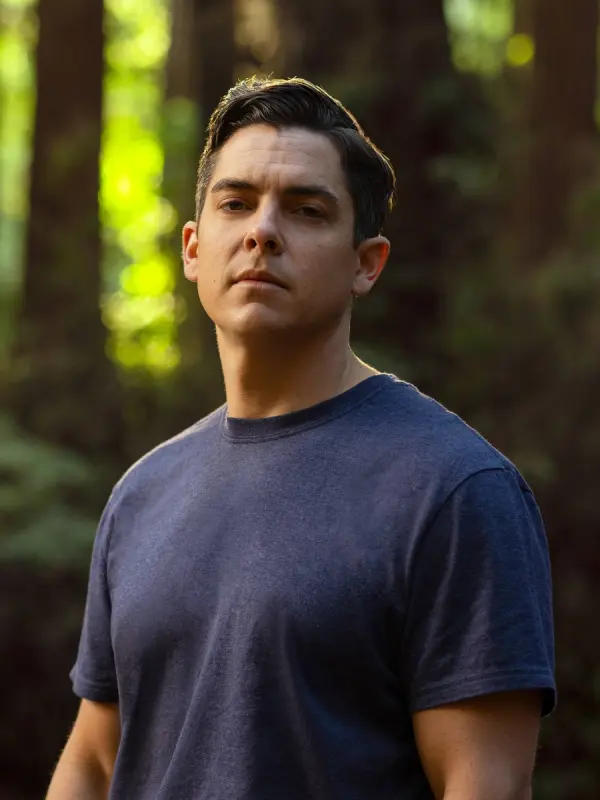 Time is everything. Time is critical to saving people, animals, and the environment.
Up to 20 percent
of annual global carbon emissions are caused by forest fires. This is equivalent to the CO₂ emitted by all the vehicles on the world's roads.
Fighting climate change by preventing fires
Forest fires not only pose a danger to humans and animals; they're also harmful to the climate. For one, they produce vast quantities of CO₂. Forest fires account for as much as 20 percent of global carbon emissions. Dryad, a startup, developed the Silvanet wildfire early warning system to address this issue. The global climate benefits from the long-term impact of preventing wildfires. "By preventing even just one major forest fire, we can prevent hundreds of millions of tons of carbon emissions," says Dryad's Carsten Brinkschulte.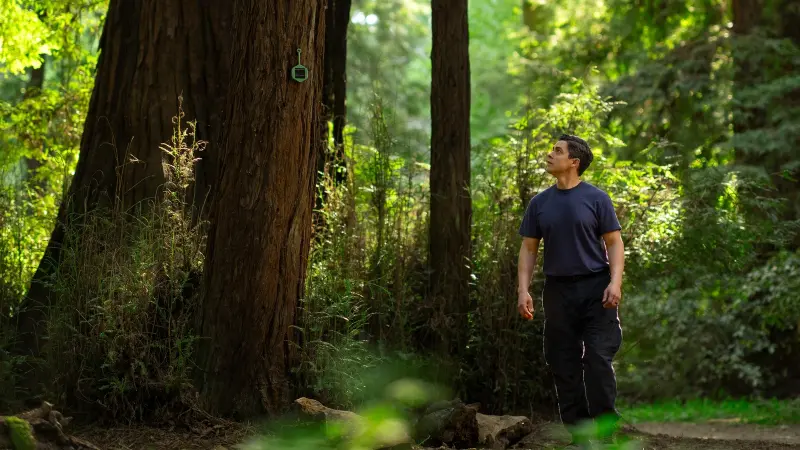 Trees as carbon repositories
Trees are valuable carbon repositories and play an important role for the climate. It takes decades to reforest areas ravaged by wildfires. Much of this ground lies fallow for a very long time, which takes a further toll on the climate.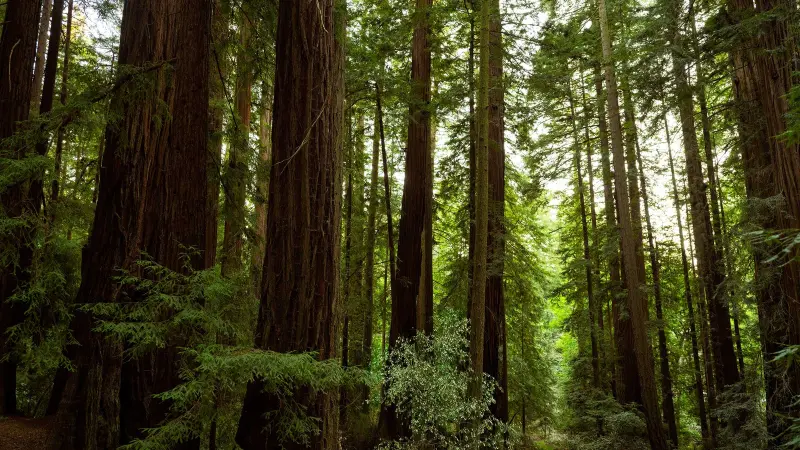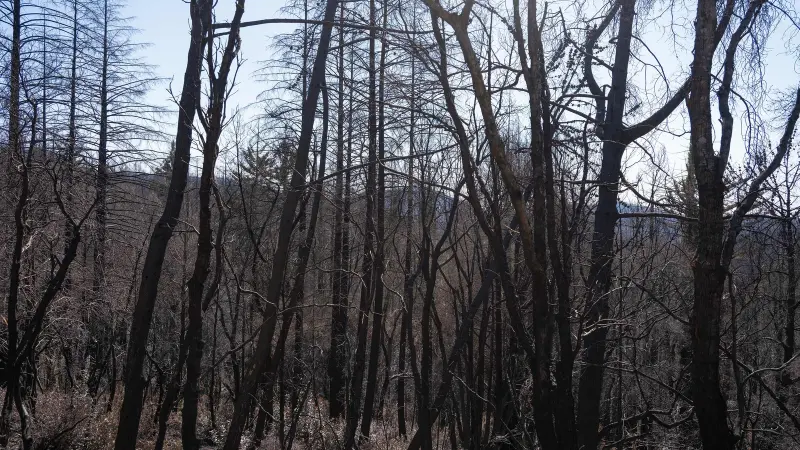 Up to 10 million hectares
of forest are destroyed by wildfires every year in the U.S. alone.
Detecting fires with artificial intelligence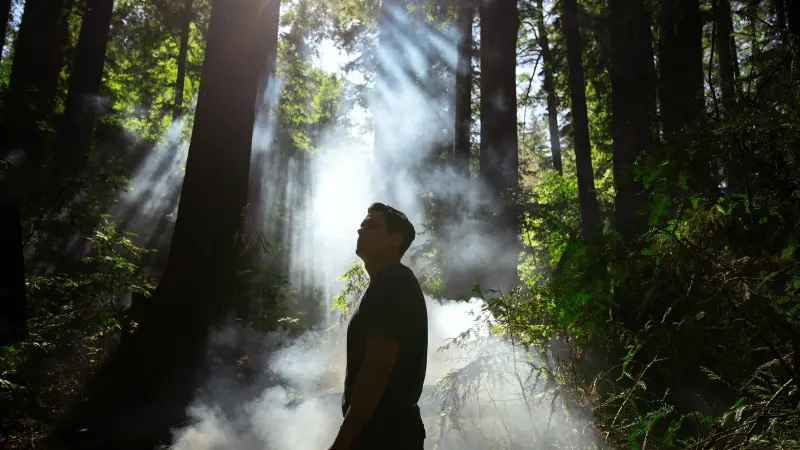 A large proportion of the forests destroyed each year could be saved with the Dryad forest fire detection system. Small but intelligent, its inbuilt Bosch BME688 sensor detects carbon monoxide, hydrogen, and other gases emitted in the early stages of a forest fire. But that's not all it can do. With the help of artificial intelligence, this sensor also analyzes the data it collects right there on the spot. If it detects a fire, it immediately sounds the alarm, sending a signal to the cloud and notifying emergency services.
Alerts sent in record time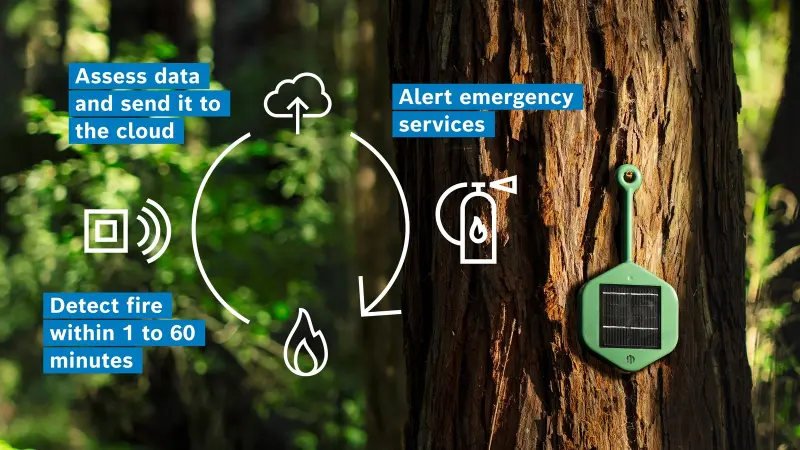 All this happens within a few minutes to an hour at most. Time is of the essence; every minute matters in the event of a fire. A faster response means that many fires can be extinguished before they spread and cause more extensive damage. "Our goal at Dryad is to protect 1.4 million hectares of forest from fires by 2030, thereby preventing 600 million tons of carbon emissions," says Carsten Brinkschulte. There are no cellular networks in deep forests, so Dryad can build infrastructure of its own, an IoT network equipped with gateways. Like the wildfire early warning system's sensors, these gateways are solar-powered and maintenance-free for up to 15 years.
The Dryad system's capabilities do not end there. It can also gauge temperature, humidity, and air pressure to create a climate map of the forest. This map provides the means to assess the risk of fire. It also serves to monitor the quality of the forest, prevent diseases and droughts, and optimize tree growth.
Bosch sensor with a self-learning "nose"
The tiny "nose" that sniffs out forest fires measures just three by three millimeters. The Bosch environmental sensor installed in this forest-fire detection system is the world's first gas sensor to feature artificial intelligence and the first to be deployed as an early wildfire warning tool. It can detect various gases, including fire gases such as hydrogen, carbon monoxide, and most hydrocarbons. The system is constantly learning and improving. Data collected from all installed sensors serves to continuously train the environmental sensors using artificial intelligence so they can detect and analyze gases with even greater accuracy. The BME AI-Studio Server software was developed specifically for this purpose.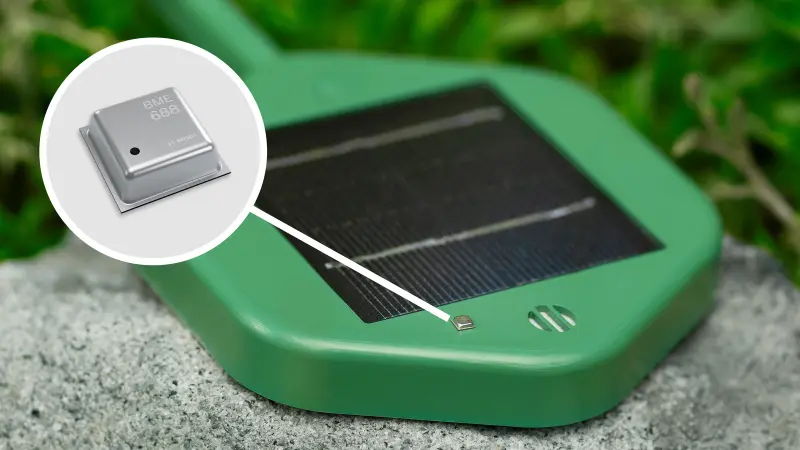 Climate change compounding the risk of wildfires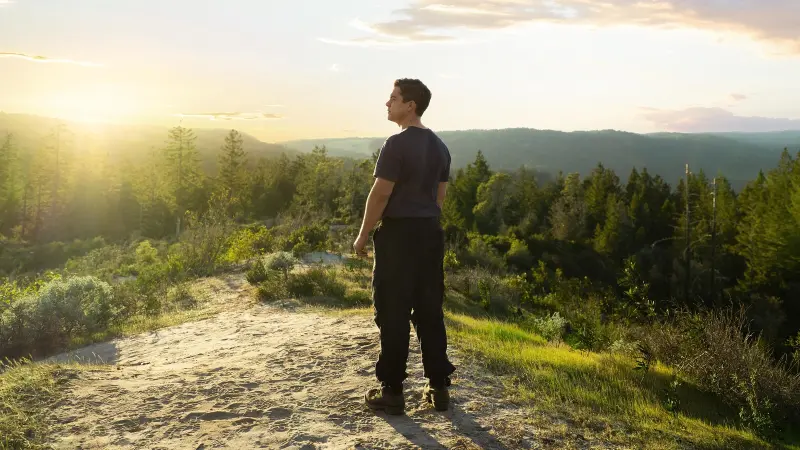 Experts expect wildfires to increase in the years ahead. One of the reasons for this is climate change, which is driving temperatures up and, by extension, drying out soil worldwide. "Sort of a fire alarm for the forest — that's ingenious and a big help to us," says firefighter Ricky. It's also very helpful in fighting global climate change.
Find out more about Dryad here