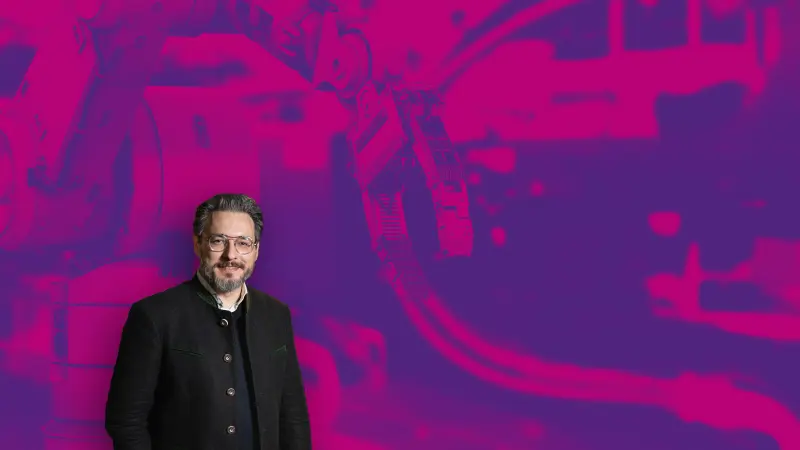 2020-09-30
What role will robots play in our society? Sami Haddadin is certain that even though machine intelligence is becoming an ever-more important element in the world around us, it is the people in that world who will continue to be the focus of the next generation of artificial intelligence.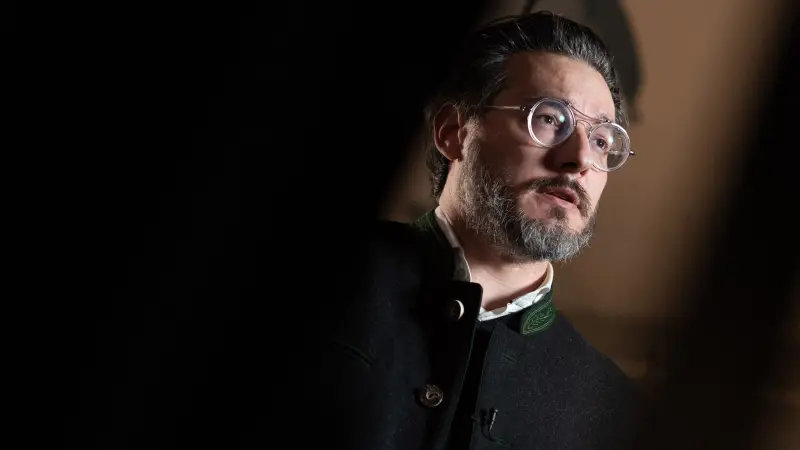 Professor Sami Haddadin is no stranger to robots. In fact, he deals with them almost every day. As Director of Munich School of Robotics and Machine Intelligence, which is affiliated with the Technical University of Munich, he heads a group of scientists investigating new technological possibilities. Nevertheless — or perhaps exactly for that reason — Haddadin initially allows humanoid machines to fade into the background in his assessment of the future. "It is extremely important to put the human in the center of the development," he says. What he means by that is: "Robots should be our tools. They should be an extension of our capabilities and they should serve our purposes."
To put it another way, robots should unburden people so they can concentrate on being human. Haddadin names the healthcare sector as a possible field of application. As an example, robots can help nursing staff gain more time for interpersonal relations, enabling them to have a greater amount of contact with their patients. After all, robots do not possess the capability of combining abstract thought with sensorimotor abilities, which is something that sets humans apart. According to Haddadin, their sensorimotor abilities — meaning the interaction between the senses and motor activity — are usually at the same level as those of a three-year-old child. The researcher does not believe this will change fundamentally in the future: "We will live in the age of human and machine, not in the age of human or machine."
Machine intelligence as a tool
Haddadin uses a simple comparison to illustrate the role of robots: "If you design a hammer, you have to be sure that it is carried by a hand." Accordingly, a hammer that cannot be guided by a hand is not a useful tool. Applying the same logic to a robot, this means that if it cannot be operated and controlled by a person, it is not a useful assistant. "Essentially we try to develop tools that connect the virtual with the physical world," Haddadin says. The robot — the tool in this case — enables AI to interact with the physical world and thus also with the human who is giving the commands.
Haddadin refers to this human-centered AI as machine intelligence. The result is that the AI physically exists and, in a manner of speaking, becomes tangible. Robots with sensitive gripper arms are merely the beginning. According to the expert, however, a universal robot that combines all these capabilities will not be on the horizon anytime soon. "These types of tasks are still far too complex for that," says Haddadin.
According to the expert, much remains to be done aside from the technology. Many people have reservations about robots and artificial intelligence and these need to be alleviated. "We have to be extremely engaged in educating our society and the general public as to why we are pursuing this vision of an AI society. What benefits does it bring to society?" He wants to address the fear of robots by answering this question with what he calls "robotics education."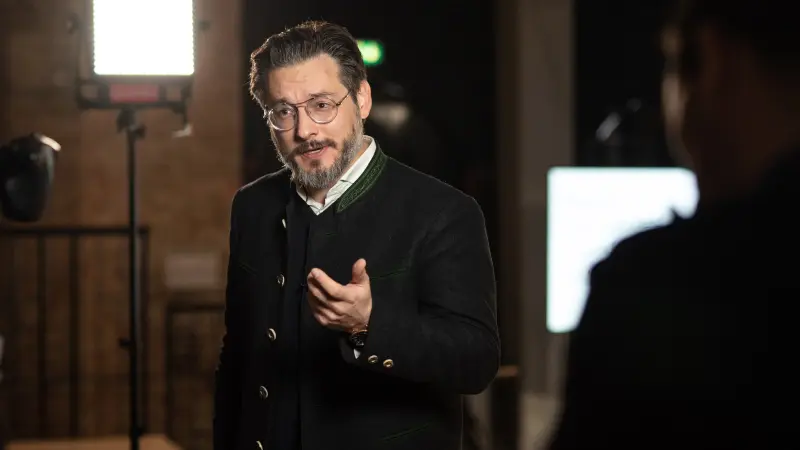 How will this be successfully implemented in practice? "We need to provide a proper explanation of how we use robots and get society involved in research early on," Haddadin says. He is also thinking of familiarizing schoolchildren with the topic. In his view, robot technology needs to be closely coordinated with the needs of humans, as this both facilitates acceptance and integration and helps with communication. Haddadin primarily relies on direct experience to achieve this. He hopes that people having direct interaction with robots will encourage them to lose their undue respect for them. In the end, the robot in Haddadin's vision will never be anything more than just a tool – after all, people aren't afraid of hammers.
An interview with Sami Haddadin, Director of the Munich School of Robotics and Machine Intelligence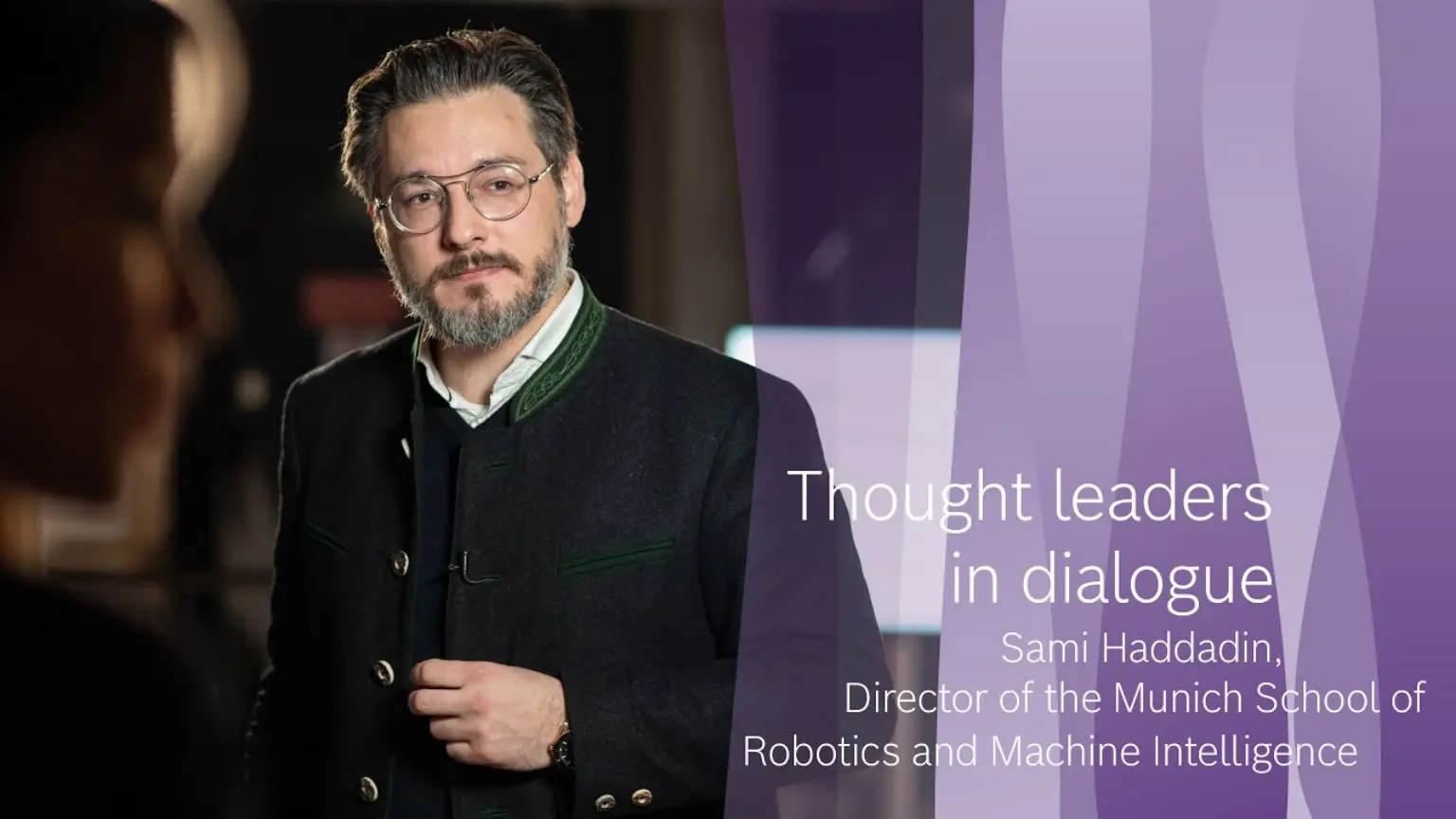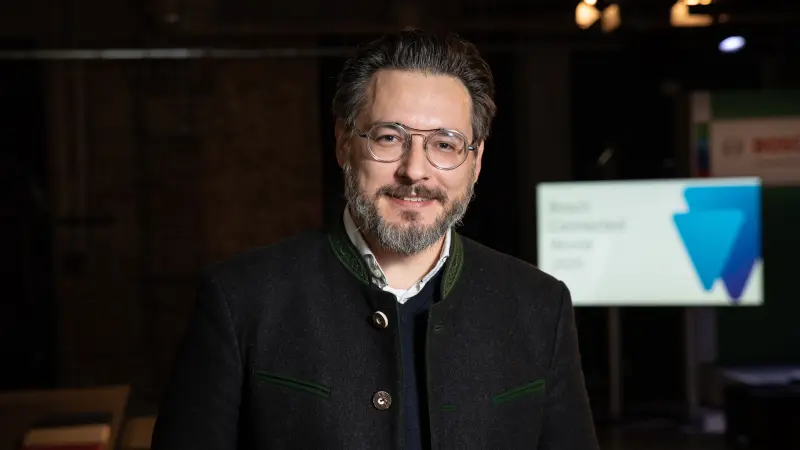 Sami Haddadin, 39
Director of the Munich School of Robotics and Machine Intelligence
Humans are far superior to machines. They are the only ones capable of combing abstract thinking and sensorimotor abilities, seemingly without effort.
Professor Sami Haddadin has been Director of the Munich School of Robotics and Machine Intelligence since 2018 and holds the Chair of Robotics Science and Systems Intelligence at the Technical University of Munich. He did his doctorate on humanoid robots at RWTH Aachen University and held the Chair of the Institute of Control Engineering at Gottfried Wilhelm Leibniz University Hannover from 2014 to 2018. He was also a guest scholar at Stanford University. Haddadin has won the German Future Prize and the Leibniz Prize.
Summary
For Sami Haddadin, robots are just a tool for people — an extension of their abilities, so to speak. Humans always stay in control. According to the expert, reservations still need to be addressed before the benefits of robotics and machine intelligence can be fully realized. The simplest route to achieving this is through education and personal experience.