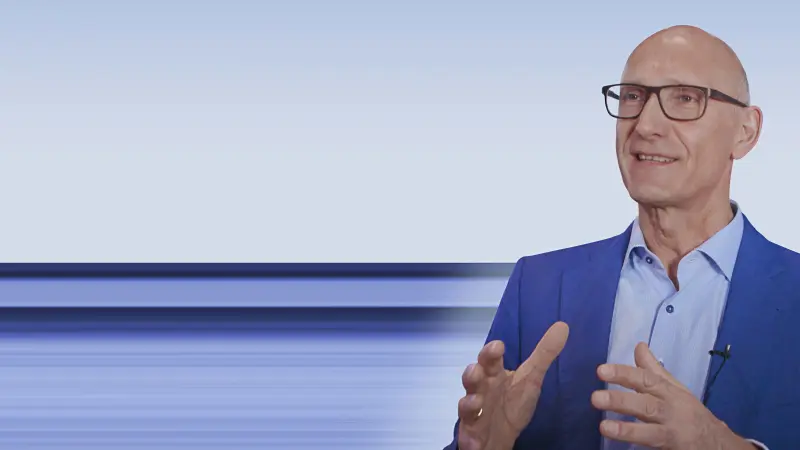 Ethical questions and data security are big issues. But the digital transformation and the Internet of Things will also bring us more prosperity, more free time and the opportunity to work decentrally, says Timotheus Höttges. The CEO of Deutsche Telekom calls on people to look to the digital future with optimism.
An interview with the IoT expert Timotheus Höttges
A clear division of roles in the digital transformation process
Timotheus Höttges, CEO of Deutsche Telekom, describes himself as a "dinosaur of the telecommunications sector." In his professional life, he has already experienced quite a lot: how people would walk around for hours with their first mobile devices glued to their ears, how everyone suddenly wanted a smartphone, and how people are now slowly beginning to communicate with their cars. He describes Deutsche Telekom's role in digitalization and the Internet of Things as follows: "Whether it's autonomous vehicles, wearables, or parking assistance — we create the basis for all of these applications: the infrastructure." He goes on to say that it does not matter whether a customer needs a landline, Wi-Fi or a 5G connection — the even more powerful successor to LTE — Höttges is interested in creating and improving the framework conditions to ensure that everything runs smoothly. Telekom, however, has nothing to do with manufacturing these products: "We leave that to the experts from the industry." Bosch is one of those experts who is constantly working on new digital products and technologies: "I really appreciate the fact that Bosch is working continuously on making autonomous driving a reality for the next generation, and, particularly, on making it safe. The company represents high quality standards in the automotive sector."
The benefits of digital transformation
"Digitalization is a valuable gift that we should pass on to the next generation," says Höttges. According to the Telekom CEO, the digital transformation and the Internet of Things have many benefits and will make our lives considerably easier in the future. "We have never been as healthy as we are now. It has never been so simple to stay in contact with friends. We have the option of working decentrally and increasing our productivity. In part, physically demanding work that used to make us ill has now been taken on by machines." We thus have more time to concentrate on other aspects of our work and, in our personal lives, to concentrate on ourselves. "For Germans, in particular, the glass is usually half-empty. It doesn't help to view digitalization negatively. It's coming one way or another — and we can use it to our advantage."
Timotheus Höttges is aware that many people have a critical view of digitalization, despite its many advantages, and are indeed afraid of it. He can understand this: "Many companies have fallen victim to cyber attacks and everybody has heard a lot about them. It's obvious that people have ethical qualms when they hear phrases such as 'big data'." But he considers it necessary to combat these fears, and that is where the companies themselves come in. "You can't just look at the great products, apps and high-tech solutions. It is important to think of data security throughout the entire development process and to continue to treat users' data with the greatest care in the future."
Timotheus Höttges — CEO of Deutsche Telekom AG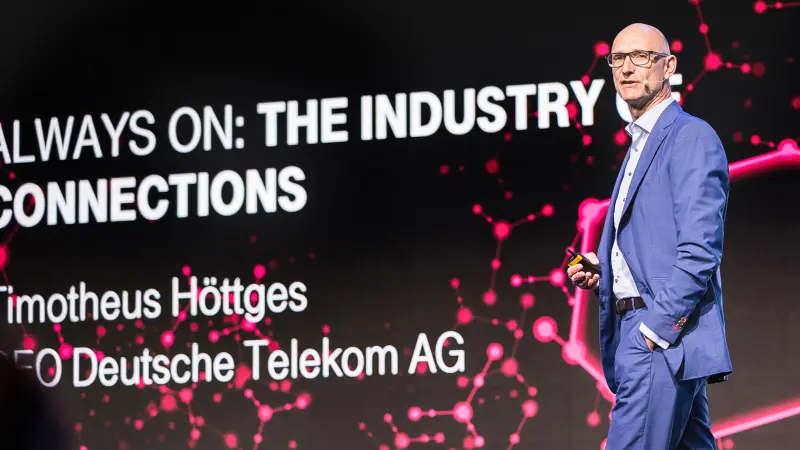 Timotheus Höttges studied business administration at the University of Cologne and worked for a consulting firm for three years after graduation. In 1992, he moved to the VIAG group in Munich, where one of his roles was as a fully authorized representative for controlling and corporate planning. Höttges has been at Deutsche Telekom since 2000 and, in 2014, he was named CEO.
Summary
"We have to take away people's fear of digitalization," says Timotheus Höttges, CEO of Deutsche Telekom. "We need an open-minded approach to digitalization and should use it to our advantage." According to Höttges, there must remain a clear focus on the security of user data in this process.