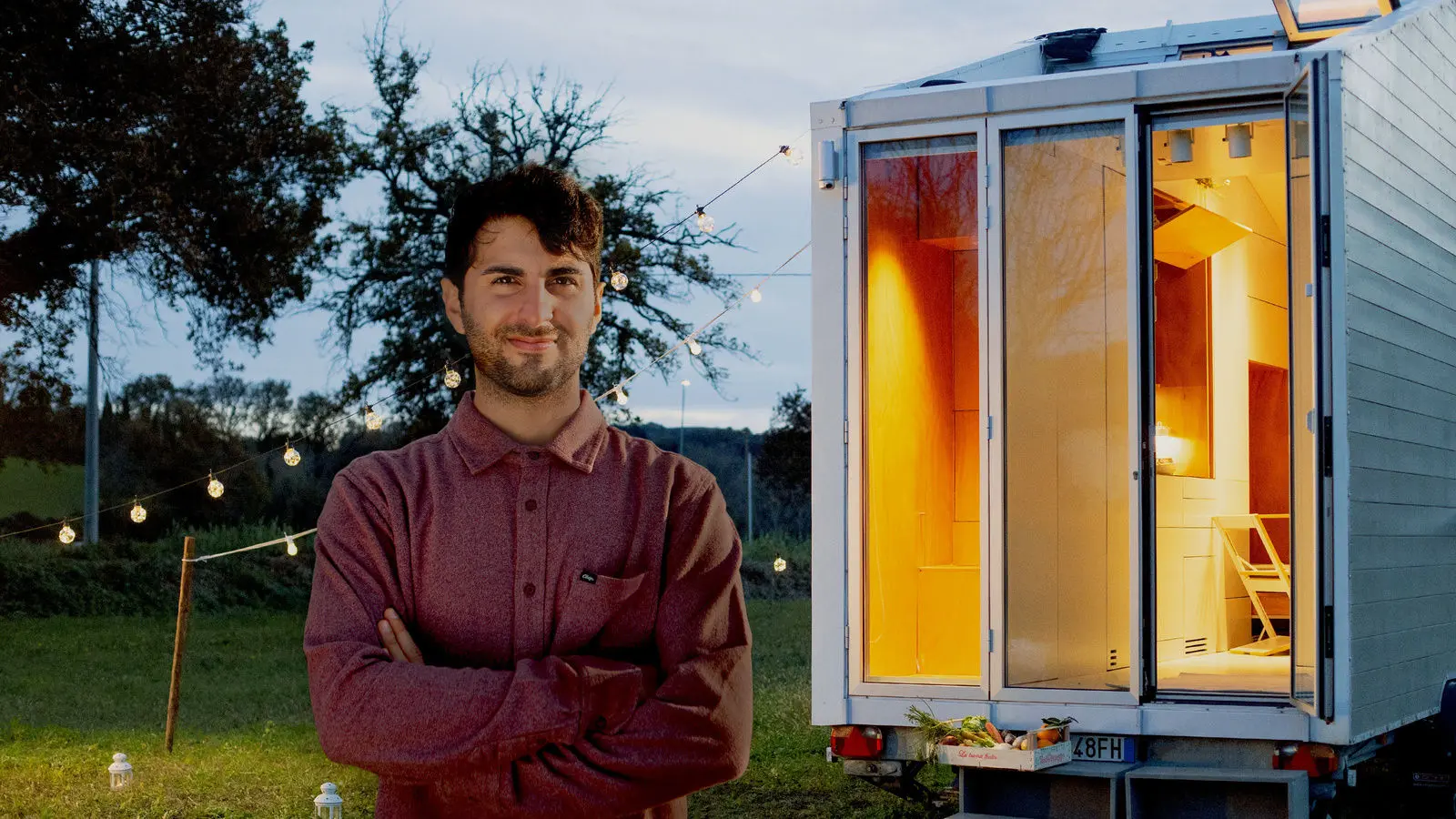 Tiny houses are impressive, compact wonders that provide everything you need to live your life — all in just a few square meters. As a result, they score highly in terms of sustainability. But is living in such a small space — on wheels, no less — actually a comfortable experience? Italian architect Leonardo Di Chiara has put it to the test and kitted out his tiny house with smart technology from Bosch.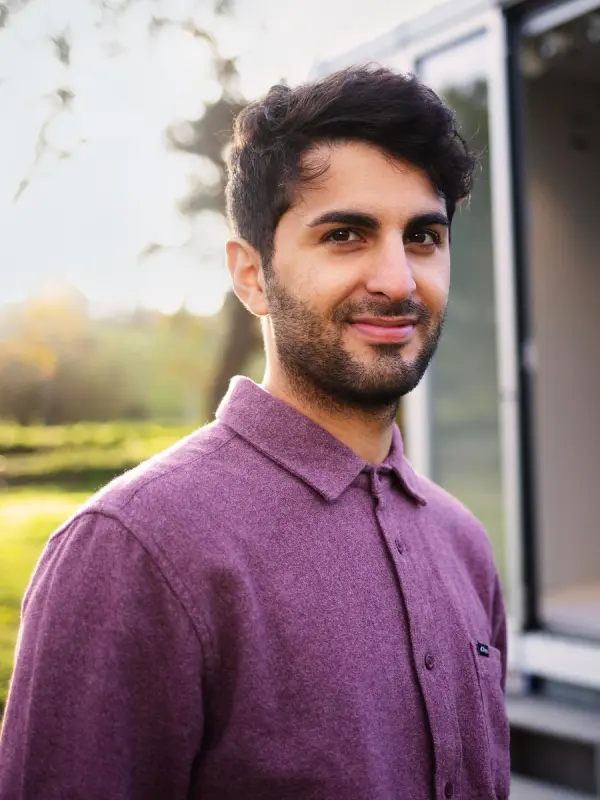 We are often happier when we have less, as we learn to appreciate the value of things more.
Leonardo Di Chiara values two things above all else when it comes to living: efficiency and sustainability. The 31-year-old describes himself as a "modern nomad." He relocated from Italy to Berlin while he was completing his degree in Architecture and Engineering, and joined architect Van Bo Le-Mentzel's Tinyhouse University, which specialized in mobile tiny houses no larger than ten square meters. Inspired by his ideas, Leonardo designed and built his own tiny house on wheels. "I wanted to live a minimalist lifestyle and the freedom to move whenever I needed to," he says.
During his studies, Leonardo lived in the tiny house for several months before deciding to travel around Europe with it. He wanted to give others a glimpse into his way of life and meet new people. "Networking is important to me," he says — in both senses of the word. After all, networking and smart devices from Bosch also play a crucial role in his day-to-day life.
Leonardo's Tiny House: A Tiny Smart Home — On Wheels
YouTube
Video cannot be shown without your consent
9 m²
is the legal minimum size for a bedroom in Italy. Leonardo built his tiny house to the same dimensions to demonstrate that an entire house can fit into one bedroom.
Leonardo is not the only one who subscribes to his living philosophy. Tiny houses became popular in the U.S. during the financial crisis in 2007, as they provided inexpensive housing for people on a budget. The concept now enjoys cult status around the globe and has developed into a form of living that encourages people to pursue a sustainable and simple way of life. This stems from the fact that building a tiny house requires significantly fewer raw materials than building conventional apartments and houses does, and it is more energy efficient to run and takes up less space.
Leonardo's tiny house is currently situated in a meadow in his hometown of Pesaro, which is nestled on Italy's Adriatic coast. Visitors who step inside are met with a sea of gray-white walls that Leonardo has built his furniture into. Everything from the bed to the table to the kitchenette can be easily pulled or folded out of the wall in a matter of seconds. There is even a shower with a toilet, a solar panel, and a terrace on the roof. "For me, the art lies in making the most I can out of the small amount of space I have to work with — in combining minimalism and comfort," the architect says. That sounds like a contradiction, but Leonardo as explains: "I don't have much space in my tiny house, so I have to be clever about how I divide it up. That's why I only have things in it that add real value, can be used for multiple different purposes, and will last me a long time because they are well made." This also reflects the core idea of sustainability.
Transforming a little into a lot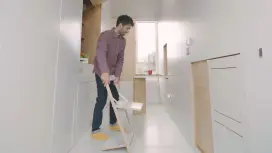 Leonardo is still hugely passionate about all things tiny house. He designs and builds compact living spaces that focus on the essentials. "We are often happier when have less, as we learn to appreciate the value of things more," explains Leonardo. He named his tiny house "aVOID," alluding to the project's main aim: to avoid wasting space and resources. But "void" is also a synonym for "emptiness" — and for Leonardo, that means a free space that can always be redesigned.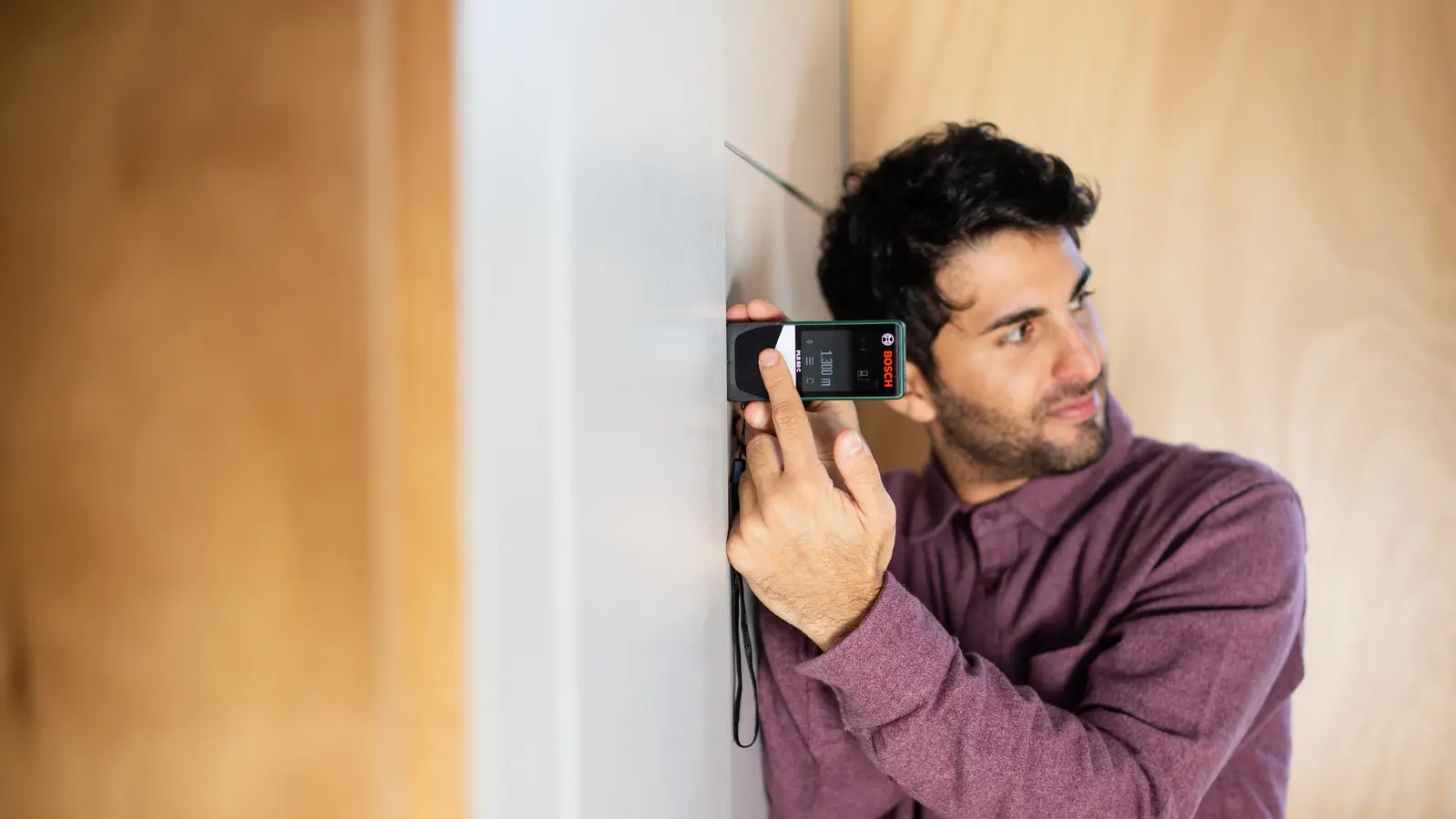 Leonardo's tiny house features smart technology that makes his life easier, more comfortable, and safer. One example of this is the spexor from Bosch, which performs several tasks at once: The compact device monitors air quality while also acting as a fire gas detection. The PLR 50 C digital laser measure has become a constant companion for him in his day-to-day life as an architect. "Every millimeter counts when you're working and planning in a very small space," says Leonardo. The measurements are transferred from the device to the Bosch MeasureOn App, where Leonardo can access them quickly to use them in his work.
A smart assistant for every-day life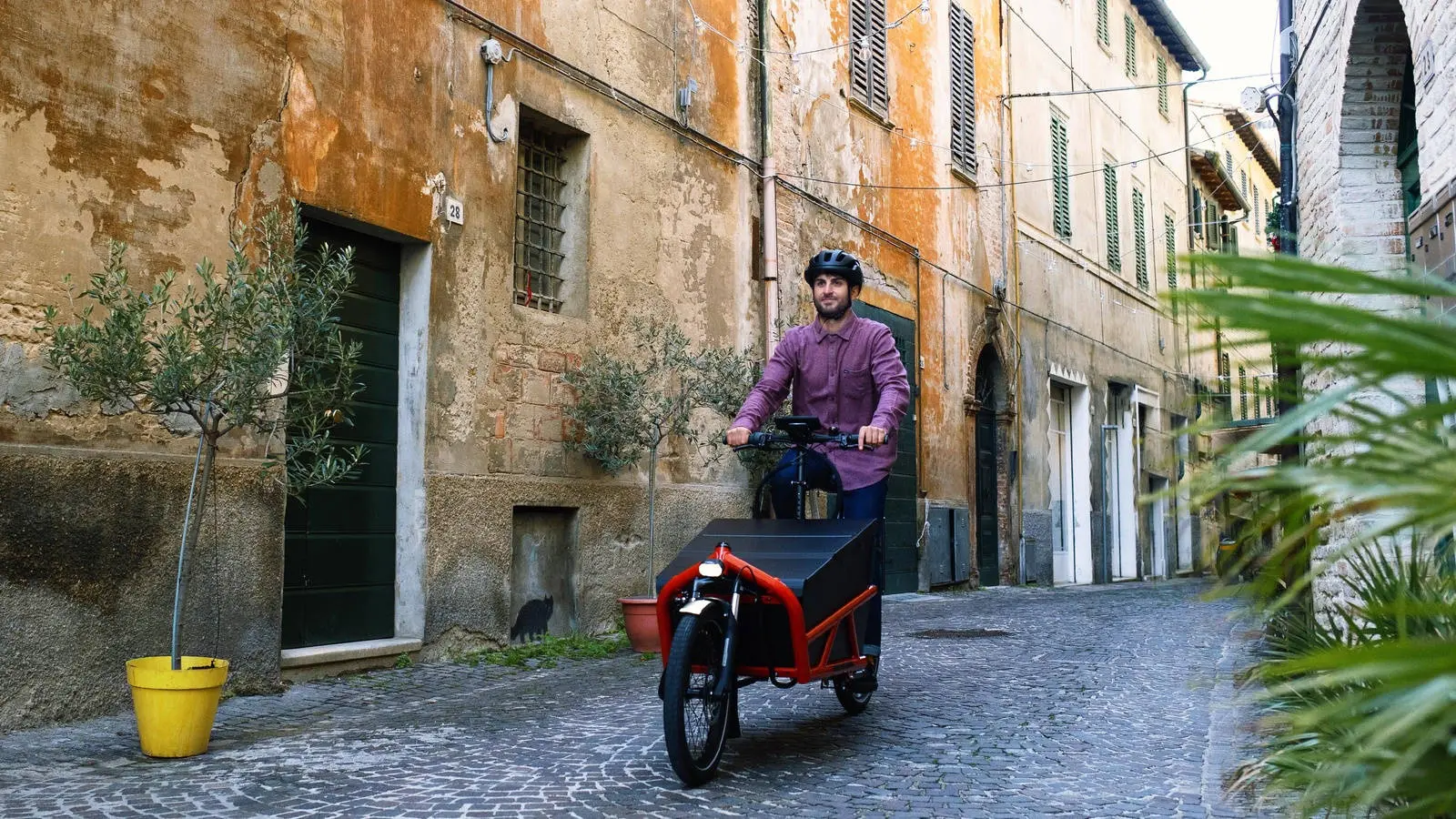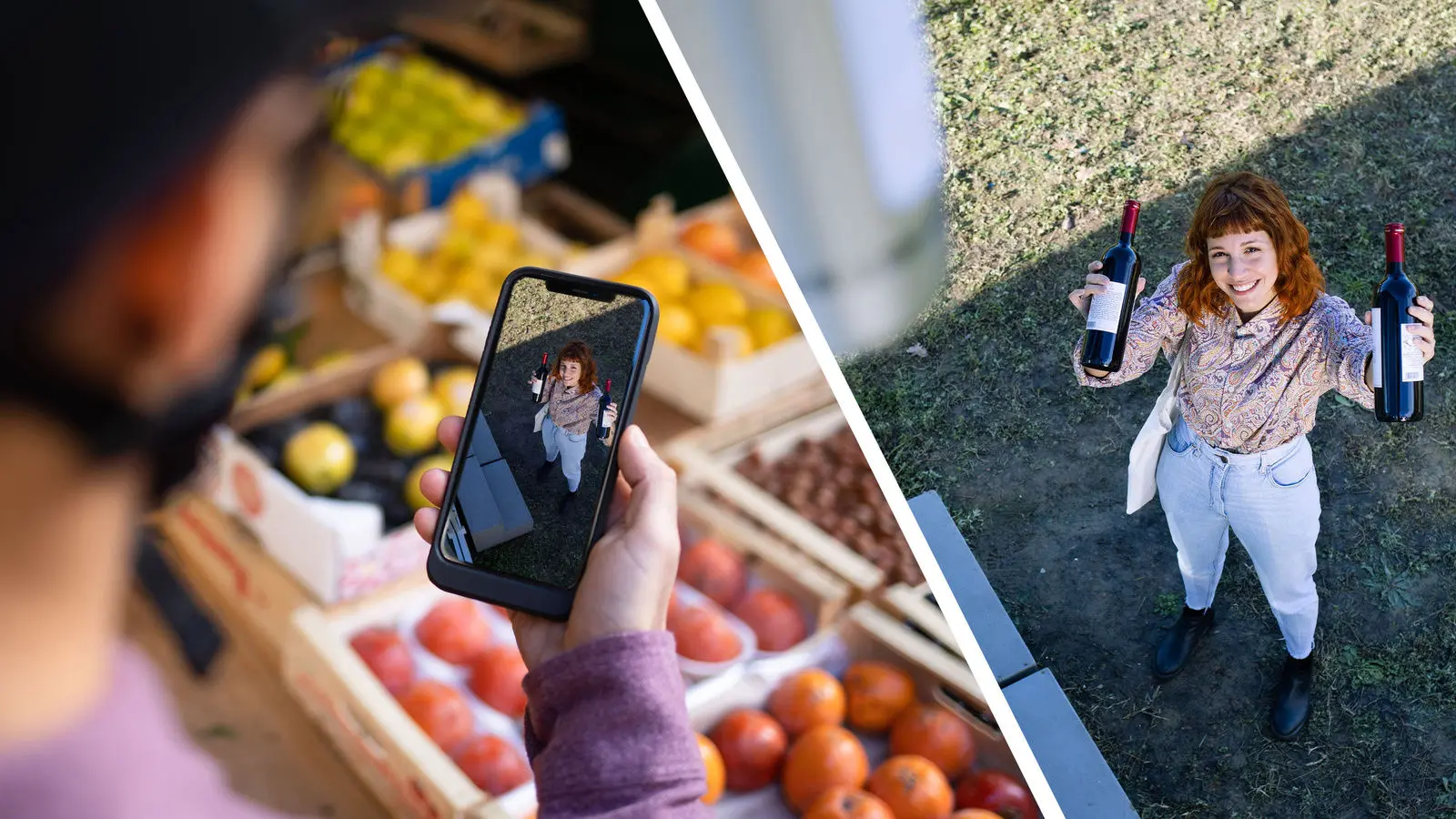 Being a modern nomad means that Leonardo is always on the move. He needs a car to move his tiny house, but he prefers to take his bike to run every-day errands. "A Bosch ePowered cargo bike means I can travel through city quickly and without damaging the environment. The on-board computer shows me the safest route," he says. While Leonardo is out and about, the Bosch Eyes Outdoor Camera keeps an eye on the area around his tiny house. The second somebody approaches the tiny house, the system sends a push notification to Leonardo's smartphone, and he can then follow the camera's livestream via the app and notify the police if something is wrong. The Bosch Eyes Outdoor Camera also acts as an intercom system and provides outdoor lighting. "I think smart devices are great," Leonardo says. "I can use my smartphone to control my tiny house with just a few taps of my finger and I'm always in full control."
An open house — and a new way of thinking
You need to be an open person to live in a tiny house — after all, it does not afford you a great deal of privacy. Leonardo embraces this fact wholeheartedly: "I want to share some of that lifestyle with others and encourage them to rethink their notion of modern living." Leonardo regularly hosts guests, and some have even stayed at his tiny house for several days. It has always been a special experience for them. "I want to show everyone you can make your biggest dreams come true even in the smallest of spaces," he says. Thanks to his courage, creativity, and the help of smart technology, Leonardo is living his dream of a modern nomadic life.