Dr. Ulrich Berner
Senior expert in fuel cell electrode design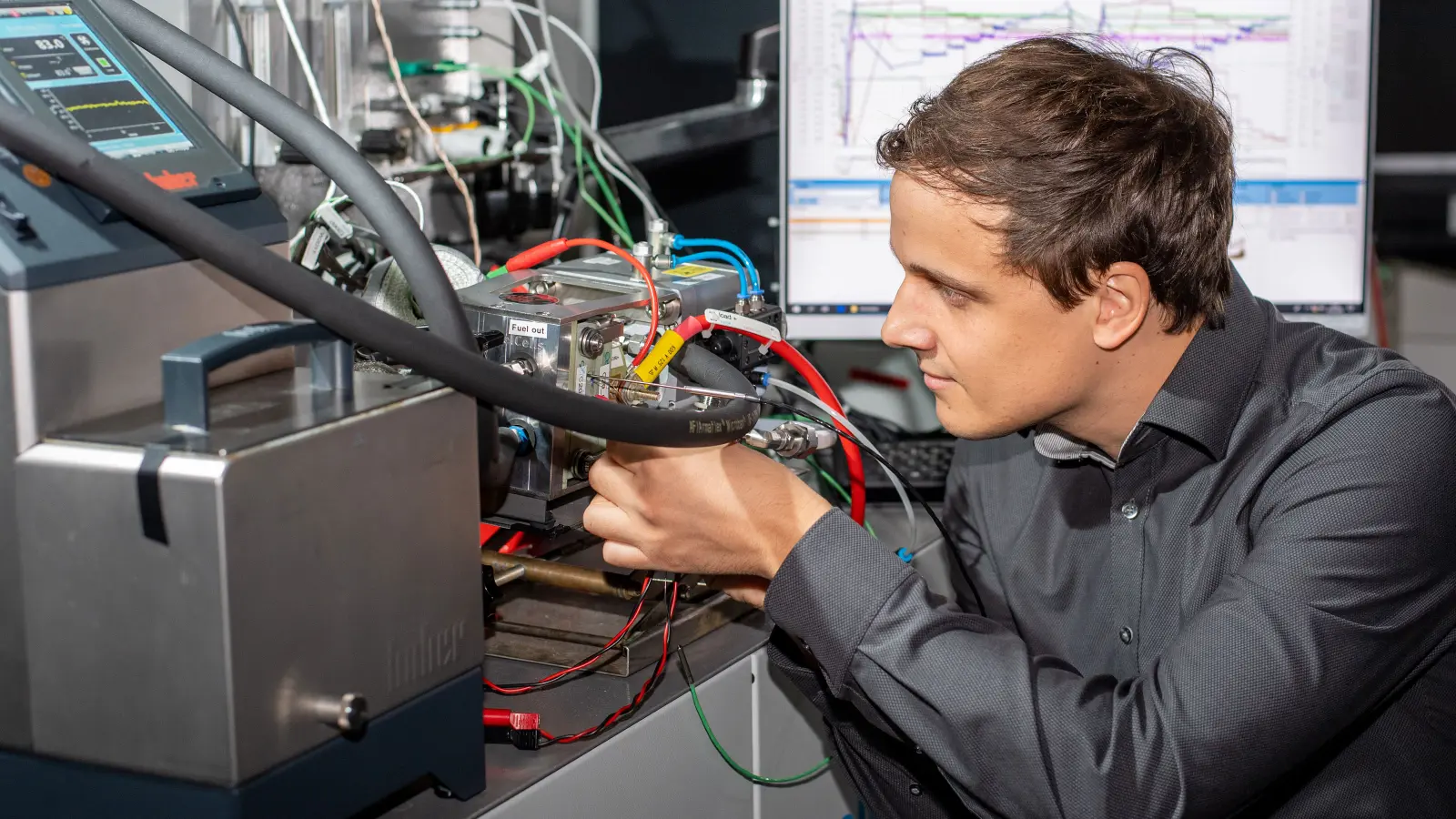 I am a chemical engineer by training and have worked in multiple areas relating to energy conversion and storage. After my Ph.D. on the topic of thin film photovoltaics, I started at Bosch Research on a project dealing with PEM electrolyzers and electrochemical compression. After a two-year interlude working on solid state lithium polymer batteries, where I developed a new characterization technique, I returned to the PEM world, focusing on cause-effect relationships in the performance and degradation of fuel cell electrodes.
Please tell us what fascinates you most about research.
For me, the most fascinating aspect of research is that you are always working on problems that have not been solved before. The path to the solution is rarely straightforward, and progress requires both persistence and creativity.
What makes the research done at Bosch so special?
Working at Bosch Research offers the chance to work on cutting-edge technologies while confronting challenges that affect real applications. This means working here also offers the chance to see successful projects come to life. Additionally, there is a large degree of freedom when it comes to solving problems to find the best solution together with an international, highly interdisciplinary team of motivated experts.
What research topics are you currently working on at Bosch?
My research focuses on the electrodes of a low temperature PEM fuel cell. This is where the chemical reaction takes place. Hydrogen and oxygen are used to create electricity and water. Although the layers of the electrode are just a few micrometers thick, they host several processes simultaneously, including heat and mass transfer, electron conduction, and chemical reaction. Each of these processes has a different set of optimal design parameters, making optimizing overall efficiency of the fuel cell an exciting and challenging task.
What are the biggest scientific challenges in your field of research?
The basic concepts of PEM fuel cell electrodes were already developed 50 years ago. However, there are several technical challenges that prevent the technology being used on the mass market. For example, the electrode components have insufficient stability under typical operating conditions, limiting the applications. In an interdisciplinary team, we are therefore working on new approaches for the next fuel cell generation.
How do the results of your research become part of solutions "Invented for life"?
In order to preserve the earth as a habitable planet for future generations, we need to harness all the possible technologies to effectively transition to a CO₂-neutral future. Zero-emission fuel cells, especially in mobility applications, are one part of the solution.
2015
Ph.D. at the Department of Physics and Materials Science, Finalist for "Prix Rolf Tarrach" prize (best Ph.D. Thesis 2015), University of Luxembourg
2011
Engineering diploma at the Institute of Thermal Process Engineering, Karlsruhe Institute of Technology (KIT)
2010
Visiting student at the Danish Polymer Center, Technical University of Denmark (DTU)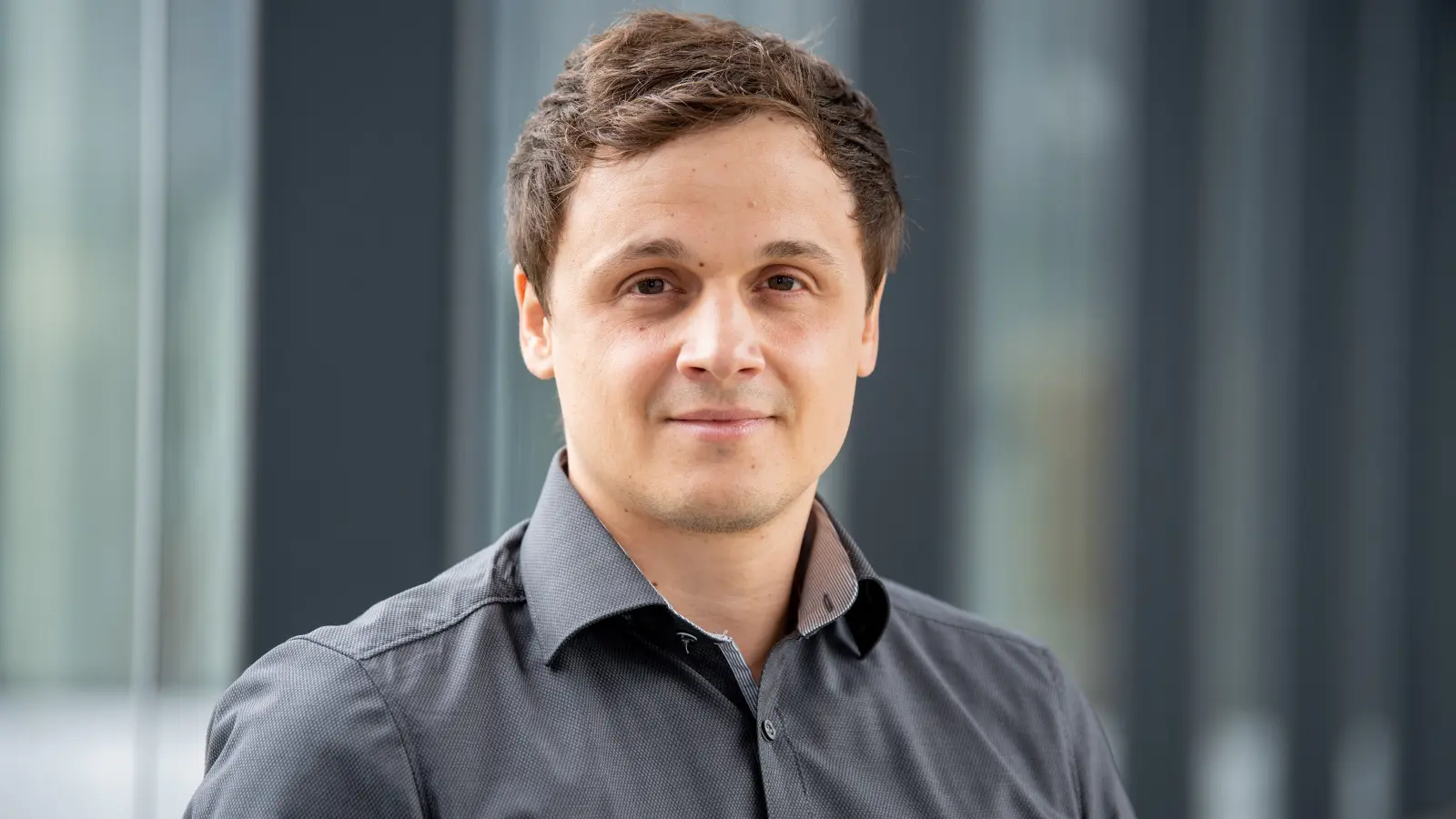 Christophe Gerling et al. (2023)
Experimental and Numerical Investigation of the Low-Frequency Inductive Features in Differential PEMFCs: Ionomer Humidification and Platinum Oxide Effects
Christophe Gerling, Matthias Hanauer, Ulrich Berner and K. Andreas Friedrich
Journal of The Electrochemical Society, Volume 170, Number 1 Christophe Gerling et al. (2022)
PEM Single Cells under Differential Conditions: Full Factorial Parameterization of the ORR and HOR Kinetics and Loss Analysis
Christophe Gerling, Matthias Hanauer, Ulrich Berner and K. Andreas Friedrich
Journal of The Electrochemical Society, Volume 169, Number 1 Kyu-Young Park et al. (2022)
Mitigating Pt Loss in Polymer Electrolyte Membrane Fuel Cell Cathode Catalysts Using Graphene Nanoplatelet Pickering Emulsion Processing
Kyu-Young Park, Matthew E. Sweers, Ulrich Berner, Erhard Hirth, Julia R. Downing, Janan Hui, Jonathan Mailoa, Christina Johnston, Soo Kim, Linsey C. Seitz, Mark C. Hersam
Advanced functional materials, Volume 32, Issue 43 Christophe Gerling et al. (2021)
Full Factorial In Situ Characterization of Ionomer Properties in Differential PEM Fuel Cells
Christophe Gerling, Matthias Hanauer, Ulrich Berner and K. Andreas Friedrich
Journal of The Electrochemical Society, Volume 168, Number 8
Get in touch with me
Dr. Ulrich Berner
Senior expert in fuel cell electrode design