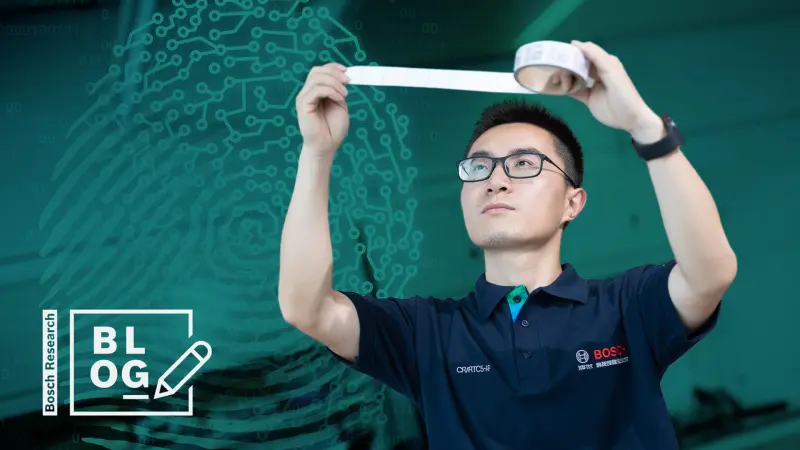 Counterfeiting has become a serious problem for manufacturers. However, common anti-counterfeiting solutions such as scratch-off stickers and hologram labels have obvious drawbacks. Scratch-off stickers are simple but not user-friendly. Hologram labels are straightforward to use, but expensive. Using regular QR codes is cheap, but they are easy to copy. With that in mind, Bosch Research in Shanghai initialized research on a more secure and user-friendly anti-counterfeiting solution that utilizes AIoT and computer vision. We named the project Secure Product Fingerprint.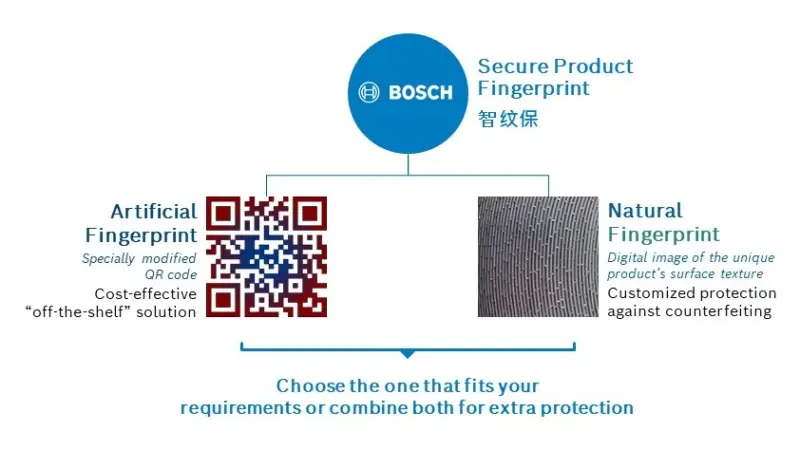 What is Secure Product Fingerprint?
The Secure Product Fingerprint is a patented solution developed by Bosch in China. Its primary function is to ensure product authenticity. Based on computer vision and AI technologies, it takes a "fingerprint" of a product and stores it in the cloud. This unique "fingerprint" is either an assigned QR code enhanced with micro-features ("Artificial Fingerprint") or a snapshot of one particular area of a product's surface ("Natural Fingerprint").
Using a smartphone, customers can then scan the QR code label or the designated area of the product itself and verify the product's authenticity by comparing it to the sample stored in the cloud. This can be done using a dedicated app, WeChat or a standard QR code scanner.
The Secure Product Fingerprint project was initiated in 2017, with its own algorithm and other intellectual properties on computer vision generated locally by Bosch Research in China. After the market study on food safety from the Business Development and Strategy department in the Bosch China headquarter, it was then transformed into an integrated solution for anti-counterfeiting, track & trace and Customer Relationship Management (CRM) to target local market pain points. Several Minimum Viable Products (MVP) were developed and tested with internal customers until we found the must-have items. Here, thanks to the Bosch Accelerator Program for the professional lean start-up training and strong support, which is quite rare, opportunities can be provided by most big companies. Academia-wise, our collaboration University, Fudan University, not only contributed on algorithm development but also regarding local government and market insights. In terms of commercialization, we collaborated with Bosch.IOX in China for IoT full-stack development and customer interviews to further sharpen the product offerings. With those joint efforts, the Secure Product Fingerprint project has gone through several remarkable milestones: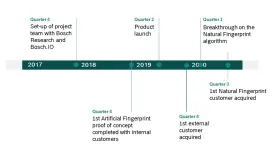 The complete Secure Product Fingerprint system involves user interaction and a cloud server. Users use the Secure Product Fingerprint app/WeChat mini program to transmit data and receive result, while all the fingerprint information and AI inference models are stored in the cloud. For fingerprint registration, the Secure Product Fingerprint app guides the user to take a high-quality snapshot of the fingerprint area. The image- processing algorithm extracts necessary fingerprint features, then stores them on the cloud server. During verification, the user uses the app to capture the fingerprint of the product at hand. The cloud server matches the registered fingerprint of this product and lets the AI inference model determine the consistency between the captured fingerprint and the registered fingerprint. The final result will be available to the user in the app.
The Secure Product Fingerprint currently supports two types of fingerprints: 1) Artificial fingerprint: based on an existing QR code supplemented with random micro-features to ensure uniqueness and unclonability. 2) Natural fingerprint: capturing the natural surface texture of the product as the unique identification factor. The beauty is that with more end user uploads, more fingerprint data will be collected and fed into the computer vision machine learning model, thus enabling the concept of learning product via connectivity.
Additional benefits and use cases
In addition, the Secure Product Fingerprint may help manufacturers to improve transparency of the distribution channels. Thanks to the IoT architecture, the manufacturer can track each product with a Secure Product Fingerprint for its entire lifecycle. For example, user can trace products through distribution channels to the customer and beyond – including to warranty service providers. Companies could gain insights into stock volumes, good movements, and retailers' performance. It simplifies recall measures and alerts affected customers of a faulty batch. All data in the cloud can be used for further data analysis to achieve better CRM.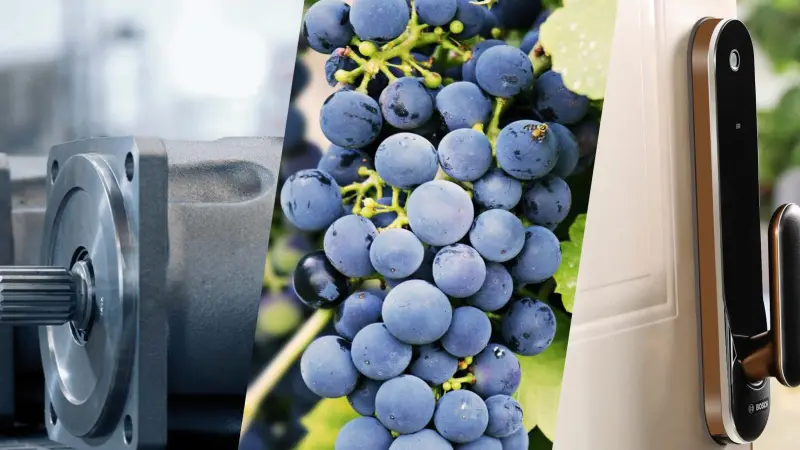 The integrated solution of Secure Product Fingerprint makes it possible to directly connect manufacturers and consumers and provide anti-counterfeiting, track & trace, and enhanced CRM capabilities.
What are your thoughts on this topic?
Please feel free to share them via LinkedIn or to contact me directly.
Author: Robert Xie
Robert is the Head of the IoT@Life program and Group Leader for IoT & I4.0 at the Bosch Research and Technology Center in China. Before joining Bosch, he was an Assistant Professor at Shanghai Jiao Tong University focusing on medical robotics and sensor systems. He received his PhD from King's College London and did a postdoc at the University of Southampton in the field of sensor systems and lab-on-a-chip. As an alumnus of the Bosch Accelerator Program, Robert not only collaborates closely with Business Units for joint development, but also explored commercialization of IoT products and solutions with scalable, repeatable and profitable business models.