2019-10-09
Consider technology that can think and feel — digitalized products such as prostheses and orthoses make the day-to-day life of people with disabilities easier and exoskeletons will provide support for specialized workers in production halls.
Technology that improves the human body — this sounds a lot like science fiction. But it has actually long been part of our day-to-day life, says Sarik Weber. "I think we see this happening already on a smaller scale we have contact lenses, we have insoles, we have wearables." These kinds of aids are not particularly mind-blowing for most of us these days, although they augment and support the body. This is the basic principle of many Ottobock products.
The international medical technology company from Lower Saxony, Germany, has been producing prostheses and orthoses for over 100 years to help people restore or retain their mobility. Around 7,000 employees develop and manufacture artificial limbs, as well as other products, that make it possible for users to grip things or to walk again. At Ottobock, what sounds like it should belong in science fiction isn't too far afield; the company is digitalizing orthopedics using algorithms, microprocessors and sensors.
Smart prostheses learn from their user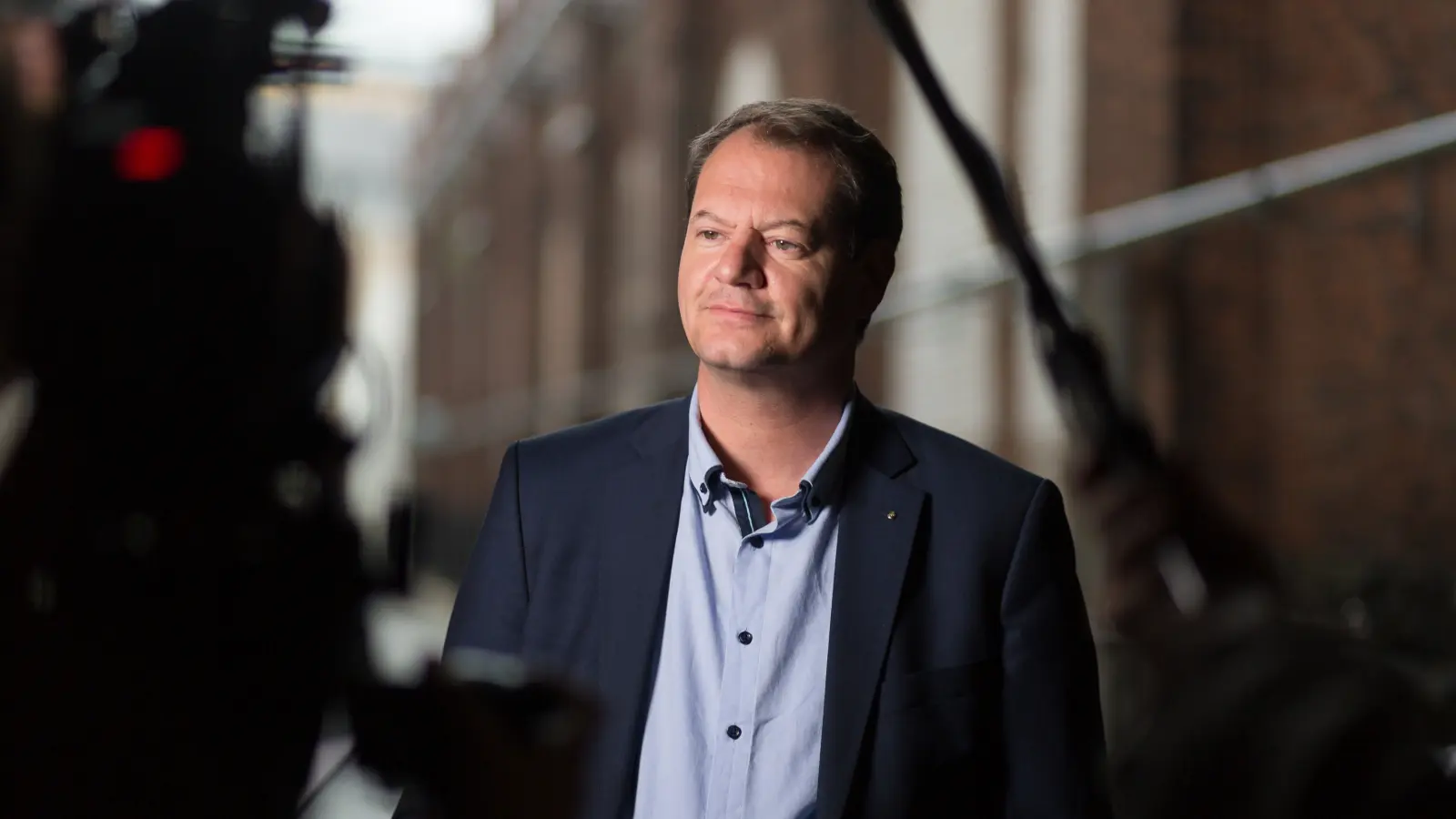 For example, Ottobock's leg orthoses "C-Brace" allows its user to select different modes for walking or cycling via a smartphone app to regulate the needed level support. If this wasn't enough, the prosthetic steering "Myo Plus" uses pattern recognition to learn from its user. It uses electrodes to measure and machine learning to interpret muscle activity at the arm stump. Using an app, it maps the user's idiosyncratic movement patterns. By recognizing tension that is characteristic for certain movements, the prosthesis already knows which arm movement to make next, and helps the user to carry it out.
Ottobock has also started applying its expertise in the field of medical technology to other business fields. In 2018 a segment for industrial applications was launched with an exoskeleton product family. Some believe that these types of products will revolutionize human work and play an important role in future manufacturing facilities, where the number of robots is increasing. Despite this, Weber thinks that the idea that machines will fully replace humans in production halls in the foreseeable future remains far-fetched. "I think we will probably always need humans in our factories, skilled workers with aright knowledge and the machines and robotics will probably assist the humans.
I don't really believe that we could replace them completely." Instead, in times of skill shortages and demographic changes, each individual employee will become more important. "For companies, it's all about ensuring the working capacity of their employees and increasing their performance," says Weber. However, this can be a challenging undertaking: In many industries, the workforce is aging; herniated discs, joint problems, and other musculoskeletal disorders are on the rise, and they are a major cause of incapacity for work. The solution to this problem could be provided by "exoskeletons."
Using exoskeletons to combat incapacity for work
Exoskeletons are supporting structures worn on the body that relieve strain on the musculoskeletal system during specific activities. Ottobock offers the Paexo series, a product family of exoskeletons. "People that work in factories have to carry out strenuous activities and if they carry out overhead work our 'Paexo Shoulder' really provides noticeable relief for the muscles and joints in their shoulder region," says Weber. The exoskeleton is suitable for working in the car industry, in shipyards, or on construction sites, among other contexts. It can be put on like a backpack and fits close to the body.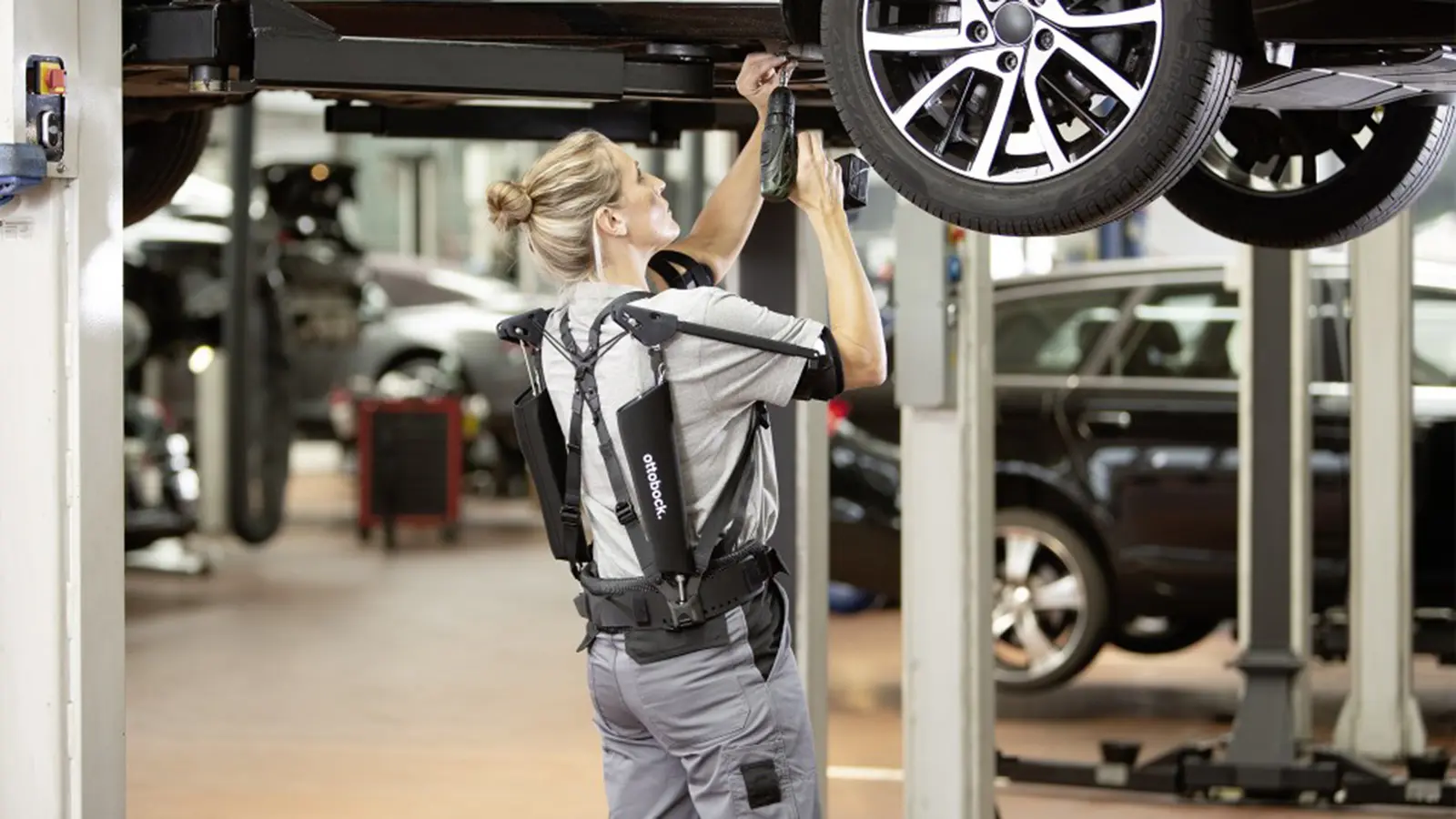 "I think these devices which humans can employ have to be light, they have to be hardly noticeable and they have to help people to make their work easier," says Weber. That's why the Paexo Shoulder weighs just under two kilos. It doesn't have any motors; it functions solely using mechanical cable pull technology. This transfers the weight of the raised arms to the user's hips while relieving strain on their shoulder area. Since it was founded, the prosthesis specialist has been tackling the question of how technology can be used as an extension of the human body and has gathered deep biomechanical know-how over the last century. Its industrial application can be seen as a logical extension of the company's work.
The vision: Prostheses that "feel"
Ottobock is currently setting up its own Future Lab for the digitization of the orthopedic technology in Berlin. "In Berlin we actually bring together the old tradition and new technology. We cooperate with start-ups and we also incubate internal start-ups focused on our digital business model," says Weber. While working with the start-ups, the aim is to promote digital innovation in technical orthopedics, including the use of artificial intelligence. One of Ottobock's visions for the future is to develop special prostheses that are connected to the human nerve system and which provide somatic-sensory feedback — in other words, prostheses that "feel," in an abstract kind of way. For example, a prosthetic foot featuring this technology would be able to recognize the terrain underfoot and adjust accordingly.
An interview with Sarik Weber, Digital Advisor of Ottobock
YouTube
Video cannot be shown without your consent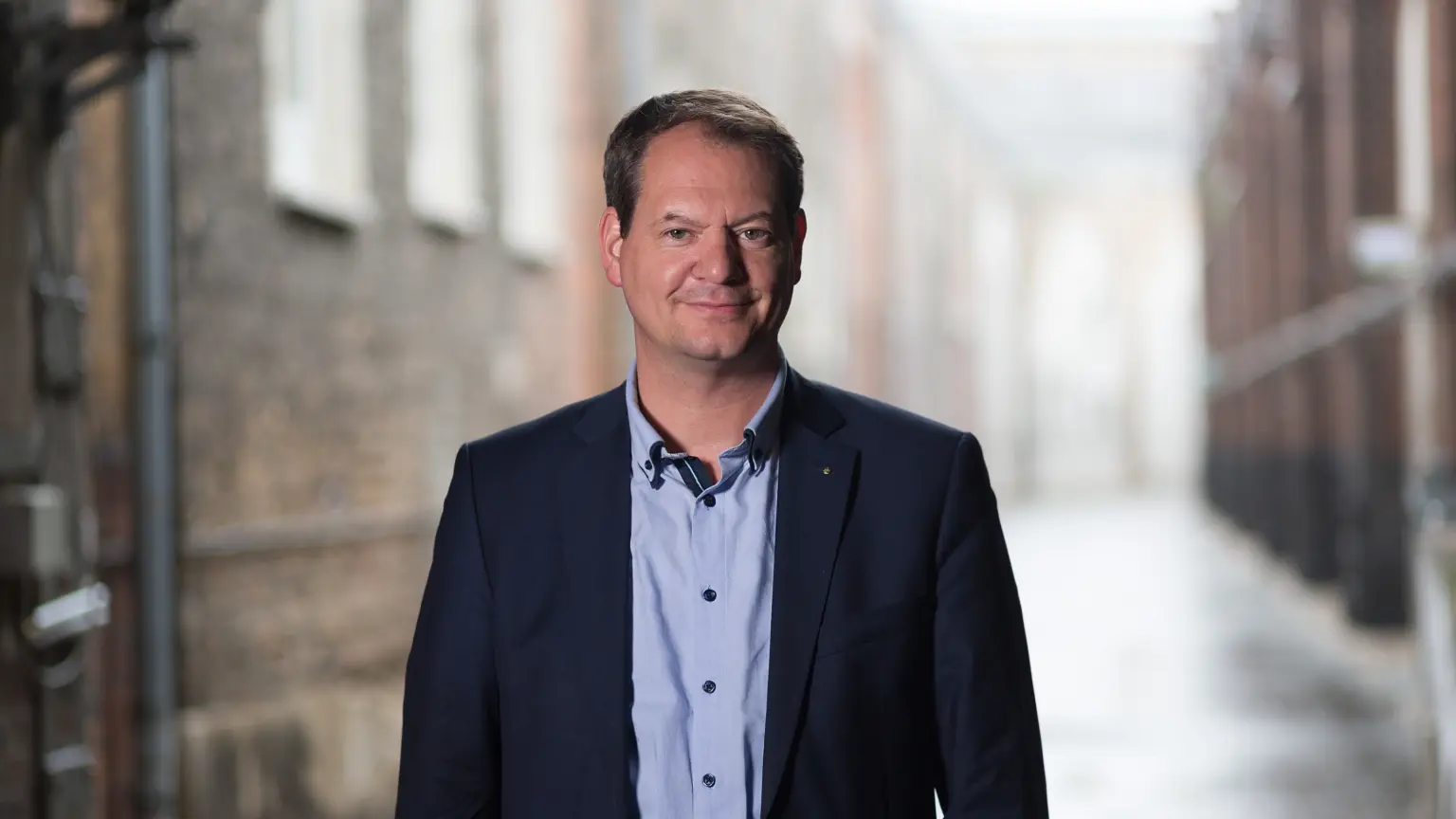 Sarik Weber, 51
Digital Advisor of Ottobock
To a certain extent, smart technology enables the merging of people and machines.
Sarik Weber holds degrees in business and international management from the Osnabrück University of Applied Sciences and the University of Deusto in Bilbao, Spain. He has worked as a sales and marketing expert for firms such as Nokia, helped to establish the career portal Xing, and founded the start-up incubator Hanse Ventures. Since May 2018, the Hamburg native has been the Chief Digital Officer at Ottobock, where he has shaped and promoted the digital transformation within the company. As of summer 2019 he continues to advise the company focusing on special digital projects.
Summary
The medical technology company Ottobock uses its expertise in the production of prostheses and orthoses to provide aids for ergonomic workplaces. Employees benefit from this human-machine connection, as exoskeletons make many activities easier and protect workers' health.